Introduction
The Lofty platform can be used to send out many different emails ranging from property alerts, market snapshots, market reports, drip campaigns, etc. This being the case, it's likely that some leads who receive the emails might want to unsubscribe to avoid receiving them. This article explains how that looks in Lofty.
*IMPORTANT: Just because a lead unsubscribes does not mean they have their email address marked as DNC (Do Not Contact). This has to be done manually. 
Summary
How a Lead Unsubscribes
Any email sent from the @lofty.me email address (see @lofty.me Email Address for more information) will have the option to unsubscribe at the very bottom of the email. 
This is what it looks like in a property alert, market snapshot, or market report email: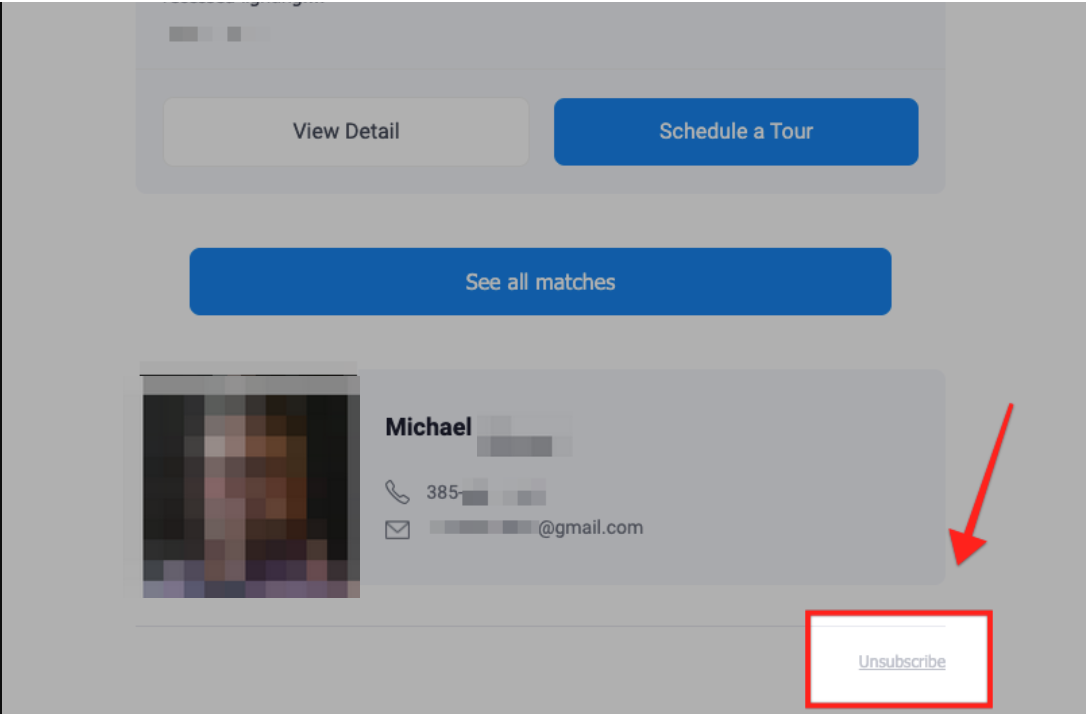 Here is what it looks like in a drip campaign email: 
When the lead actually clicks on the link to "unsubscribe," they will see the following options: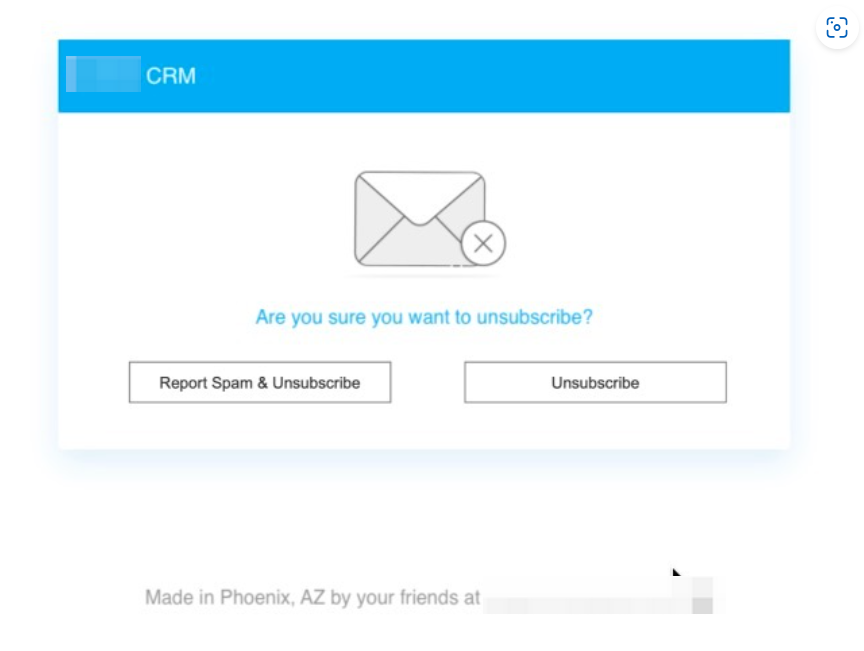 After clicking either of the buttons, they will see a confirmation with the option to resubscribe as seen here: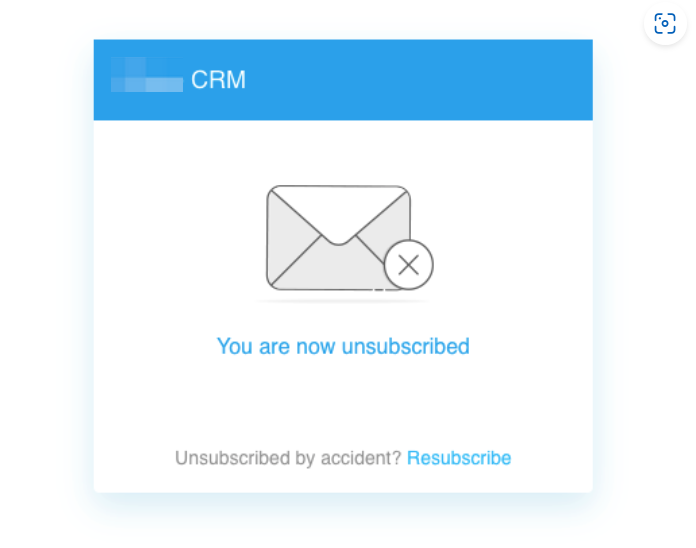 Subscribing again will let them make a final decision: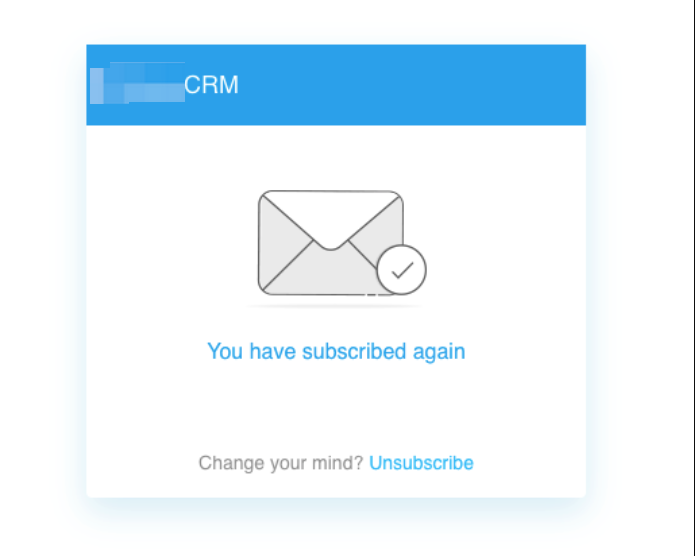 Subscription Status in Lofty
When a lead unsubscribes from a specific type of email that is being sent to them, a log will be left in their lead profile for each individual type. When filtering on a lead profile, you can find these under the "System Log" category:

Property Alerts + Market Snapshots:

Market Reports:

Smart Plans, Mass Emails:

Also, it is useful to note that you can filter by the different subscription statuses directly from the People page as seen here: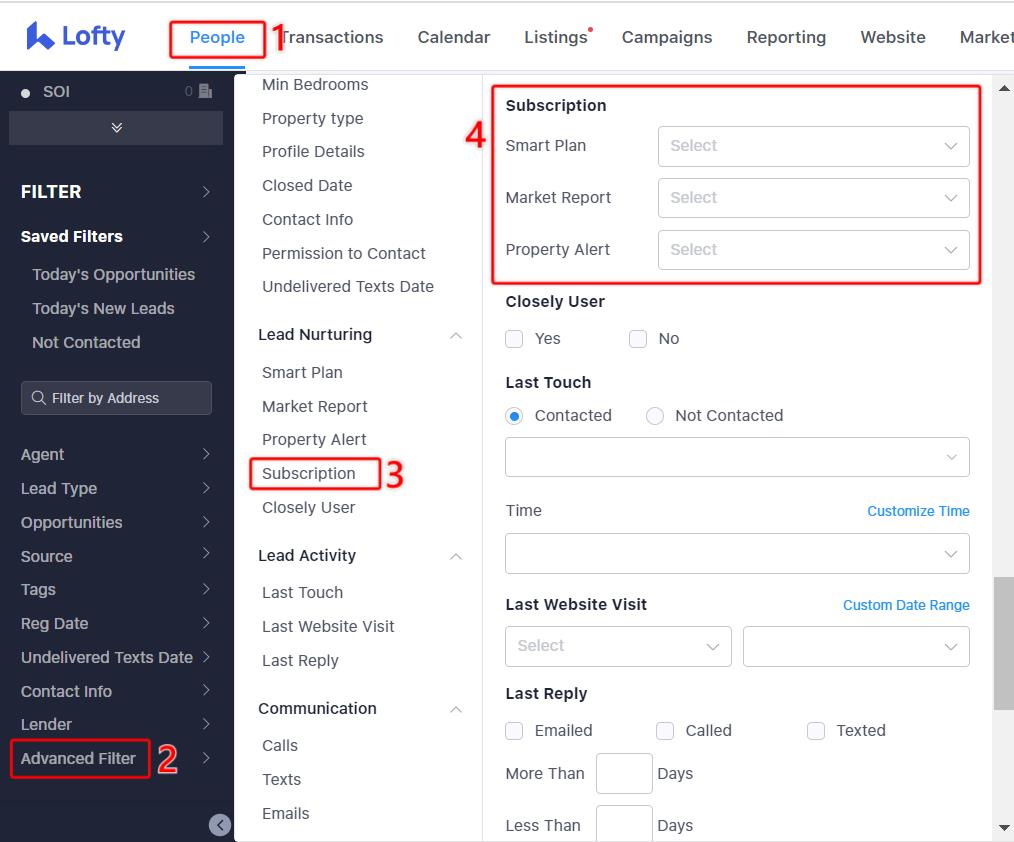 Unsubscribing/Resubscribing on Behalf of Leads
If you would like to unsubscribe or resubscribe on behalf of leads, you can go to their lead profile, click on either "Engagement" or "Smart Plans" depending on which one you want to unsubscribe for, and then click the cog wheel in the top-right of the middle section. You can then turn the options on/off.

Family Member Subscription Status
If an email is going to a lead and there are multiple recipients (husband, wife, other family members) if any of them clicks on the "Unsubscribe" button OR if the lead is unsubscribed on your end, then it will unsubscribe the primary lead and family members from that type of email communication. 
In other words, if the primary lead is unsubscribed all family members will also be unsubscribed. 
Questions?
If you have any questions regarding this topic or any others, please reach out to our Support Team via email at <support@lofty.com>, by phone at 1 (855) 981-7557, or by chat with us through your Lofty CRM.