Introduction
When generating a lot of leads, you may find it hard to manage and stay on top of follow-ups. A Lofty Lead Score is an AI-based scoring system that helps you determine the lead priority. Lead Analysis, on the other hand, provides you with strong facts and insights into how hot the lead is.
Viewing Lead Score on the People Page
Log into your Lofty CRM and select the People icon on the menu bar.
The Lead Score column on the lead list enables you to organize your leads by lead score using the up and down arrow icons beside the title of the column. In this way, you can prioritize the leads with higher scores.

Go to the Lead Profile page of an individual lead. You will see Lead Score and Lead Analysis at the left of the page. If you move your cursor to the Lead Score, you will see the Top Indicators behind the Lead Score of the lead.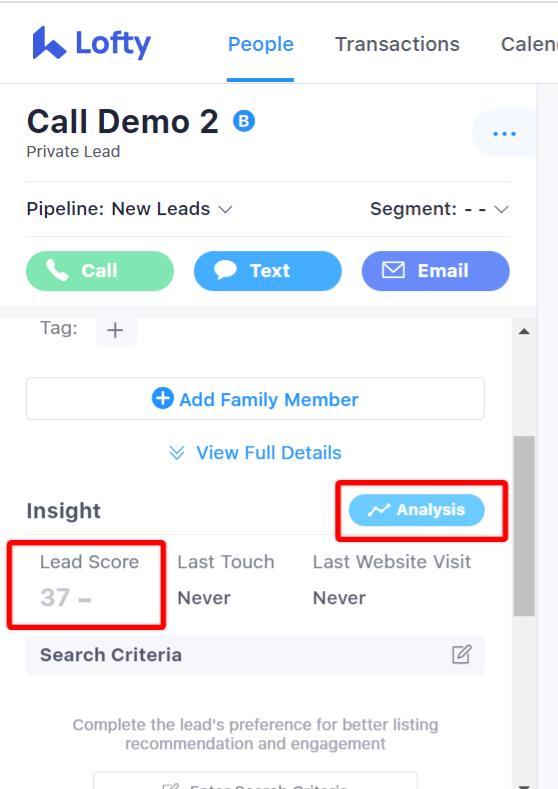 Clicking the Lead Analysis button will bring up the pop-up window, shown below.
The first view is the Lead Score. It mainly consists of five metrics: Home Price, Time Frame, Contact Validity, Communication, and Web Activities. On the right, you will see the last update on why and how the score changes, and also the top indicators that make up the current score.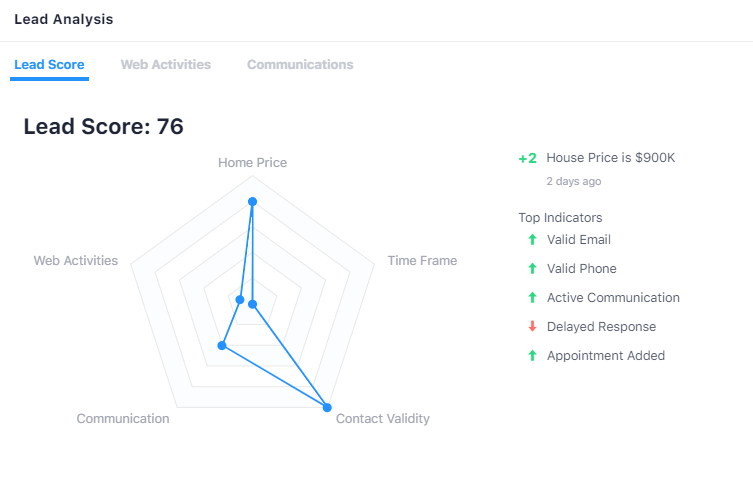 The second view is the Web Activities.  You can view the counts and timeline summary of the lead's website activities, including searched, saved, viewed, left a message, and requested showing.
The third view is Communications. The call-connect rate, email-open rate, email-reply rate, and text-reply rate will give you a clear picture of how the lead responds to the agent's follow-ups. Also, you can see the comparison of the count of calls, emails, and texts sent to and from the lead.
Questions?
If you have any questions regarding this topic or any others, please reach out to our Support Team via email at <support@lofty.com>, by phone at 1 (855) 981-7557, or chat with us through your CRM.