Introduction
One of the busiest, most-used, and most important pages in the Lofty platform is the Lead Profile Page. This refers to the page where all the information known about a lead is saved, recorded, and utilized in future interactions. The lead profile page is also known as a "contact record" or "lead detail page." 
Summary
Accessing a Lead Profile Page
Via People Page
First, click on the People page, apply filters, select segments/pipeline stages, etc. to find the lead that you would like to access, then click on the lead's name to open the lead profile page: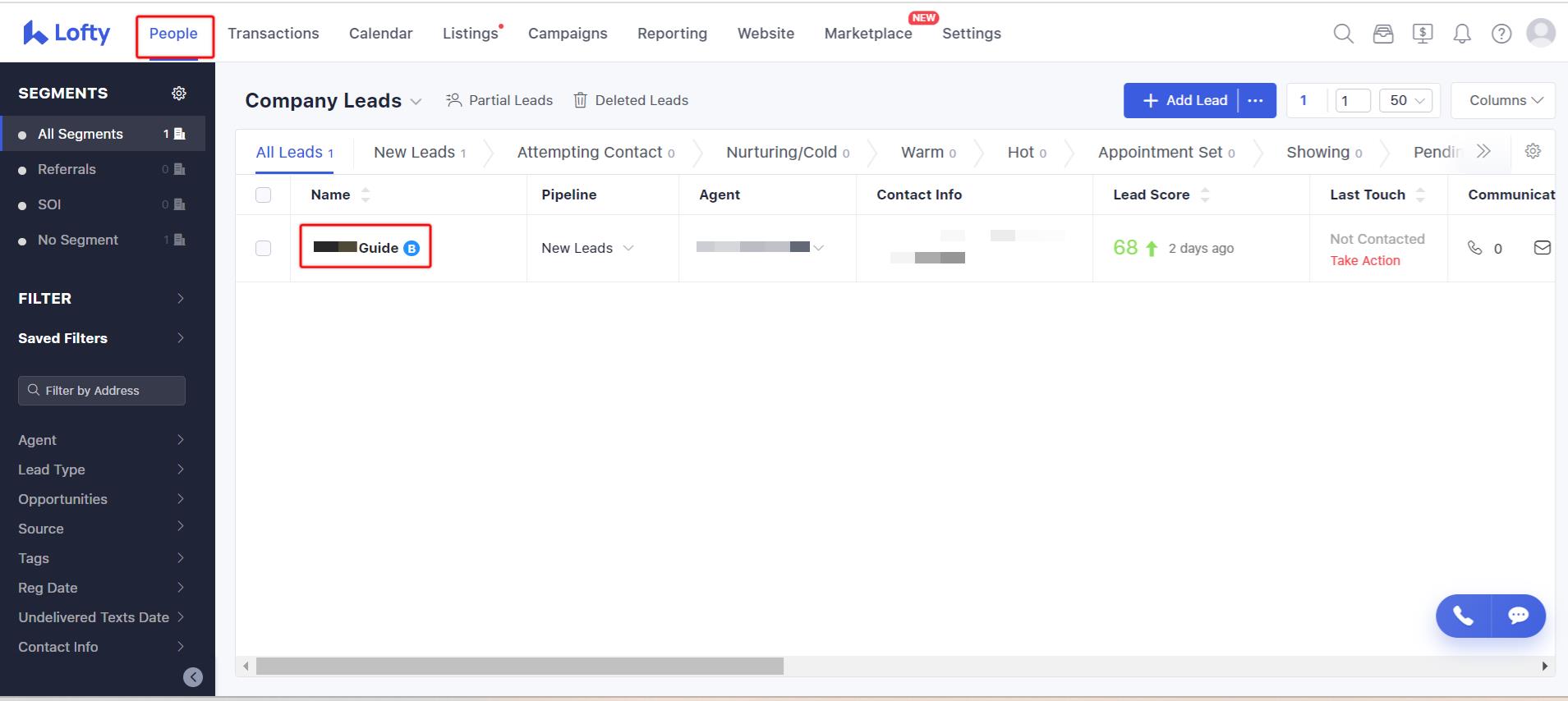 You will then be directed immediately to the lead's profile page whose name you clicked.
Via Search Bar
Use the search bar at the top-right of the CRM to search for a lead. You can search by any of the following:
Once you have found the lead whose profile you would like to open, click on their name:


You can also click on the "View More" button to see other potential matches. It will redirect you to the People page with all potential matches. Just make sure that you remove any applied filters in order to see all the potential matches and not just those that align with the filters applied.

Left Panel - Contact Details, Lead Assignment, Etc.
Name
The lead's name is outlined in the top-left of a lead profile: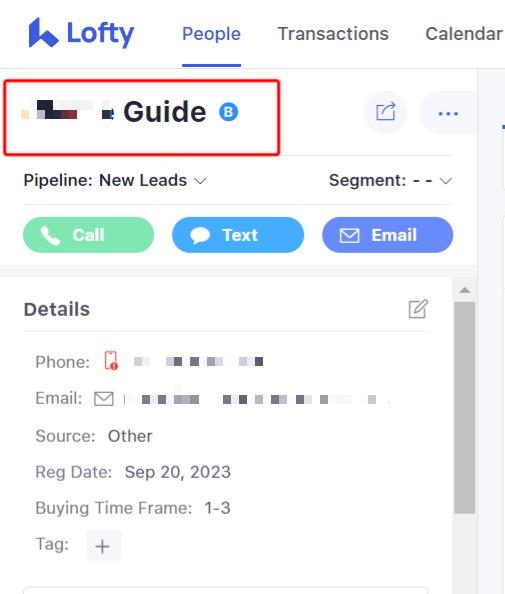 Lead Type
The lead type of the lead is typically presented just to the right of the lead's name:
B = Buyer
S = Seller
B S = Buyer & Seller
R = Renter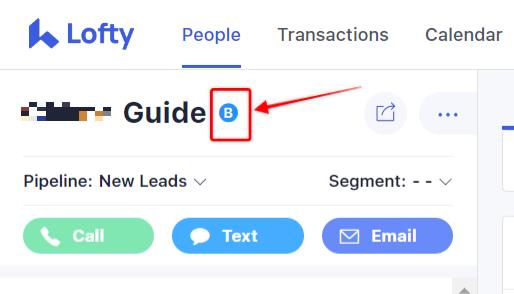 Edit Details, Send Welcome Email, Delete Lead
Click on the three dots to edit a lead's details (add/remove phone numbers, email addresses, etc.), delete a lead, welcome email, or send Mailers.
Deleting a lead will only send it to the "Deleted Leads" area accessible via the People page. This serves as a type of "recycle bin." In order to completely remove the lead from the system, you must go to People > Delete Leads > select the lead and then erase it completely. 
You can add a maximum of 

five

email addresses to a lead
You can add a maximum of 

five

phone numbers to a lead
For more information regarding the Welcome Email, see Set Up the Welcome Email.
You can send direct mail to the lead from this area as well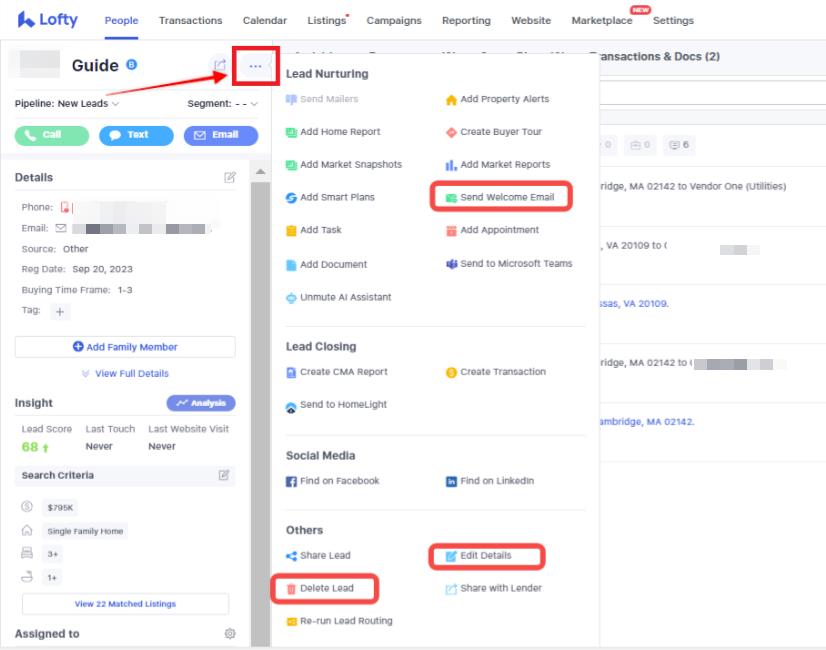 You can also add more phone numbers or email addresses to a lead by clicking on the + icon that appears when you hover over an existing number: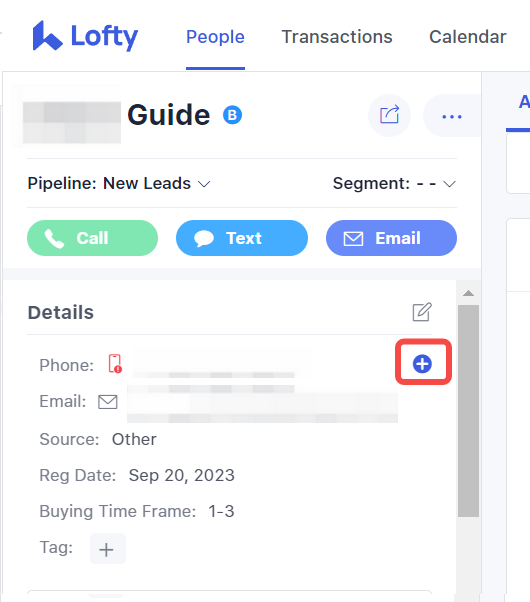 Change Pipeline or Segment(s)
If you would like to adjust the pipeline stage that this lead is in or choose specific segments to add/remove them to/from, you can do so with this line here.
A lead can only be on one pipeline stage at a time
A lead can belong to as many segments as you would like
Keep in mind that adding a lead to a new pipeline stage or segment could trigger a Smart Plan if that is how you have them set up (see Smart Plans)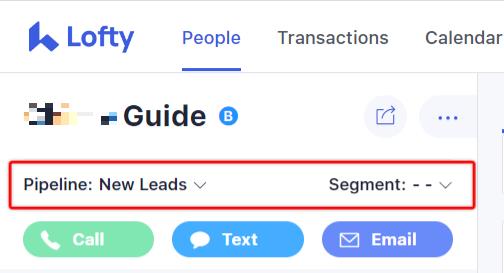 Call, Text, and Email
*IMPORTANT: You will need the Dialer Package to use the "Call" feature and a Text Package to use the "Text" Feature. For more information please see Add Call or Text Packages.
Call
Calling via the lead profile would fit into the category of "Click to Call" functionality. You can learn more about how this process works by reviewing the following article: "Click to Call" Function. Click on the "Call" button, or you can choose the drop-down to choose a specific number or family member to dial: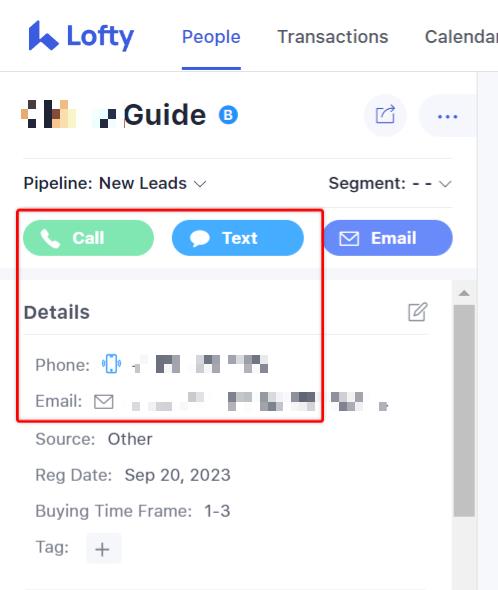 Text
To text via a lead profile, hit the "Text" button or click the drop-down to choose the number or family member you want to send a text to. To learn more about sending texts in Lofty, refer to Texting via Lofty.
Email
Click on the "Email" button to send an email to this lead or their family member. 
By default, the email will be sent from your integrated email address (see Integrations)
If you see a pop-up appear that says you need to integrate your email account, but you do not plan on doing so, you can close out of the pop-up and click the "Email" button again to send the email from the @lofty.com email address (see @lofty.com Email Address)
If family members are associated with this lead, their email address will automatically be added to the "To" line.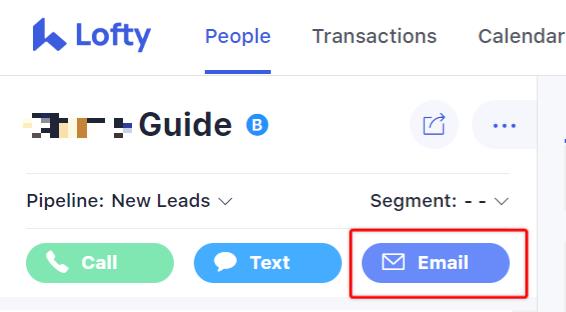 Family Member Profiles
You can add up to four "family members" to a specific lead. This feature was built to allow for spouses/partners/etc. to be listed together and facilitate communication with both of them.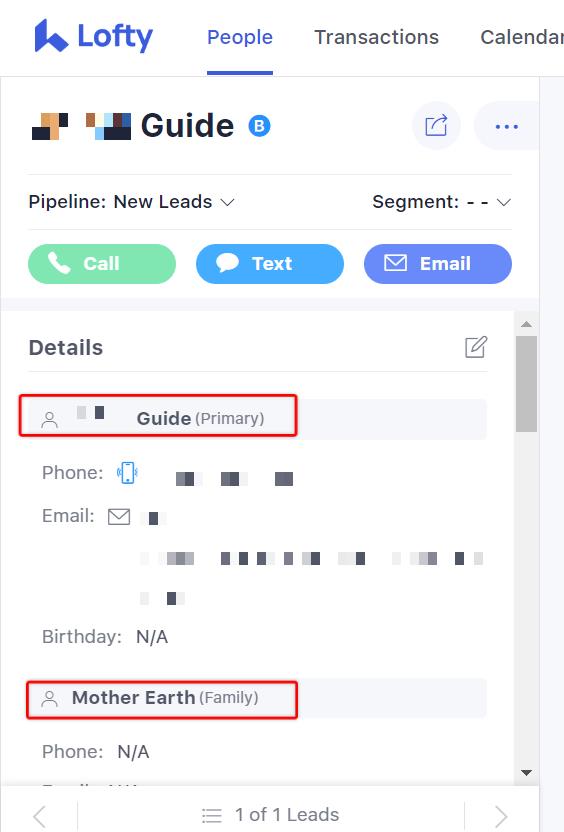 To add/edit family members, you can click on the three dots > Edit Details: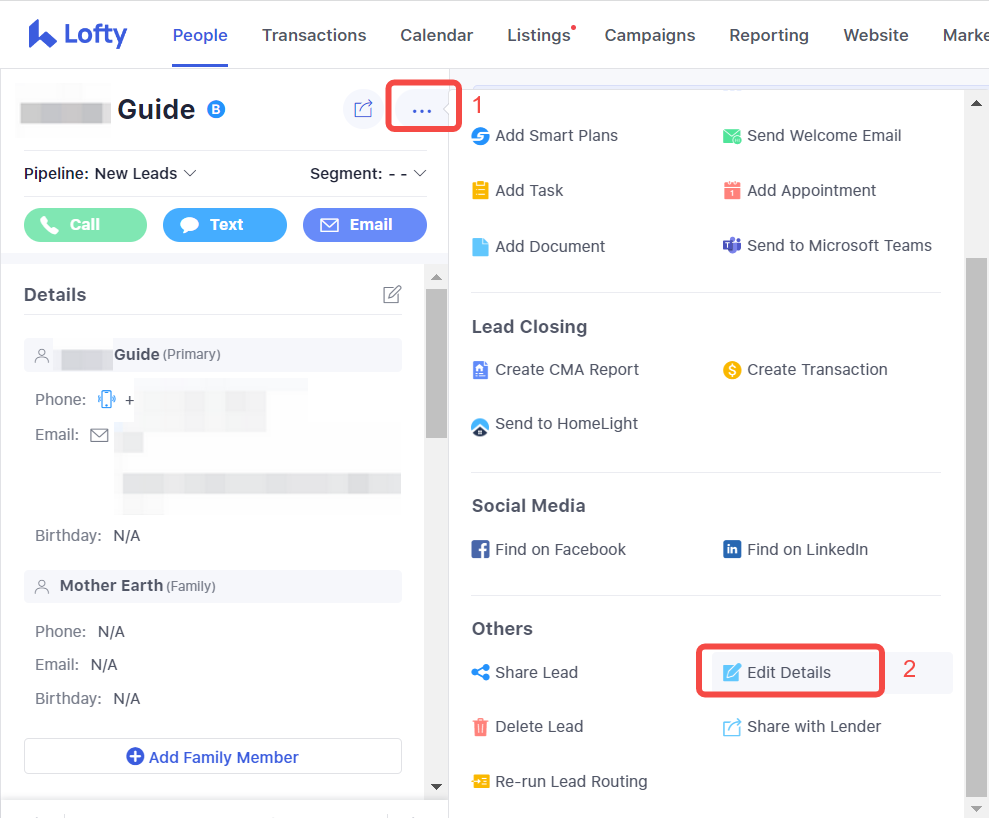 It is also possible to add a family member to an existing lead by merging from a separate lead. For more information, see Merging Leads. Family member contact information is available in the call/text/email options. All activity recorded for communication with family members will be recorded on the primary lead's profile but will indicate which family member was communicated with.
Review All Lead Details
All lead details that have had information provided will be displayed in the left column like so: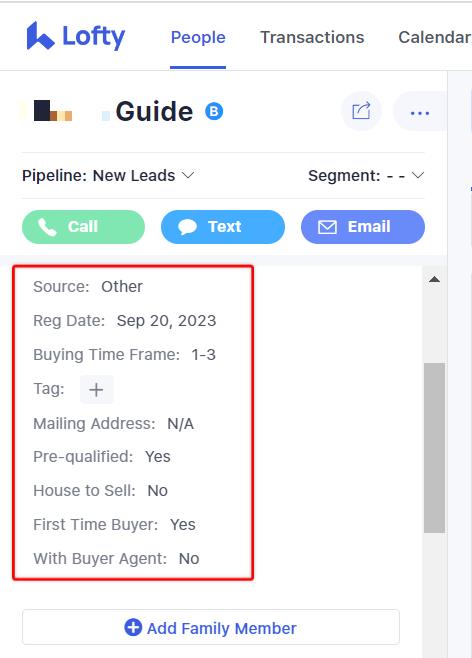 Source. For more information see Lead Source Logic.
Reg Date. The date the lead entered your Lofty database.
Other Fields. The other fields will vary depending on which custom fields were completed, whether the lead registered on your website and indicated if they are a first-time home buyer, etc.
Social Network Info
This field is auto-generated based on a third-party source integrated with Lofty. This service will attempt to populate social media profiles for the lead's email address, etc. If none populate, it might be due to privacy settings on that social platform.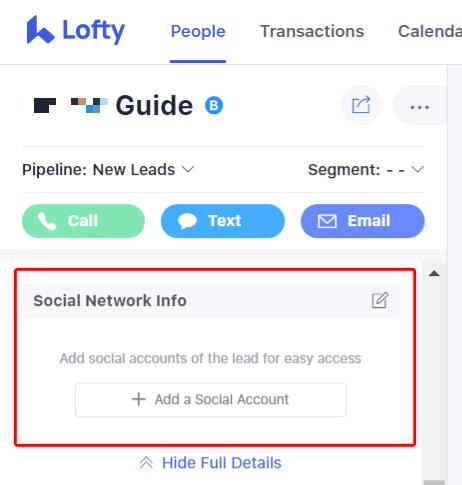 You can always add social network info manually by clicking on the Edit icon.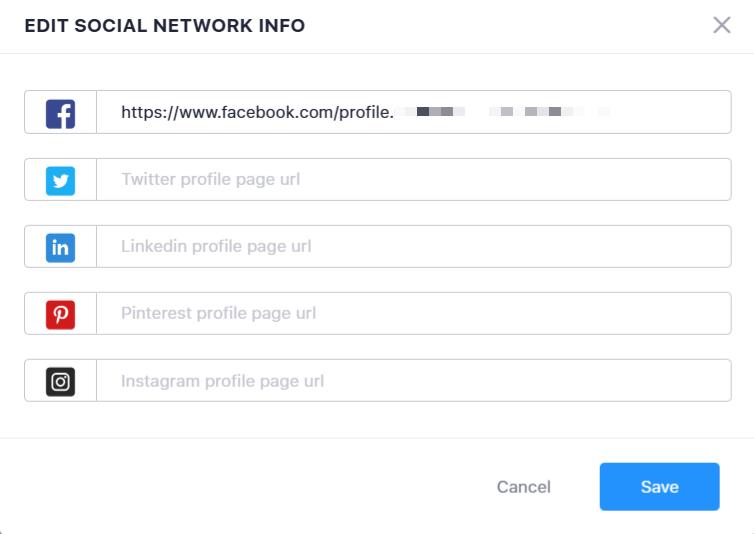 Insight / Lead Score
The lead score can be very valuable when comparing leads and whether they have what is needed to close a deal, etc.

If you would like to know what is contributing to a lead's lead score, you can click on the blue Analysis button. You can then review the top indicators, web activities, communication, etc. that have contributed towards the lead score.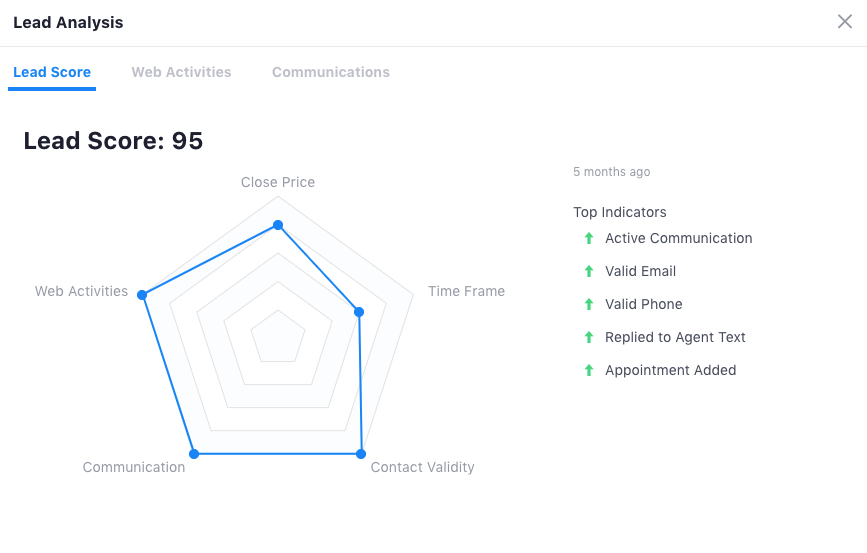 This lead score is calculated automatically. You will be unable to edit this score manually.
Properties
See below for Engagement > Properties. This section is just a simple version of what is displayed there.
Search Criteria
See below for Engagement > Search Criteria. This section is just a simple version of what is displayed there.
Assigned To
This section displays who is assigned to the lead. The default roles in this section are the following:
Agent. The user listed here is considered the primary owner of the lead for the purpose of reporting, etc. Property alerts will be sent from the user listed in this slot.
Assistant. Any user can be added to this slot. Other than a lender-type account.
Lender. Only a lender-type account can be listed here--you cannot add a standard agent/member user to this slot. For more information regarding this type of account, see Being a Lender with Lofty.
Any additional roles that appear are via Custom Roles.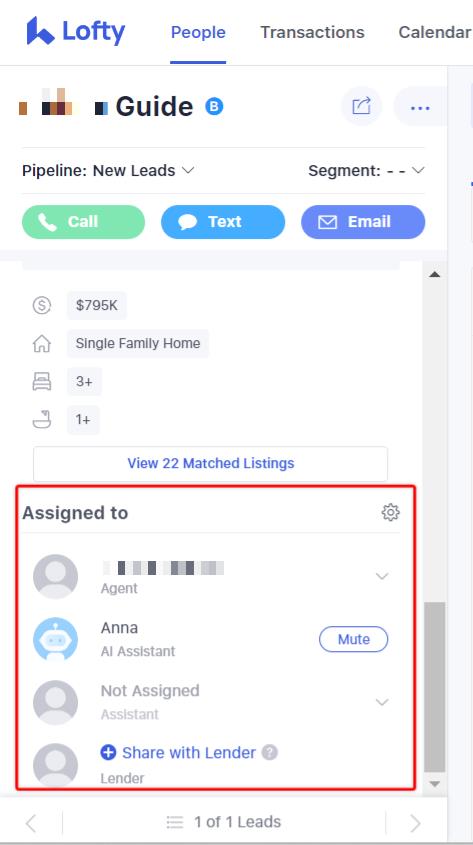 When another user is added to any of these slots, they will receive an email and a push notification informing them that they have been assigned to this lead. The users in any of these slots have the ability to edit anything on a lead profile or to reassign the lead.
One of the most common reasons to use the Assigned To slot of a lead profile is due to lead privacy (see Lead Privacy: Team Leads vs. Private Leads) because anyone listed on this lead in these slots has access to the lead even if they do not have admin access to view all leads.
To automatically add users to these Assigned To slots, you will use lead routing. More information regarding lead routing can be found here: Lead Routing Rules.
Lead Sharing Link
The lead's profile can be quickly shared with another user on your account by sending them a link to the lead. Please note:
Private leads

cannot

be shared

You can only share a lead that you are assigned to in the primary agent role
To share a lead, click the Share icon on the lead's profile.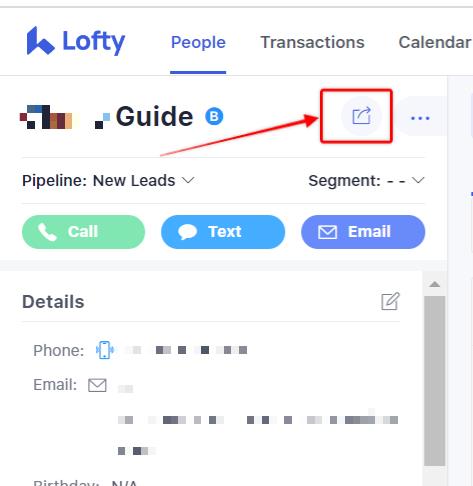 This functionality is also available in the Lofty mobile app.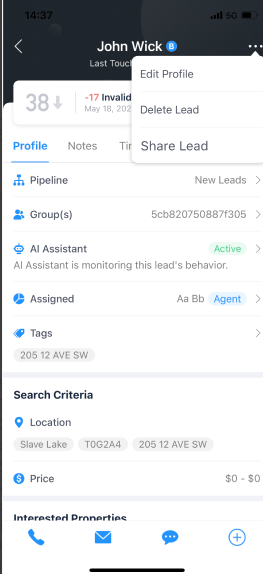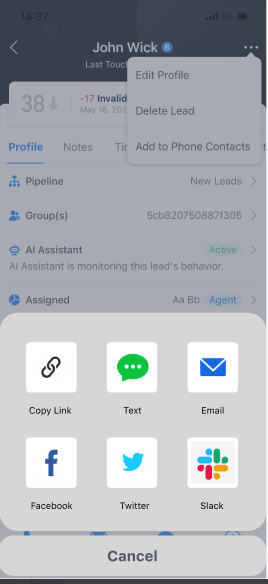 When clicking the Share icon, the following pop-up provides the share link, as well as a setting that authorizes who can access the lead via the link.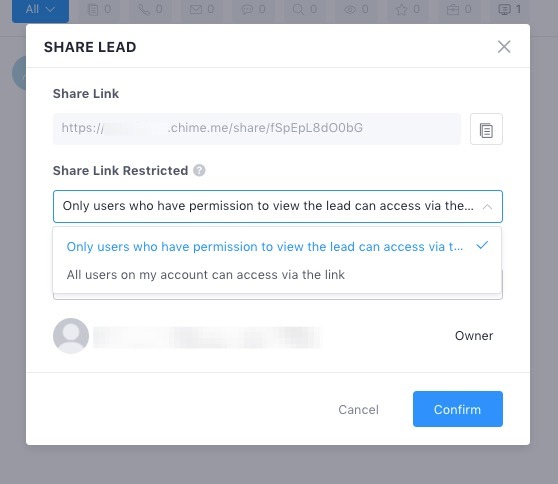 The options are:
Only users who have permission to view the lead can access it via the link

This means that the Lofty user must either have the Access All Team Leads permission enabled or be assigned to the lead on some level

All users on my account can access it via the link

This means that any user on the Lofty account can access the lead via the share link, regardless of their permission level
When viewing a lead that has been shared with you, a "Shared" tag will be visible in the upper left corner of the lead detail page.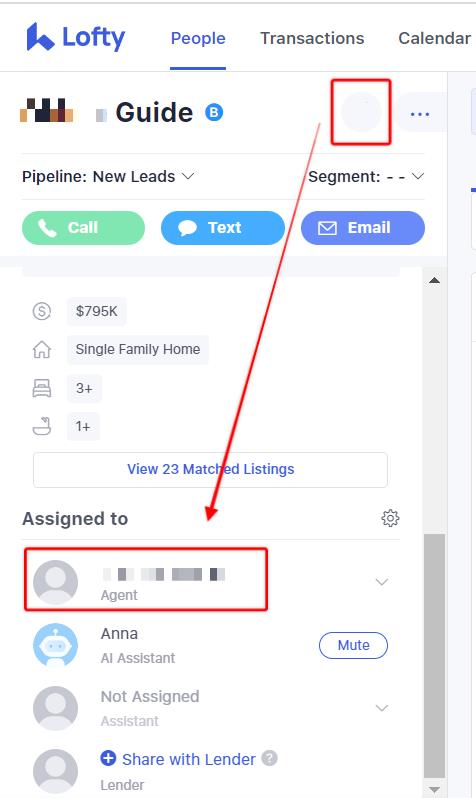 You cannot share a lead that has been shared with you.
Activities
This is the first tab of a lead profile. When this tab is selected, the panels explained individually below are visible.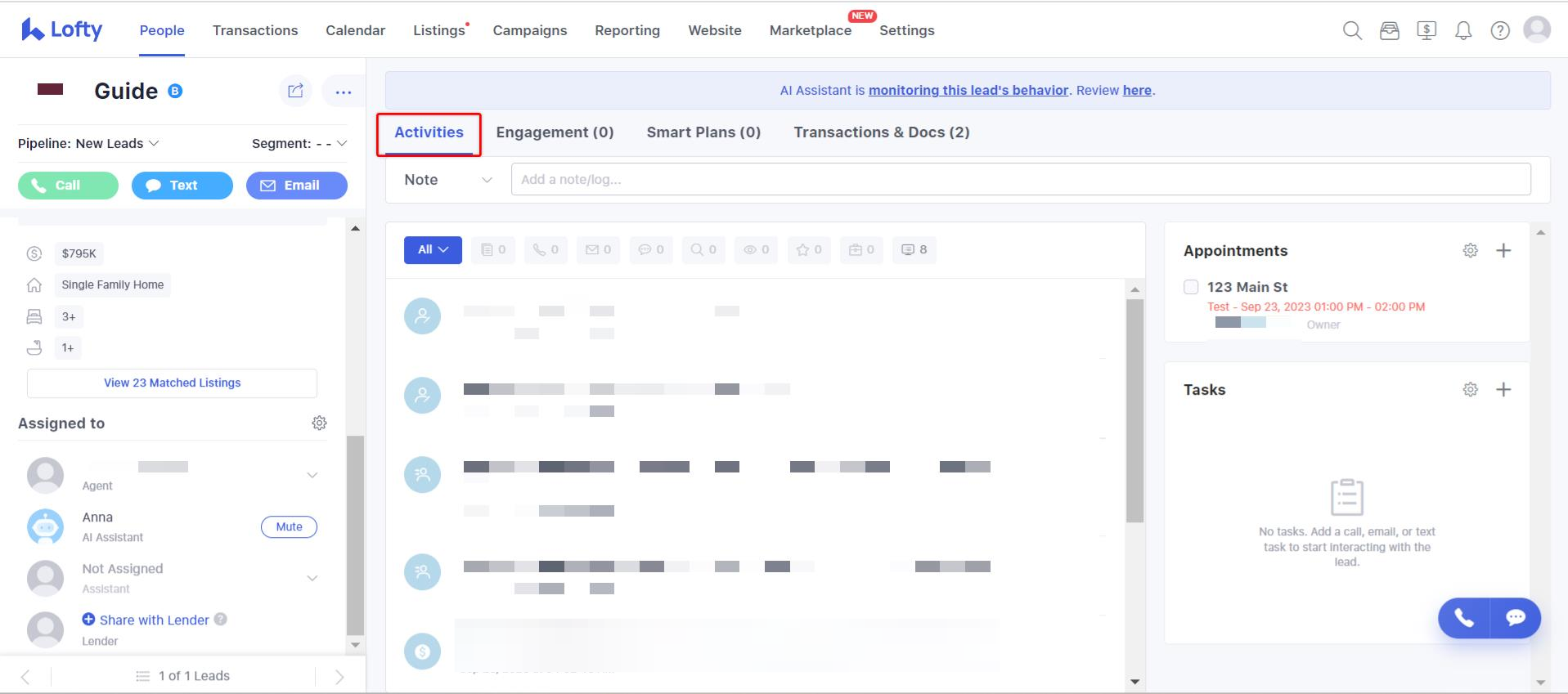 Manually Logging Communication
Activity done using a Lofty call/text package or via an integrated email account (see above) is all logged automatically on a lead profile. However, if you would like to manually log communication or notes, you can do so right at the top of this section:

Manually logged communication does count toward reporting. 
Use the "Pin to Top" checkbox to save the activity at the top of the activities timeline: 

You can also @tag people and they will receive notifications. For more information on how to do this, see Agent to Agent Lead Collaboration.
Activities Timeline
The Activities Timeline records all communication, lead website activity, and system logs associated with this lead. Use the filters at the top if you would like to specify a certain type of activity that you would like to review: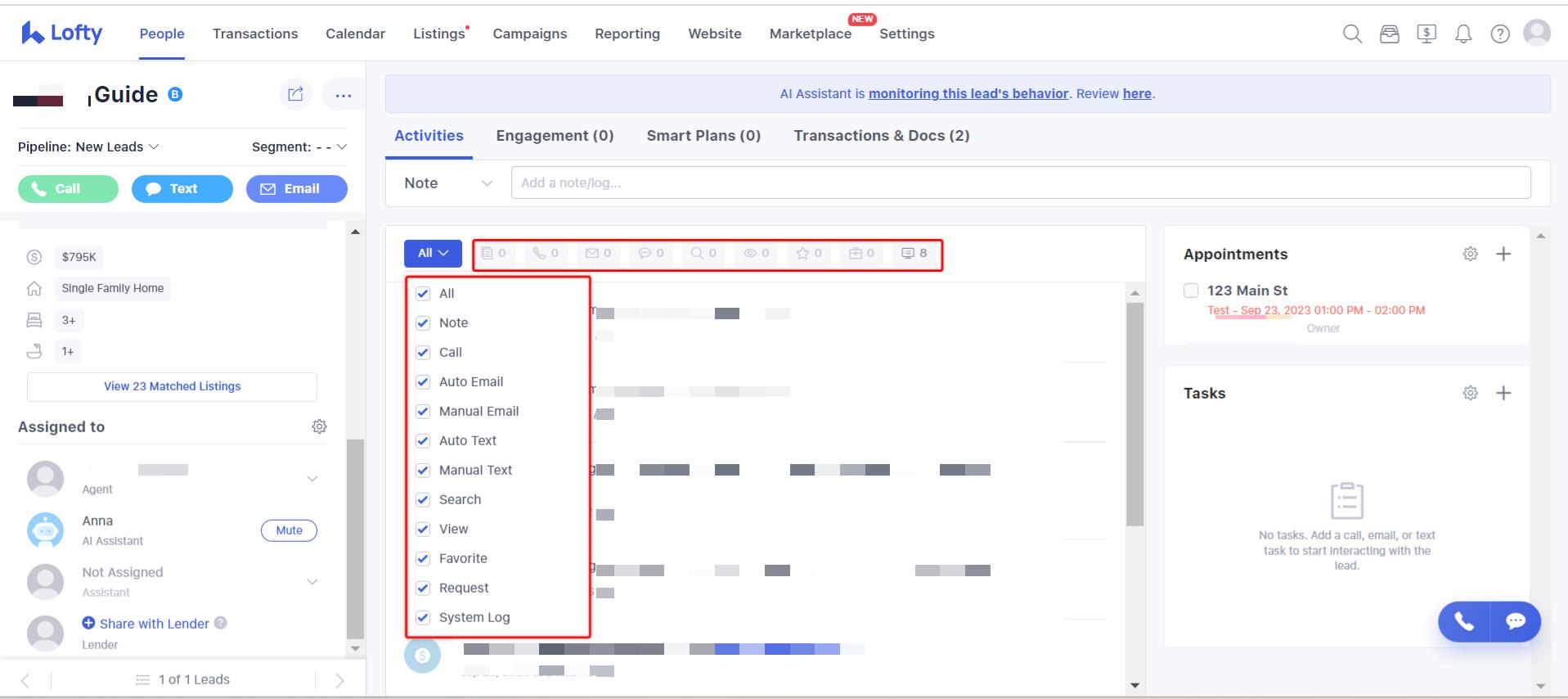 Appointments
For more information on how to use Appointments, please see Appointments.
Tasks
For more information on how to use tasks, see Task Management. 
Also related to tasks is Transaction Management Checklists.
Engagement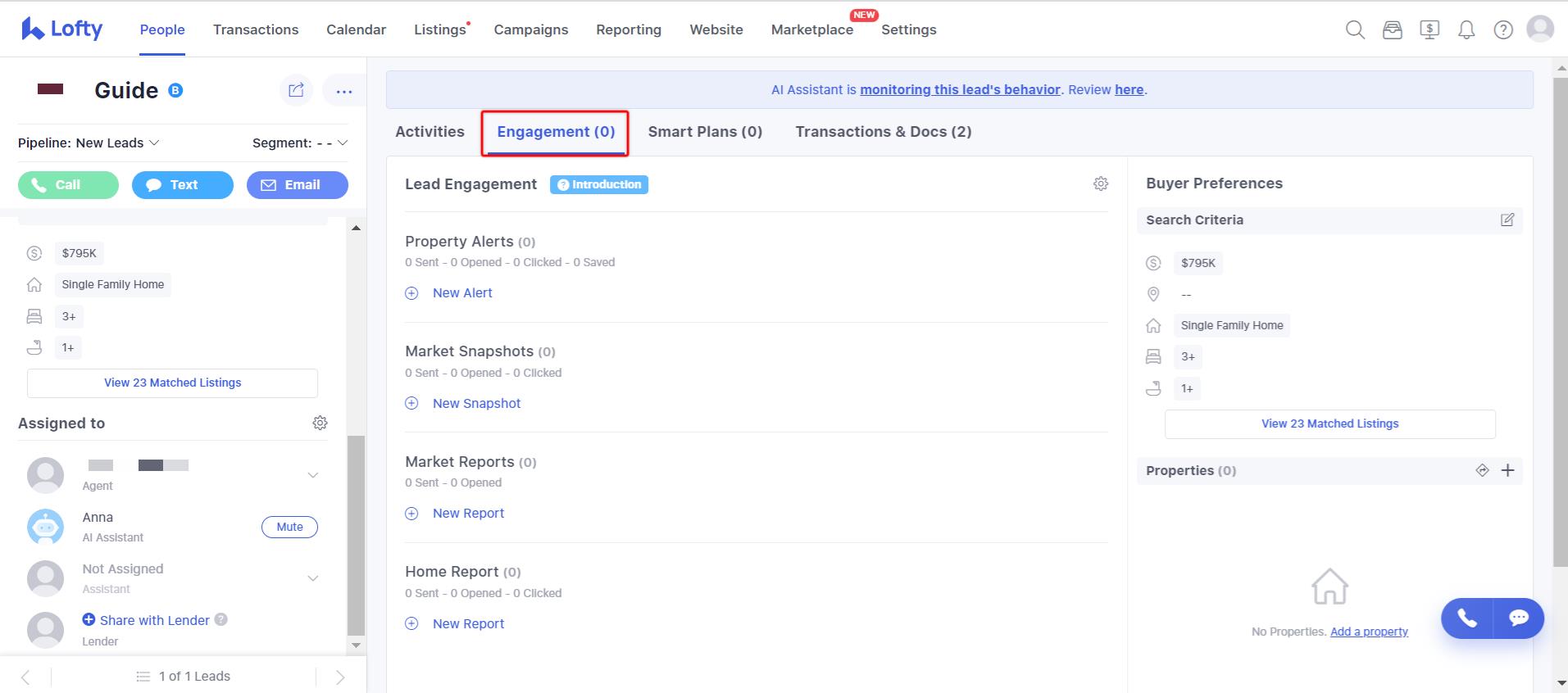 If you need to resubscribe someone to property alert or market report emails, you can do so from this tab: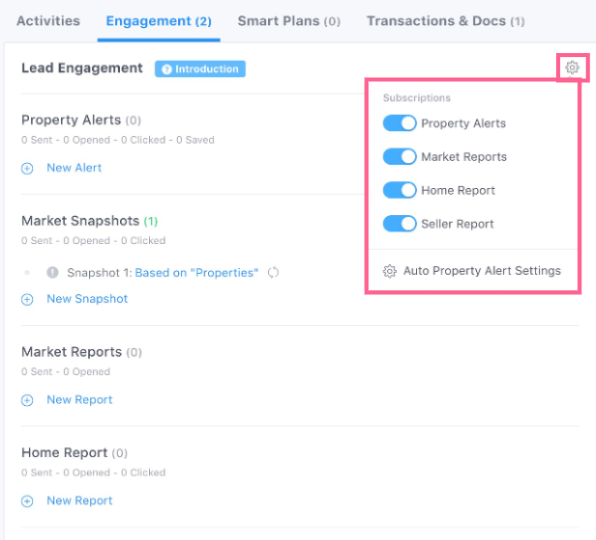 Property Alerts
See Property Alerts & Market Snapshots (Lead Engagement).
Market Snapshots
See Property Alerts & Market Snapshots (Lead Engagement).
Market Reports
See Market Reports.
Search Criteria
See Setting Up and Using Auto-Property Alerts.
Basically, the "Search Criteria" sections of a lead profile will show the information that has been captured about this lead regarding their home search. This could be fed into Lofty via their website activity, email parsing from a third-party lead source, etc.
NOTE: Updating the search criteria section will not update the set criteria on a property alert. 


View ___ Matched Listings button will point out any current matches and, when clicked, will redirect you to the Listing Discovery page (see Listing Discovery – All Listings & Hot Sheets) where you can choose to take actions based on what properties match. Here is where that button appears on a lead profile: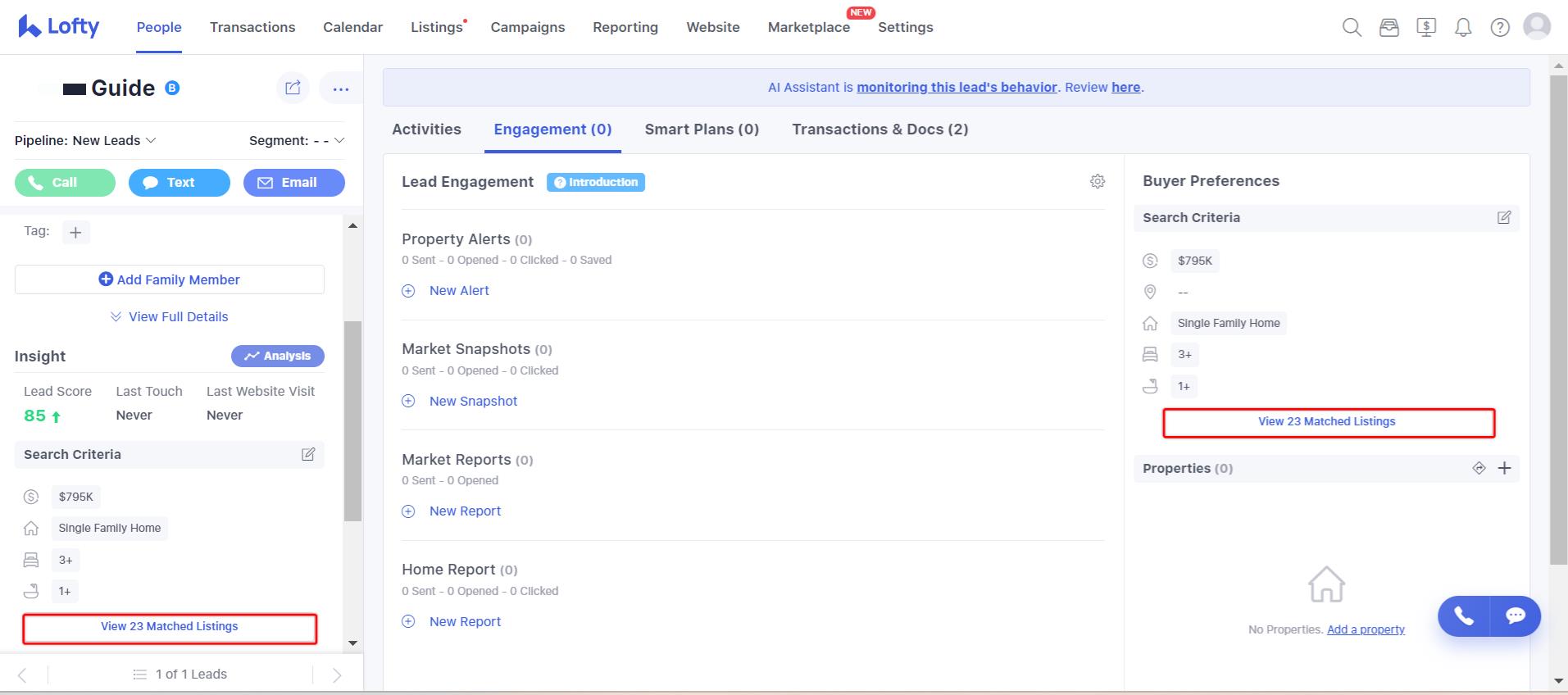 Properties
See How To Add a Property Address Under Lead's "Preferences".
Smart Plans
This tab will give you a reference of the Smart Plans that you have applied to this lead, Smart Plans that have ended or paused for some reason, etc. 

You can also manage whether you want to resubscribe someone to Smart Plan auto-texts/emails via this tab: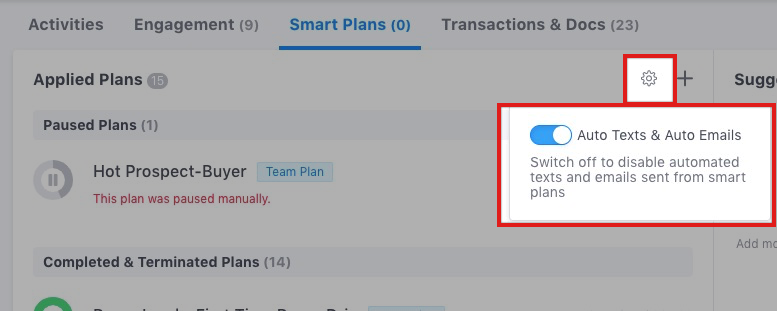 For more information regarding Smart Plans, see Smart Plans.
Transactions & Docs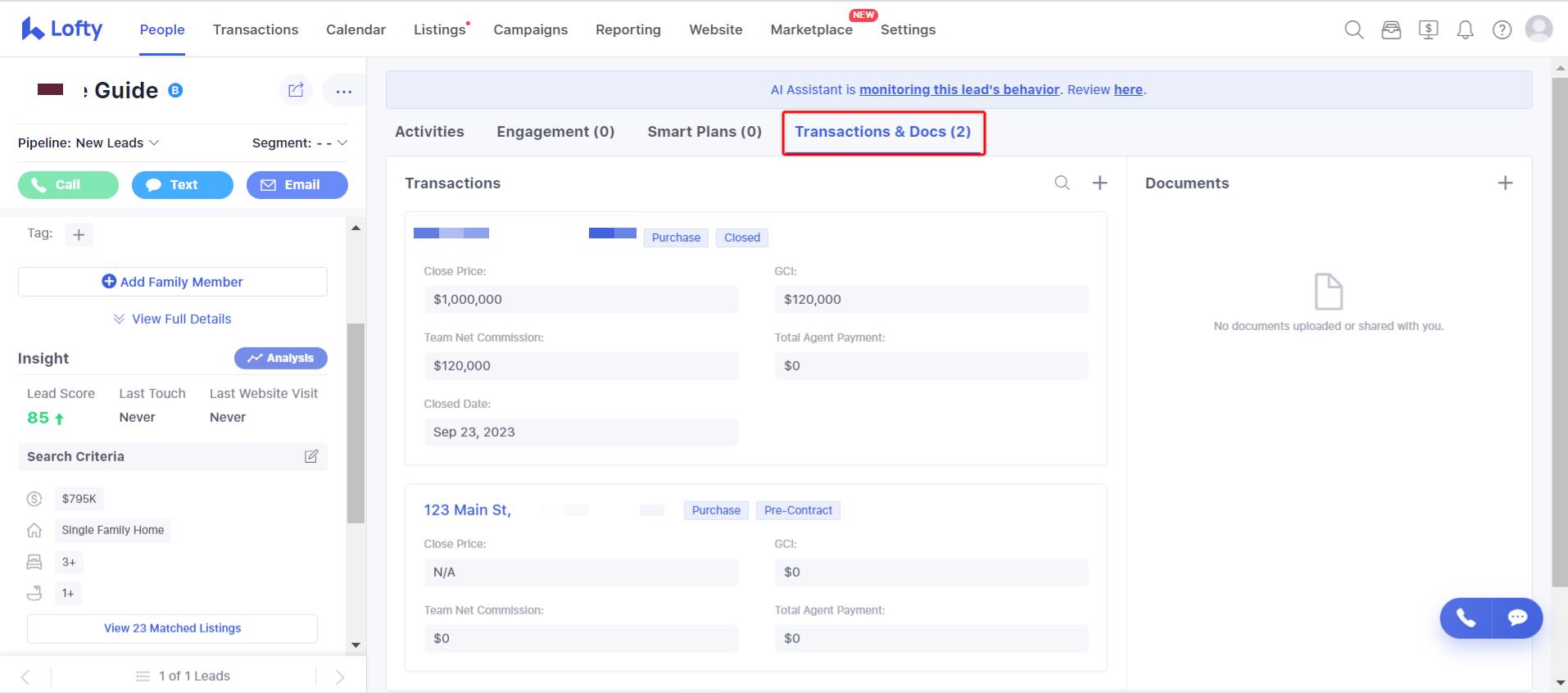 This tab is associated specifically with Transaction Management. A transaction must live on a lead profile (you cannot have a transaction NOT associated with a lead) so this is where you will add them or reference them as needed. 
You can also add documents here. For each file, the limit is 10 MB. There is no limit to the number of files that can be added to one lead.

For more information regarding transactions, please see Transaction Management Introduction. 
FAQs
Is there a way to connect multiple lead profile pages other than adding them as family members within the same profile?
Currently, there is no built-in link option. However, there are a couple of options to link multiple lead profiles together. Typically the goal of doing so is to document who referred someone, who the agent is they are working with on the buying/selling side, etc.

First, you need to understand that each lead profile has a unique URL. So, when you are on a lead profile, you can copy that URL and paste it into two different locations. 
Option 1: Save and pin a note
Paste the URL for the lead you want to connect to this one into a note. You can pin it to the top for easy reference in the future if you would like.

Option 2: Create and use a custom field
Create a custom field for "Referred By" or whatever your use case is. See Custom Fields for more information on how to do so. Then, you can add the URL to that custom field by clicking on the three dots > Edit Details and finding the custom field. This link then becomes clickable. You can also filter by custom fields on the People page.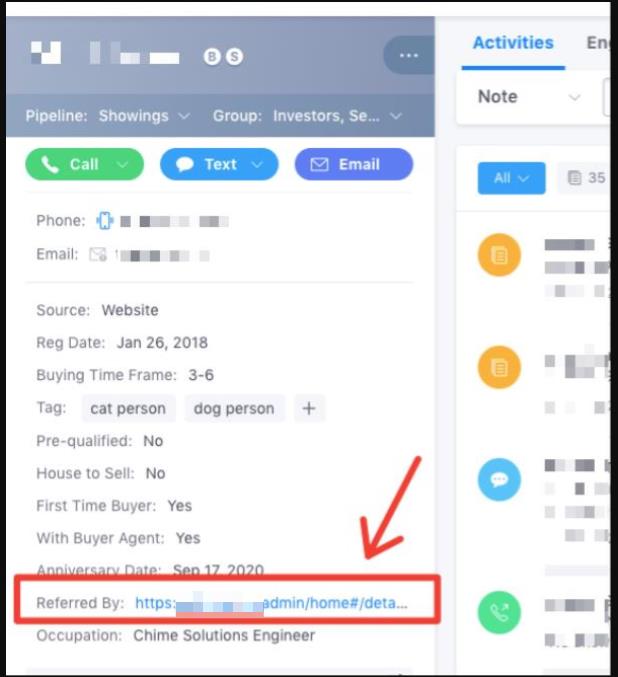 If I am looking at a list of leads is there an easy way to navigate between lead profiles within that list?
Yes. If you go to the People page and click into a lead profile from a list you will have an option available in the bottom-left that you can use to open up a list or go back or forward on the existing list to easily view the lead profile and move to the next or previous one in line.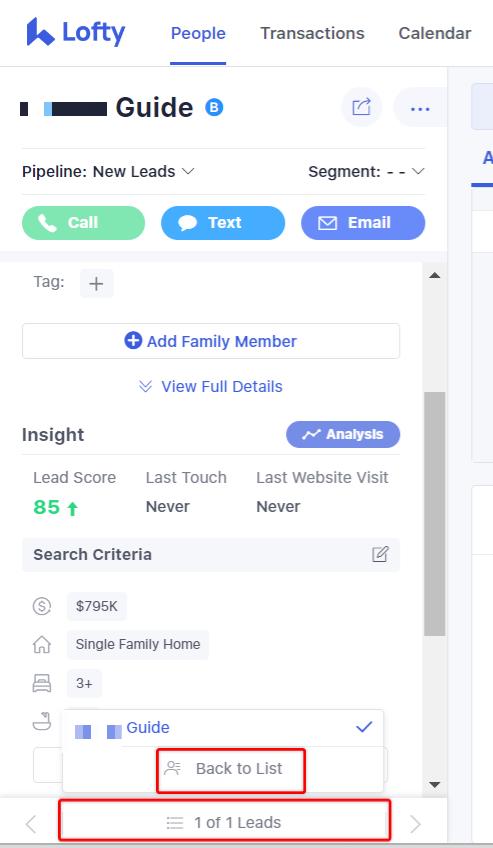 Why is there a phone number and information listed in the Social and Phone Info section? 
For new leads that enter the Lofty CRM via a Lofty-paid channel (i.e. "Lofty Paid Lead" or "Lofty Listing Ads"), an additional section will provide details regarding the phone number. This information is found under the Social and Phone Info section and will list (if available) the number, the number holder, and the phone carrier name. This information can provide you with additional insight into reaching the customer for the first time. Please note that if you delete or modify a lead's number, this module will disappear as it will only work with the number that was submitted when the lead was captured via the Lofty-paid channel. This information is made available via the call/text package provider used in Lofty.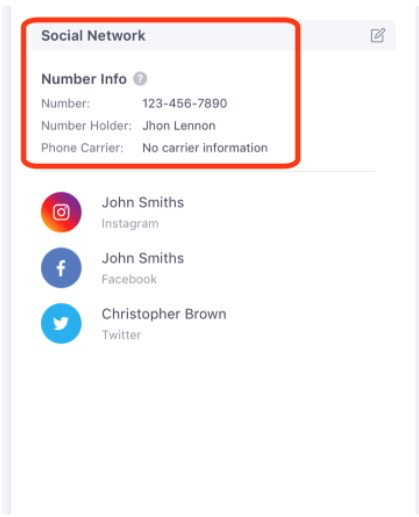 Are notes searchable?
Yes, the following types of notes can be searched:
Manual Notes (including those made for calls, emails, and texts)
System Logs
Questions?
If you have any questions regarding this topic or any others, please reach out to our Support Team via email at <support@lofty.com>, by phone at 1 (855) 981-7557, or by chat with us through your Lofty CRM.

Related terms: lead sharing link, lead detail page