Introduction
Important: Please note that the availability of certain features outlined in these release notes will vary depending on the package and add-ons that you have purchased as well as the account type that you have (admin/standard user). These features are subject to change at any time. Please see our Learning Center course on this update HERE. Having trouble accessing the course? This article will show you how to access the Lofty Learning Center: How to Access the Lofty Learning Center
Release Date
Monday, November 13th, 2023
Summary
A2P 10DLC Registration Optimization
With this update, all Lofty users can create brands and campaigns. This update introduces Private campaigns (can only be used by the creator of the campaign) and Team/Company campaigns (can be shared across the organization). For more information about 10DLC Campaign Registration, please see: A2P 10DLC Registration

Smart Plan UI Enhancement
To help simplify the Smart Plan creation process, we have split the Smart Plan page into 3 tabs: Settings, Triggers, and Actions.
In Settings, you will give the plan a name, select your target lead type, set the plan scope, and add the auto-pause conditions (if applicable).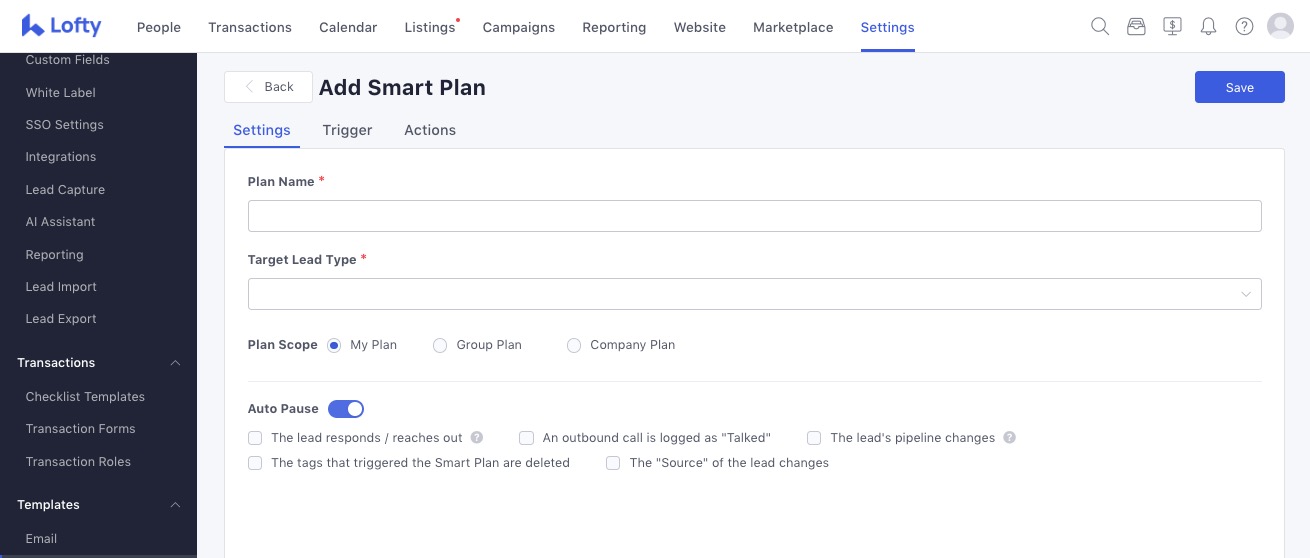 In Triggers, you will select the conditions where the plan should automatically apply to your leads. Buttons have been introduced to help the creator select the Standard Smart Plan triggers. You can build on these conditions with Advanced Triggers.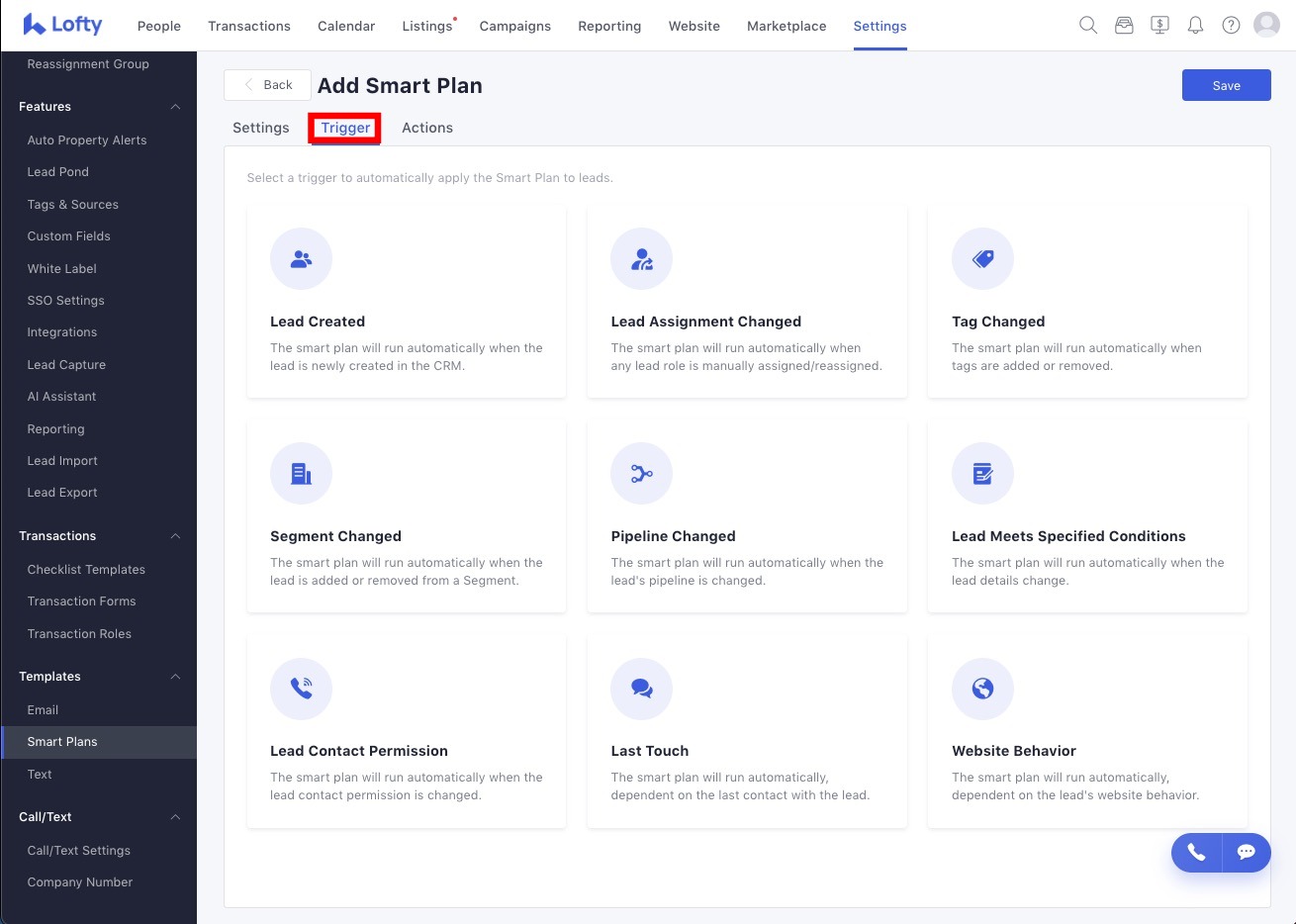 Standard Trigger: Lead Created
This is the same as the previous Smart Plan trigger "when specified leads are newly created".
Standard Trigger: Lead Reassigned
This is an improvement on the previous "when specified leads are reassigned". The new logic introduces the ability trigger a Smart Plan when a lead is assigned to a specific

role

or

user.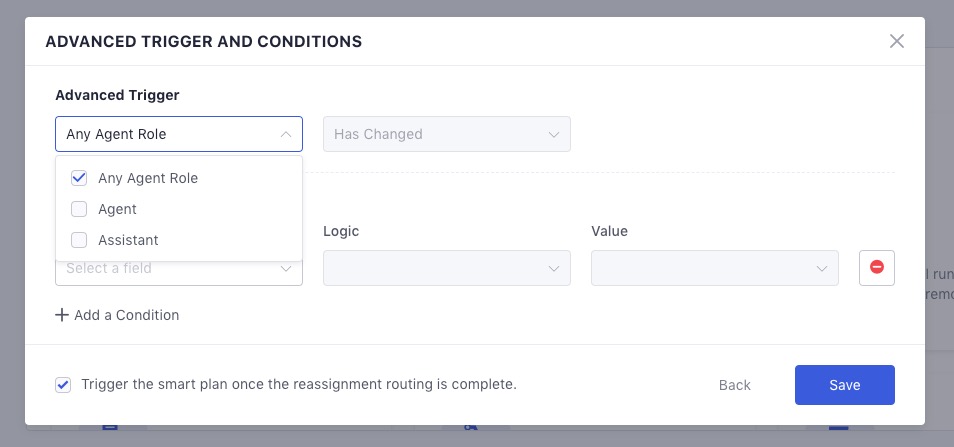 Standard Trigger: Lead Meets Specified Conditions
This is the same as the previous Smart Plan trigger "whenever leads meet the specified conditions". If you want the plan to apply to current and future leads, check the checkbox. If you only want the plan to apply to new leads that come in, do not check the checkbox.
Standard Trigger:
Lead Contact Permission
This is a new Smart Plan trigger. You can now use a lead's call, text, or email opt-in status as a Smart Plan trigger. The Smart Plan will only trigger if the lead's contact permission meets the requirement.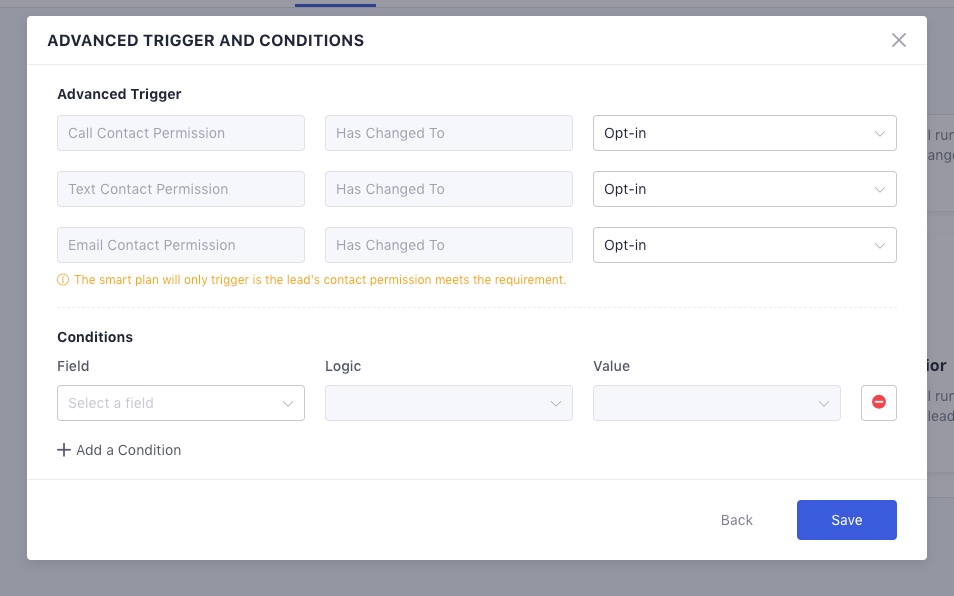 Standard Trigger: Website Behavior
This is the same as the previous Smart Plan trigger "when specified leads have certain behaviors."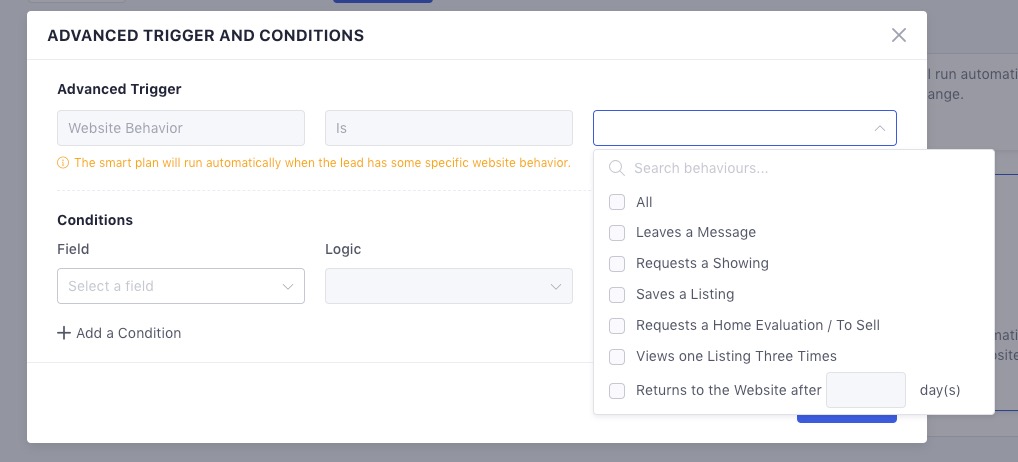 Standard Trigger: Specific Date
This is the same as the previous "Recurring Plans".
Advanced Trigger
Advanced Triggers are modifiers that help specify which leads you would like to target with your Smart Plan.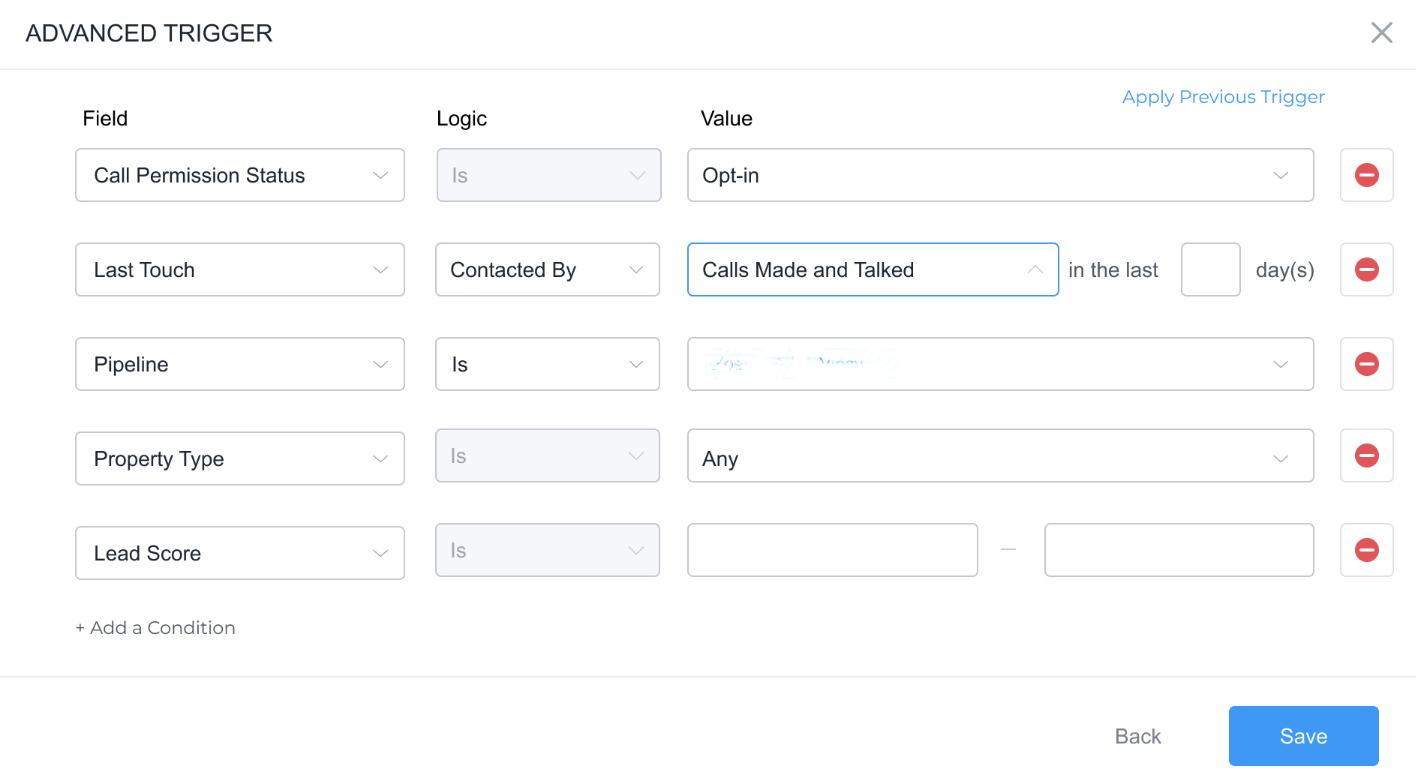 Enhancements have also been made to communicate the amount of time a Smart Plan will need to complete. Smart Plans can process up to 5,000 tasks per minute. When the Smart Plan needs to apply to a large number of leads, or if there is a high volume of tasks, there might be a delay. With this update, you will now see an estimate of the expected number of leads and time to completion.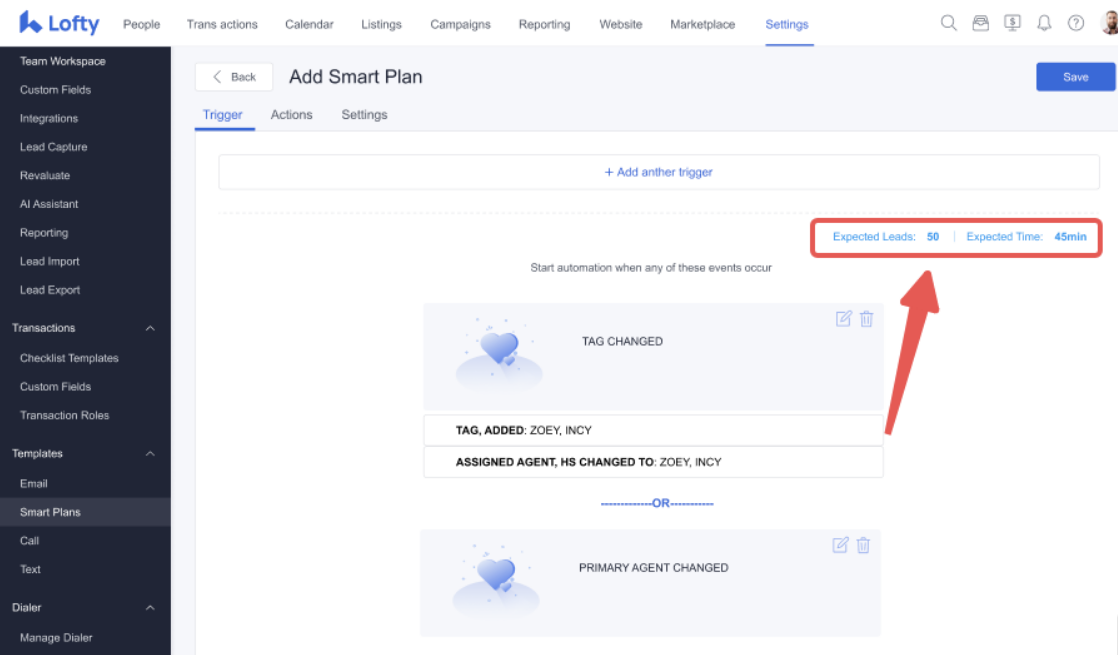 Zillow Two-Way Integration 
After a successful round of beta testing, the Zillow Two-Way integration is now available to all Lofty users who also use Zillow Premier Agent. This feature officially released November 7th.
Currently, the two-way Zillow integration only supports creating and mapping Company/Team leads. The Company/Team leads imported by the Zillow two-way integration will not go through any lead routing. When converting a connected Company/Team Zillow lead to a Private lead, the lead will be automatically disconnected from Zillow Contact. One Lofty lead can only be connected with one Zillow contact.
To see the full details of the integration, please see: Zillow Two-Way Integration
Following this update, notes will sync two-way (Zillow > Lofty AND Lofty > Zillow).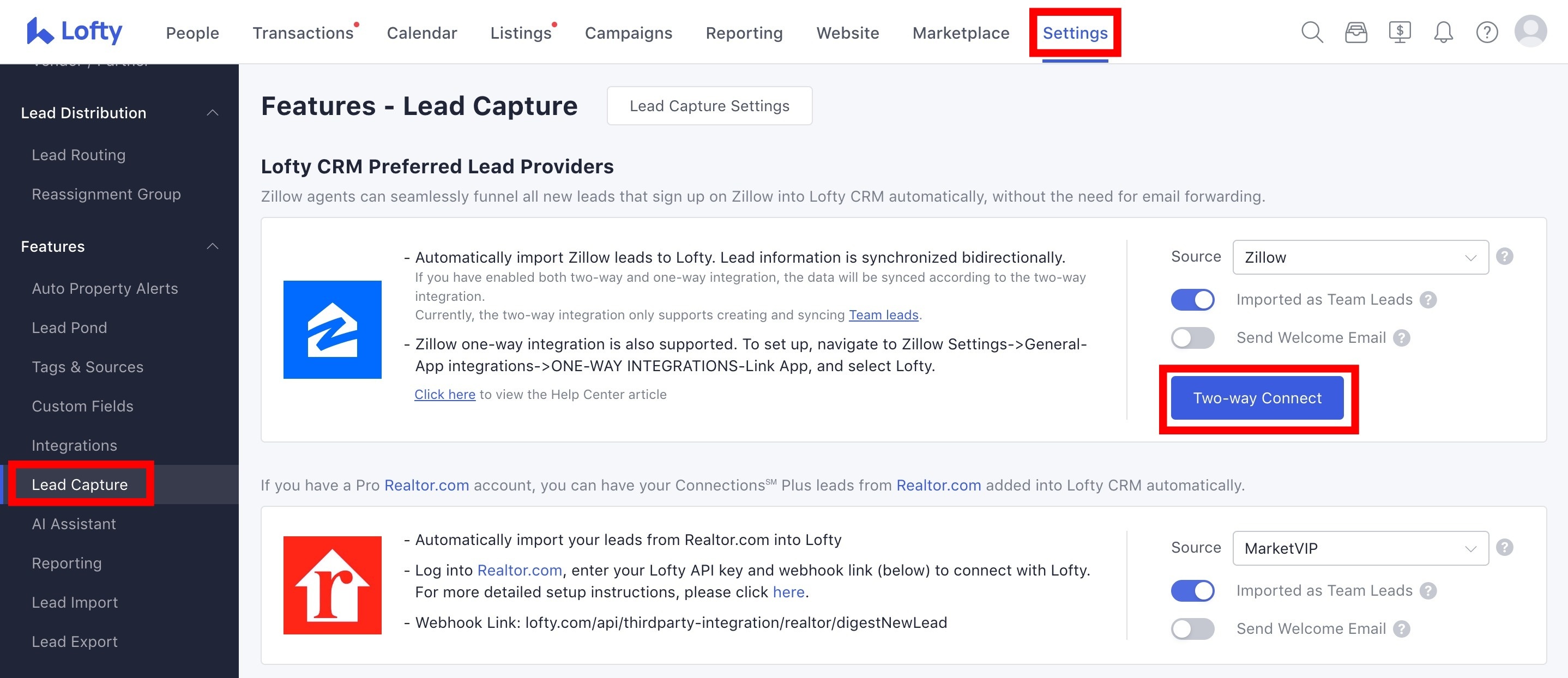 People Page: Last Touch Optimization
This update supports sorting the Last Touch column on the People Page by the following contact methods:
Sort by All

This includes all contact methods, automatic and manual

Sort by Last Manual Touch

This includes all manual contact methods:

Call
Manual Text
Manual Email

Sort by Last Call
Sort by Last Manual Email
Sort by Last Manual Text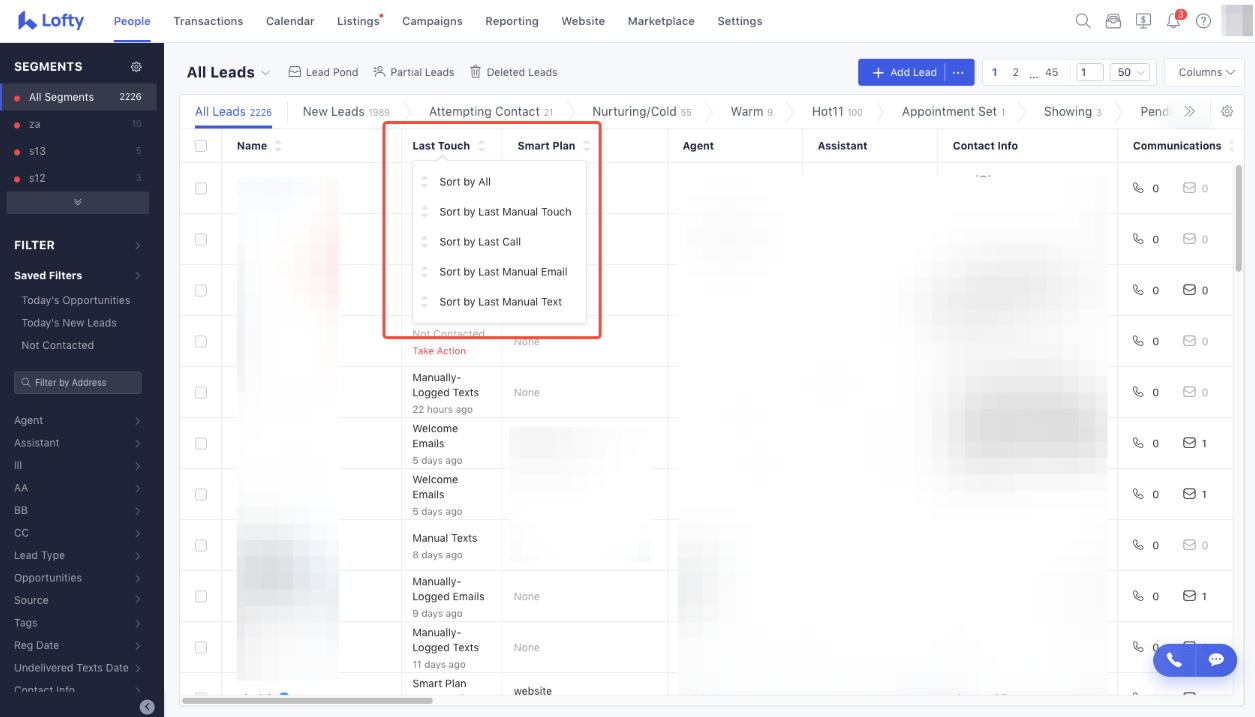 New Lead Custom Fields
New custom fields for lead profiles have been introduced.
The new Lead Custom Fields are:
Percentage

This automatically adds a "%" after the value added to this field

Currency

This automatically adds a "$" before the value added to this field

Single-Select

This allows for a drop-down list where one item can be selected

Multi-Select

This allows for a drop-down list where multiple items can be selected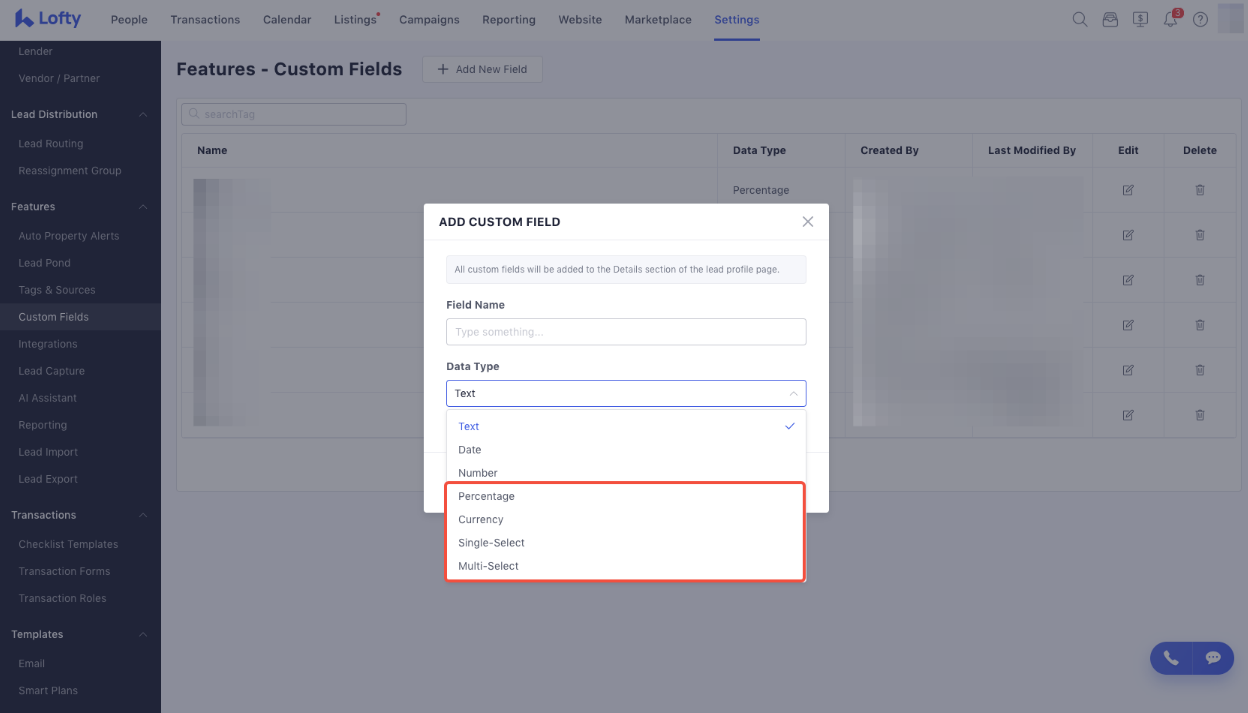 Note: up to 50 lead custom fields of each type can be created on the Lofty account.
Call/Text Package Optimization
When a call or text package is deleted, it is still available for use until the next billing cycle. This update adds an "expiration date" to deleted packages to help provide clarity. Once the Expiration Date arrives, the package will automatically be deleted and removed from the Lofty account.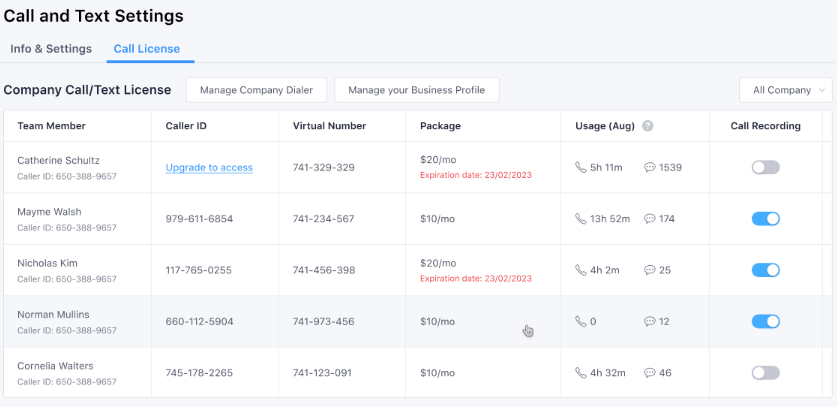 Agent Profile Optimization
Previously, the "Address" field in the agent profile was one line. Now, it is split into "Street Address", "City", "State", "Zip code" and "Country". 
When you fill in the "Address", the "Street Address", "City", "State", "Zip code" and "Country" of the address will be split and automatically filled into the related fields. Fields can also be edited individually.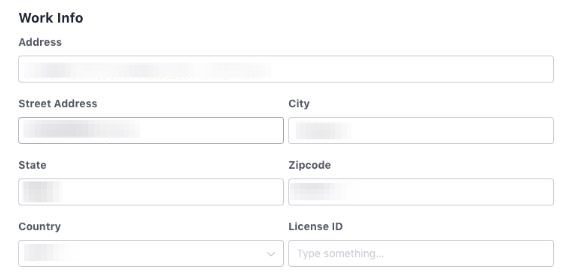 Lead Pond Notification Update
This optimization adds the Lead Pond name to the notifications that are sent to agents when a lead is added to a Lead Pond.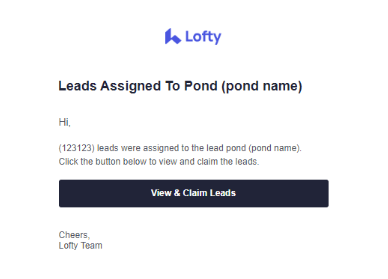 AI Marketing Assistant: Local News
This is an enhancement to the AI Marketing Assistant. With this update, the AI Marketing Assistant can assist users with the following tasks, based on a location:
Generate a marketing report blog post
Create other marketing content:

Social media posts
Emails
Texts
You can either provide a city, or the AI Marketing Assistant will use the "My Listings" tab to find and recommend cities that you have listings in.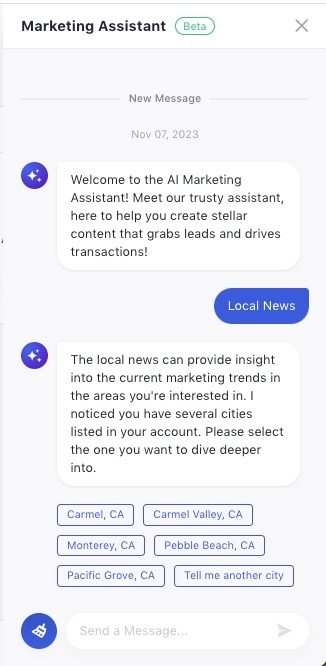 After choosing a city, the AI Marketing Assistant generates a blog post displaying a Market Report specific to that location. This draft report is initially visible on the blog page, and once you approve and publish the blog post, it is made live on the website for marketing purposes. The content in the blog post can be modified using the CMS tool and can be published instantly or scheduled for a future release.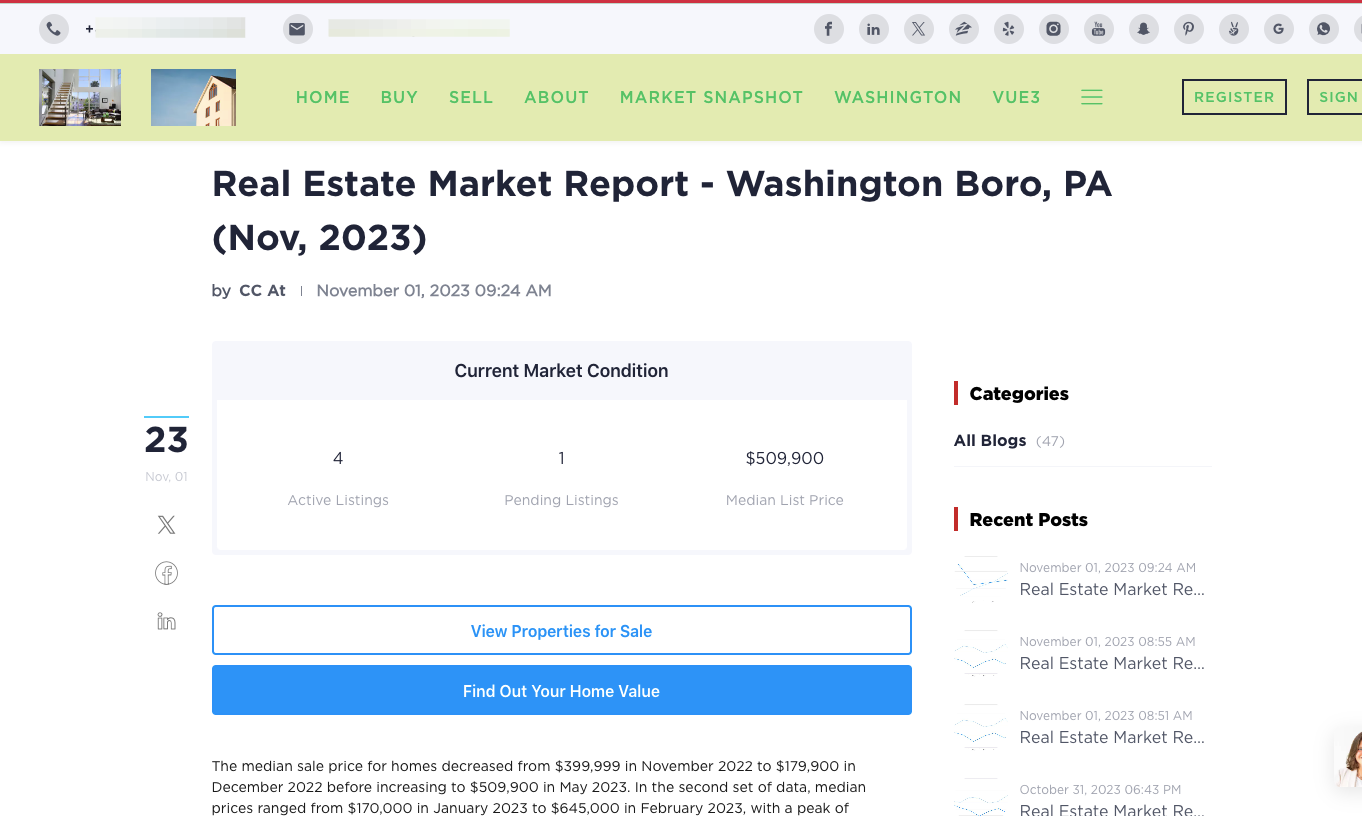 The assistant will write marketing content based on the generated marketing report. This content can be used across the platform - to post on social media, or to send to leads via text or email with one click.
AI Writing Assistant: Email Reply
This is the newest optimization to the AI Writing Assistant. Previously, the AI Writing Assistant was only available on new emails. With this update, the AI Writing Assistant can help respond to a lead's email.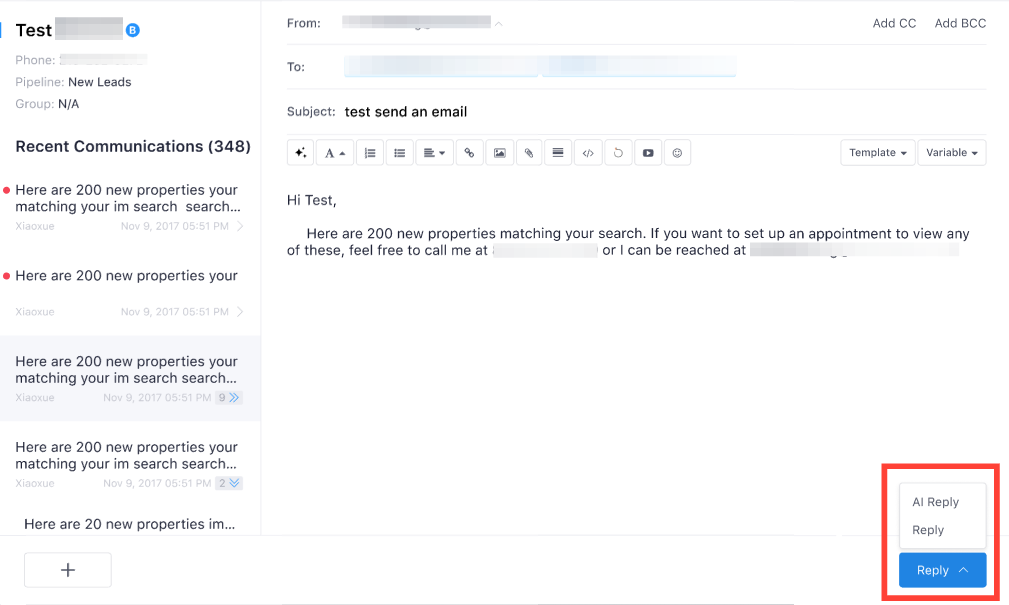 The prompts for the AI Writing Assistant have not changed. 

Zapier Integration Optimization
This update allows Enterprise accounts additional control over leads imported via Zapier.
Previously, Lofty Triggers only supported synchronizing leads or transactions under your own name to Zapier. In order for the Account Owner to manage all users' leads and transactions, they would have to create a zap for each agent on the account. We received feedback that this was difficult to maintain. With this update, and Enterprise Company Owner or Admin can choose to synchronize all visible Leads and Transactions to Zapier.
Note: This is only available for Enterprise Lofty accounts.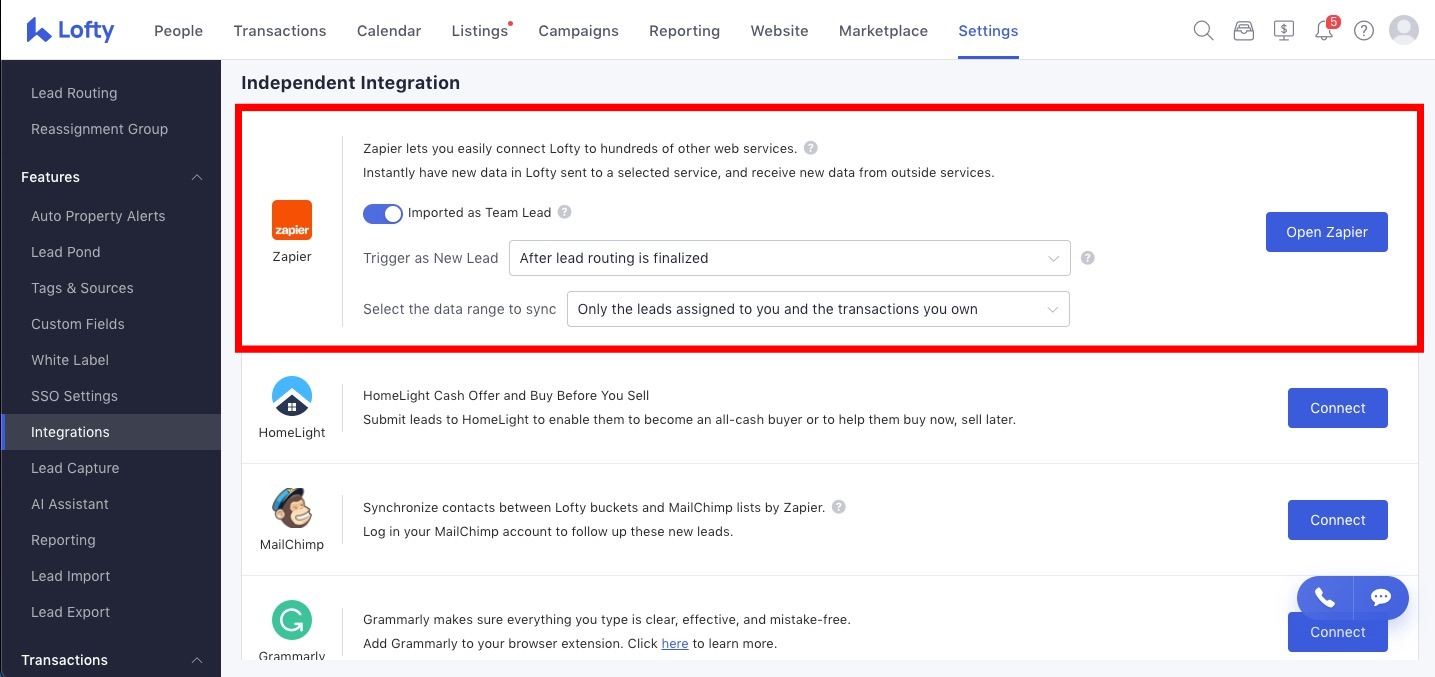 Questions?
If you have any questions regarding this topic or any others, please contact our Support Team via email at <support@lofty.com>, by phone at 1 (855) 981-7557, or by chat with us through your Lofty CRM.