Introduction
Opportunities are notifications that are triggered based on lead activities that Lofty believes to be important to real estate agents. These notifications will allow for leads that match certain behaviors to be prioritized and contacted quickly--thus avoiding missed opportunities.
Summary
Opportunity Criteria
There are four kinds of opportunities: (1) High Interest, (2) Back To Site, (3) Sell, and (4) Back On Market. The following will explain the criteria for these categories:
High Interest 
A lead views a listing three or more times
A lead saves a listing on the site
A lead requests a showing (tour request) from a listing page
A lead leaves a message from the fields on the website

A lead saves a search on the website

A lead uses the mortgage calculator 3+ times in one day
A lead submits a form on your website when logged in
Back To Site
A lead who has not returned to the website for at least five days but then visits the website again.
Sell
Leads that intend to sell and request to do so through the "Sell My Home" or "Home Evaluation" options on the website. These must be previous leads in the system and can be a buyer lead type.
Back On Market
There are two situations that will trigger a Back On Market opportunity notification:
For all third-party sources (including Zillow), Lofty will watch for incoming lead notifications that match an email address that is already in the CRM database. If it matches an existing lead, it will update the system record for that lead and trigger an opportunity notification. This will only trigger for leads that have been 7+ days in the system to avoid triggering for newer leads in the system. It's worth noting that some information on the lead profiles is updated: the "Phone," "Search Criteria," and "Properties" sections of a lead record will update. If auto property alerts are set up, these will update with the new info from "Search Criteria." We do not overwrite the source of a lead based on the new source if different from the original.
If a lead sends in a text code to the Lofty user's virtual number, this will trigger an update to their lead profile with a note that states "Re-inquired on text code." That lead will receive the automated text code response. For more information regarding text codes, see Text Codes for Lead Capture.
Accessing Opportunities
Opportunities are displayed in three different locations: (1) My Dashboard / Team Dashboard, (2) Opportunity Push Notifications, (3) People Page > Opportunities Filters.
My Dashboard / Team Dashboard
An admin user will have access to "Team Dashboard" and can toggle back and forth between this one and "My Dashboard" which displays summary information only for leads assigned to themselves. The opportunity aspect of this page is just a count of new opportunities for today that, when clicked, will take the user to the People page where these are displayed with the filter of "Today's Opportunities."

Opportunity Push Notifications
These notifications are located on the mobile app as well as on the web app. In the web app, there is a separate section for Opportunity Notifications. Clicking on the notification will take you to the corresponding lead profile page.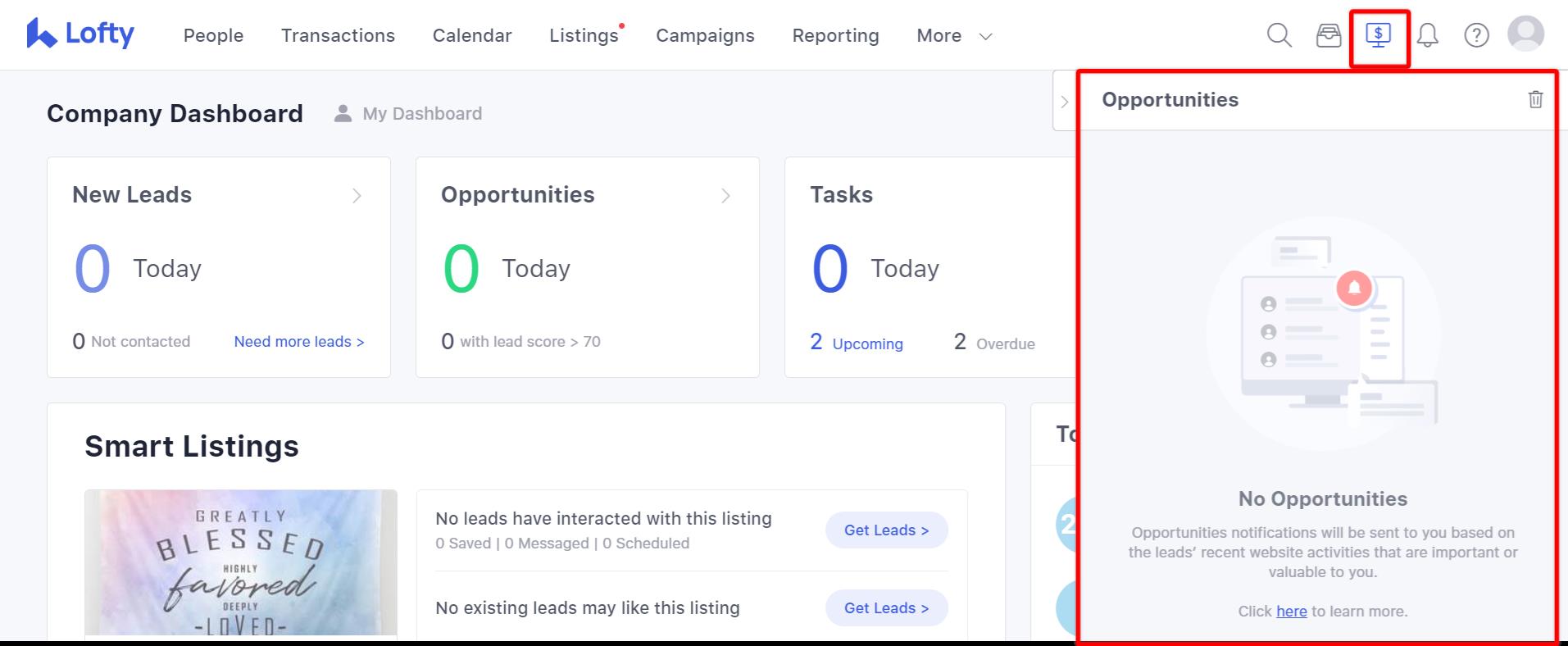 People Page > Opportunities Filters
Another way to search for Opportunities is by (1) going to the People page on the top navigation menu and  hovering over the "Opportunities" filter on the left side: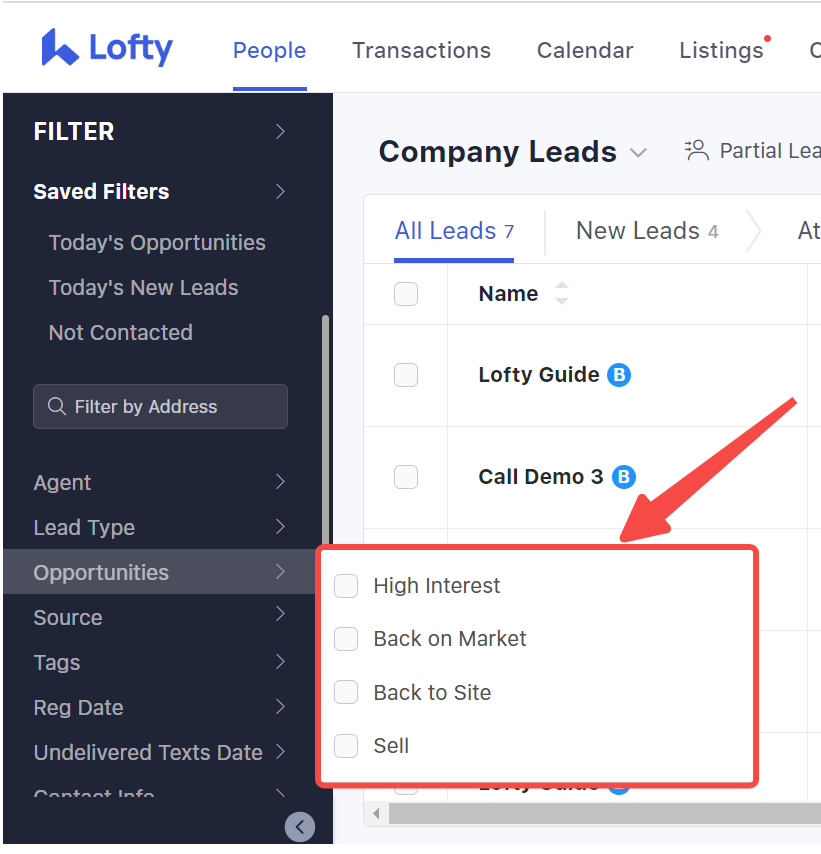 Alternatively, you can select the saved filter for "Today's Opportunities" which will show you those who have been triggered today. The criteria they were brought in under will be displayed in the "Lead Score" column.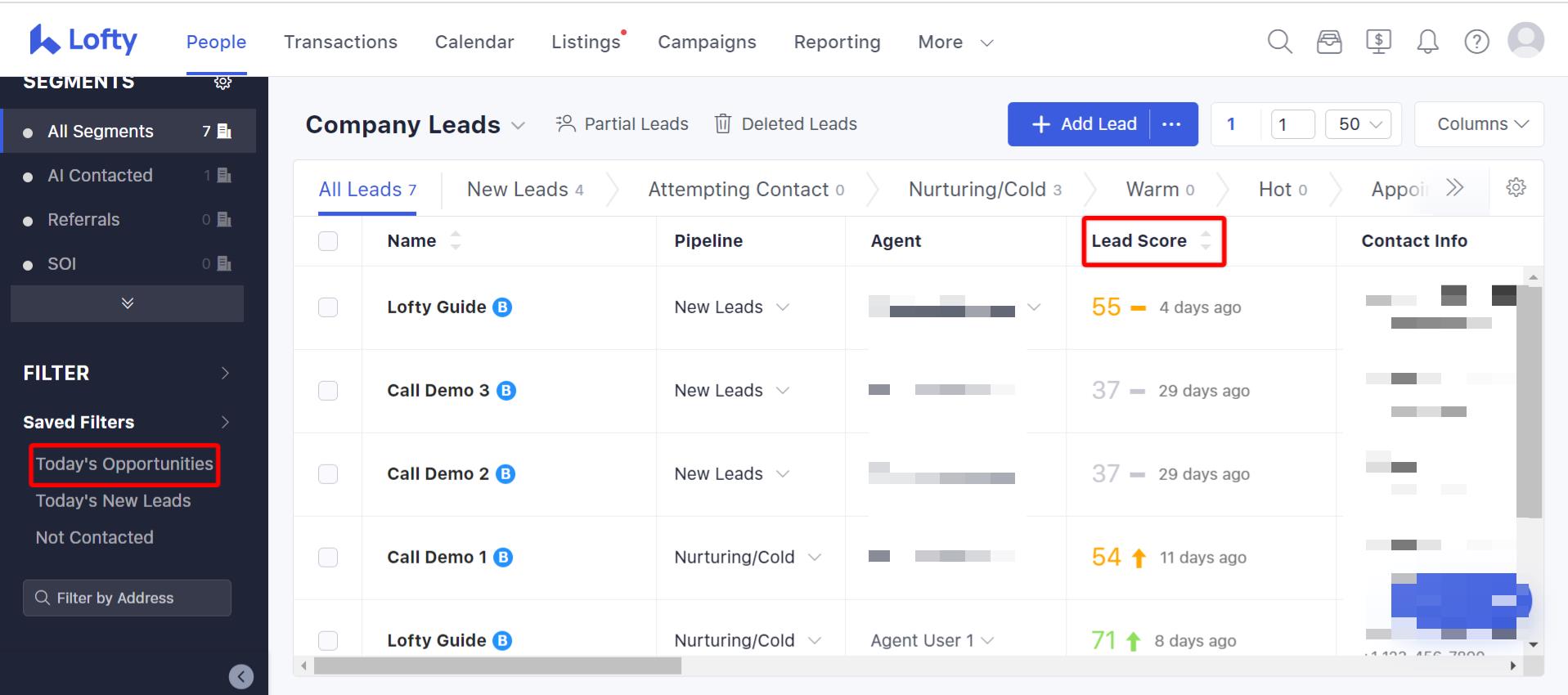 Questions?
If you have any questions regarding this topic or any others, please reach out to our Support Team via email at <support@lofty.com>, by phone at 1 (855) 981-7557, or by a chat with us through your Lofty CRM. 
Related terms: Opportunity, back to site, sell my home, back on market, high interest