Introduction
Do you want to capture leads while at the same time providing prospective clients with the information they are seeking immediately? Set up Lofty Text Codes to instantly send automatic responses to leads who text a customized code to your virtual number.
*Please note that a paid version of the Lofty Text Package is needed in order to use this feature. 
Summary
Set up your Text Code
Navigate to the Campaigns section
Click Text Codes
Click on Add New
Input the following:


(a) A text code of your choice (not case-sensitive, no spaces are allowed)
(b) Associate the code with a listing on the MLS (not required). This will automatically include a link to the listing in the message if you use it.
(c) A customized reply message to be sent

Share the text code on signs, flyers, etc.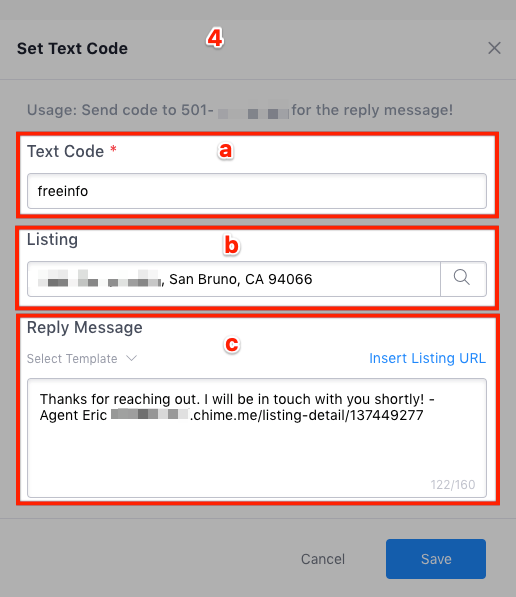 Listing Discovery
You can also set up your Text Codes in the Listing Discovery section: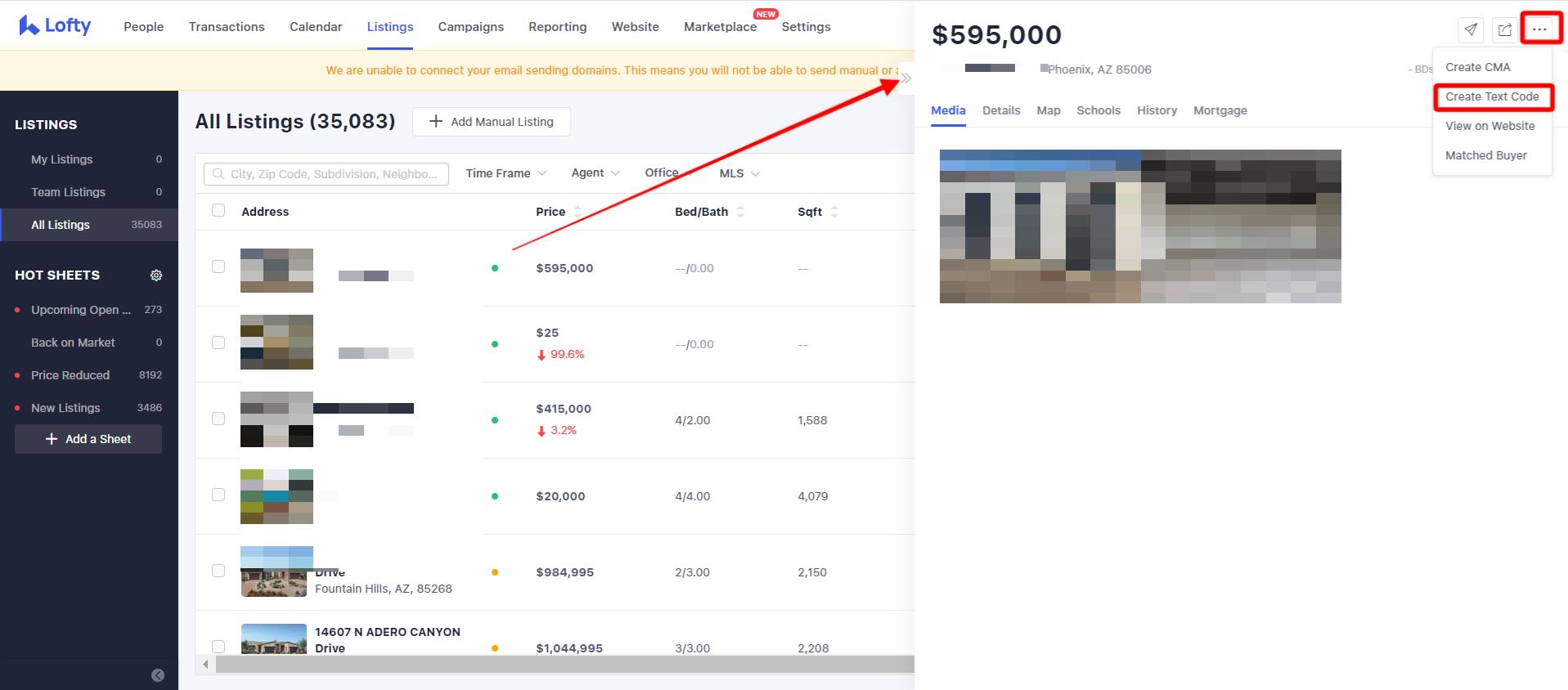 How It Works
Once a lead that is not already in your CRM database sends the Text Code to the user's virtual number, the lead will instantly receive the automatic "Reply Message" and their phone number will be registered as a new lead for the Lofty user to follow up. The source of the lead will be "Text Code" and the code that was used will be added as a private tag in the format of "Text Code: _______". You can use that new tag to filter the leads on the People page to take action as you see fit.
You can evaluate the performance of the text codes by checking the "Captured Leads" column:

Text Codes + Smart Plans
If you would like to combine the power of Text Codes with Smart Plan automation (see Smart Plans), you can do so by setting it up so a Smart Plan triggers based on the tag. You could use this to trigger a text campaign to that phone number, create tasks for follow-up, etc. Here are the steps to set this up:
1. Create a text code as described above
2. Test the text code by texting the code to your virtual number (see How It Works above). This is an important step because it will also create a Private Tag which is needed to trigger the Smart Plan. 
3. Create a new standard My Smart Plan. It is important for you to do so under the My Smart Plan section because a Team Smart Plan (if you have admin access) cannot be triggered off of a Private Tag which is what a text code will create.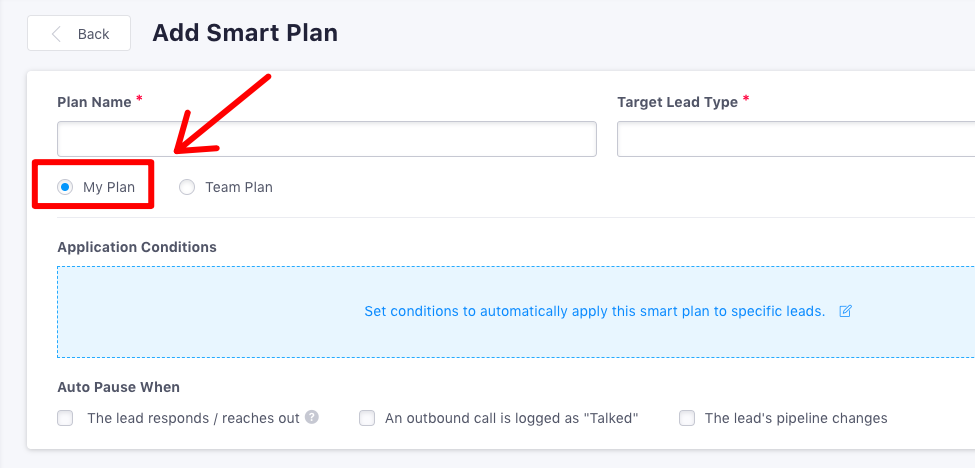 4. Select "All" for the Target Lead Type

5. Add Application Conditions by selecting the first checkbox (when specified leads are newly created) and then add only the criteria of the tag that was created during your test on step #2. The tag created by a text code will always start with "Text Code: __________" and then have your code listed in the space. Click "Save."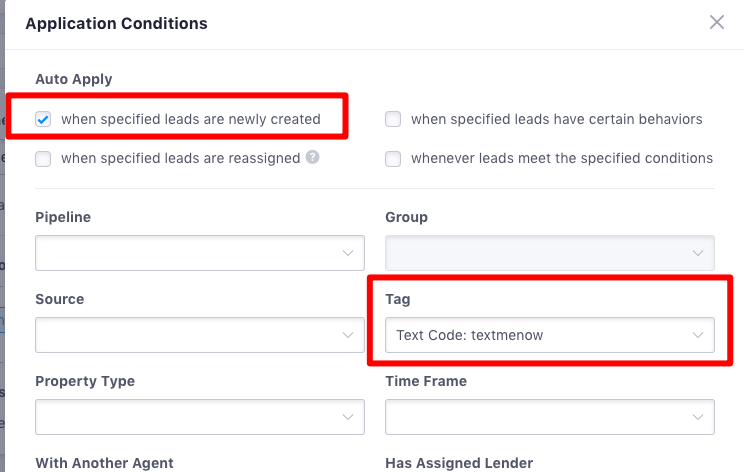 6. Add the Smart Plan step(s) that you would like to use. It is important to keep in mind that this is a lead whose name and email address you do not have yet so you will not want to avoid using name variables and auto emails.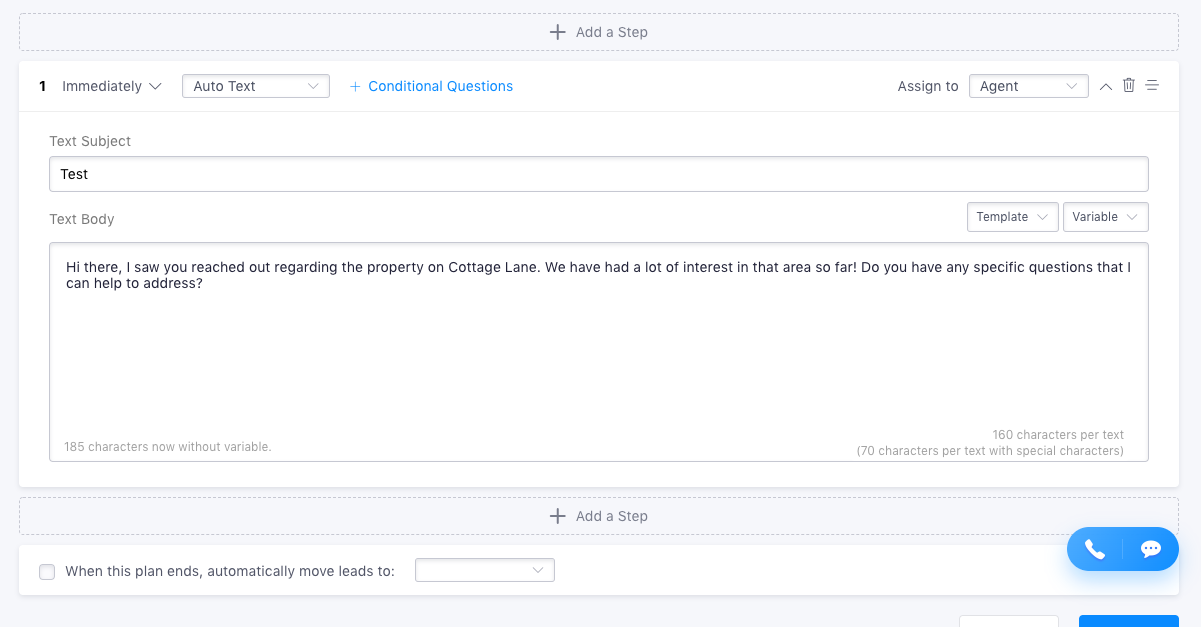 7. Double-check to make sure the application conditions are set to "Auto Apply" and then hit the "Save" button to finalize the Smart Plan and have it ready to go for your first text. 

8. When a lead texts the text code to your virtual number, they will receive the initial text code auto response as outlined in this article above, but they will also have the Smart Plan applied to them with any additional auto texts or tasks, etc.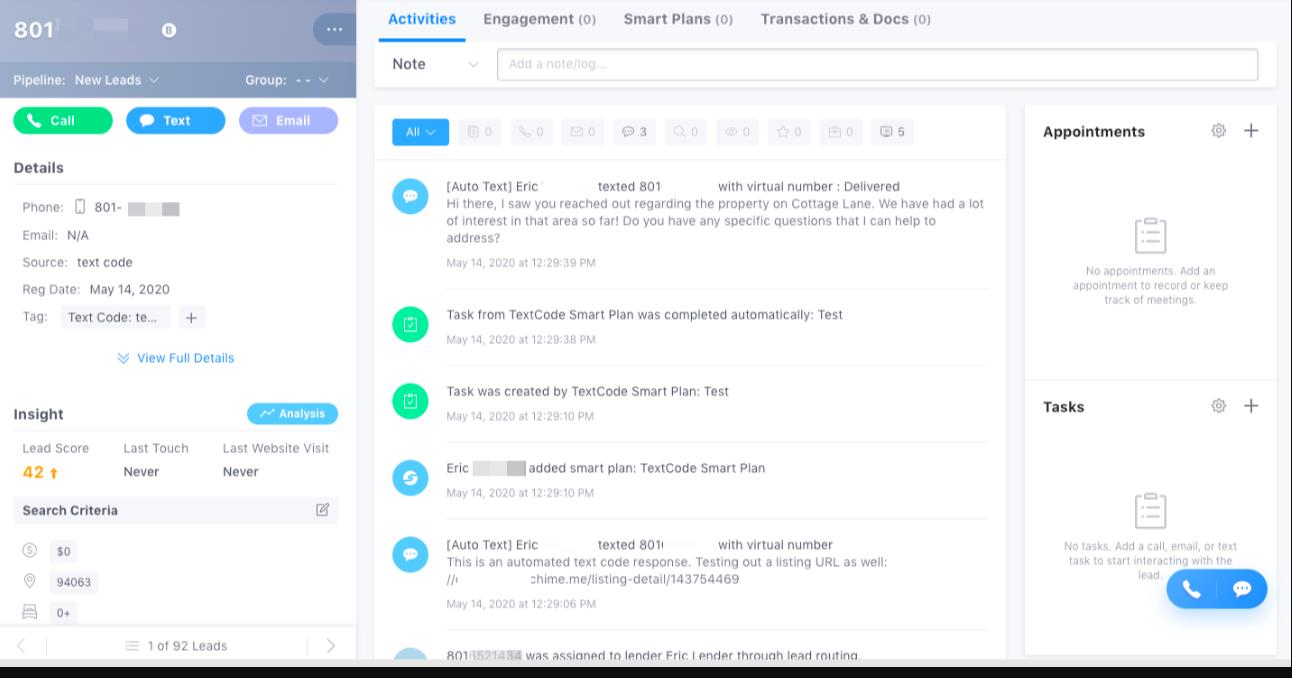 Text Codes + AI Assistant
The Text Codes work very well with the AI Assistant whose main goal is to qualify a lead as an interested buyer/seller and then pass them off to you for further assistance. Setting this up is quite simple and is outlined here.
1. Create a text code as described above, but one difference is that you should leave the auto-reply message on the text code blank. In other words, when the lead texts the text code to your virtual number, they will not receive a response from you. It's important to leave this empty because if you send a response here, it will be a different number than the AI Assistant. If you are going to add a response, maybe reference the fact that they will be contacted by your assistant shortly, etc. If you leave it blank, the AI Assistant will be the first number to contact the lead.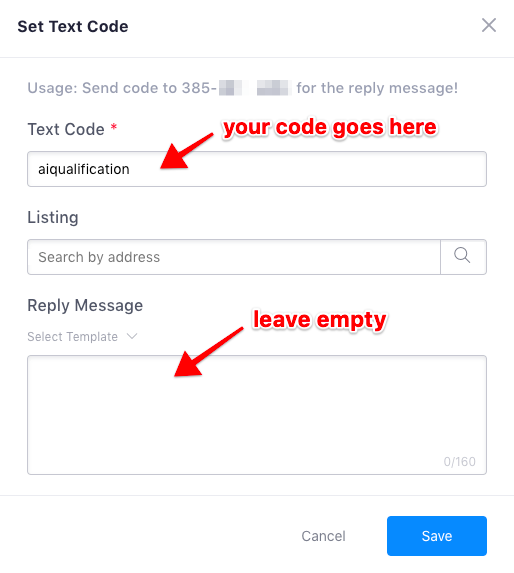 2. Make sure the AI Assistant is set up to trigger the qualification response for the "text code" source under the "Enable the AI Assistant for NEW LEAD qualification via text messages" setting as shown here: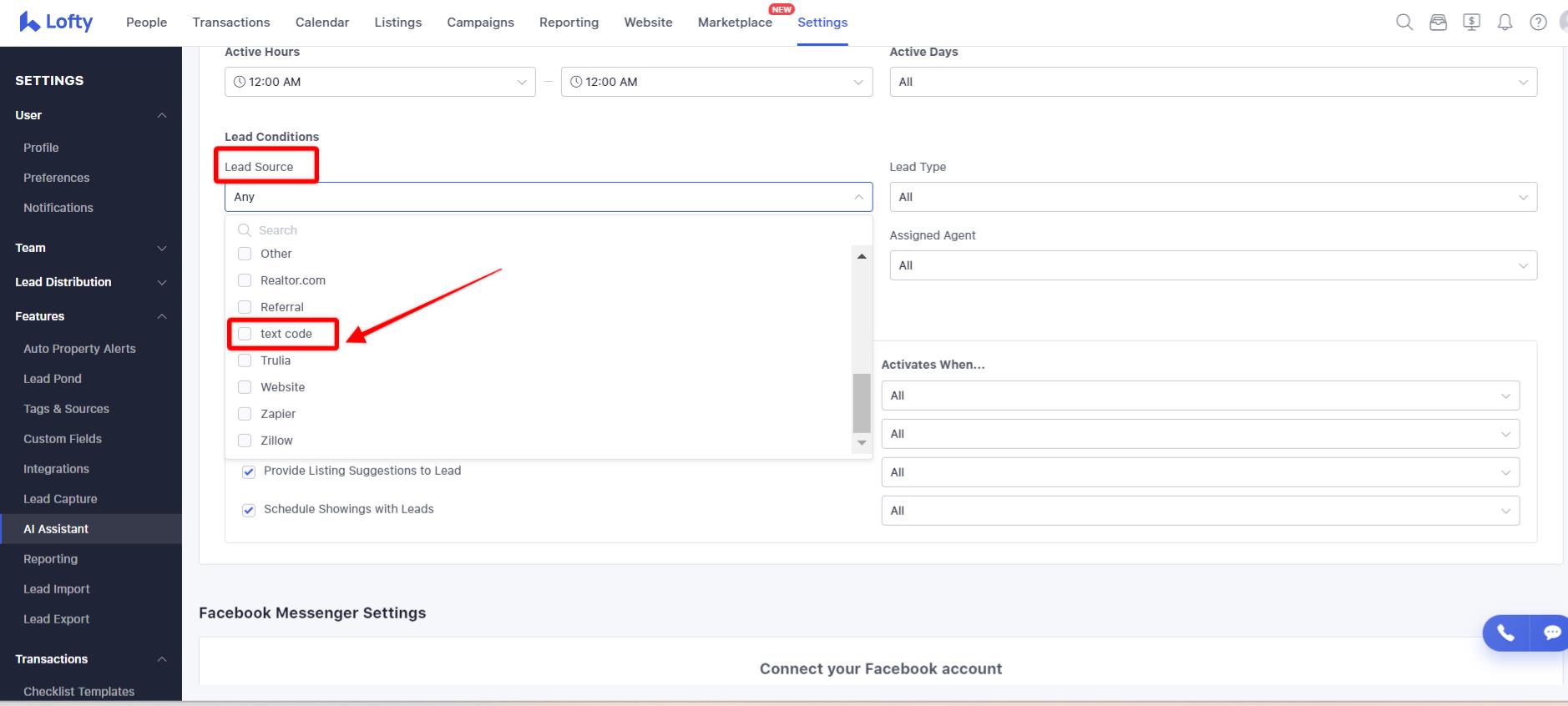 3. When a lead texts the text code to your virtual number, it will go through the qualification process immediately. For more information on the qualification process, see AI Assistant / Chatbot Qualification Process.
*IMPORTANT: Currently, the AI Assistant scripts will not attempt to obtain the lead's name as part of this text code process. So, be sure that you (a) have a process in place to obtain that name and (b) do not have any automated content going out using the name variables for these leads as it will not be able to use their actual name.
FAQ
Q: What privacy do we follow for text code leads?
A: Our CRM only imports text code sourced leads as Team leads.
Questions?
If you have any questions regarding this topic or any others, please reach out to our Support Team via email at <support@lofty.com>, by phone at 1 (855) 981-7557, or by chat with us through your Lofty CRM.