Introduction
This feature provides an option to sort and organize Lofty users, even if they belong to different Enterprise groups. This is available to all Lofty account types.
Summary
Adding the Agent Tag
To add an Agent Tag, navigate to an Agent's profile.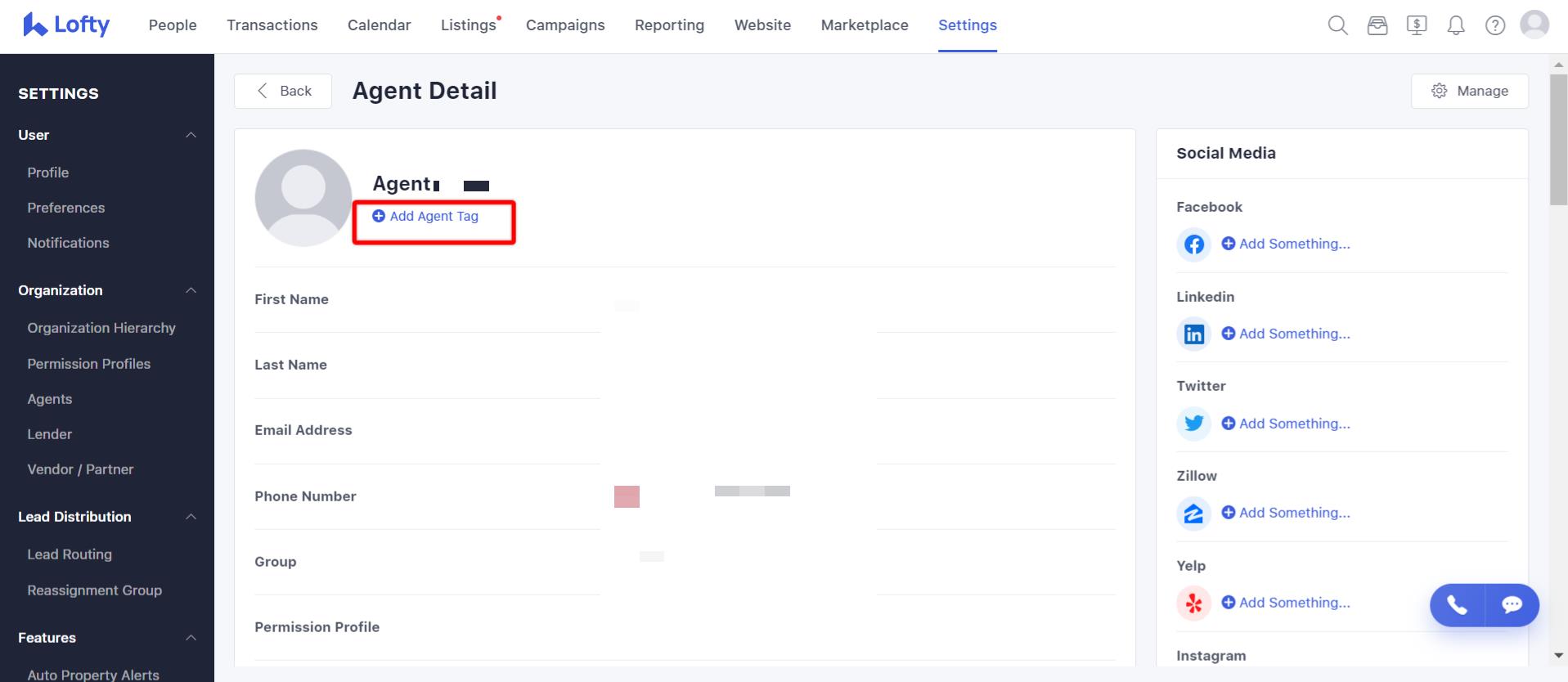 Click "+Add Agent Tag" to add the Agent Tag to the user's profile. Any Agent Tags that have been created will be available to select. If not, they can be created here. You may add multiple Tags to a user.
The full list of Agent Tags can be found by navigating to Settings -> Organization/Team -> Agent and clicking the Agent Tag tab. Here, Agent Tags may be added, edited, and deleted. You can also see how many agents have an Agent Tag applied to their profile.

To filter users by Agent Tag, navigate to Settings -> Organization/Team -> Agent to see the entire list of agents within your Lofty account. Select the Agent Tag filter to see agents with that tag applied.

Multiple Agent Tags may be selected to filter the agents by those that have "Any of", "All of", or "None of" the select Agent Tags.

Lead Routing by Agent Tag
This feature also allows you to assign leads, via lead routing, by the Agent Tag. The Agent Tag is a group of agents. The lead will be assigned to the agents in the Agent Tag with the same opportunity, and the opportunity cannot be adjusted.
To set a lead routing rule to assign leads to agents within an Agent Tag, first, navigate to Settings -> Lead Distribution -> Lead Routing and create a new rule or edit an existing rule. Please see our article on
Lead Routing rules here
. 
Within the lead routing rule setting, under Assignment Level, select 'Agent'. Then, under Assign To, select 'Agent Tag'.

Lead Pond with Agent Tag
This feature supports selecting an Agent Tag for the users who have access to the lead pond. To set up a lead pond, navigate to Settings -> Features -> Lead Pond. Our article on the
lead pond is here
. 
Here, you may create a new lead pond or edit an existing pond, and allow access to agents based on their Agent Tag.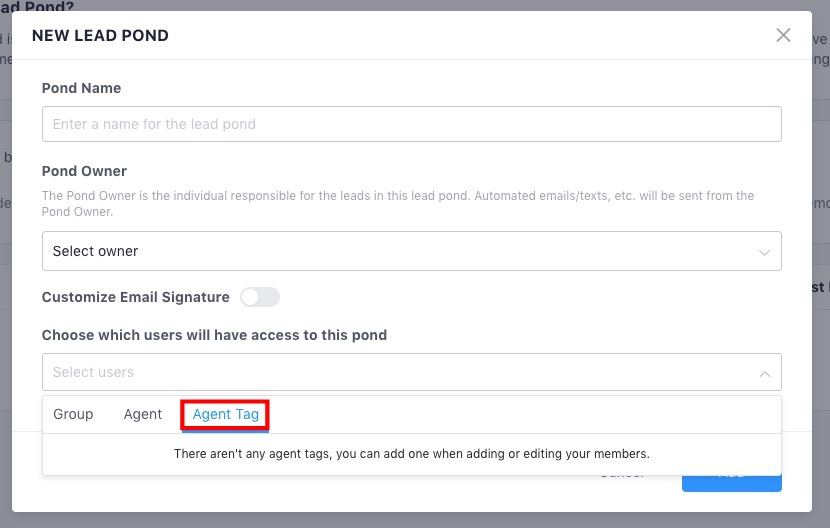 Questions?
If you have any questions regarding this topic or any others, please reach out to our Support Team via email at <support@lofty.com>, by phone at 1 (855) 981-7557, or by a chat with us through your Lofty CRM.