Summary
The calendar will show the Task and Appointment, but also the birthday of a lead. 
In the top left corner, people with manage user permission can switch to view the calendars of other team members.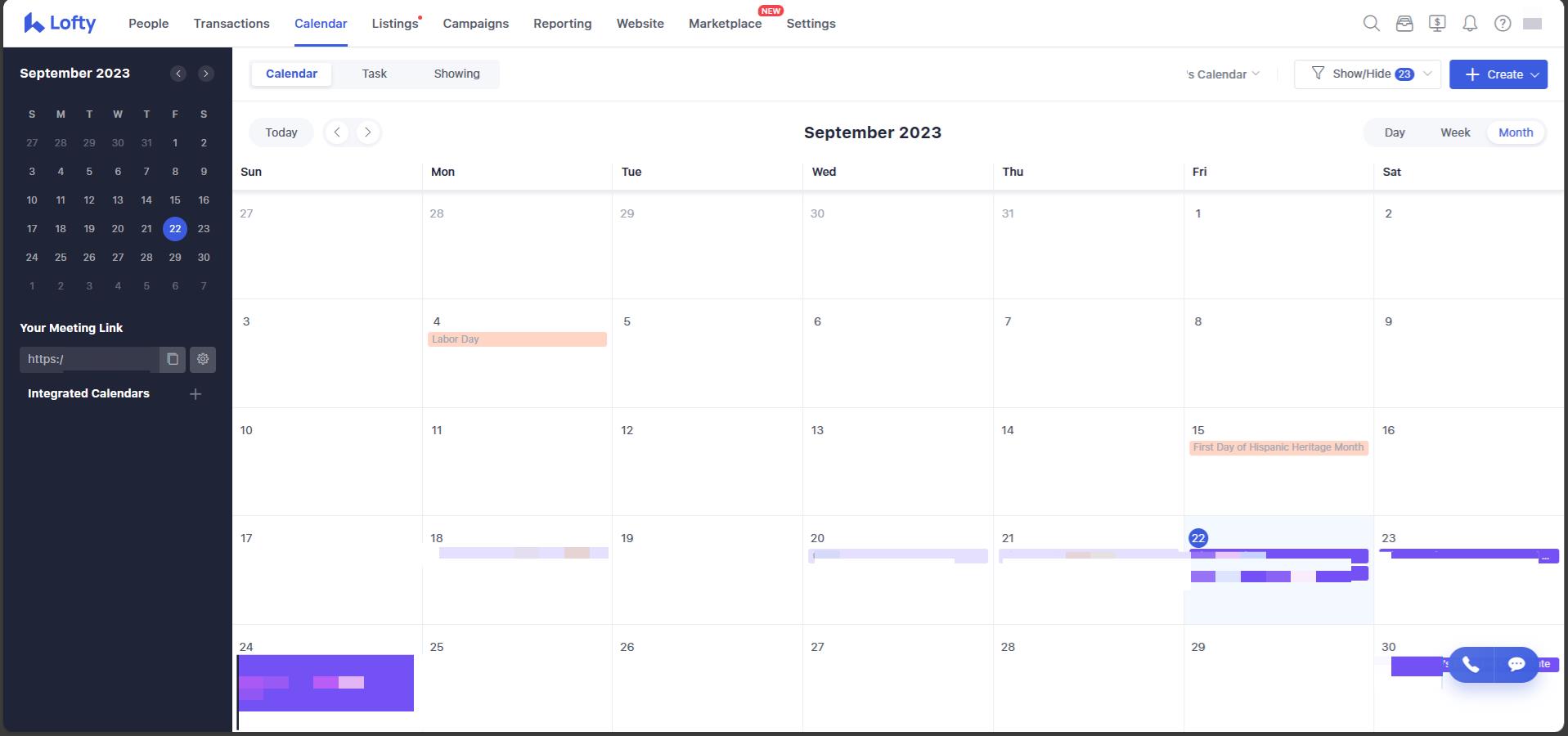 Visible Filter Count
Because filters are so important when using the calendar view, the total number applied to the calendar will now be displayed. This was previously not visible without clicking on the drop-down.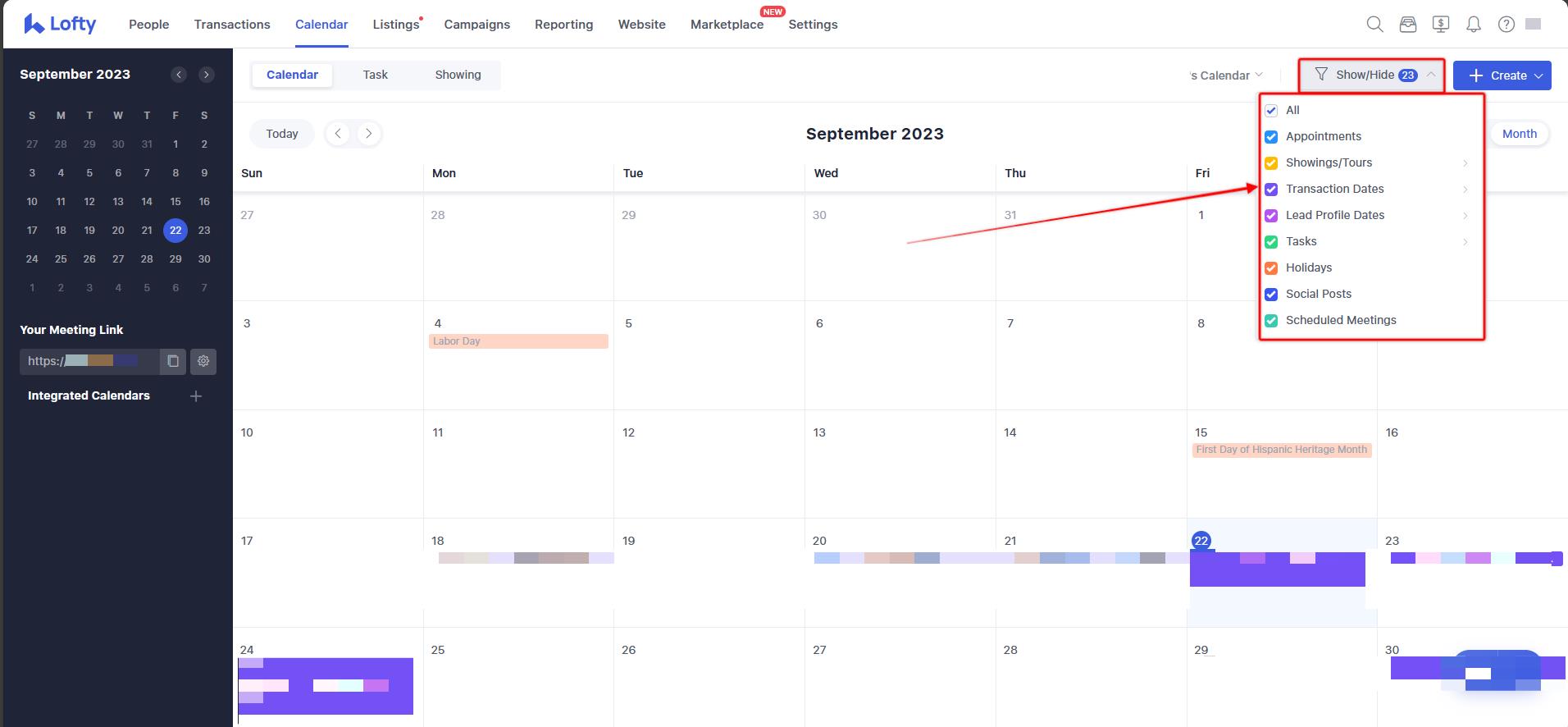 Manually Add Tasks
To manually add a task, click on the "+" button. You can then write in the task description and choose who the task is assigned to (this user must have access to the lead - reference Lead Privacy: Team Leads vs. Private Leads). The task type can be selected (email, call, text, other) as well. The "Call" type is important to select here if you want this to be added to a Smart Call List (reference Smart Call Lists). The due date is very important as well and choosing a specific time will allow for a reminder to be triggered 30 minutes before the task is due with a push notification on the web and mobile apps. If you want to select an additional reminder option (no reminder, by SMS, by call), you can also do so.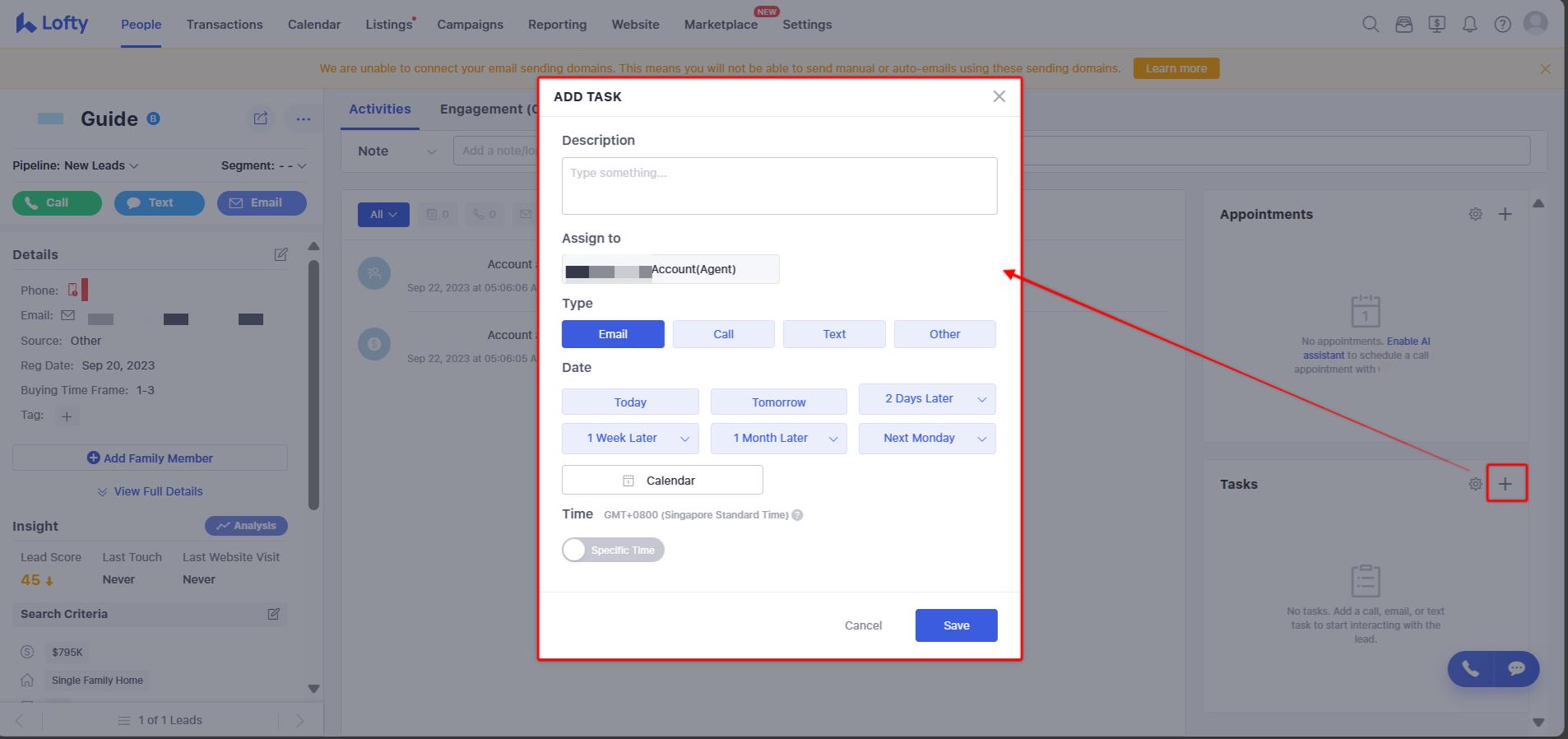 Be sure to click "Save" when you are ready to add the task. The task will then be displayed on the task list for this lead.
Calendar Privacy
Access via the "Calendar" option on the Tasks page and then click on the new settings wheel next to "My Calendar" or next to your integrated calendar(s):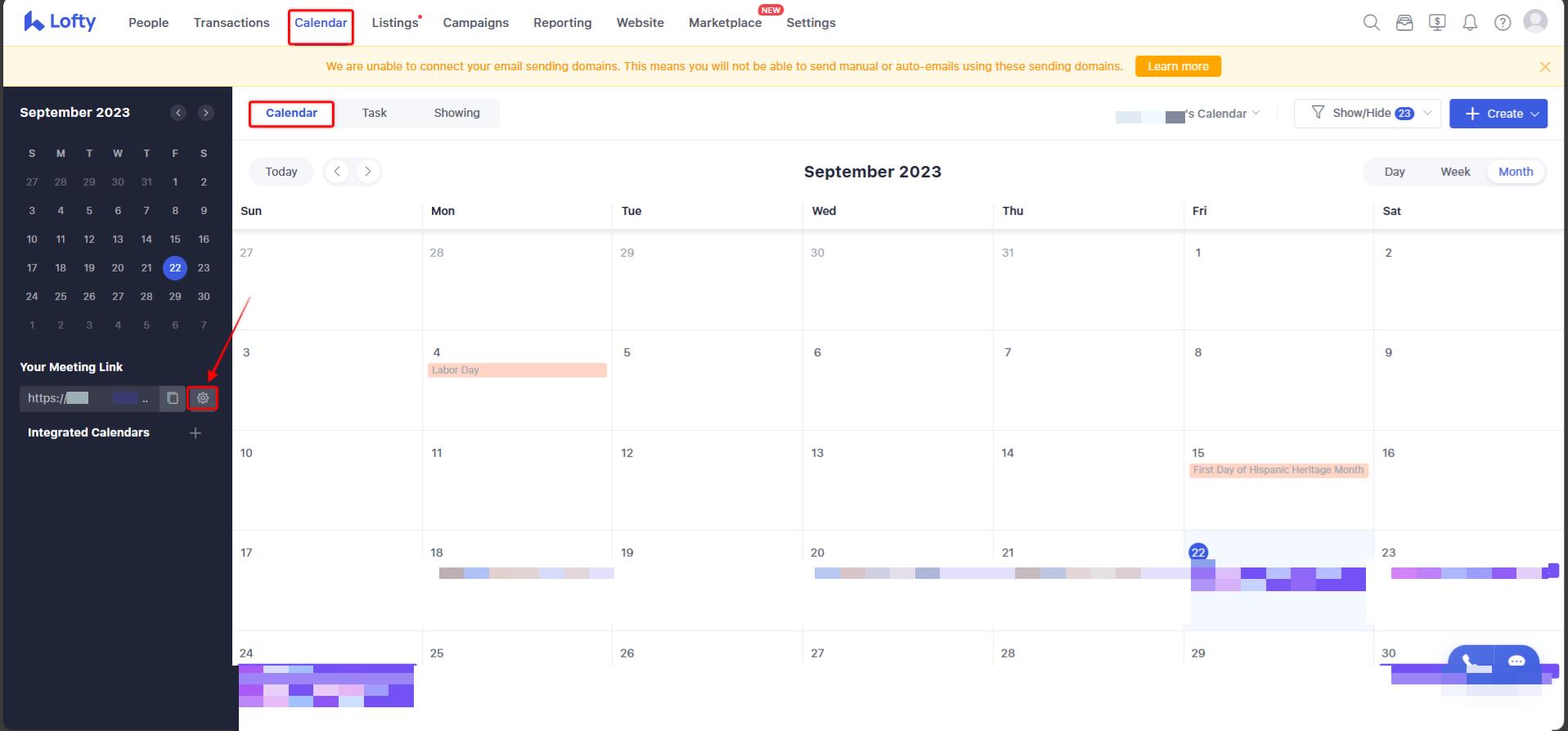 Choose the setting you would like for the calendar whose settings you are editing.
For the Lofty Calendar, it will look like this: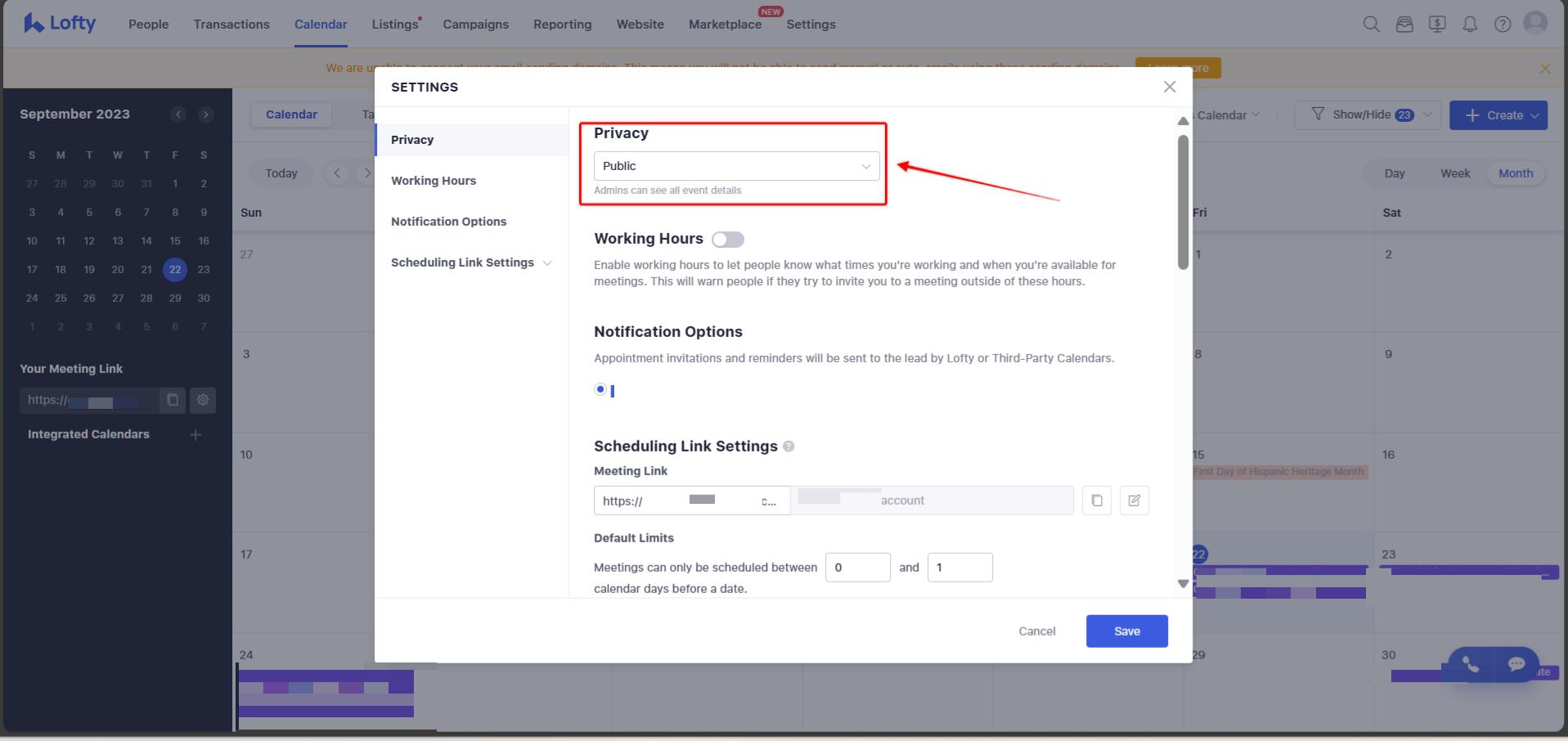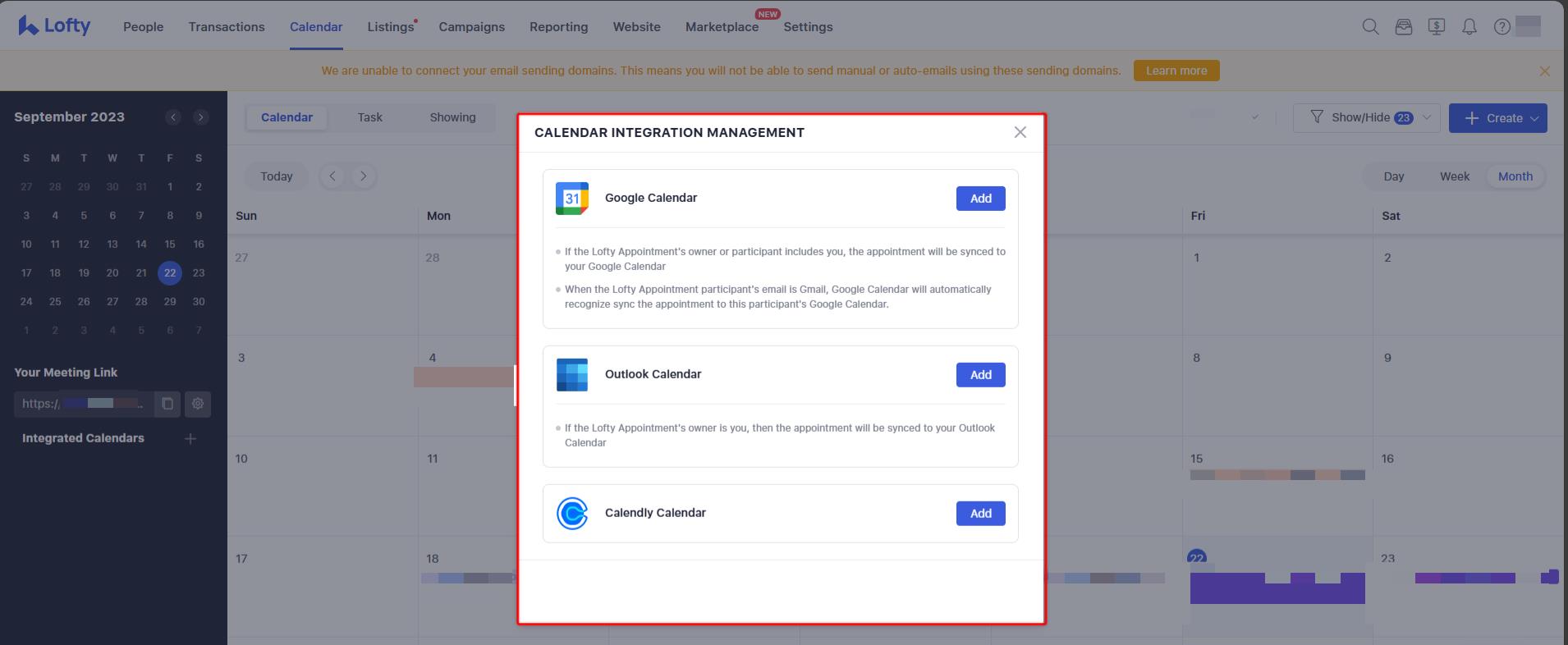 There are three options here:
Public: Admins can see all event details
Show as "busy": Event details are hidden.
Private: Only visible to you

*NOTE: This option is only available for integrated calendars, not the Lofty calendar.
Calendar Working Hours
Also accessible under the "My Calendar" settings, a new option for Working Hours is now available. Enable working hours to let people know what times you're working and when you're available for meetings. This will warn people if they try to invite you to a meeting outside of these hours. So, if a member of your team attempts to add an appointment on a lead record for a time that is not within your working hours, they will see a warning informing them of such. They can still create the appointment, but it will visibly show them that the assigned person might not be available.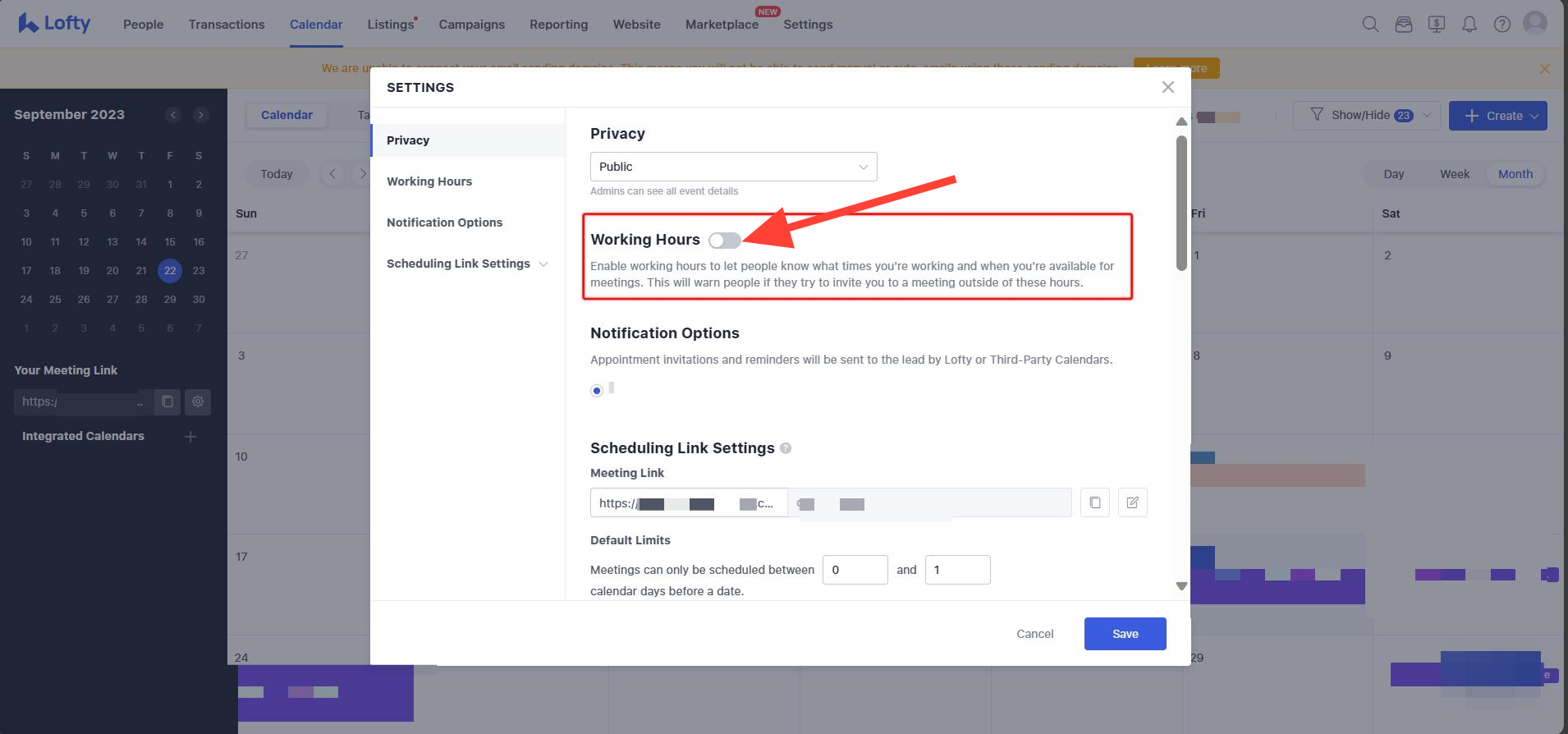 These working hours are the same as what you. have configured under Settings > Preferences > Working Hours: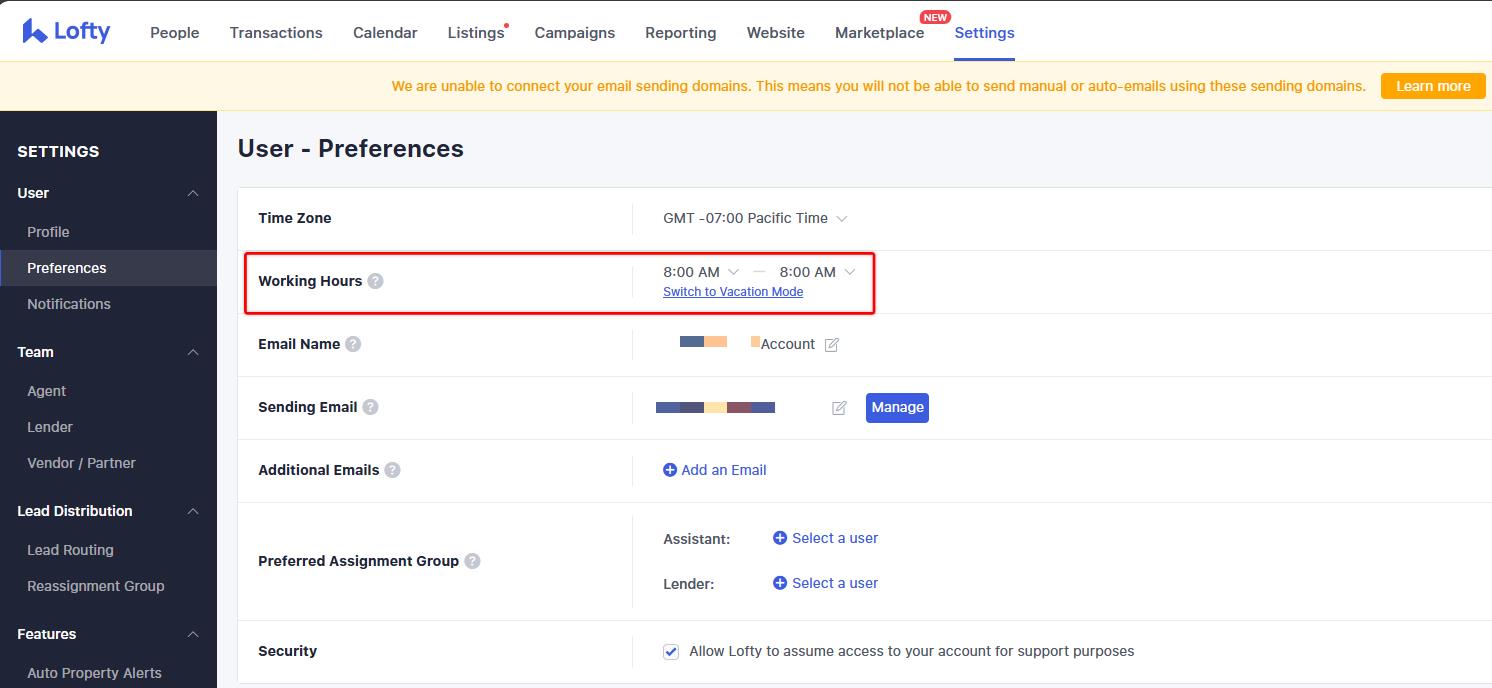 Scheduling Link
CRM Settings and Logic
The Lofty Calendar now has support for a scheduling link similar to what you may be familiar with from other third-party apps. 
Choose the link you will use for the scheduling calendar. Note that if you are editing the link then the previous link will be deactivated immediately.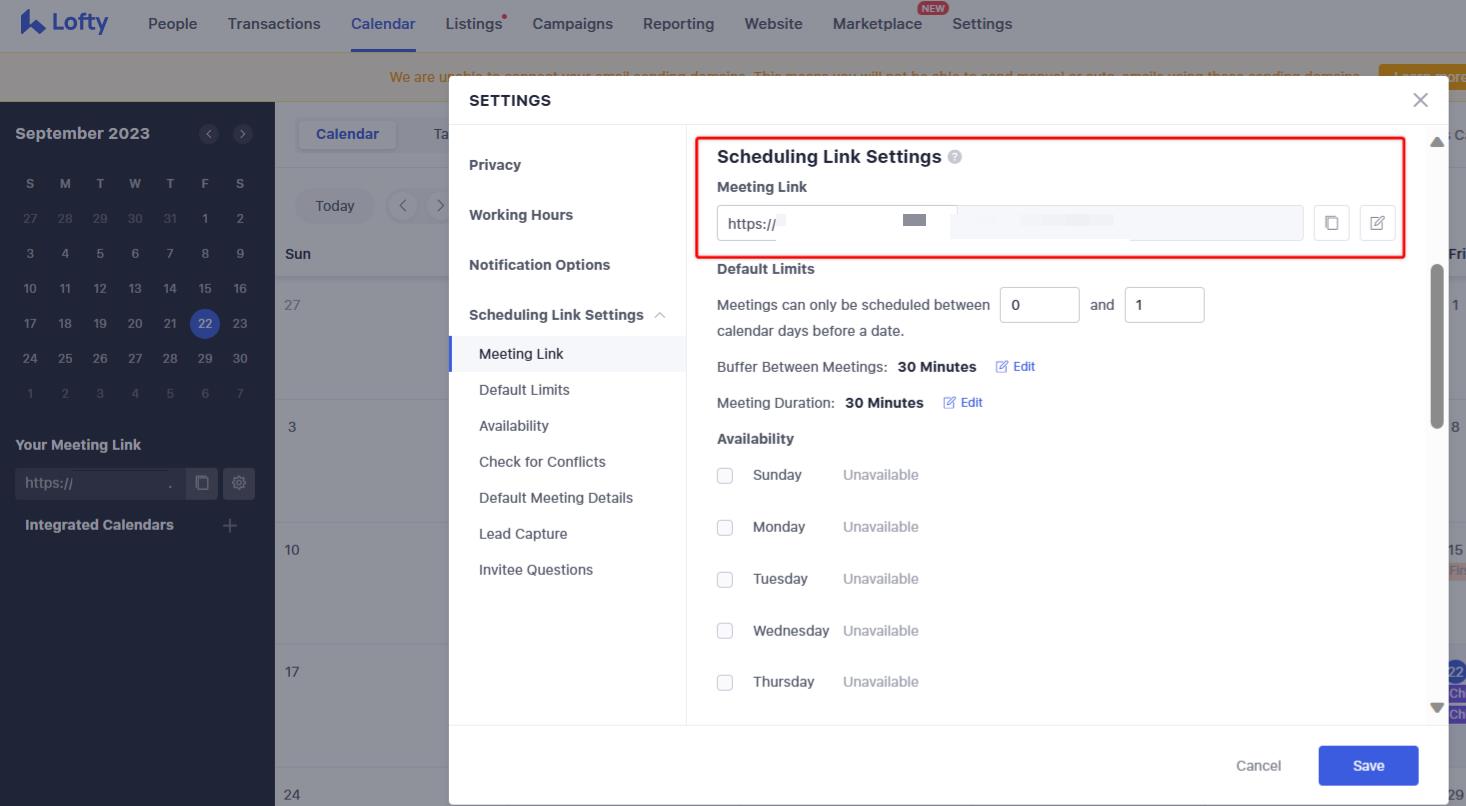 Copy that link to share.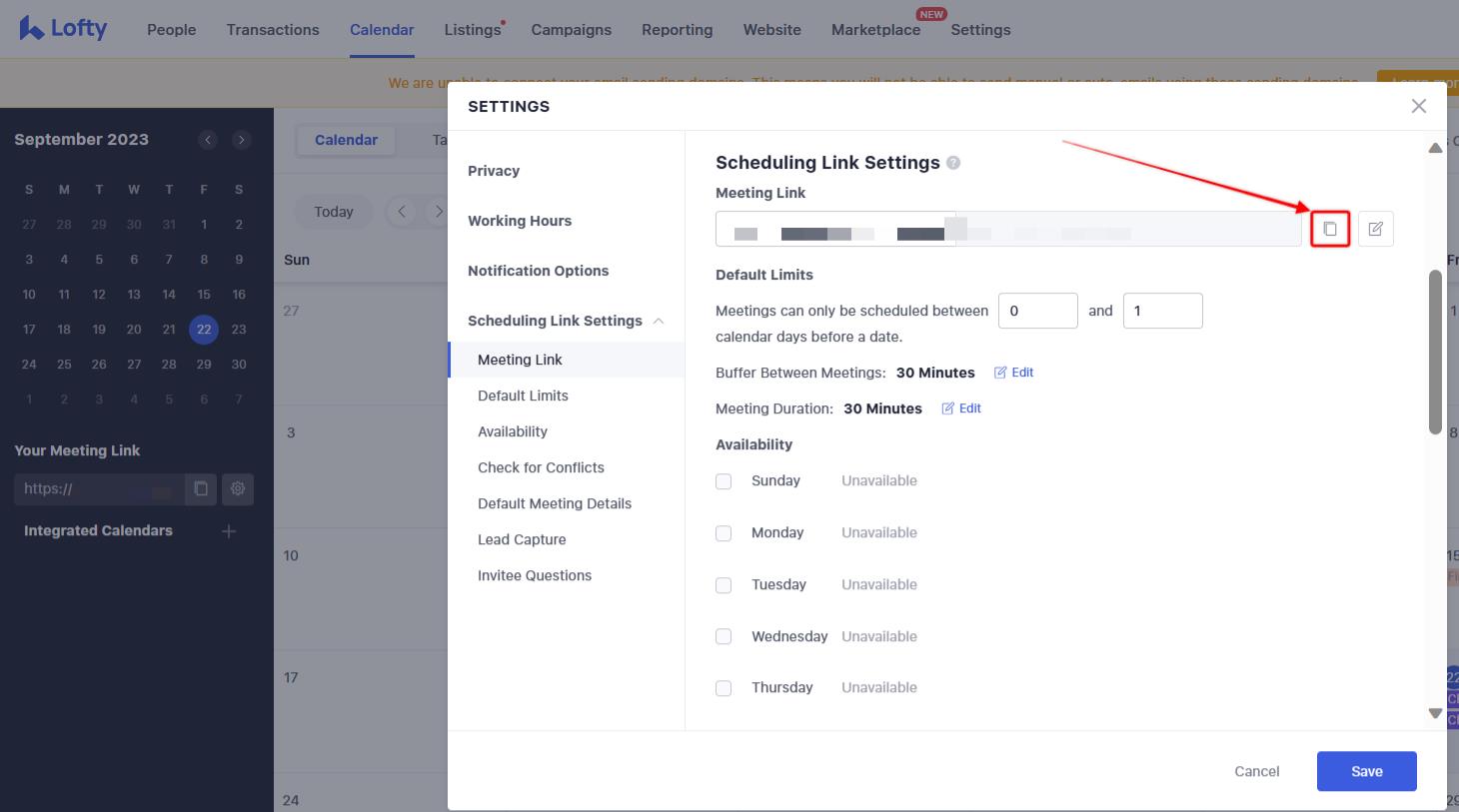 Choose the timeframe before a date that you want to allow appointments to be scheduled, edit the buffer between meetings, and the meeting duration: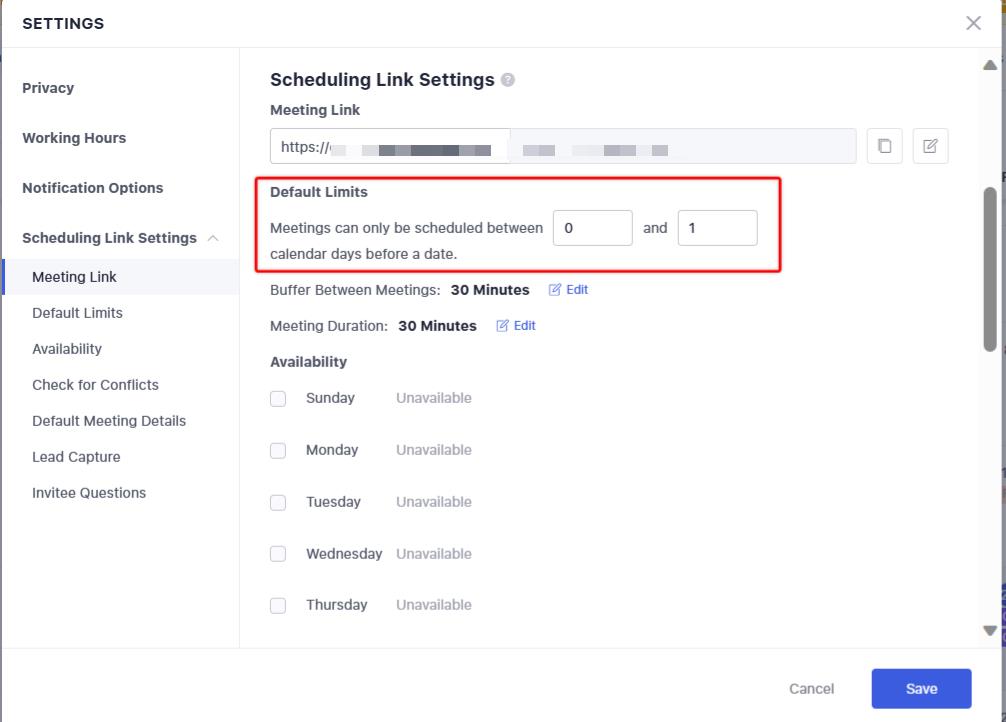 You will then establish your availability for each day of the week. You can choose multiple time periods within a single day.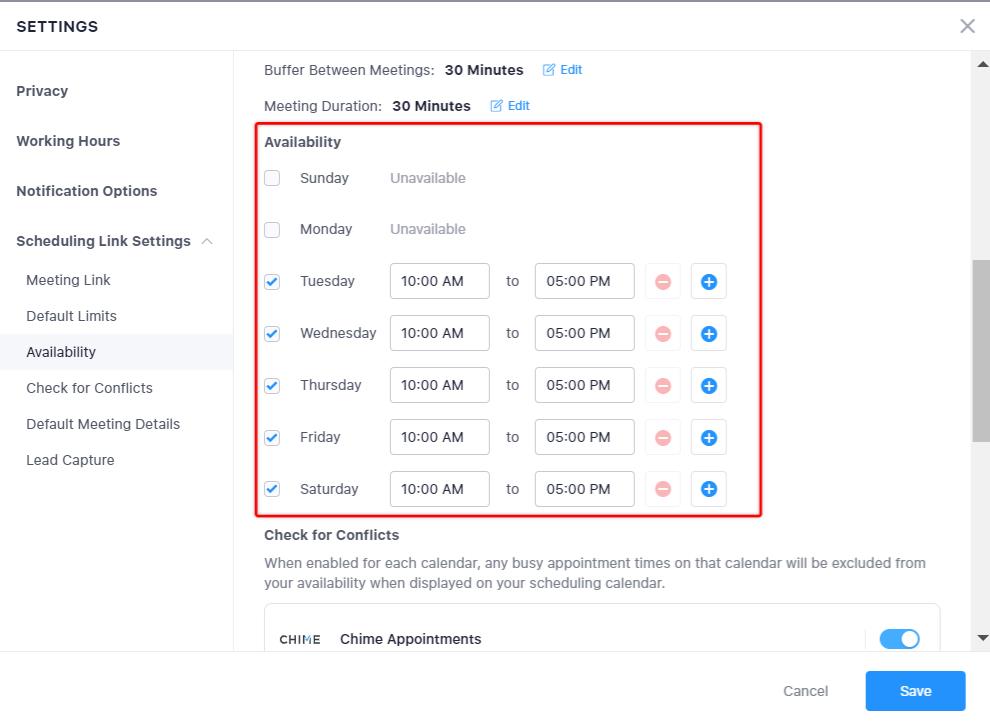 The Lofty Calendar will check your calendar for scheduling conflicts if the option is enabled: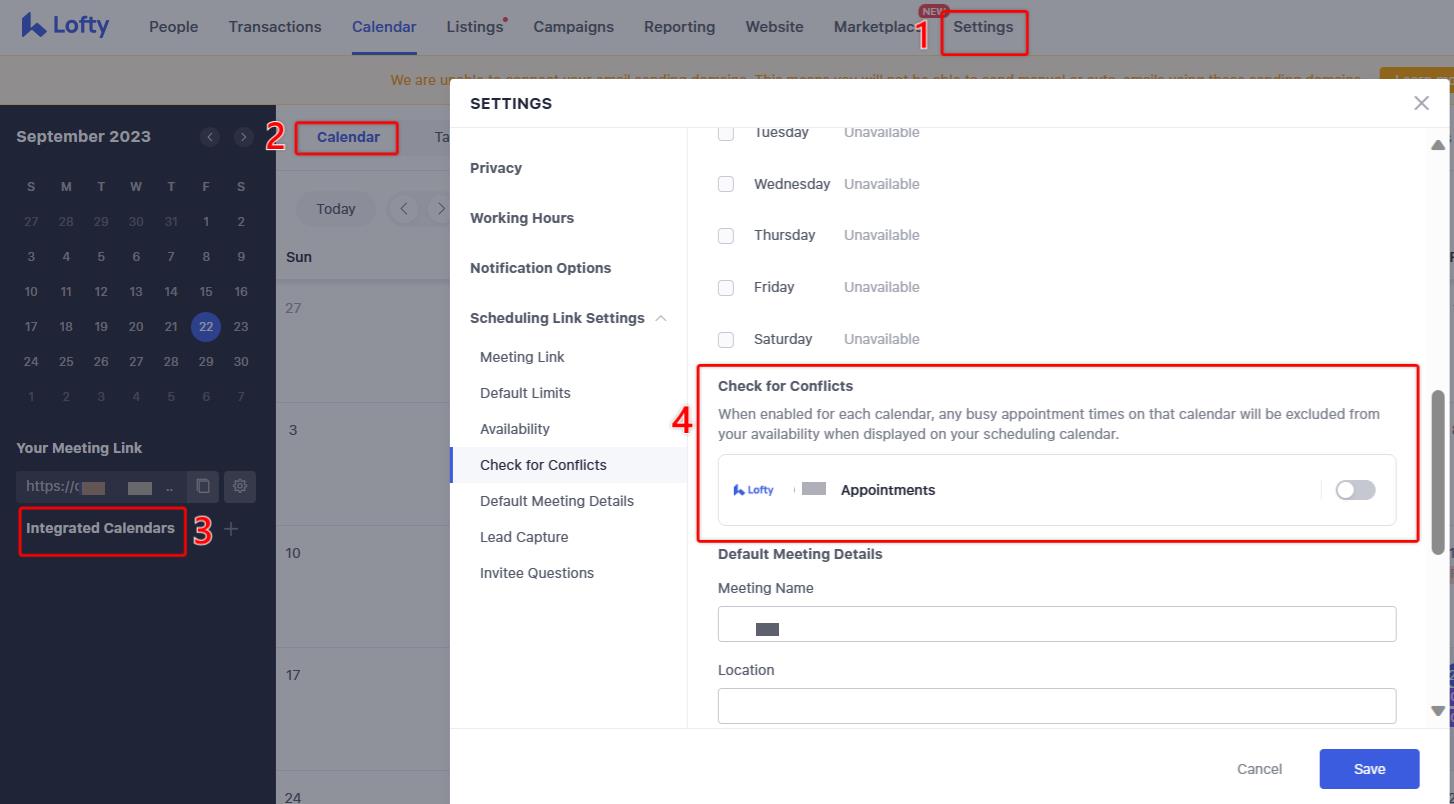 You will then see the Lofty Calendar and all integrated calendars that you can toggle on and view details to select specific calendars from within that integration. All selected calendars with appointments will have those time slots removed from available options on your scheduling link.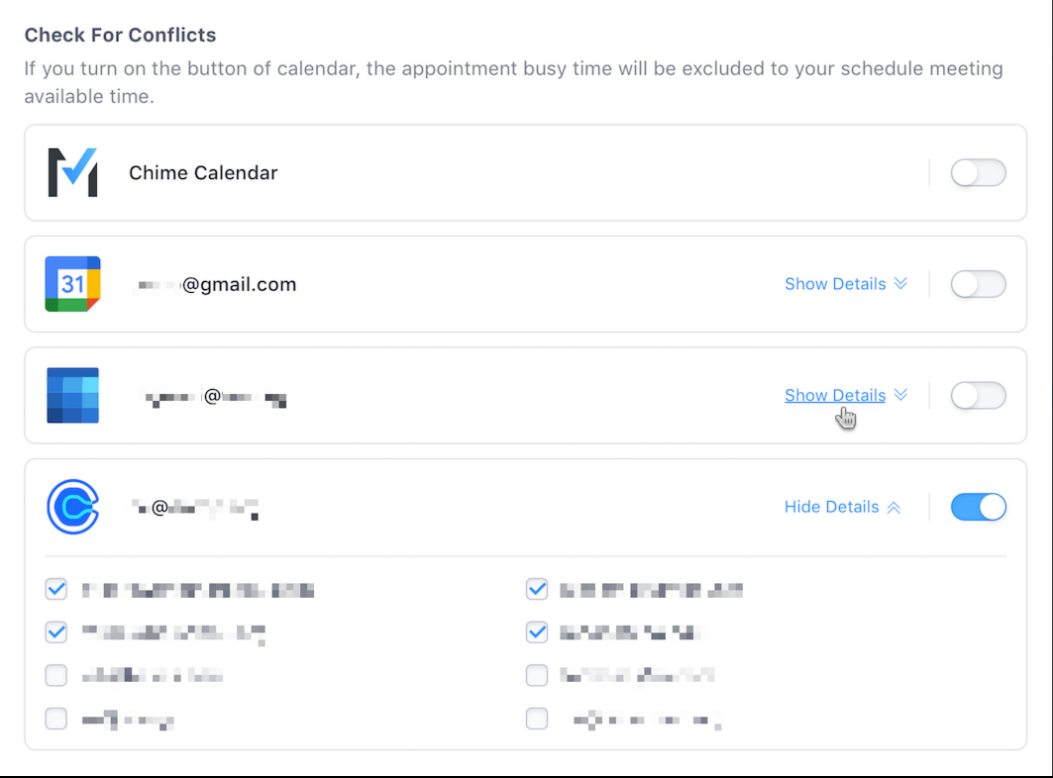 Define the meeting name, location, and description that will be auto-populated on the calendar event for both you and the individual who schedules the meeting.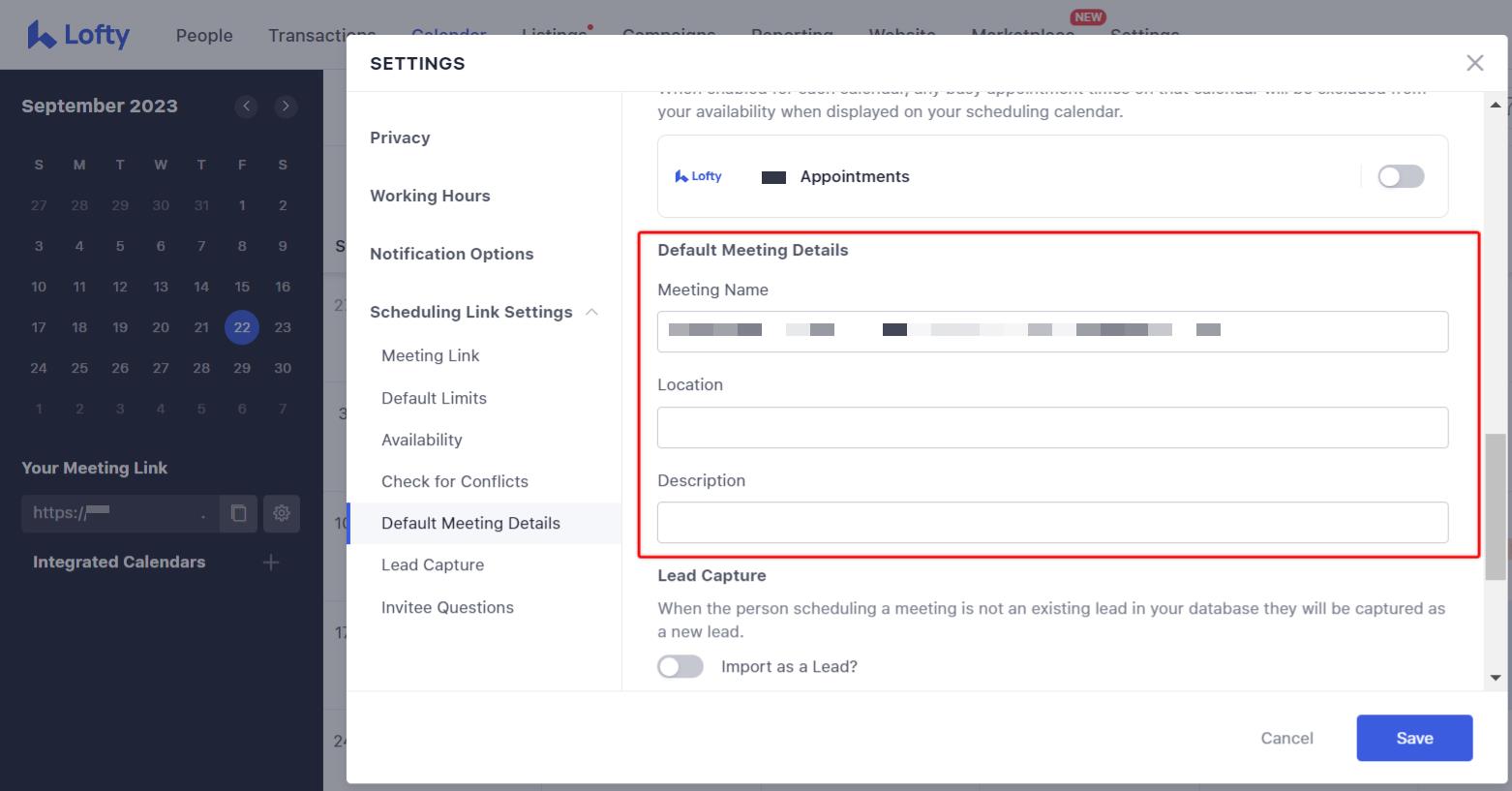 Finally, configure the lead capture settings. If a new lead is scheduling an appointment, they will be added to your CRM automatically. You can define whether they are team/private leads and to whom they are assigned. A Welcome Email can also be triggered.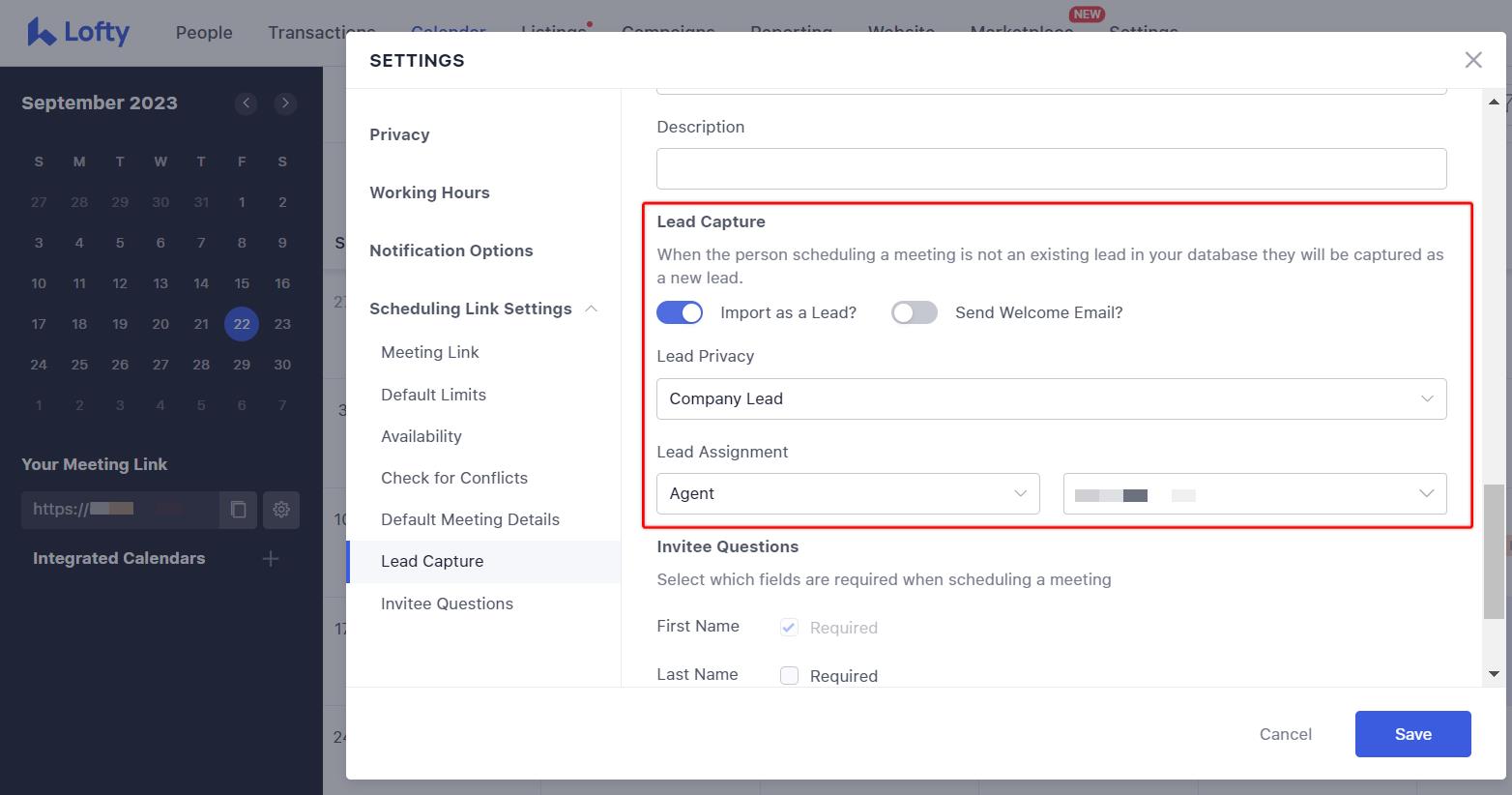 Be sure to click Save when you have finished the settings.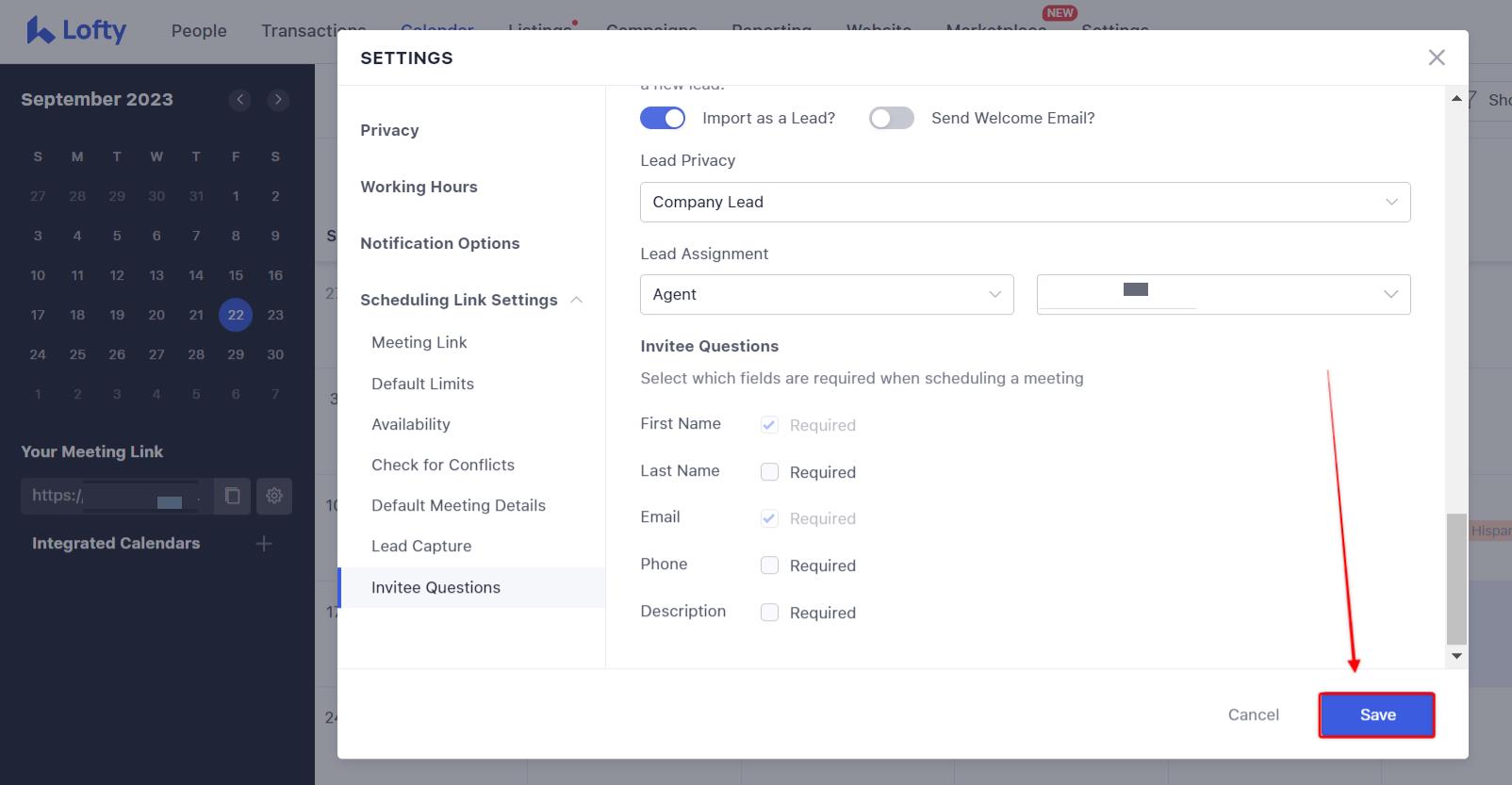 If opened directly, the link will take the lead to a scheduling page that looks like the following: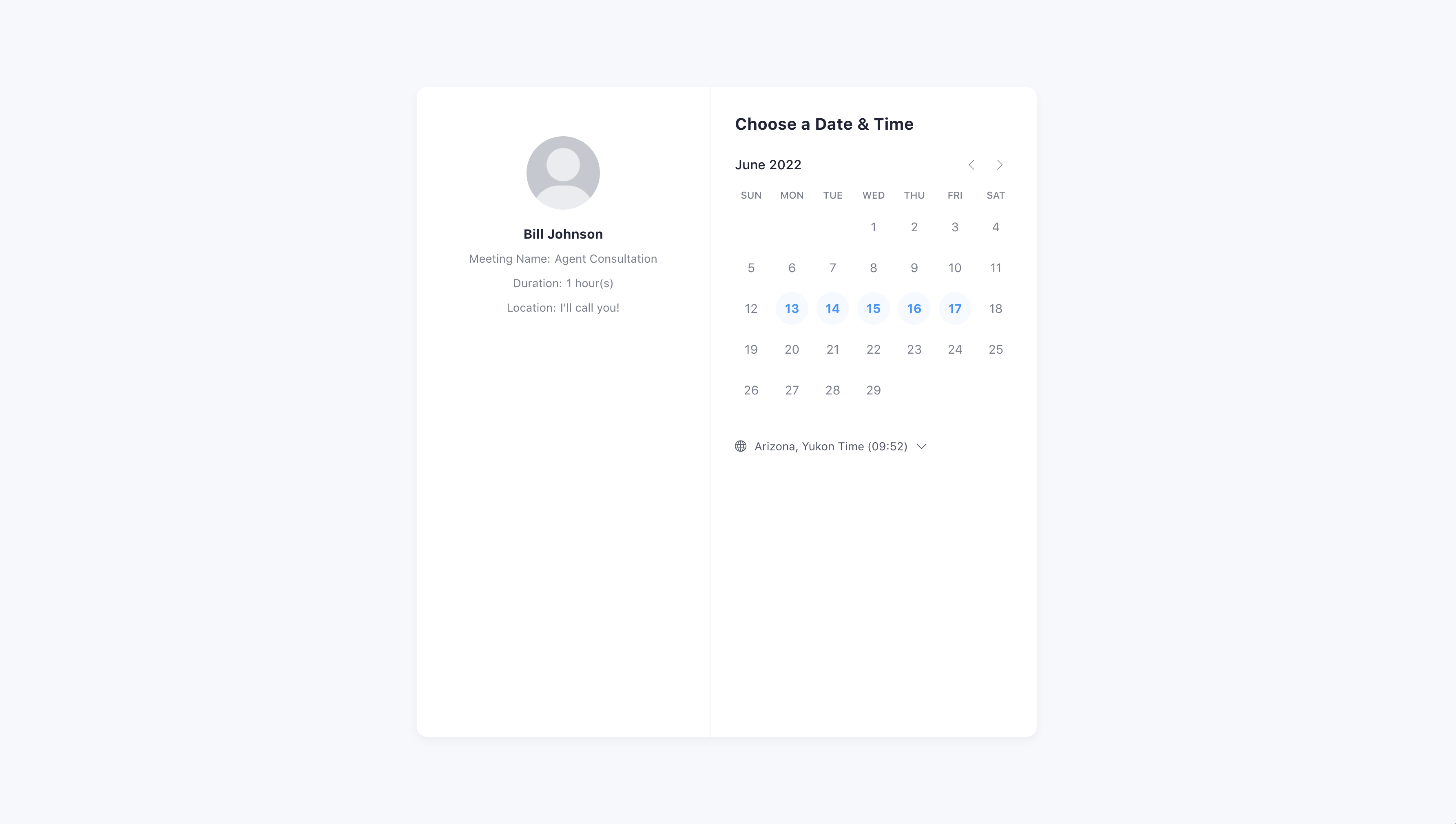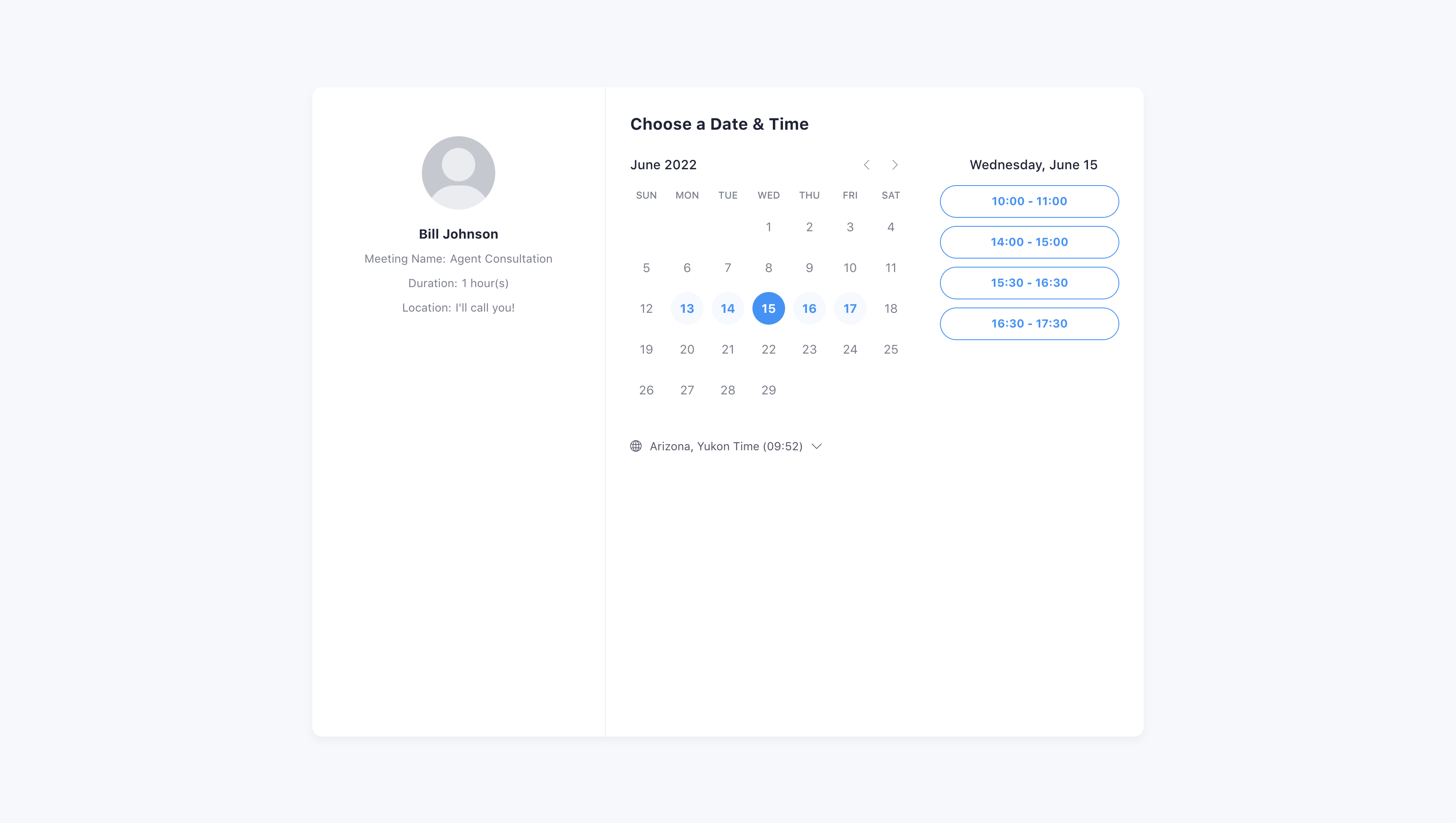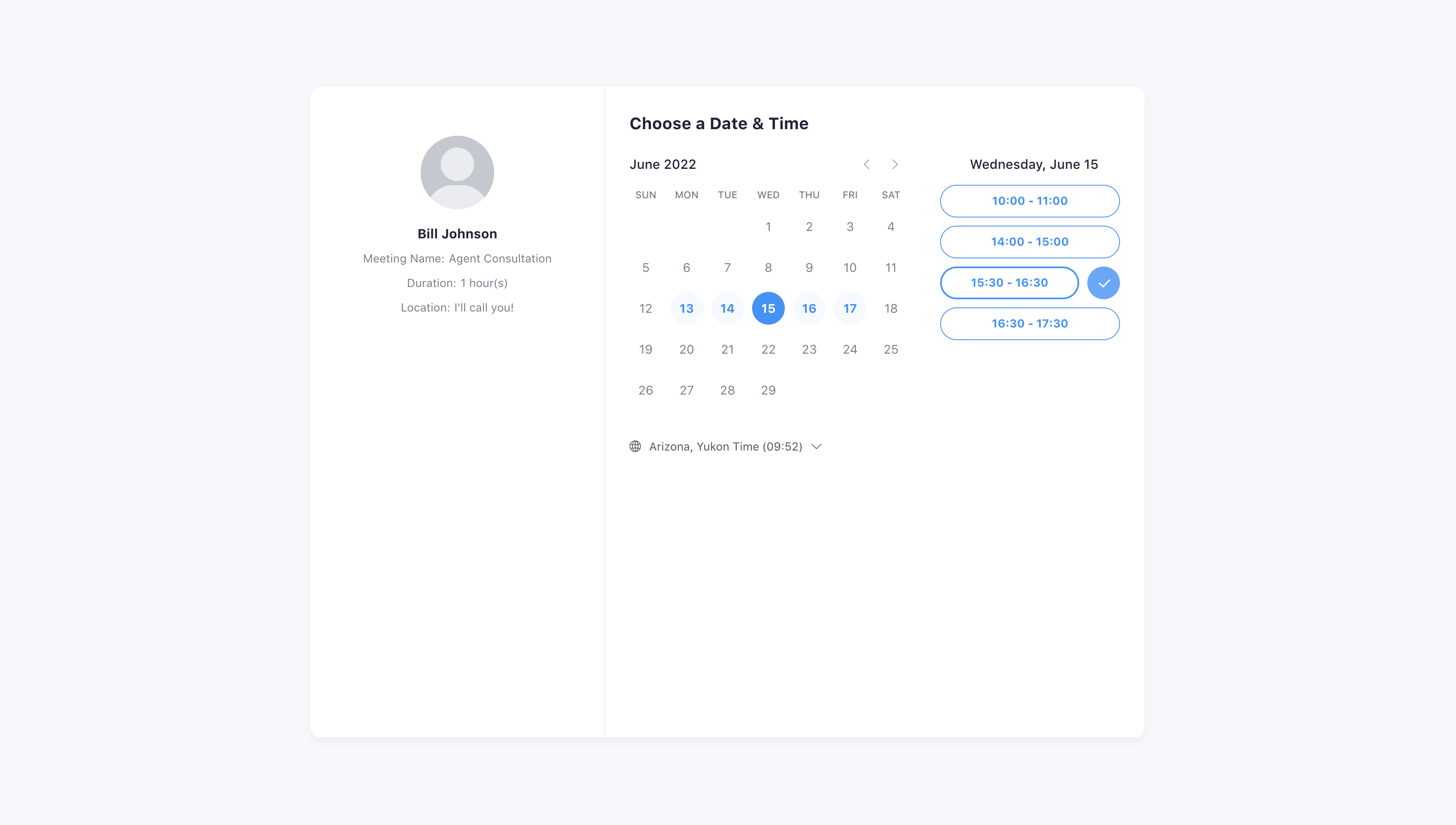 Once a date and time are selected, the lead will fill out the following information: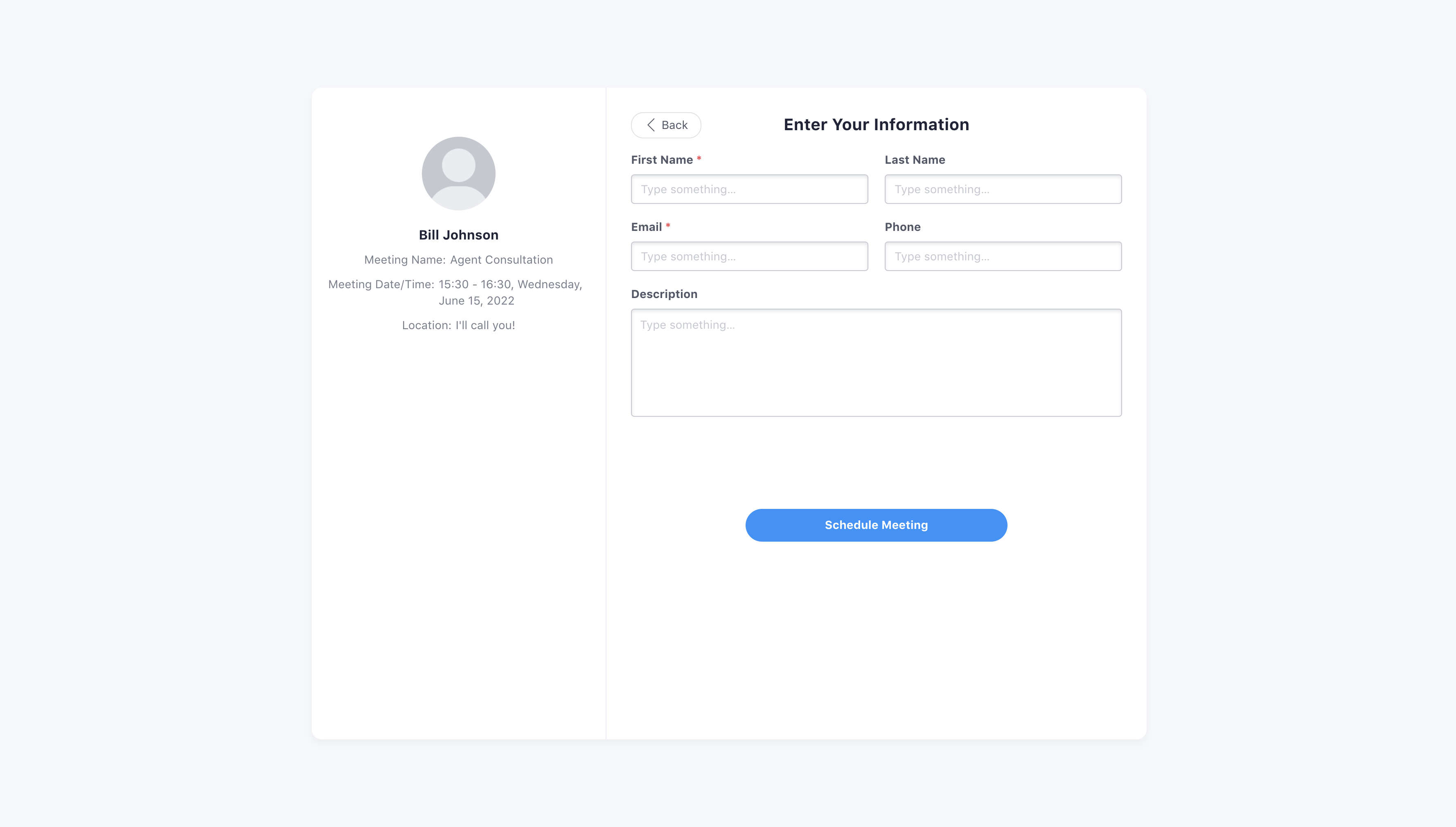 An appointment confirmation page will then be displayed: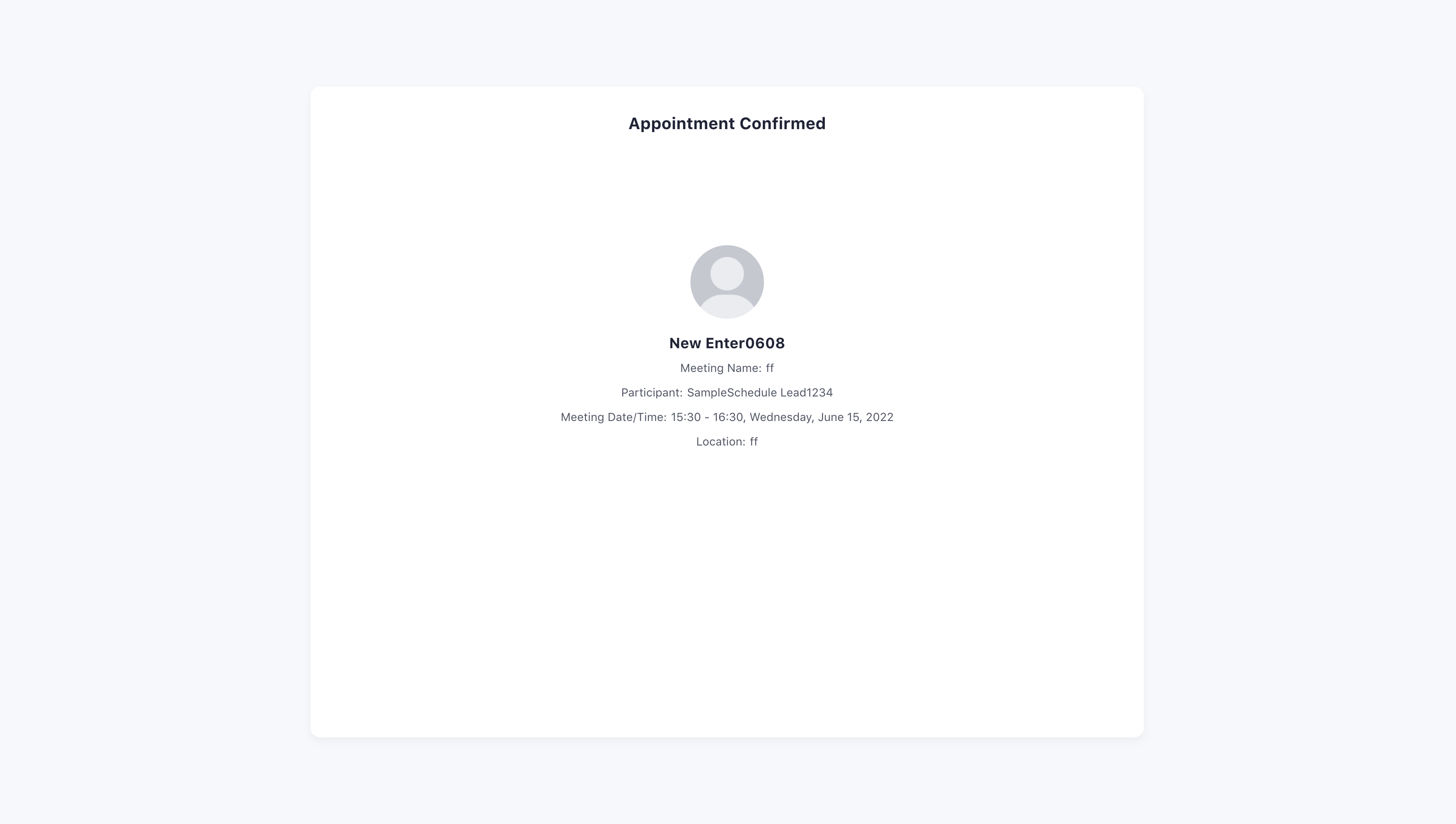 The lead will be sent an email and a text notification as will you as the agent/user. The text messages sent will not use any of your daily allocated texts. You will also receive a push notification via the mobile/web apps. Example notifications are as follows: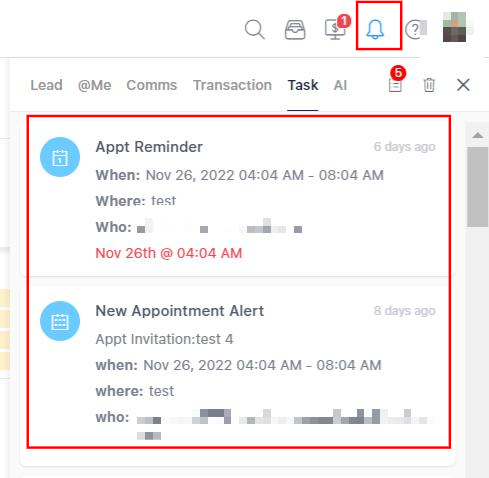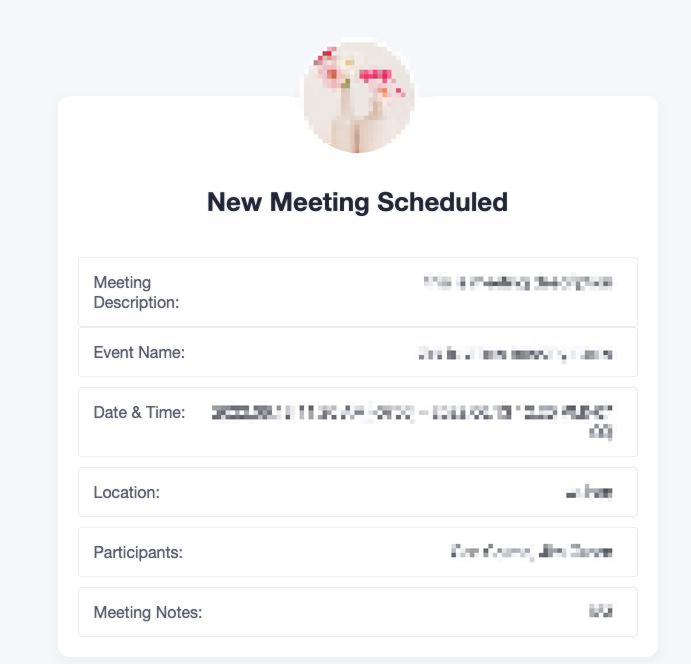 The event will now show up on the Lofty Calendar under the "Scheduled Meetings" category. The lead's information on the event will also be clickable and will take you to their lead record where a detailed log will be displayed.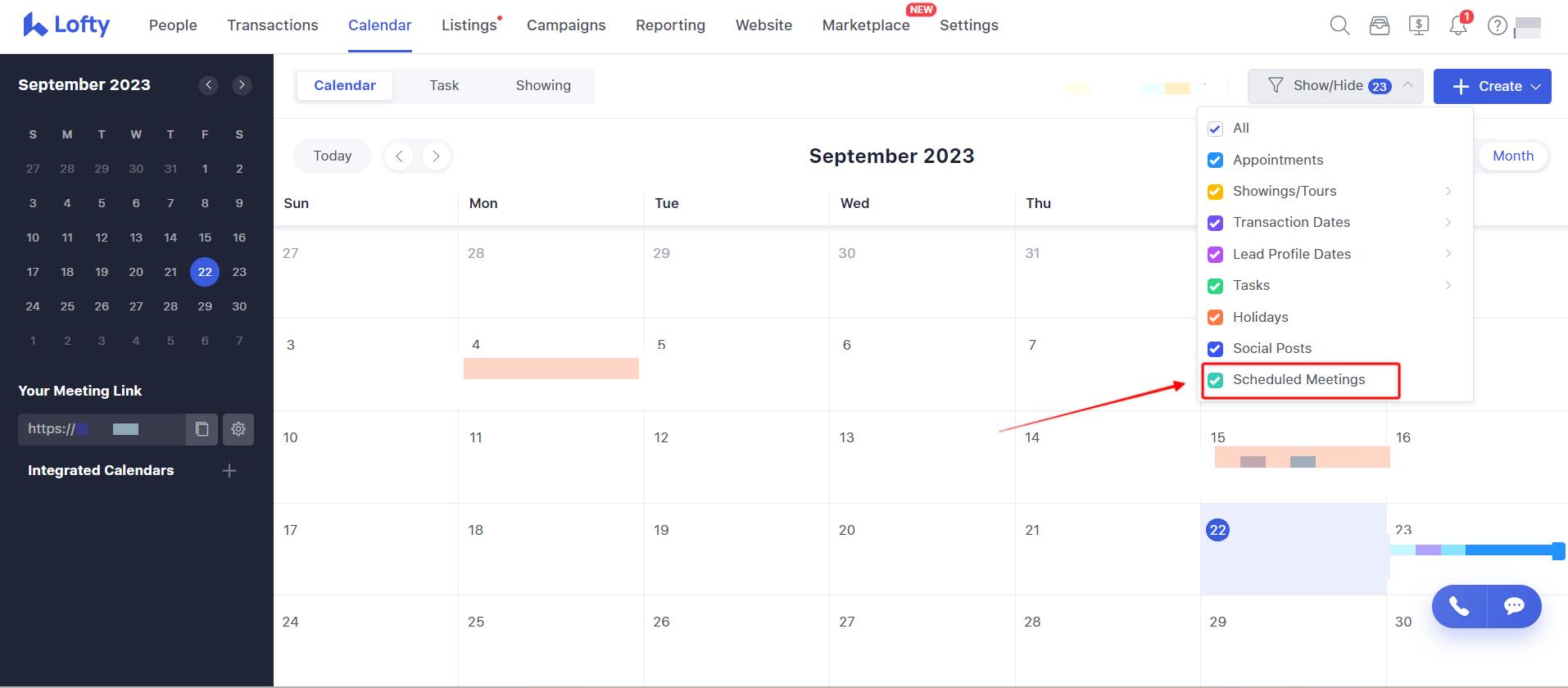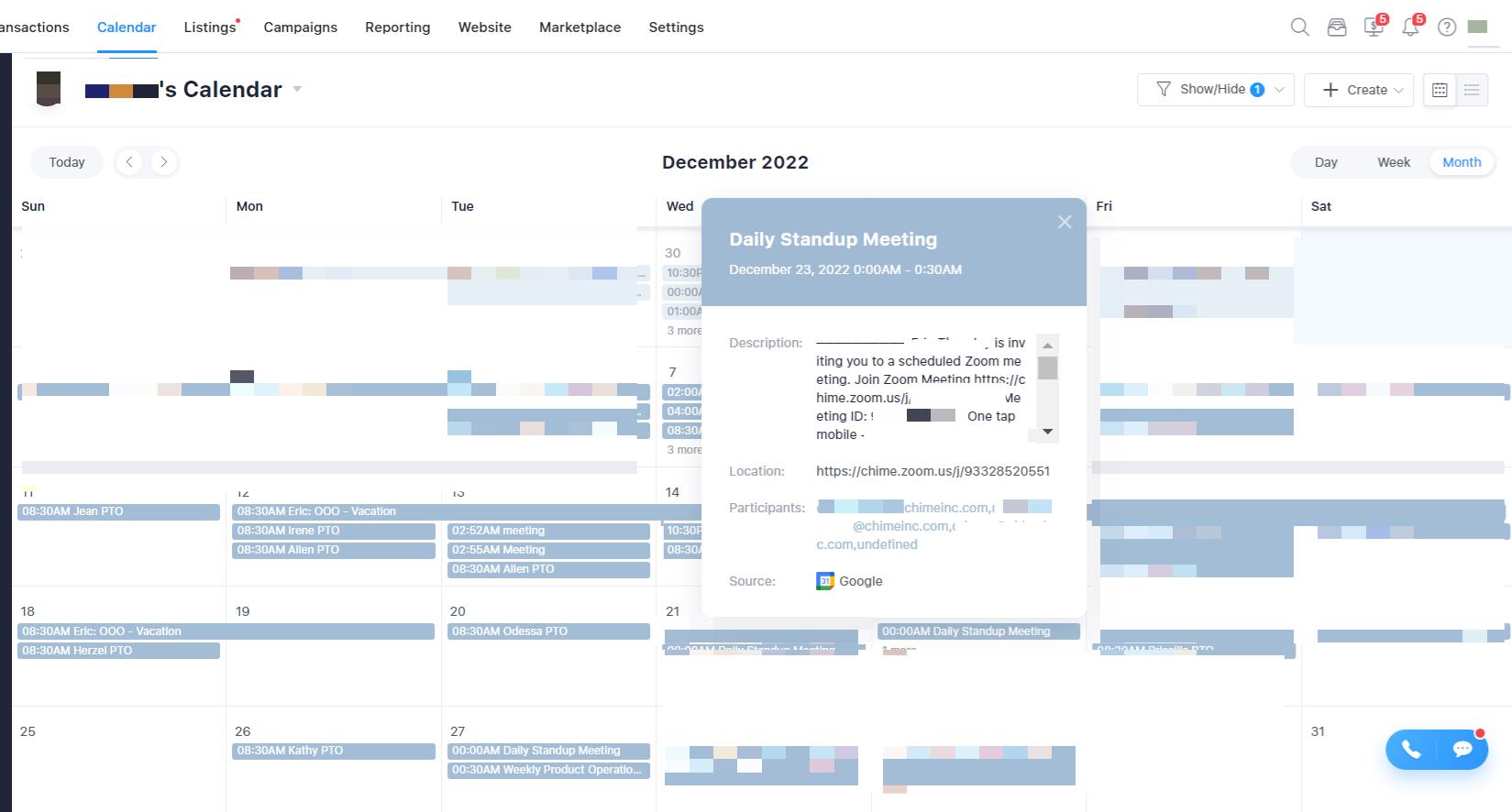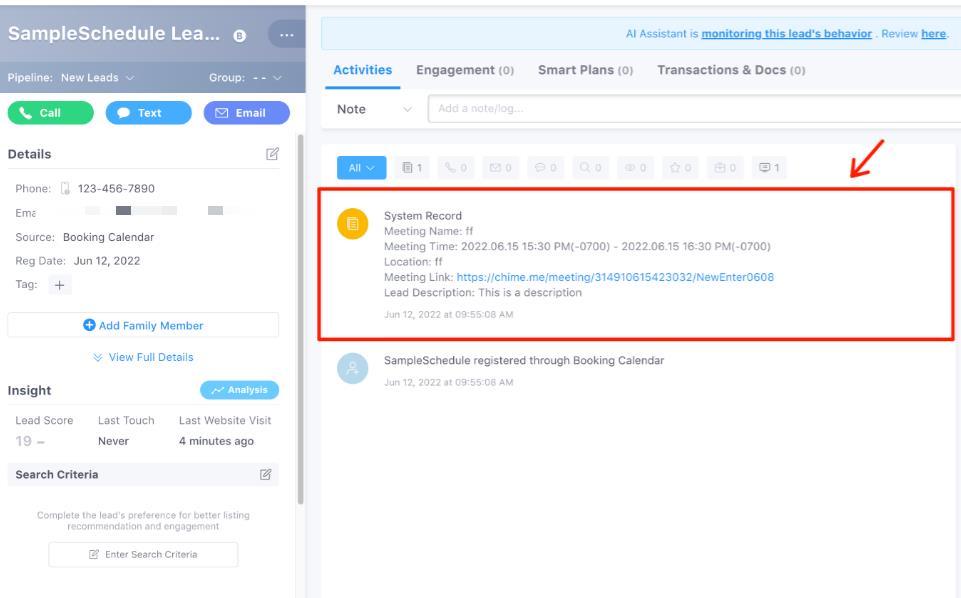 The event can be edited/deleted directly from the Lofty Calendar:

If you would like to include a directly clickable link to your meeting link, use the "Meeting_Link" variable in an email message or in your email signature.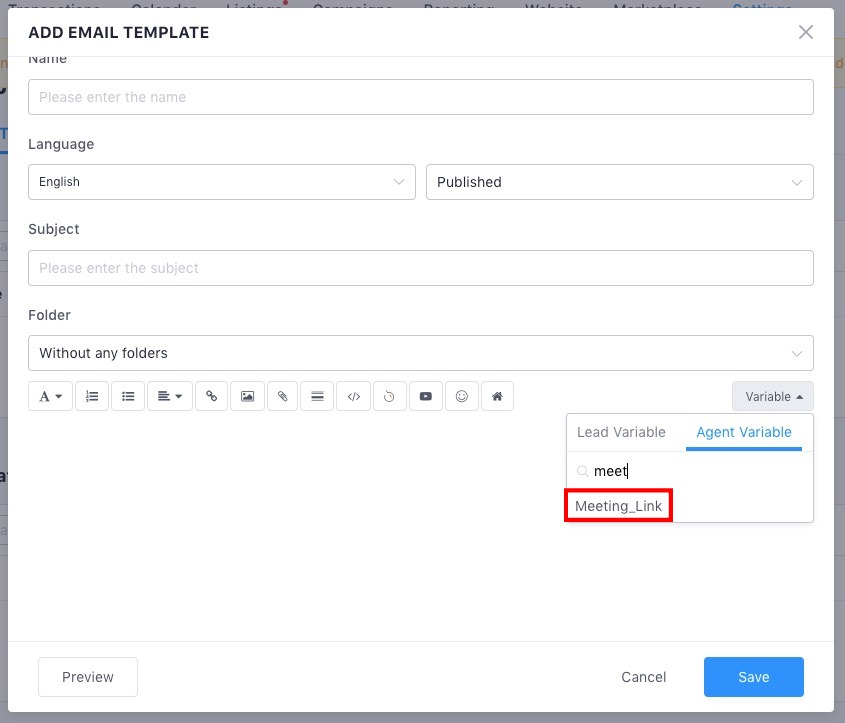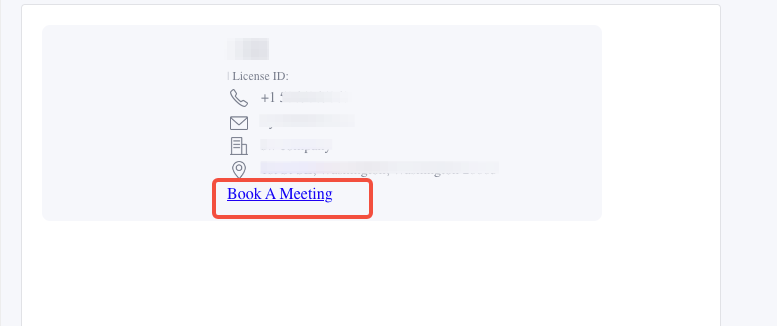 Custom Dates
You can also add custom dates to your Lofty Calendar. Now including options for "Transaction Dates" and "Lead Profile Dates."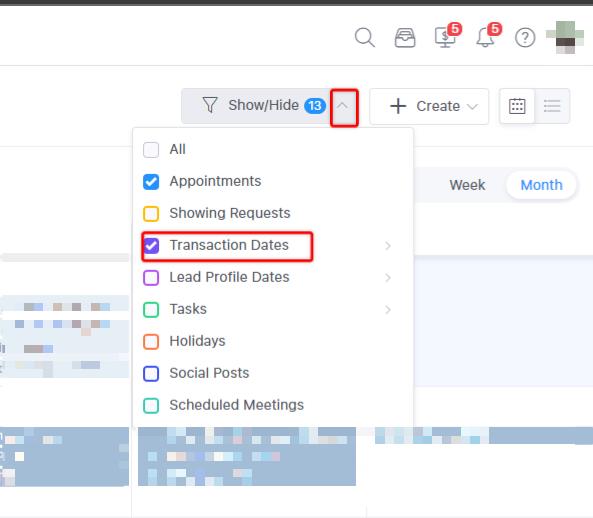 Third-Party Integrated Calendars
Instructions for connecting your Google or Outlook Calendar can be found below:
Website Settings - Calendar Block
You can now add both a scheduling block and page to your website wherever you see fit or create a scheduling landing page where you can send your leads for scheduling needs. Keep in mind that there is only one booking form that is used to schedule appointments so you will not currently be able to create different versions. Also, remember that the current version of the scheduling logic does not check your calendar for conflicting events already on your schedule–though this will be added in the future.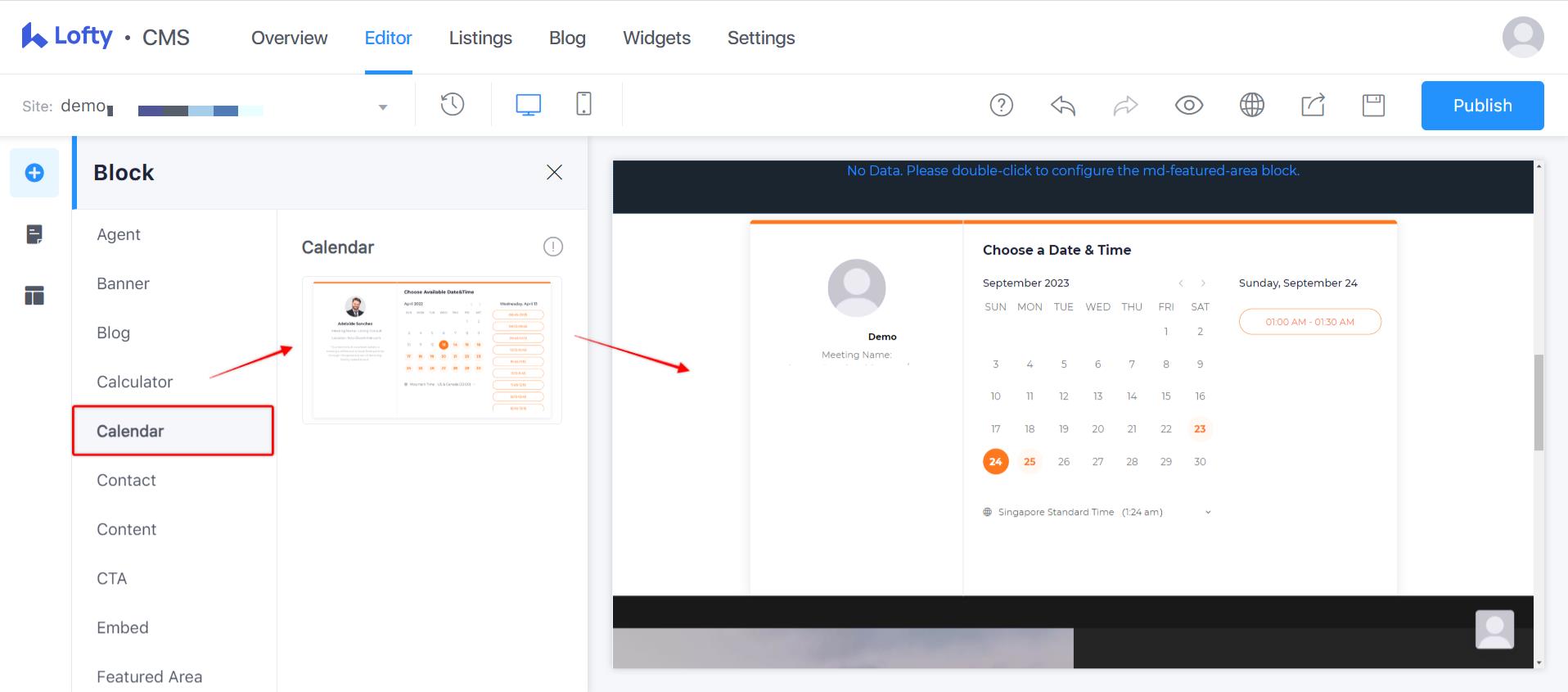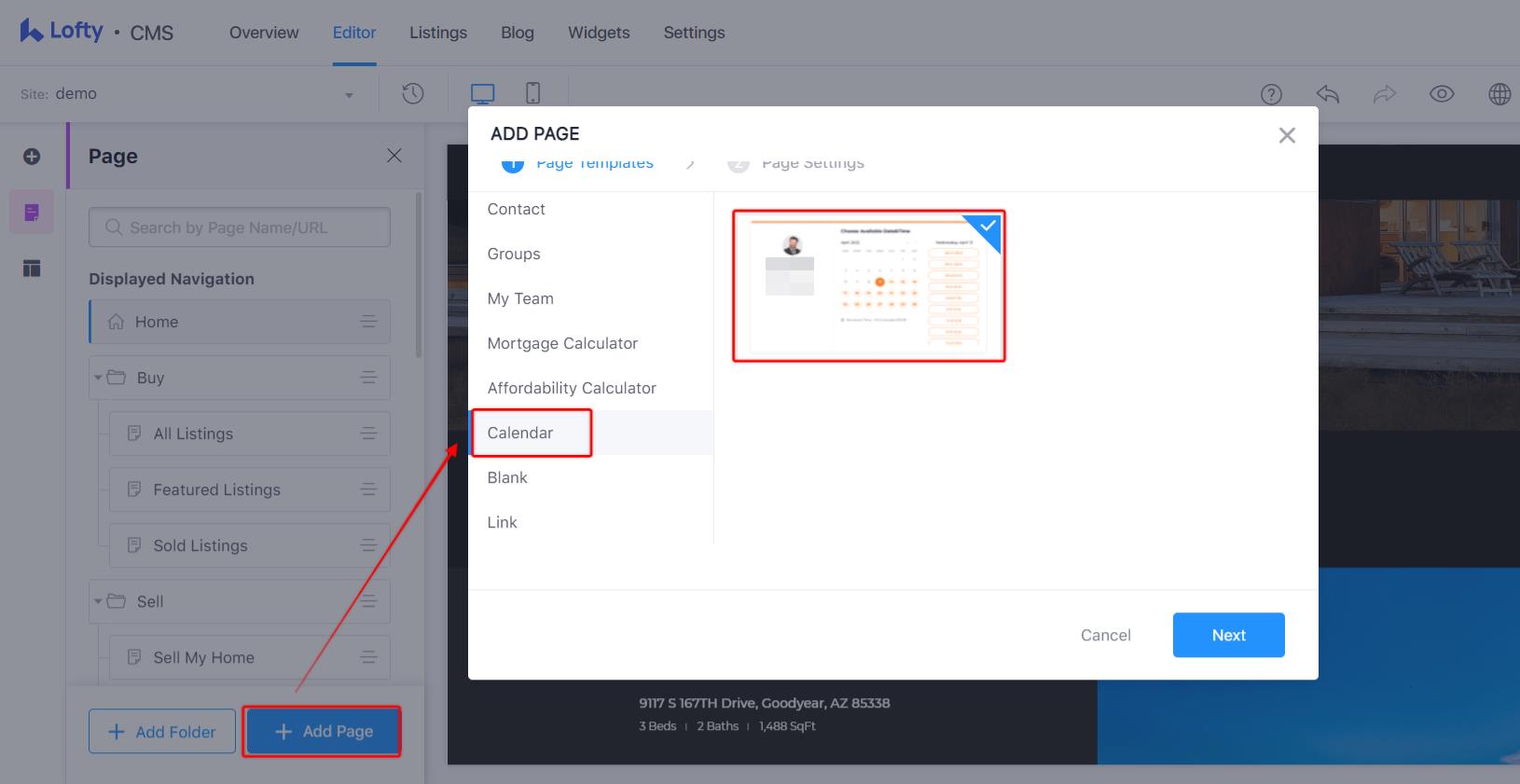 Questions?
If you have any questions regarding this topic or any others, please reach out to our Support Team via email at <support@lofty.com>, by phone at 1 (855) 981-7557, or by chat with us through your Lofty CRM. 

Related terms: meeting, appointments, calendar, meeting link