Introduction
Lofty Task Management can be used to keep your list of tasks in one place and conveniently associated to lead records with a history of all communication, contact information, and a wealth of other resources at your fingertips. This article will explain exactly how tasks are managed when using Lofty. 
Summary
Overview
All tasks in Lofty live on a specific lead profile. No task can be created without connecting it to a specific lead. These leads can be found by navigating to a lead profile (by searching or clicking a name on the People page) and then finding the "Task" section under the "Activities" tab of a lead profile (the default page):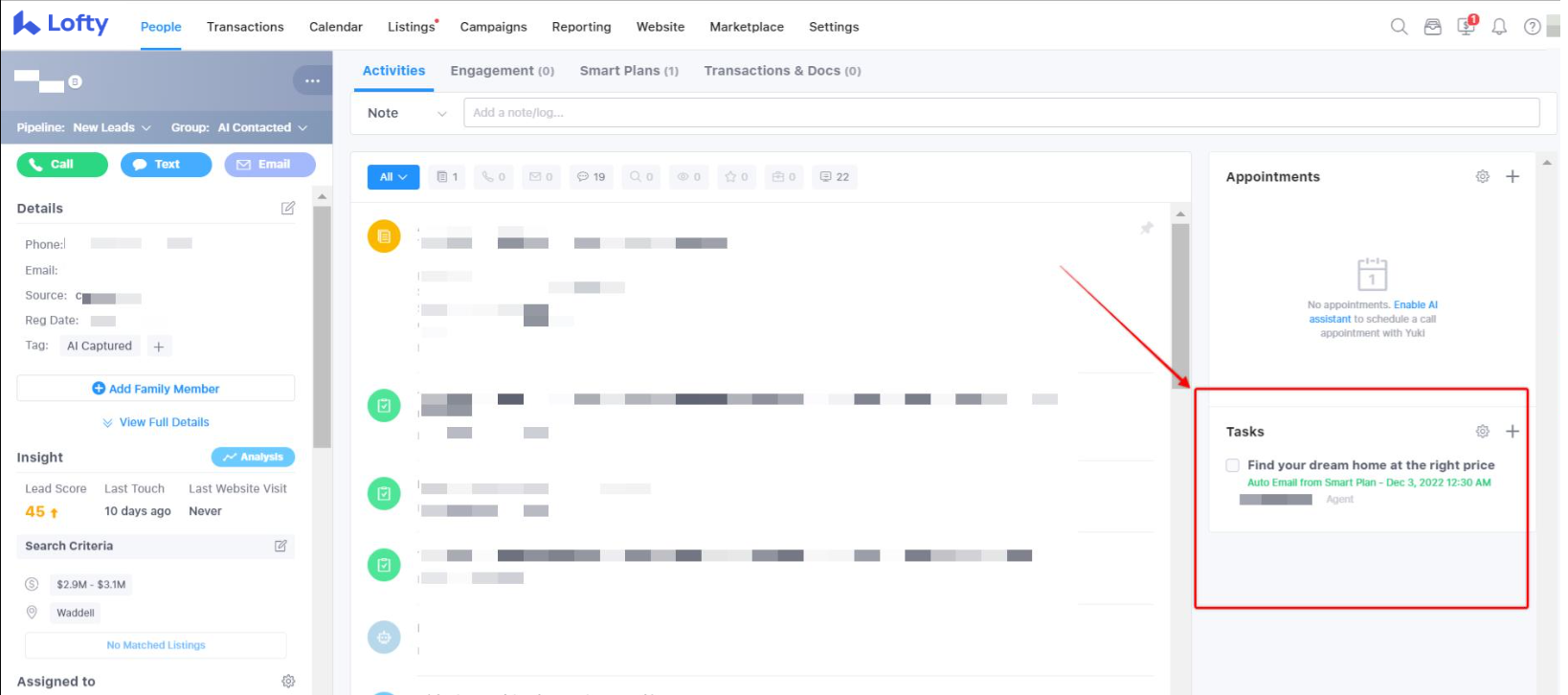 You can filter these tasks by clicking on the "cogwheel" icon and selecting Display current task or "Show completed tasks":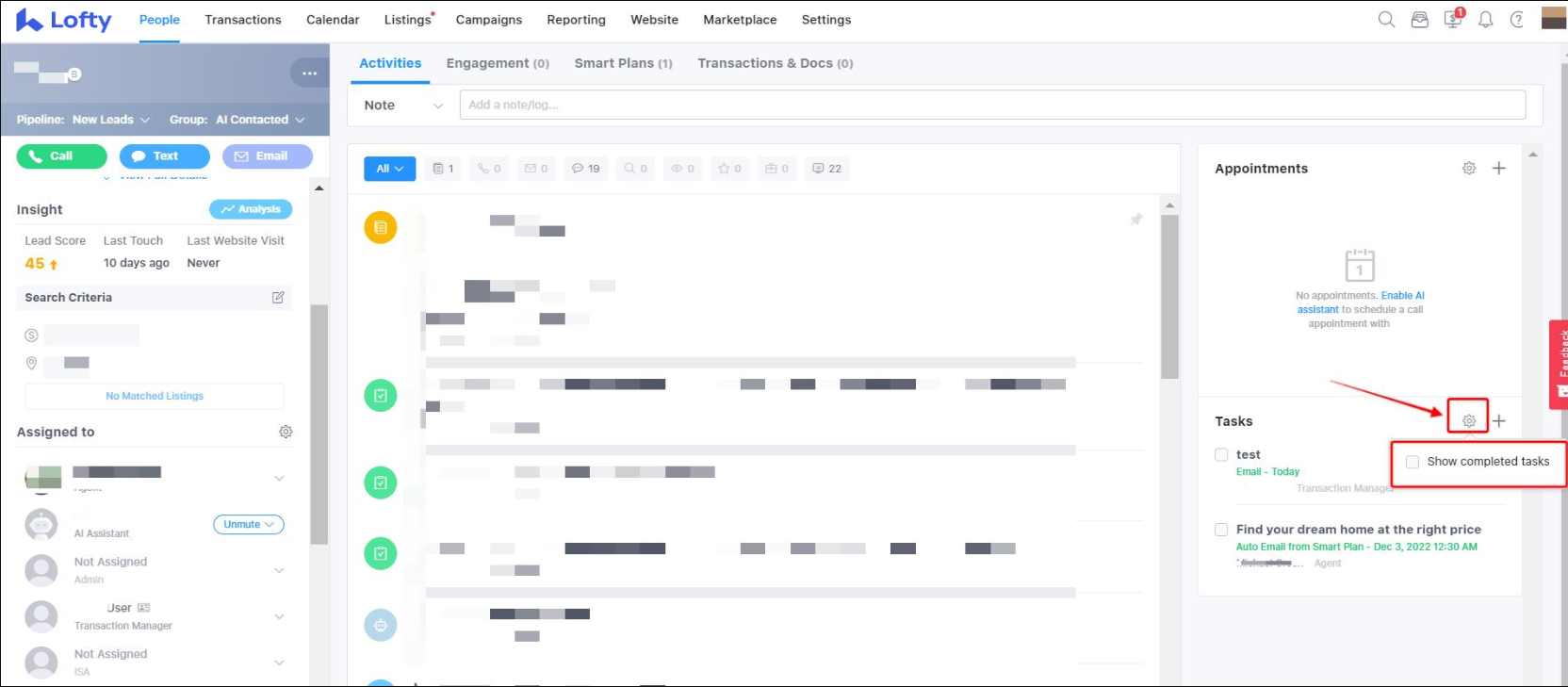 Dashboard Tasks Display
The Lofty Dashboard shows a very basic task summary on either the Team Dashboard (for those with admin access) or My Dashboard for all users. When clicked, the user will be taken to the Tasks Page which is outlined next. 

Tasks Page
Even though all tasks live on one specific lead profile, there is one location that you can access to see ALL of your upcoming tasks in one place. To access this page, click on the Calendar Menu> Task Tab.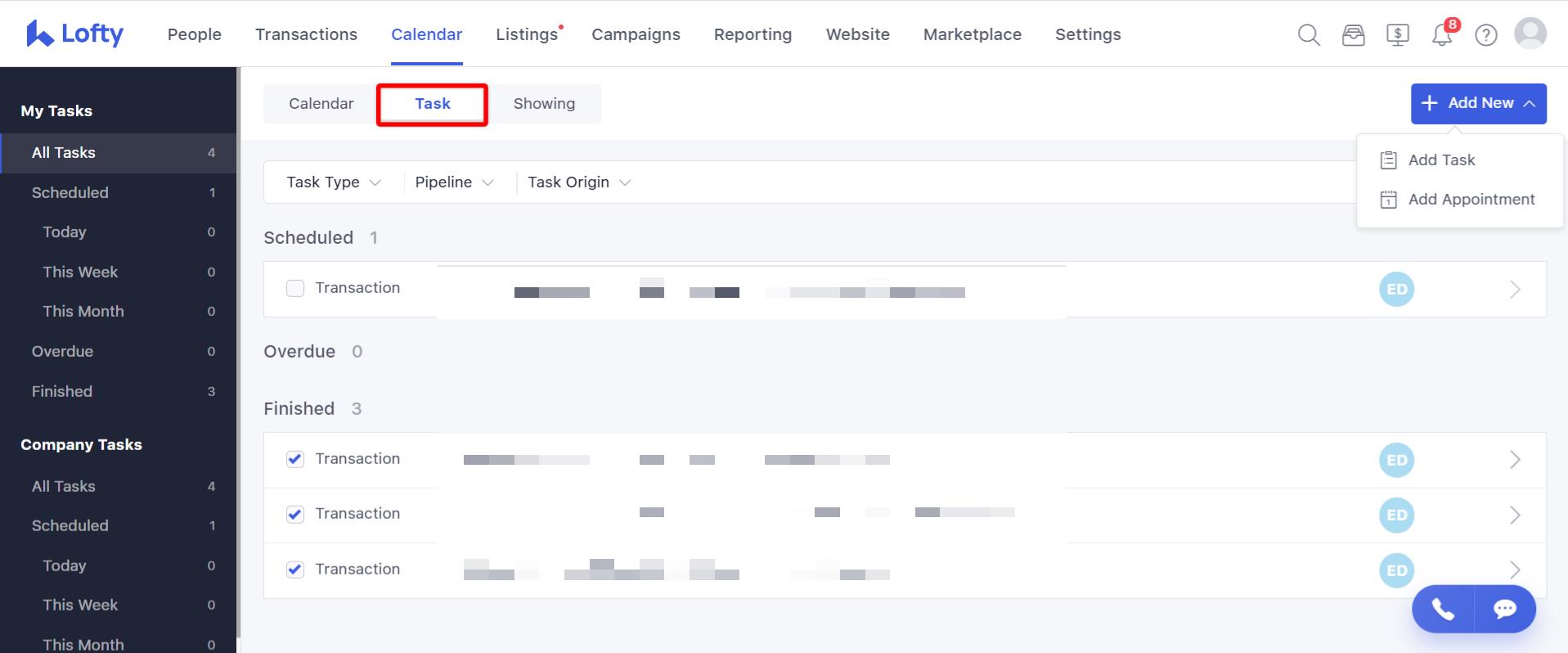 This page is broken down into two sections: (1) My Tasks and (2) Team Tasks. Only those with admin access (see Team Permissions) will be able to see Company/ Team Tasks.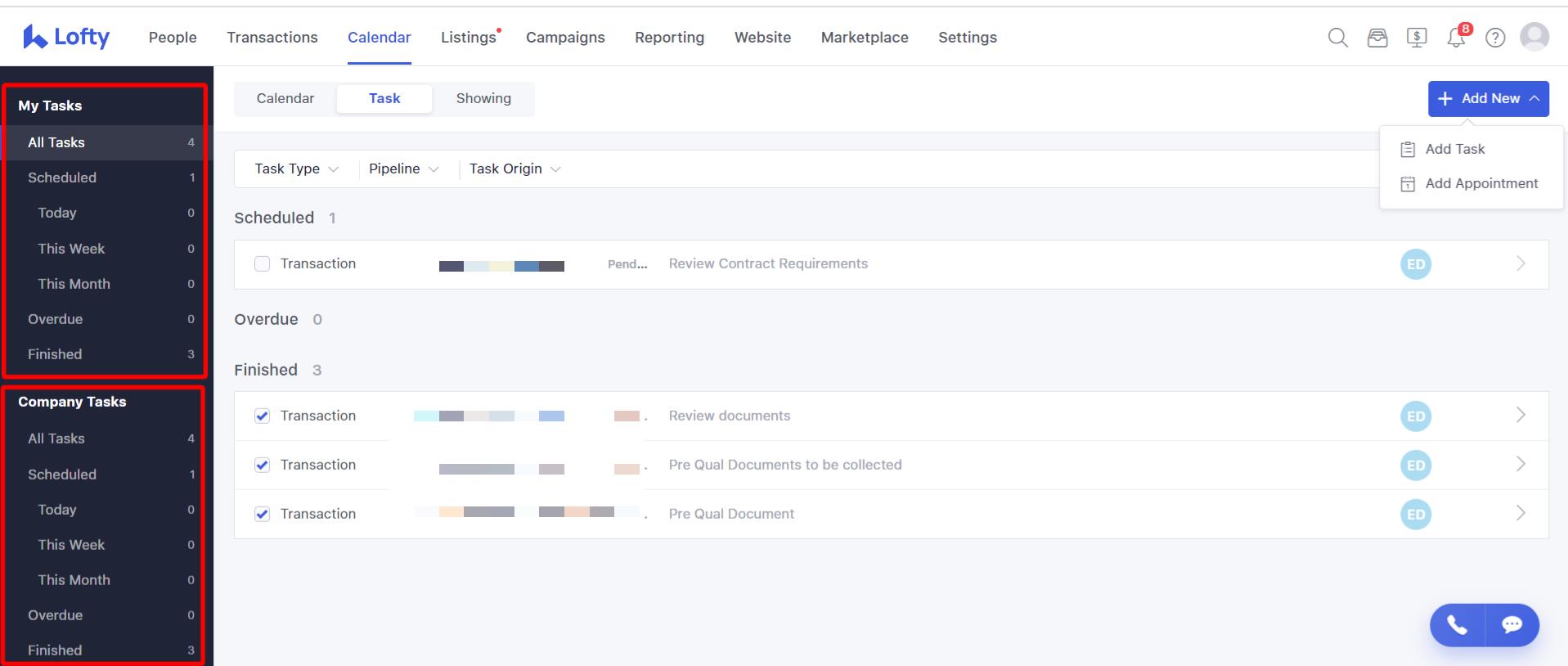 Both of these sections are organized the same way. "Showing Requests" (when a lead requests to see a property directly from a listing page) are shown first, followed by "All Tasks" which is the default view of the Tasks page. Next, you have "Scheduled," "Overdue," and then "Finished." 
"All Tasks" is broken down by "Scheduled," "Overdue," and "Finished" as well: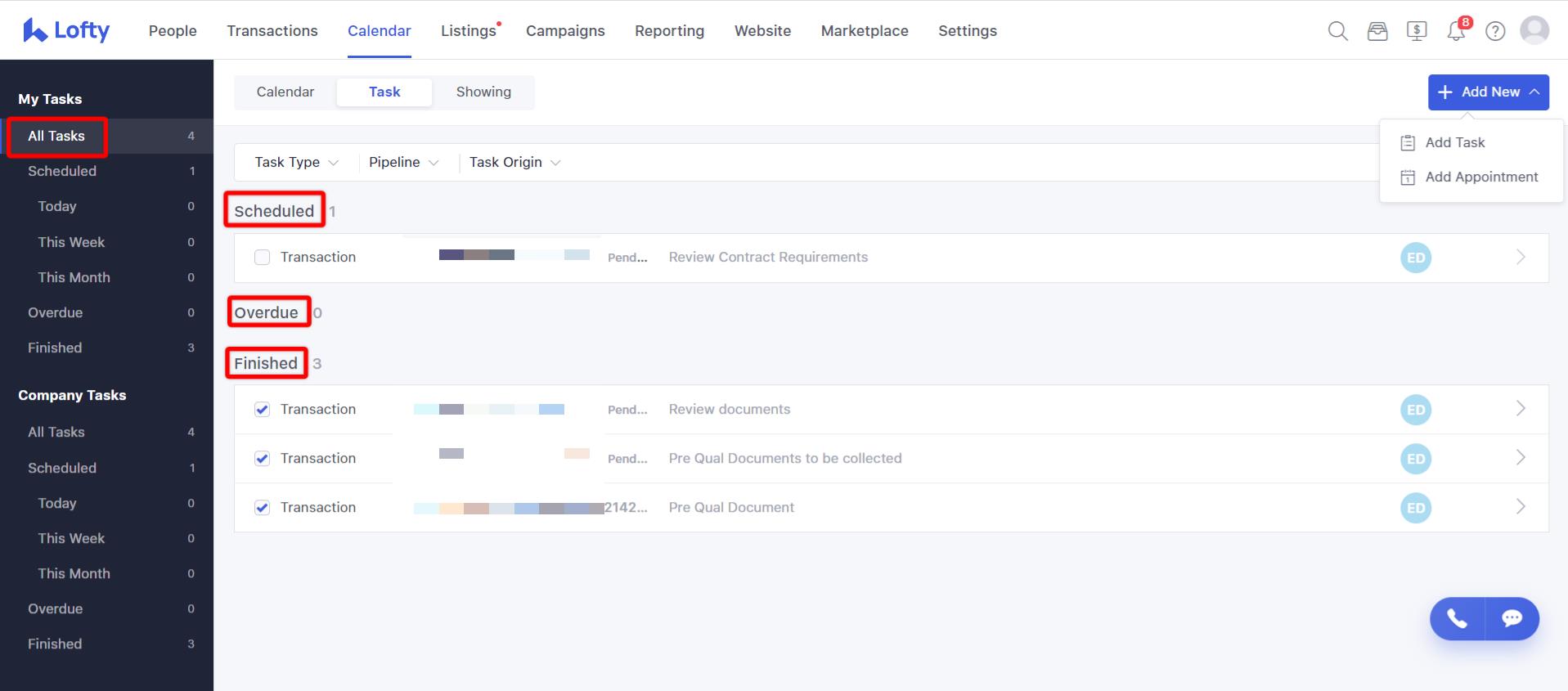 Three filters are available to easily find specific tasks:
Task Type

All
Call
Email
Text
Auto Email (scheduled in a Smart Plan)
Auto Text (scheduled in a Smart Plan)
Appointment
Slybroadcast (scheduled in a Smart Plan)
Other

Pipeline
Task Origin

Added Manually
From Smart Plan
Migrate from Action (pulled over from a Smart Plan)

A new task can also be added directly from this page, but you must choose the Lead to whom you want to add the task as a required field.

Calendar View
All Lofty-based tasks and appointments can now be displayed on a calendar view within the CRM. Please note that this does not synchronize other calendar events from any integrated calendars at this point in time.
The calendar will show the Task and Appointment, but also the birthday of a lead. 
In the top left corner, people with manage user permission can switch to view the calendars of other team members.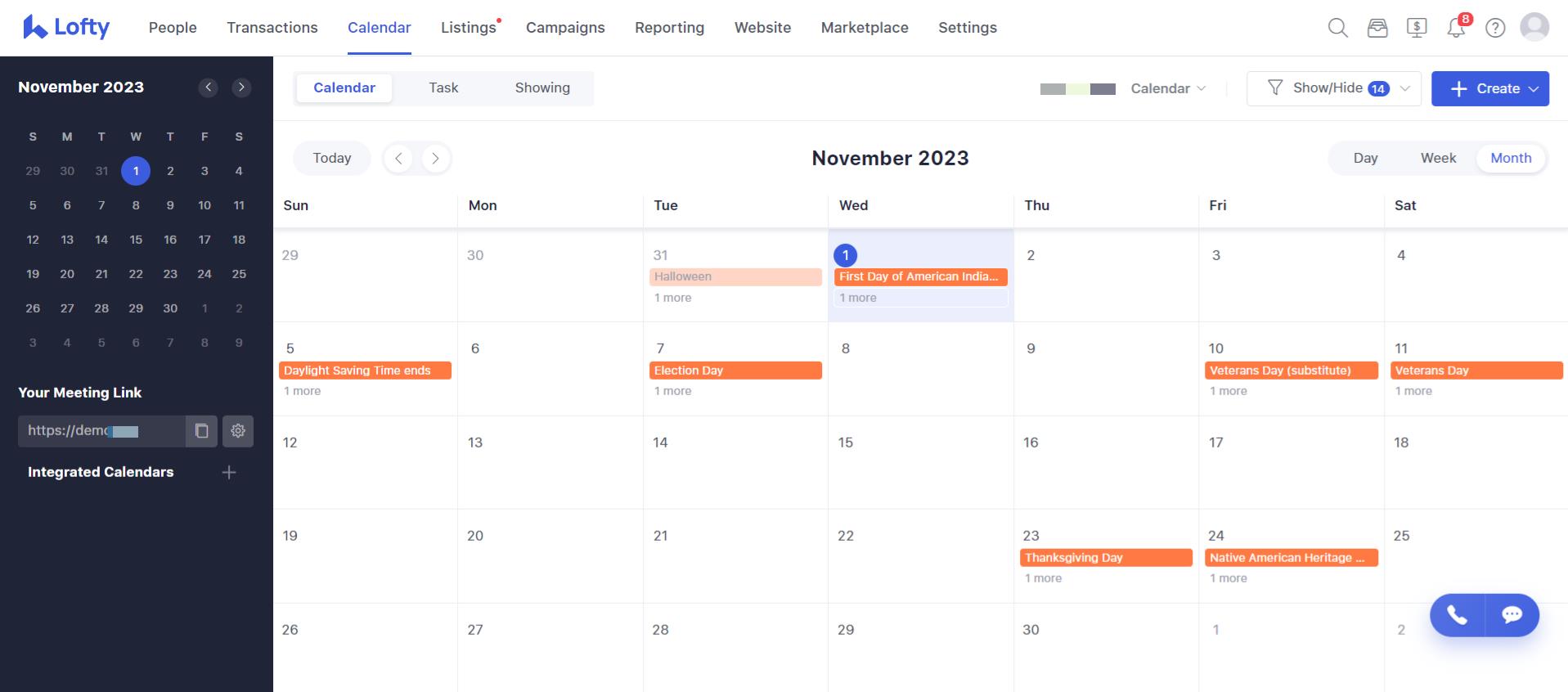 Visible Filter Count
Because filters are so important when using the calendar view, the total number applied to the calendar will now be displayed. This was previously not visible without clicking on the drop-down.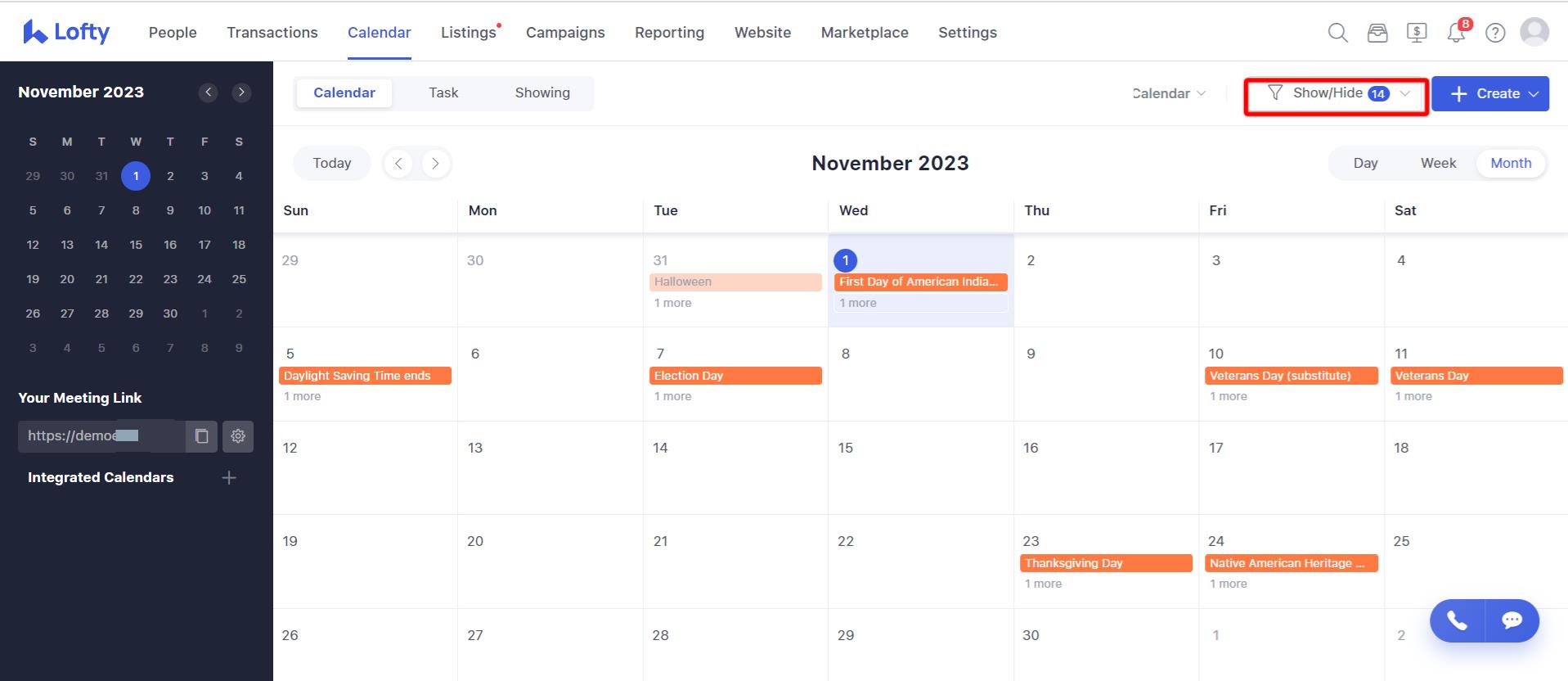 Manually Add Tasks
To manually add a task, click on the "+" button. You can then write in the task description and choose who the task is assigned to (this user must have access to the lead - reference Lead Privacy: Team Leads vs. Private Leads). The task type can be selected (email, call, text, other) as well. The "Call" type is important to select here if you want this to be added to a Smart Call List (reference Smart Call Lists). The due date is very important as well and choosing a specific time will allow for a reminder to be triggered 30 minutes before the task is due with a push notification on the web and mobile apps. If you want to select an additional reminder option (no reminder, by SMS, by call), you can also do so.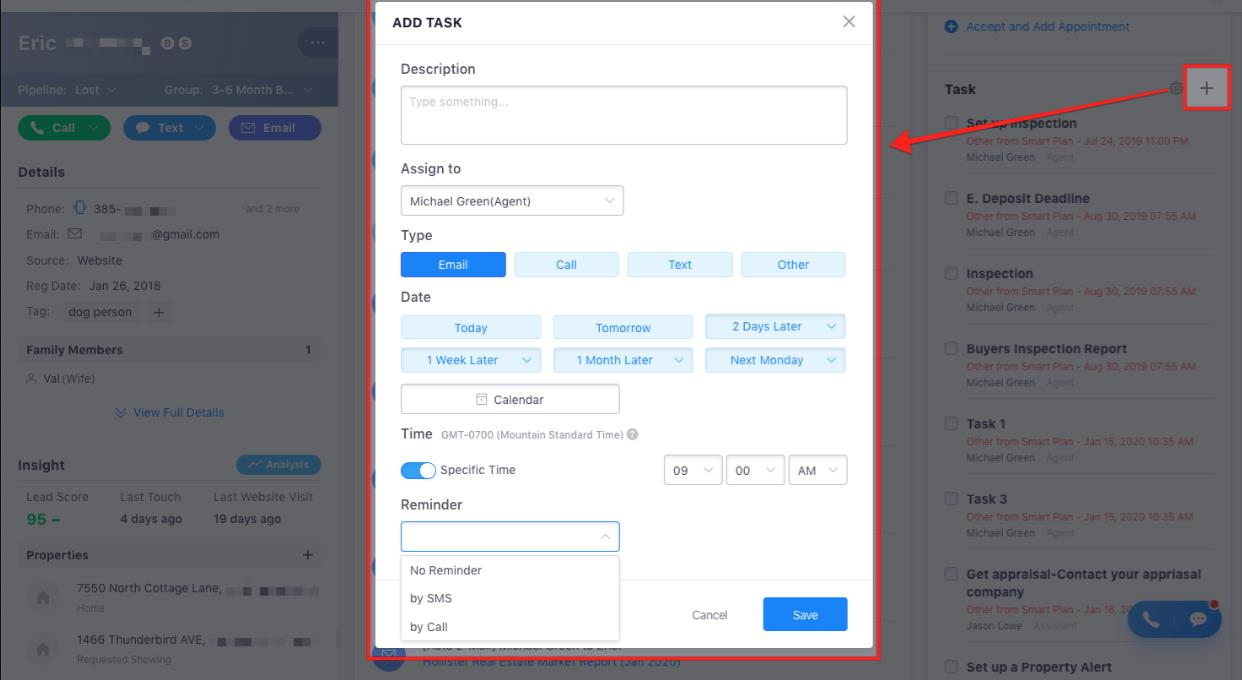 Be sure to click "Save" when you are ready to add the task. The task will then display on the task list for this lead.
Edit Tasks
As outlined earlier, there are two locations to find your tasks. To edit a task, simply click on the task row itself (not the checkbox) and make any necessary adjustments.
When clicking on a task, you will see five options available when clicking a task row on the Tasks Page:
Action (Email, Call, Text). This will depend on the task type. If it is something that you can complete (email/call), you will have the option to do so directly from this task.
Postpone. Choose from 1, 3, 7, or 30 days (s) later.
Complete. Use this option, or click the checkbox, to mark the task as complete.
Delete. This is only available for manually-created tasks. 
Edit. Use this to change the description, choose a specific due date, etc.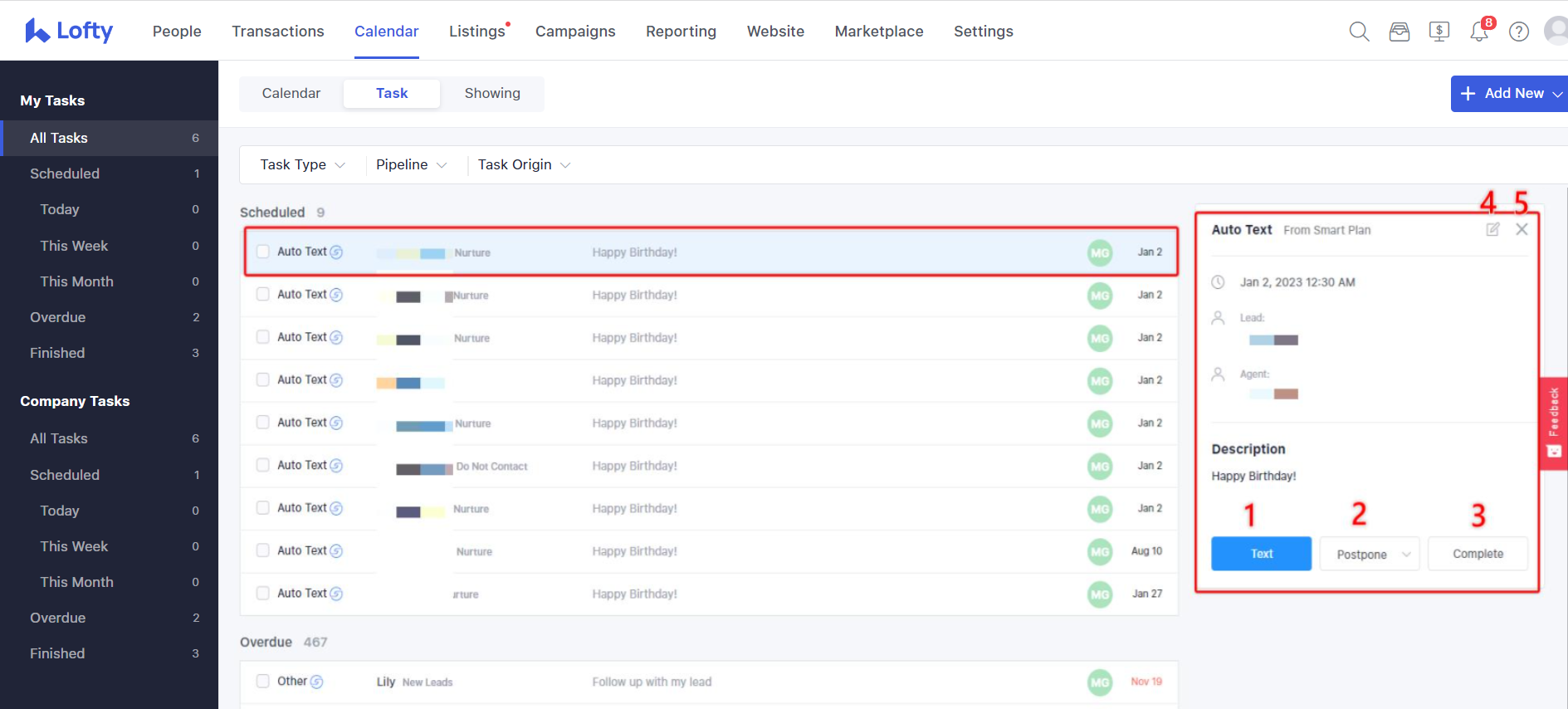 On a lead profile, the "Edit" option is available directly on the task list when hovering over the task: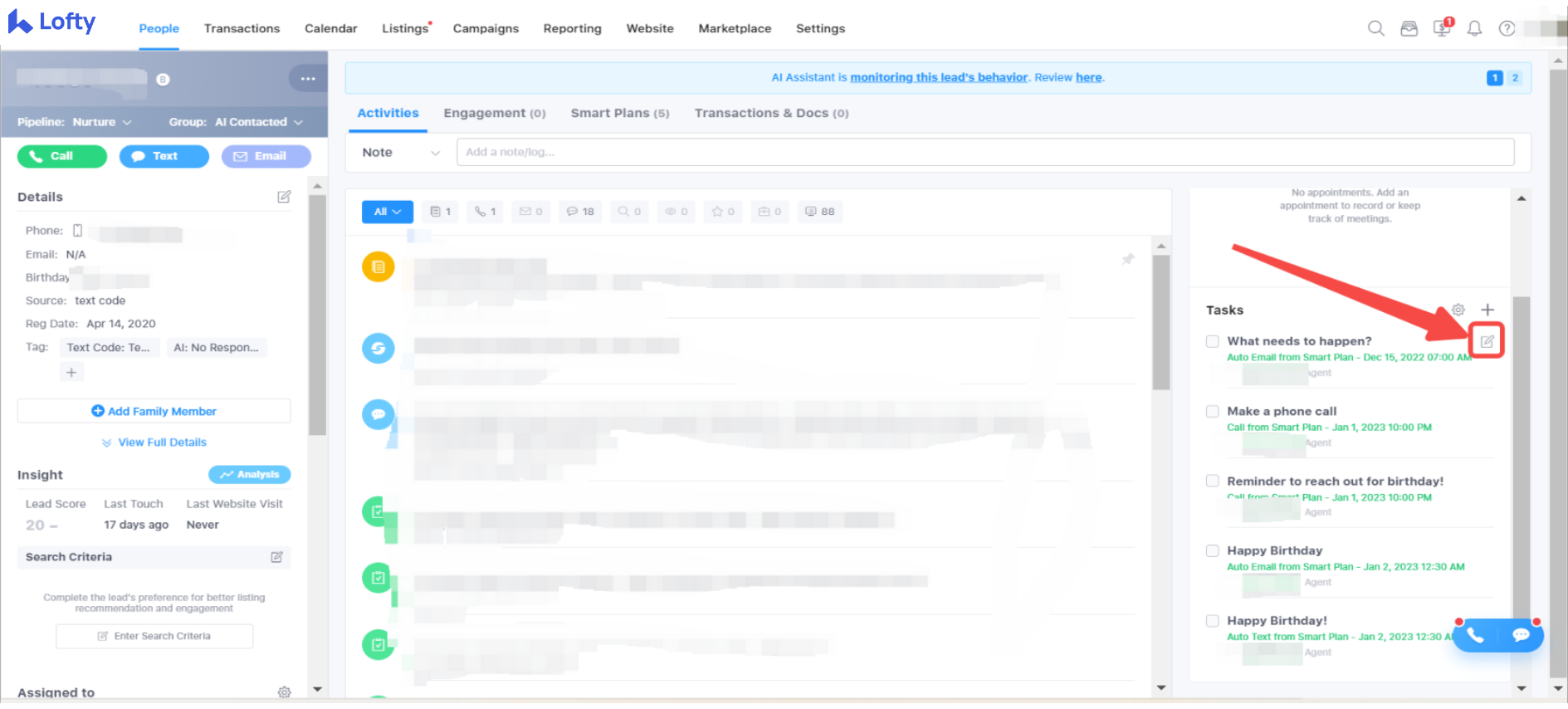 Once clicking to edit the task, the same window will appear as was shown when the task was added: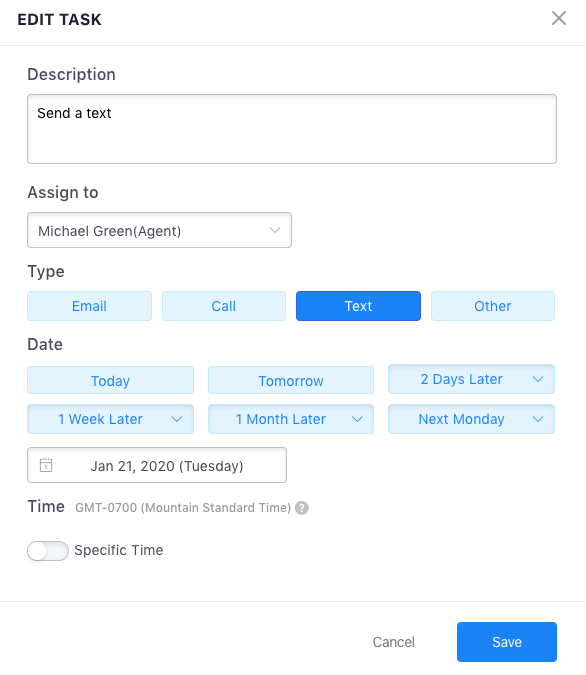 Repeated Tasks
Currently, there is no built-in functionality to repeat one specific task. The only way to do this is via a recurring Smart Plan. Please reference Smart Plans.
Automatically Add Tasks
To have tasks added automatically to a lead, this must be done via a Smart Plan. Learn more here: Smart Plans.
Lender Tasks
Currently, tasks cannot be added for lenders if the lender is using a lender-type account. Instead, you should communicate with the lender using the @tag method. More information can be found here: Lender and Agent Lead Collaboration.
Questions?
If you have any questions regarding this topic or any others, please reach out to our Support Team via email at <support@lofty.com>, by phone at 1 (855) 981-7557, or by a chat with us through your Lofty CRM.