Introduction
As of July 19, 2021, you are able to purchase your own vanity domain via the Lofty platform. You will only see this as an option if you have not already arranged to configure a domain that you already own with your Lofty-built website. In other words, if you own your own domain, you can still use that for your Lofty website and work. However, if you have not already purchased a domain, your website will exist temporarily on a _____.lofty.com domain and we highly recommend that you purchase a domain that you can use to build a brand for your business. 
Summary
Purchase Process
*IMPORTANT: You will only see the option to purchase a domain via Lofty if you have not already configured your domain. This is accessible for the Team Owner/Admin on the Team Website or for individual agents who have already upgraded to an Agent Website and are not already using a vanity domain.
There are two locations where you will see the option to purchase a domain via Lofty:
(1) In the CMS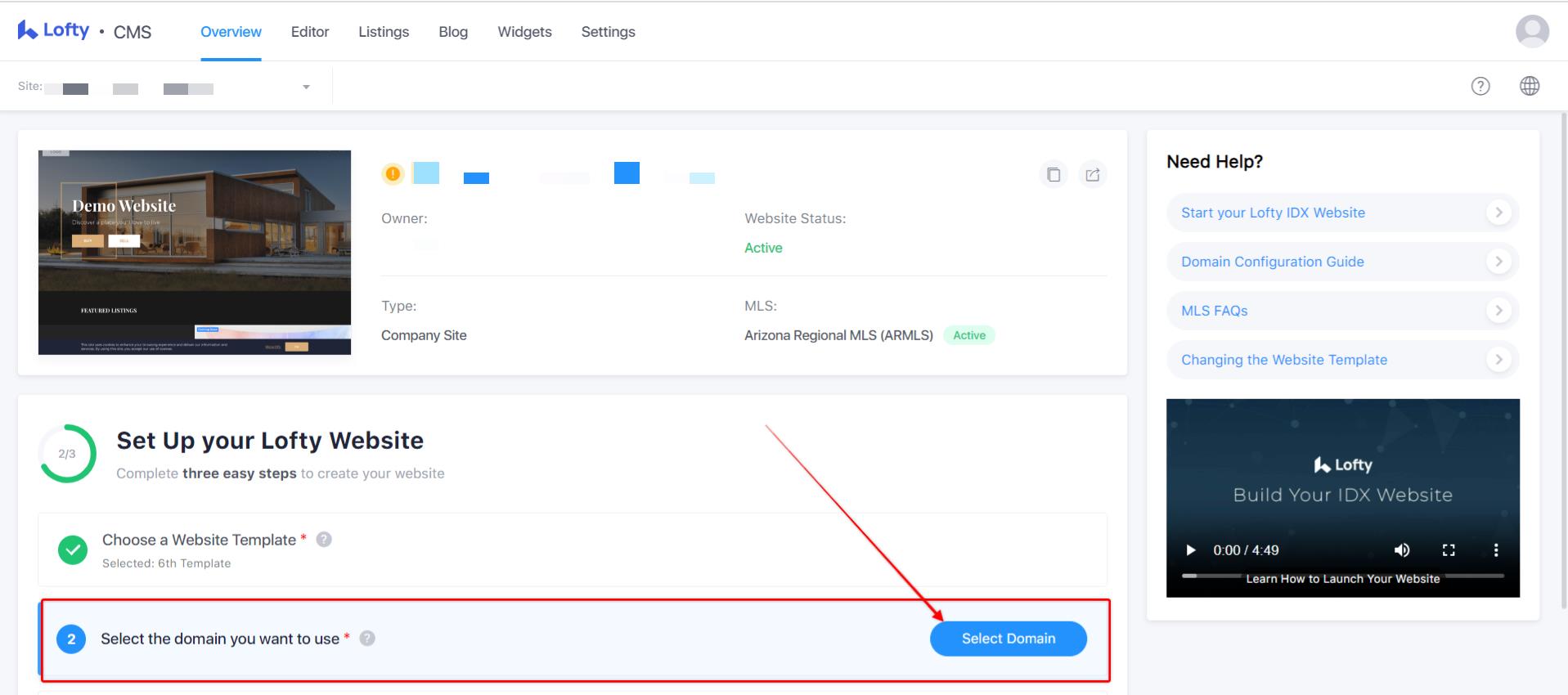 (2) In the Lofty Marketplace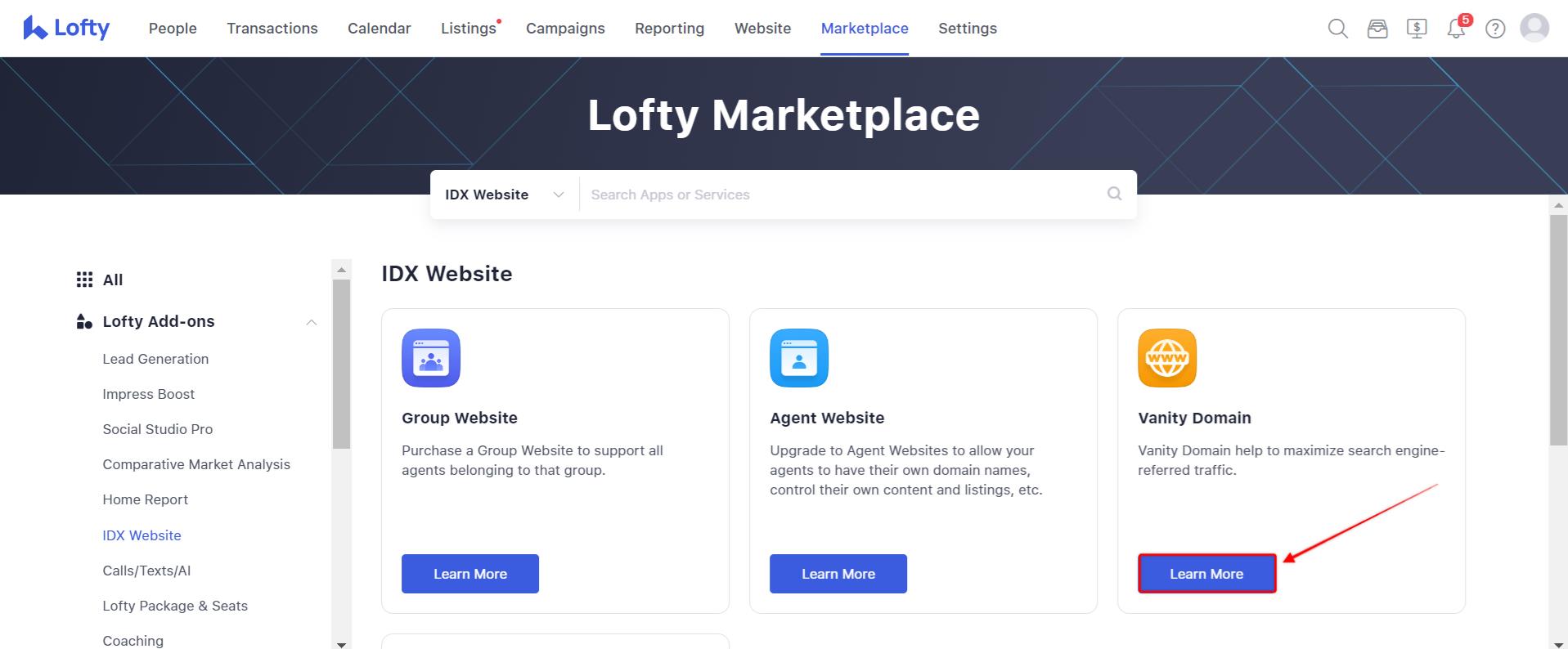 Once you click either of the options above you will be taken to a quick introduction page where you can learn about some of the important reasons to upgrade to a vanity domain. These are outlined here for your reference:
Consistent email marketing

Use your vanity domain as your sending email address for marketing and nurturing emails sent via Lofty.
Maintain your branding and make your team look more professional by sending automated emails in Lofty from your vanity domain (e.g. demo@yourdomain.com).

Automatic configuration

No configuration is needed. Our automated setup makes it easy and includes DNS configuration and SSL certificate installation.

Domains purchased through Lofty are registered for one year and can be canceled at any time.

Own your own domain

Rank higher in organic searches. Vanity domains help you rank higher if similar keywords are searched.

Establish your brand. A Vanity domain makes it easier for leads to remember you and find your website later.

More than 80% of Realtors own vanity domains. A domain name gives your business credibility and tells leads that you are here to stay.
Click on the blue Get a domain option to continue: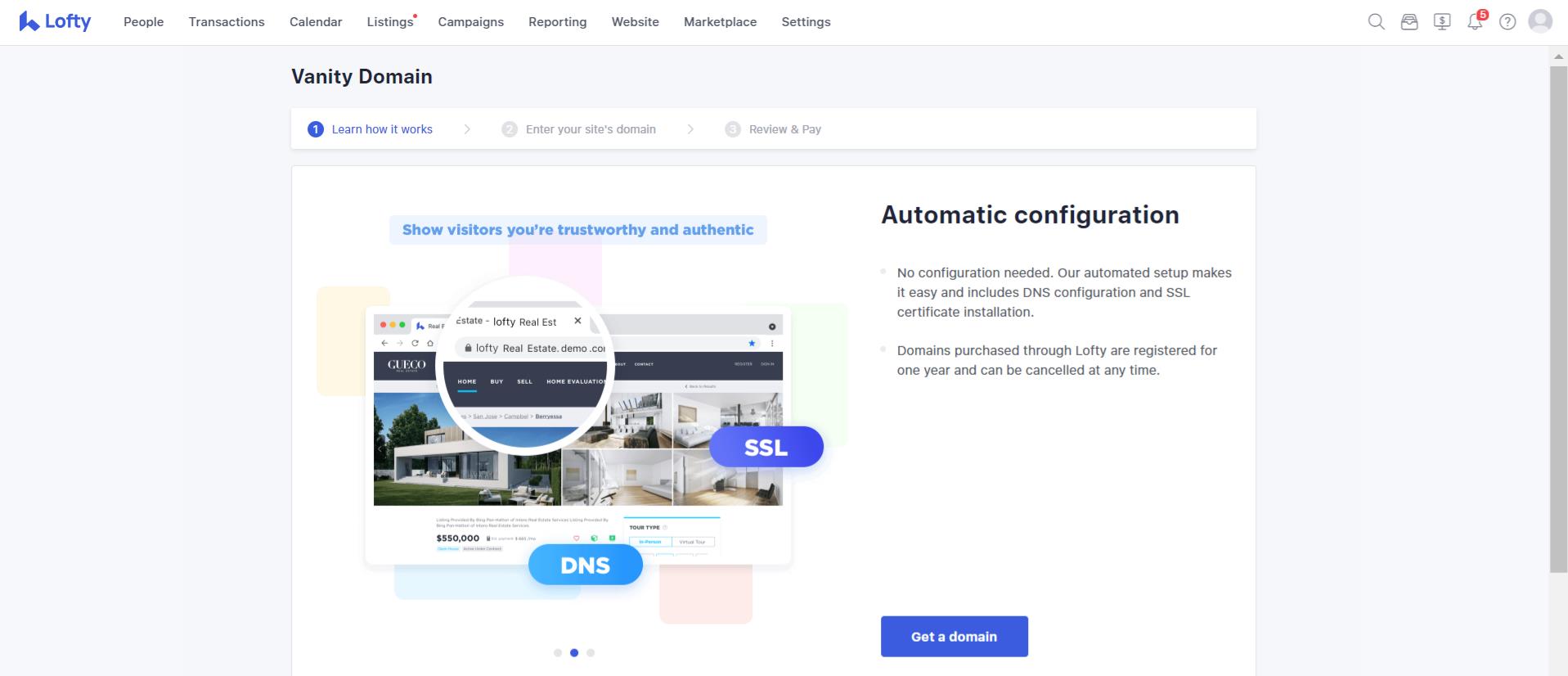 You will be presented with a screen that looks like the following. Type in the domain name that you are interested in purchasing and then click the blue Search button: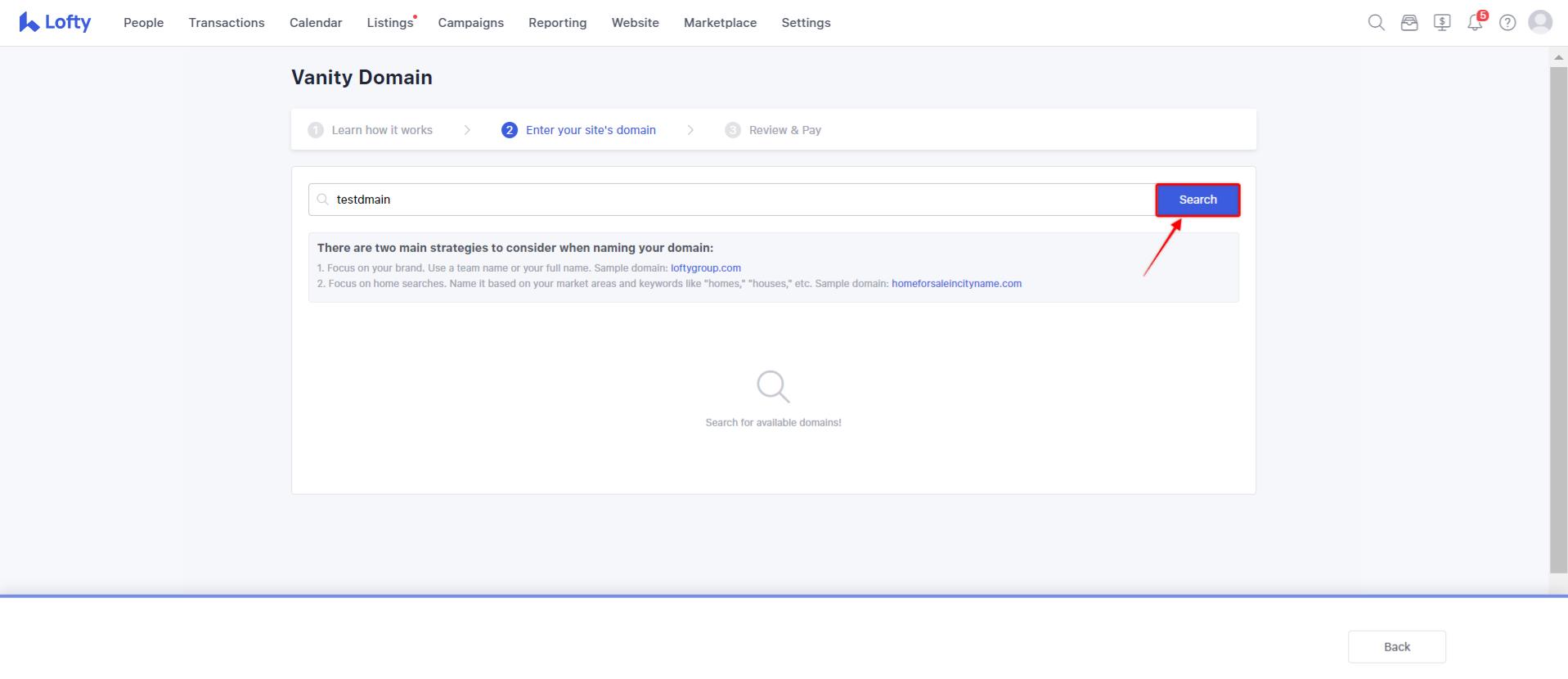 All of the available options related to that domain name will then appear as suggestions along with their associated annual registration fee (which will vary by domain). You can click on "Show more results" to display more options. Choose the domain that you would like to purchase from the list to go to the next step.

A summary of the cost of this purchase will be presented to you. If you do not have a payment card on file you can add one during this process. Details of the cost are outlined below.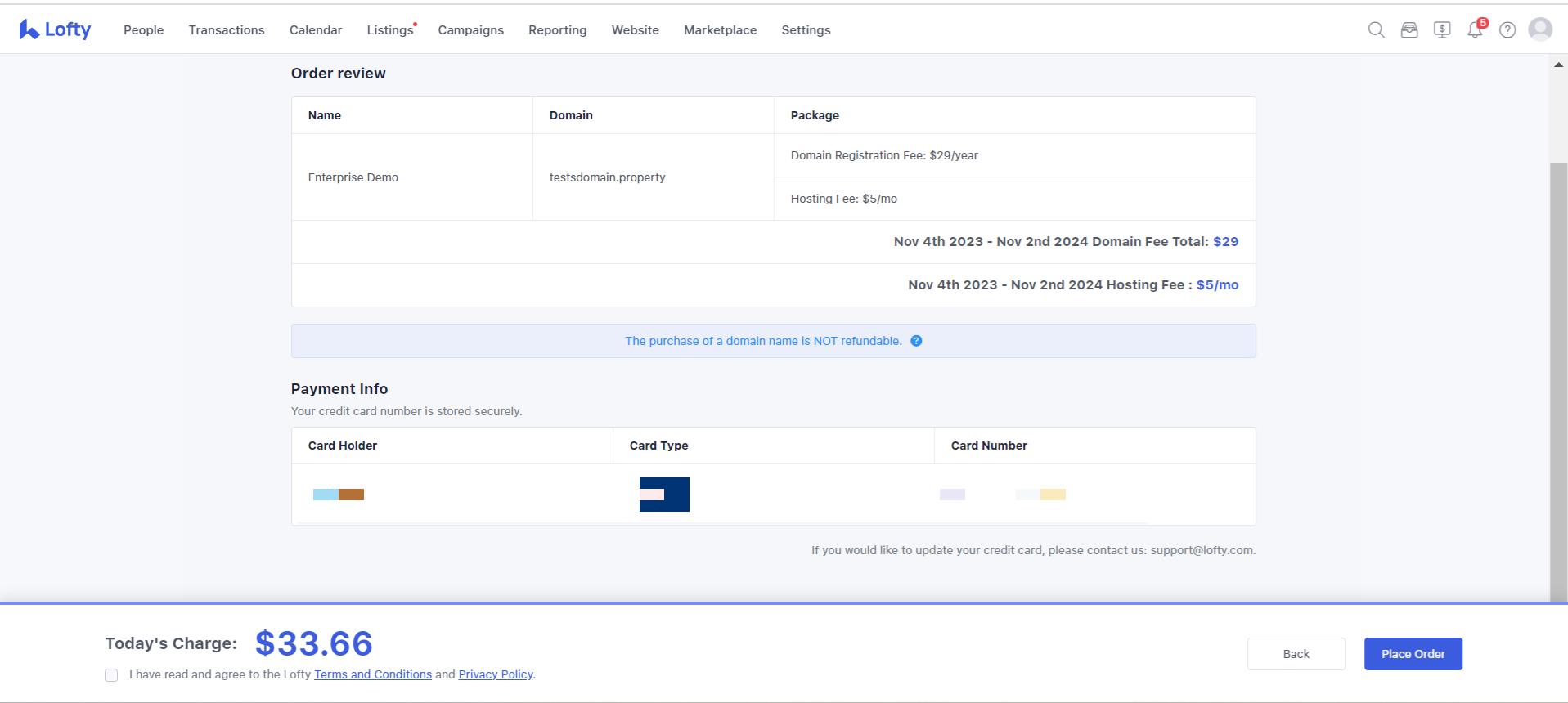 Once you click on the blue Place Order button, you will see a confirmation message that looks like the following:
"Your domain purchase request has been submitted! We will work to process the purchase as well as complete the DNS & SSL configuration in the background which can take up to 1 hour to complete. You will receive an email notification when this process has been completed successfully or if the domain is not available. You will NOT be charged unless successful."
Once this process is complete, you will receive an email confirming the result. If successful, you will receive the following email:
"
This email is to let you know that your Vanity Domain purchase has been processed successfully. The Annual Domain Registration Fee and Monthly Hosting Fee have been deducted from your billing account.
You can access your website via the Lofty CMS where you will notice that the domain name should be automatically configured and associated with your site."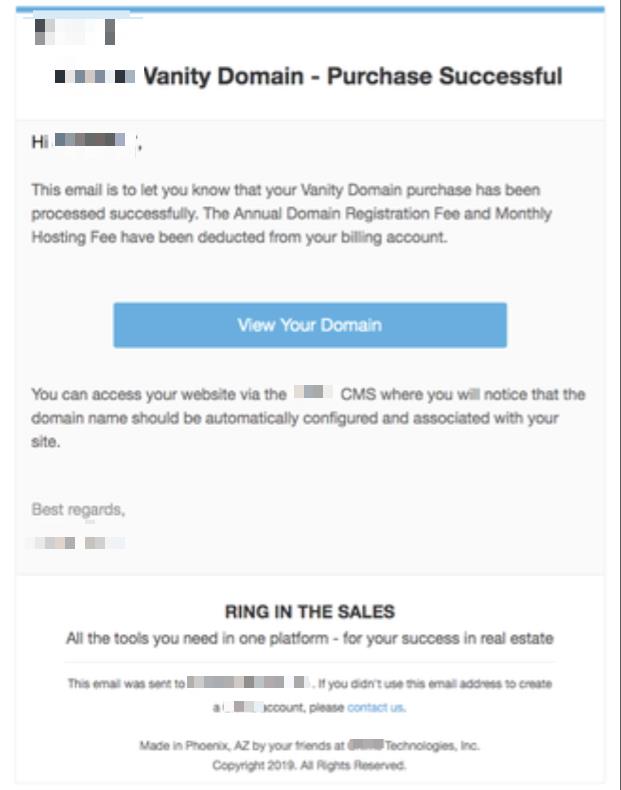 In other scenarios, the purchase might fail due to unknown issues or if the domain is no longer available for some reason. If that is the case, you will receive the following email:
"This email is to let you know that your Vanity Domain purchase request has FAILED to process. This could mean the domain is no longer available or could be the result of another error. Please try again via the Lofty Marketplace.
Please note that no domain fees were deducted from your account as the purchase process was not successful."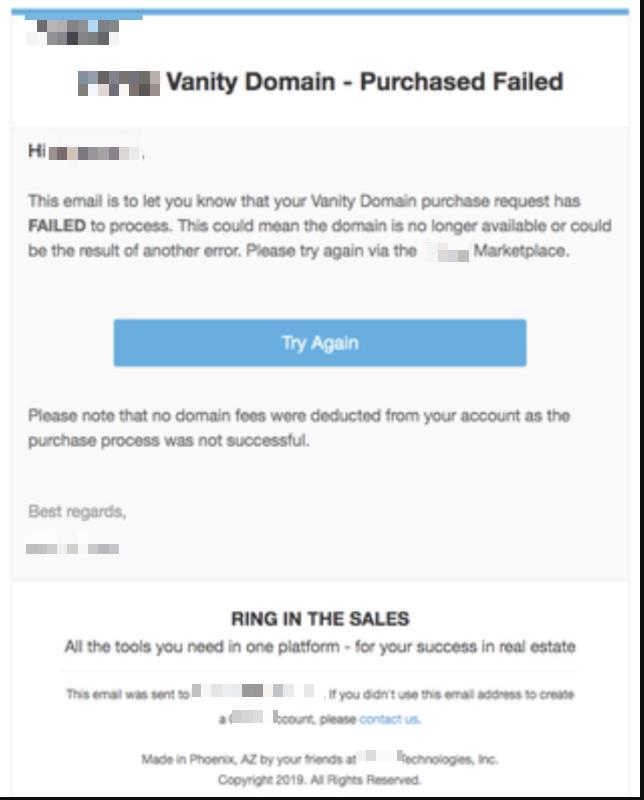 Price
If you are setting up a vanity domain for the first time on Lofty (see Start your Lofty IDX Website), you will be presented with free options to select from that are located at .net. However, please note that if you choose a free option you cannot take this with you if you cancel your Lofty subscription. If you purchase a paid-for option, you can take that with you if you need to leave Lofty for whatever reason.

Please be aware of the following regarding the price of a vanity URL purchased via Lofty:
Domain Registration Fee: The

 

yearly

 

fee will vary depending on the domain purchased–this fee is passed on directly from the domain provider (AWS) to you.
Hosting Fee: The

 

monthly fee of $5 Lofty charges to host the domain, integrate to Lofty, and support email traffic.
The purchase of a domain name is NOT refundable. We purchase domain names from third parties and therefore do not support refunds. If you want to terminate service with Lofty, you can transfer the domain name out for continued use.
Other Important Notes
When you purchase a vanity domain via Lofty, the following happens:
We will automatically complete the DNS and SSL configurations
The Sending Email will be automatically adjusted to match the purchased domain. You can learn more HERE. 
When you choose a free domain, you will see the following pop-up appear. This pop-up will help clarify how this free domain is provided.

"Please note that this free domain name will not be available to use if service with Lofty is terminated. Also, you only have ONE opportunity to select a free domain name."

If your initial payment fails when purchasing a vanity domain, there will be a popup to notify you that this is the case and you will have the option to purchase another domain made

 

unavailable. We will also send an email advising you on the next steps in addition to a pop-up. 

"Payment failed! We have still purchased the domain (#domain#) for you, but you will need to confirm the status of your payment card on file and contact us to try again."
Currently, if you purchase a domain from Lofty, we do not have the ability to support the use of an external email provider. That means if you purchase a domain via Lofty, you will only be able to use that domain for emailing within the Lofty platform at the present time.
Questions?
If you have any questions regarding this topic or any others, please reach out to our Support Team via email at <support@lofty.com>, by phone at 1 (855) 981-7557, or by chat with us through your Lofty CRM.