Introduction
The "Reviews Block" can be used to present client testimonials/reviews that you would like to feature on your site. You can integrate multiple review sources to each Reviews Block. The steps to set this up are outlined below. Instructions for configuring reviews from Zillow, Google, and RateMyAgent are included here.
For detailed instructions on integrating Google, Zillow, and RateMyAgent reviews, please see Google, Zillow, and RateMyAgent Reviews Integration
*IMPORTANT:
Each individual Reviews Block can be configured independently of the others in scenarios where you might want to combine multiple review sources on one page.

Reviews from third party sources (RMA, Zillow, Google) cannot be edited and you cannot pick and choose which reviews are visible, however you can choose to not show reviews from a source.
Summary
Adding Reviews Block
Click + Blocks and the block library will appear:

Find the Reviews block in the block library. Choose the style that you want and drag it to the page on the right side: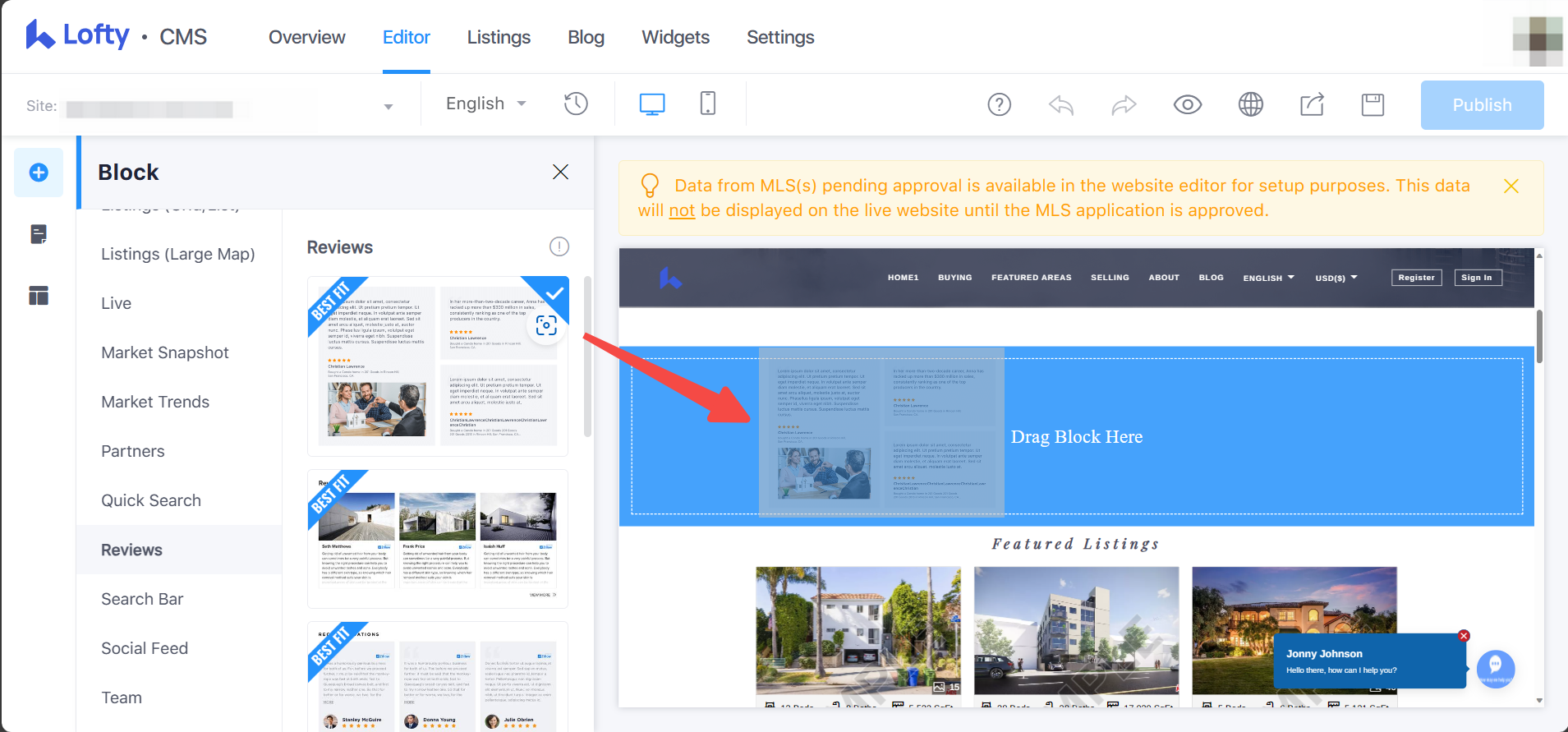 Double-click the review block or click the "Edit" icon on the top-right of that block and all the editable content for this block will be displayed: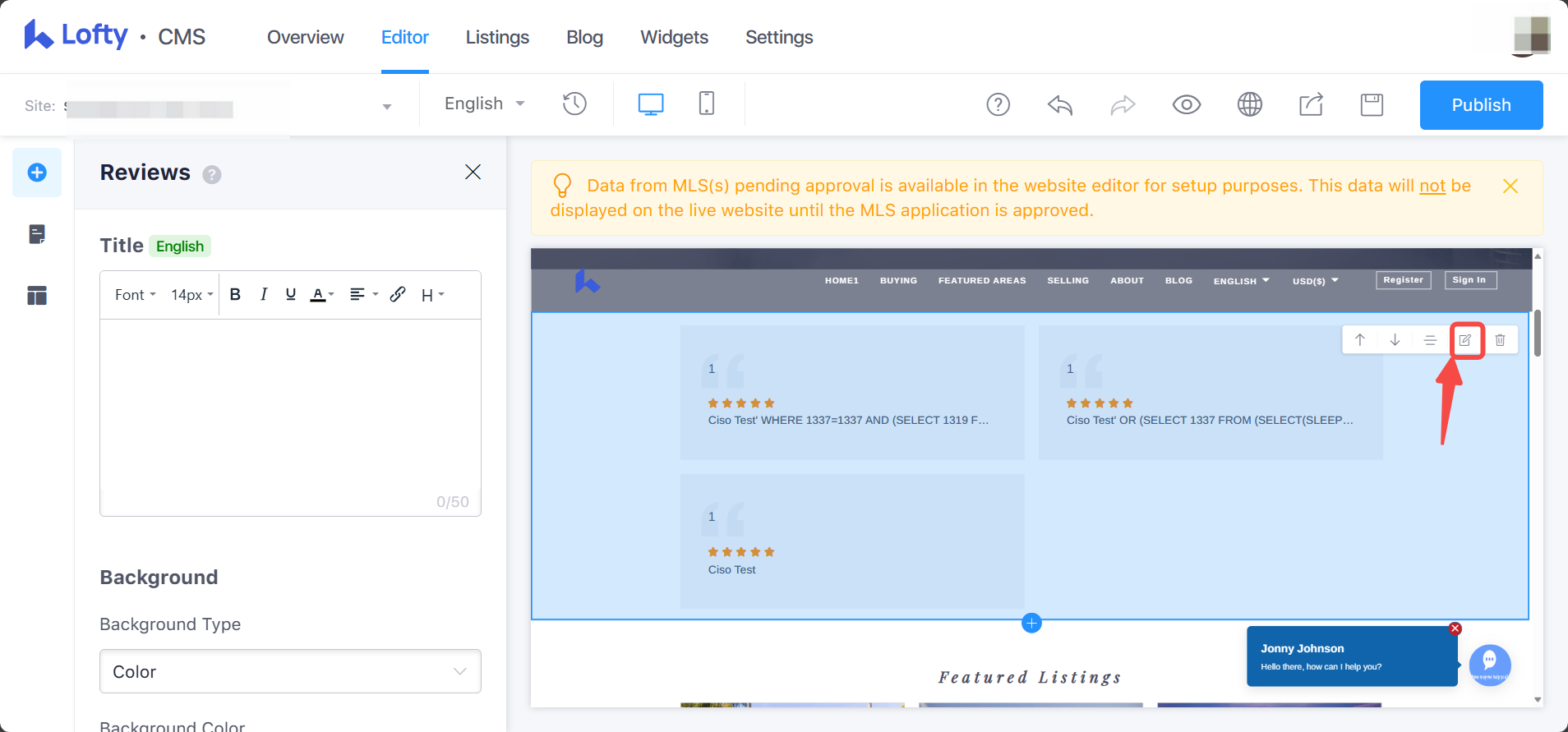 Configuring the Reviews Block
When configuring a Reviews Block you have to choose one or more Review Sources. There are four options to choose from: Default, GoogleMyBusiness, Zillow, and RateMyAgent. 
(1) Default
If you select this option, you will manually enter the reviews you would like to display on your website.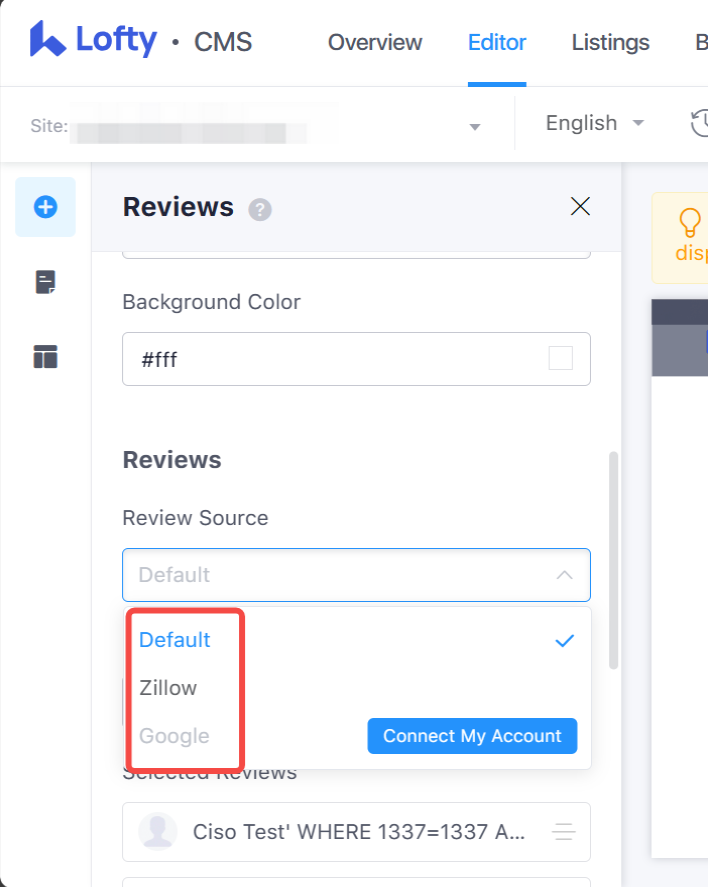 Choose Display Type:
All Default Reviews
This option will simply sync in all reviews added in other Reviews Blocks on your website.
Selected Reviews
Use this option to actually add your own reviews to a block.
Click + Add Reviews to add a new review: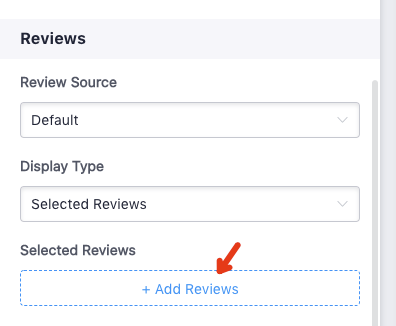 Click on + Create a New Review:
Complete the fields and then click on the blue OK button:
User Name. The name will be displayed next to the review. This is the name of the person leaving you a review.
Rating. Must be a number between 1-5.
Image. Upload an image to make the review look more complete. Lofty users will typically upload a picture of the home or the family, etc. This is

not

a required field but does look nicer.
Additional Description. This is a short description that appears right below the reviewer's name. You could describe their buying/selling situation, family size, etc. 
Review. Write the content of their actual review for you.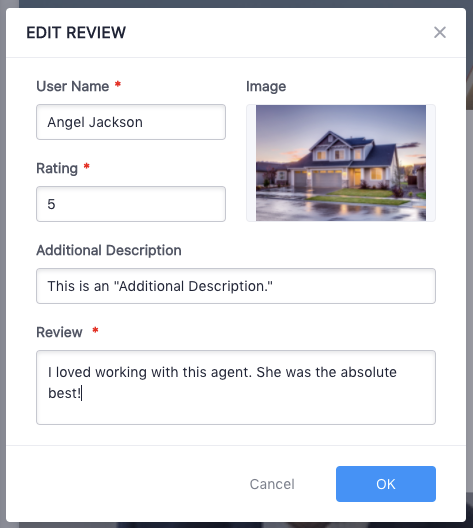 Here is a sample, from one of the styles, of how this would display on your website:
You can continue to add reviews, edit, delete, or rearrange as needed: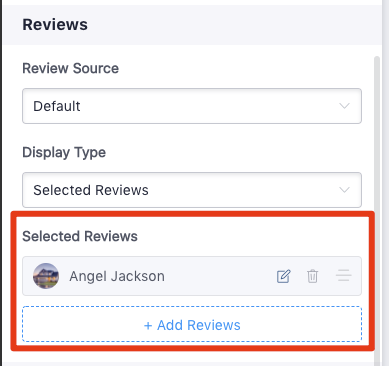 (2) Zillow
Use this option to display the 10 most recent reviews from Zillow within this block. Please note that an archive of Zillow reviews is not possible due to Zillow API restrictions only allowing for the 10 most recent reviews. There is a character limit of 200 characters.
To configure this option, select "Zillow" as the Review Source: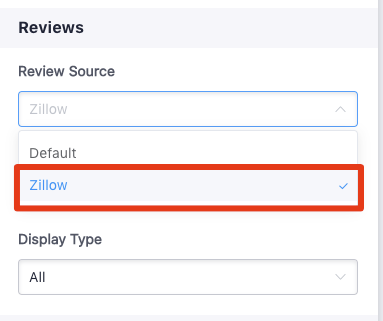 Enter your Zillow Screen Name: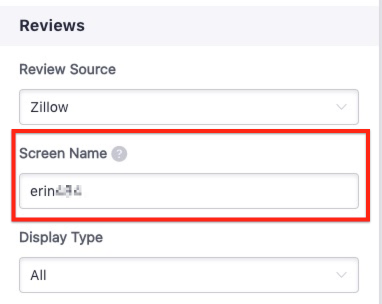 Your Zillow Screen name can be found on your online review profile in this spot under Professional Information: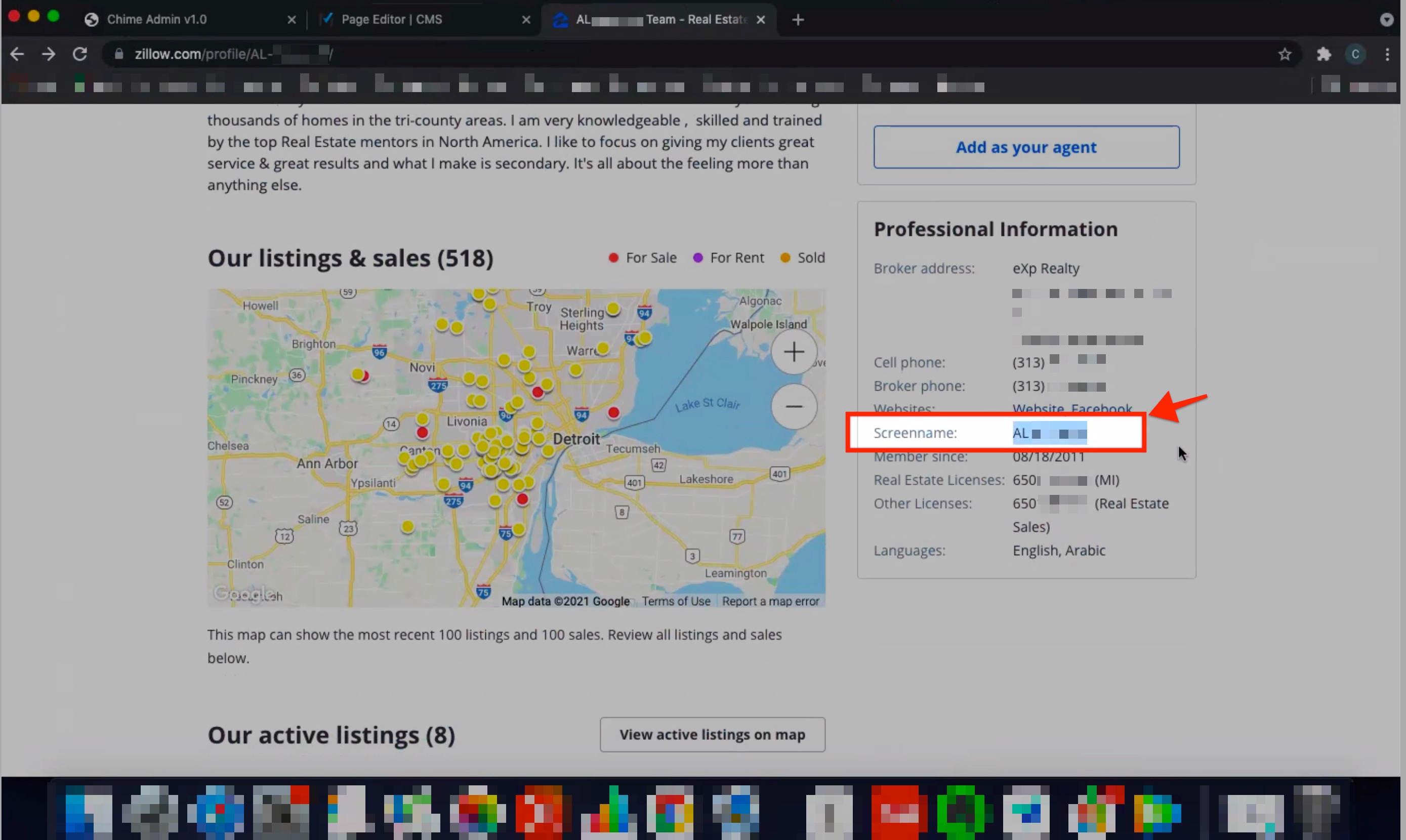 Under Display Type, you will choose whether you want to display "All" or "Part"
All. This will display the 10 most recent Zillow reviews that have been left for the screen name that you are configuring.
Part. You can specify the number of reviews that you want to display. 
(3) Google
If you have integrated your Google My Business account, you have the option to share Google reviews on your Lofty website. Note: This is not available for Subdomain websites.
To integrate Google My Business to your Lofty website, navigate to the CMS Settings -> Integrations: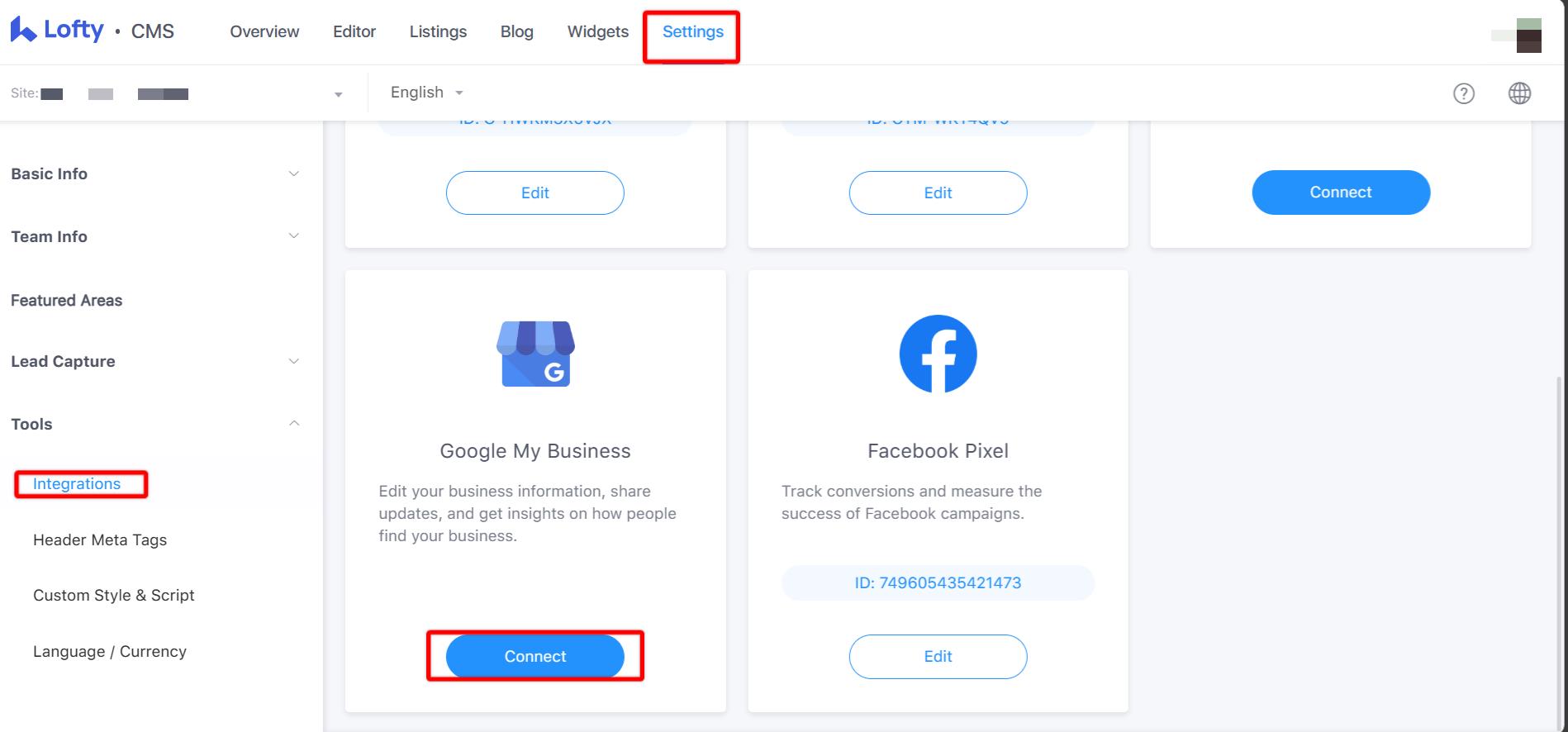 Once connected, Google will be available in the Reviews block editor: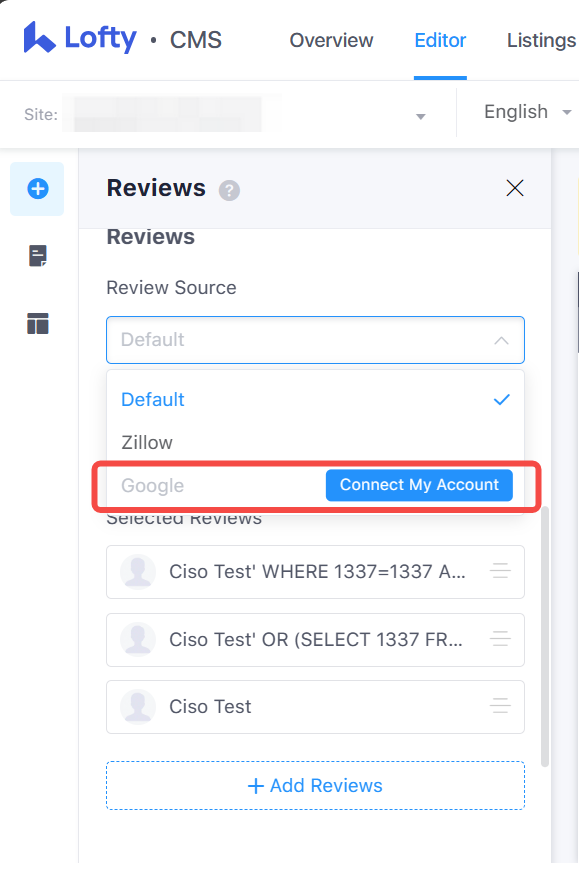 (4) RateMyAgent
If you subscribe to RateMyAgent Pro or higher, you can share those reviews on your Lofty website. To integrate your RateMyAgent account, navigate to CMS Settings > Integrations:

Navigate to your RateMyAgent account to obtain your AgentCode. Input that AgentCode in the field and click Save.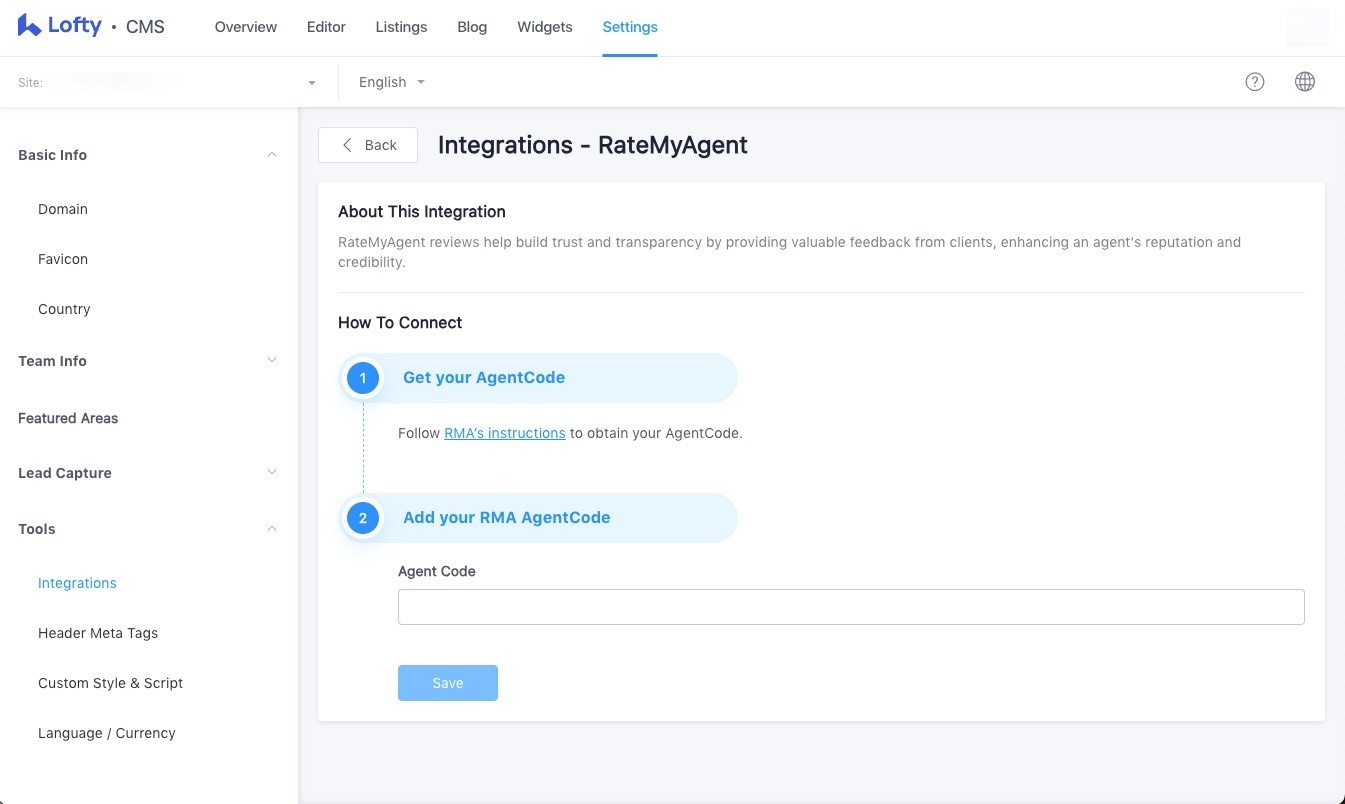 Once integrated, navigate back to the Website Editor to add RateMyAgent reviews to the Reviews Block.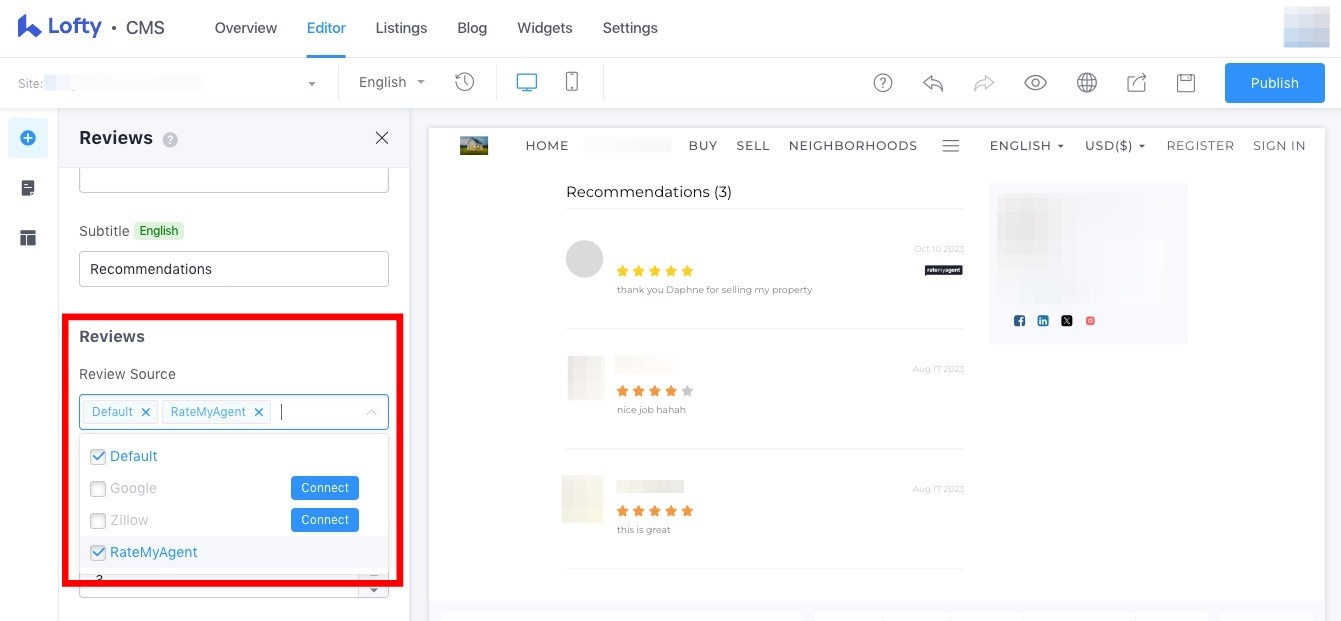 Questions?
If you have any questions regarding this topic or any others, please reach out to our Support Team via email at <support@lofty.com>, by phone at 1 (855) 981-7557, or by chat with us through your Lofty CRM.
Related terms: Google reviews, testimonials, Zillow reviews