Introduction
Lofty provides a built-in export feature that allows you to download a CSV copy of much of the data that is in the CRM database.

Please note that exporting the leads from the CRM does not mean you are erasing them from your database, you are technically just securing a copy of the contacts.
*This feature can only be used by those who have been given access. For more information regarding permission, please reference this Help Center article: Team Permissions.
Summary
How to Export
Navigate to Settings >  Features > Lead Export > Select "All" or "Based on Search Criteria"

The "All" option will export all of the leads you have access to. 
The option for "Based on Search Criteria" will allow you to select specific criteria from the following options to export:
Segment
Lead Type
Reg Time
Agent & Assistant
Pipeline
Tag
Source
After clicking on the "Export" button in the bottom right, you will receive an email when the export CSV file is ready. There is a hyperlink in the export email that can be clicked to actually download the CSV. Make sure to click the link in order to obtain the document as the CSV will not be attached to the email itself.
If you do not immediately receive the email, consider checking your spam folder and wait 10-15 minutes. Depending on the size of the export, the file might take longer to deliver.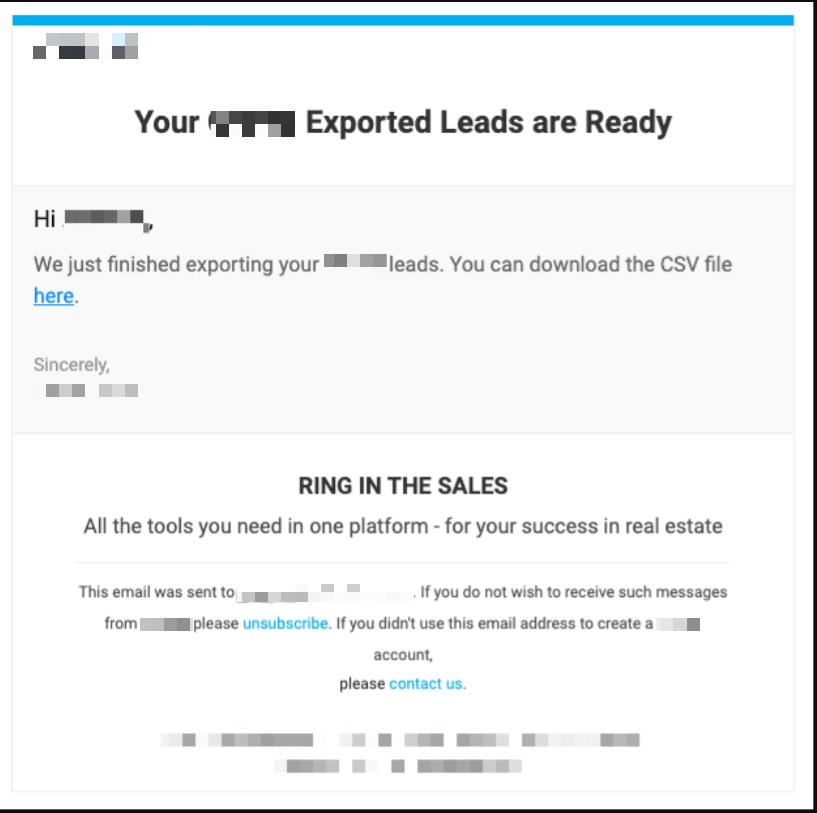 Exporting Private Leads
Agents who own Private Leads (see Lead Privacy: Team Leads vs. Private Leads) do have the ability to export these via CSV as long as they are the owner. An agent cannot see nor export private leads that belong to someone else.
Sample Export File
A sample export CSV file can be found at the bottom of this document. No data is shown in the file, but the column names will be the same when you request your export.
Questions?
If you have any questions regarding this topic or any others, please reach out to our Support Team via email at <support@lofty.com>, by phone at 1 (855) 981-7557, or by Achat with us through your Lofty CRM.
Related terms: lead export, export, download leads, extract