Introduction
Brand Awareness Ads are designed to promote yourself and your services to take your advertising efforts to new heights and drive traffic to your website. The aim is to increase awareness of your brand in your community and drive brand recognition.
Summary
Brand Awareness Ads
Lofty offers two (2) options for Brand Awareness Ads, Basic Brand Ads and Call Brand Ads. Both options are charged weekly to promote you and your services to your community. Both ads are promoted on both Facebook and Instagram.
The only difference is, Call Brand Ads allow a potential lead to call you directly from your website, while Basic Brand Ads provide the ad placement, without the option to call you directly.
The cost breakdown for each ad type is outlined below:
Basic Brand Ads
Basic Brand Ads start at $39 for one (1) week.
One Week: $39
Two Weeks: $78
Three Weeks: $117
Four Weeks: $156
An example Basic Brand Ad: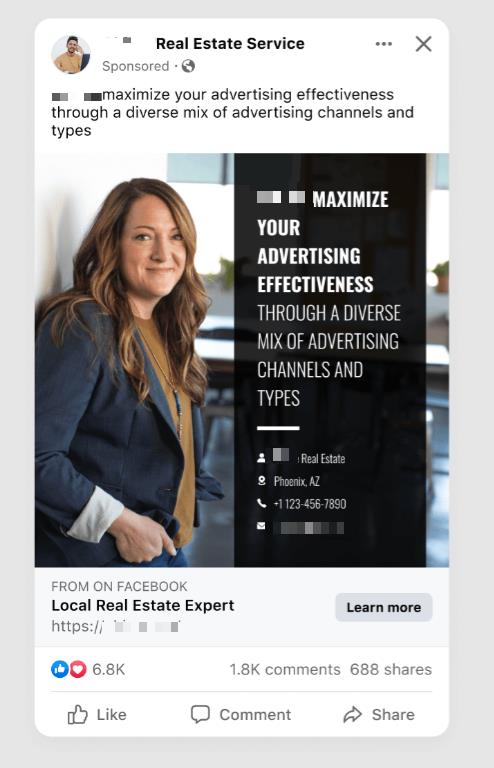 Call Brand Ads
Call Brand Ads start at $69 for one (1) week.
One Week: $69
Two Weeks: $138
Three Weeks: $207
Four Weeks: $276
An example is called a Brand Ad: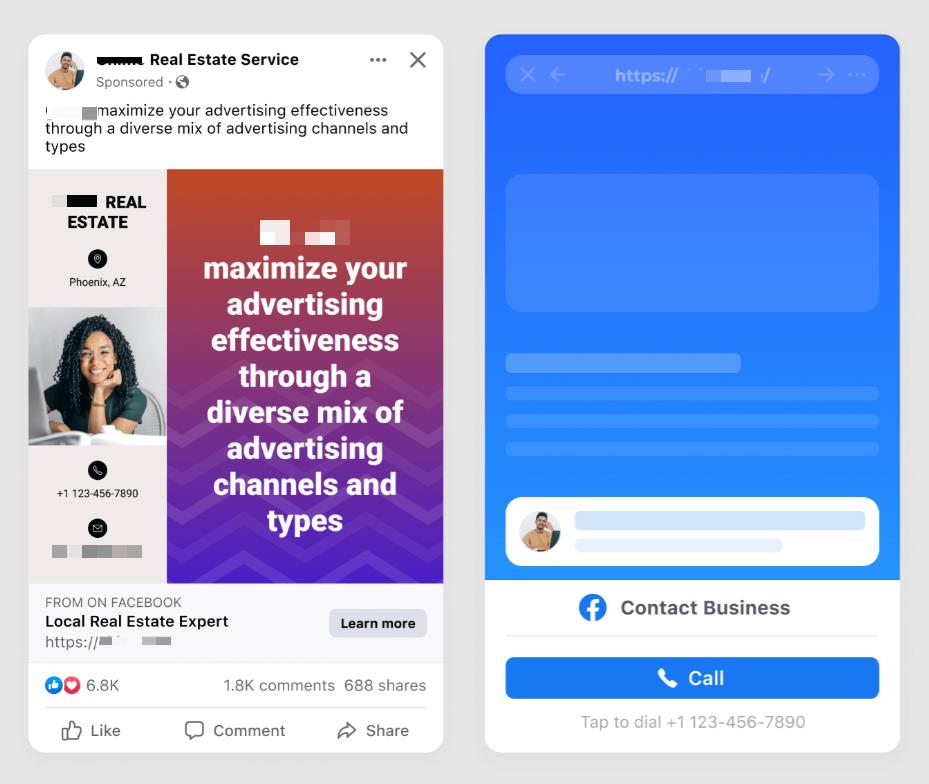 Brand Awareness Ad Creation
The first step is to select Basic Brand Ads or Call Brand Ads and the duration of the ad will run, from 1-4 weeks. The required information is the same for both brand types.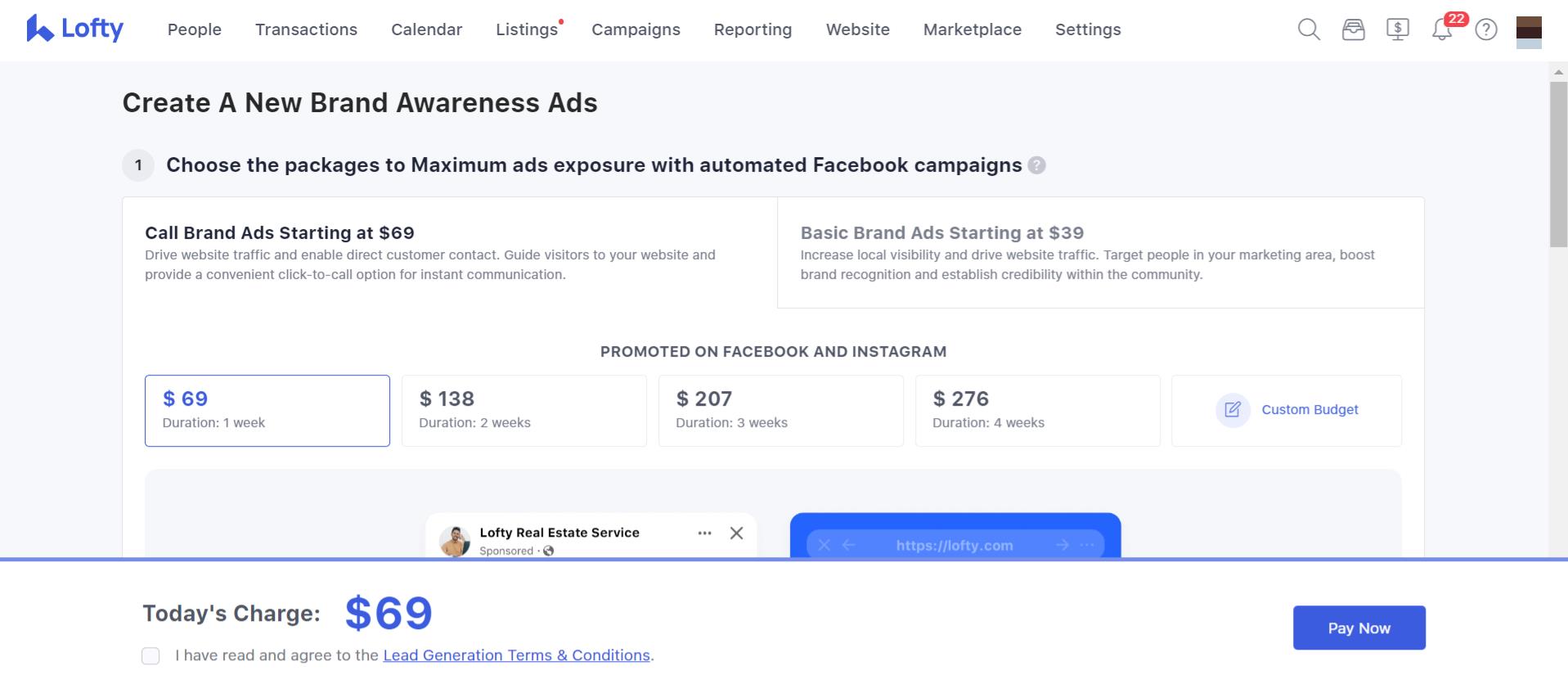 Next, your profile information will be pre-loaded from your Lofty account information. Here, you can add a different photo, update your name and contact information, and select the location you want to target with these ads.

The next step is to select the starting date for the ads. The ending date will be defined by the duration selected in step 1.

Finally, confirm your payment information and checkout.

After submitting the payment, an ad preview will be available. Here, you can start customizing the advertisement.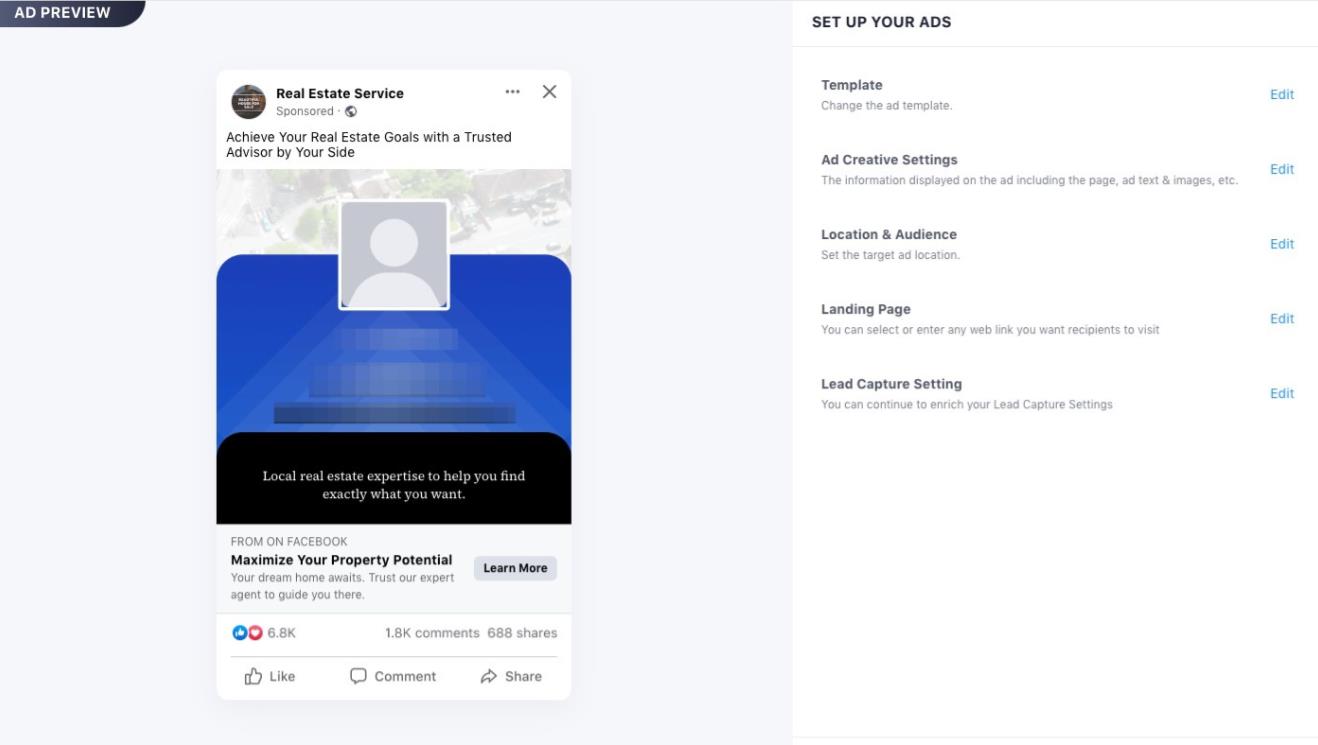 Template
Click Edit under Template to change the ad template. Lofty has six (6) templates available. Click on each template to see the preview update with your information. Click Save once you have selected the template for the ad.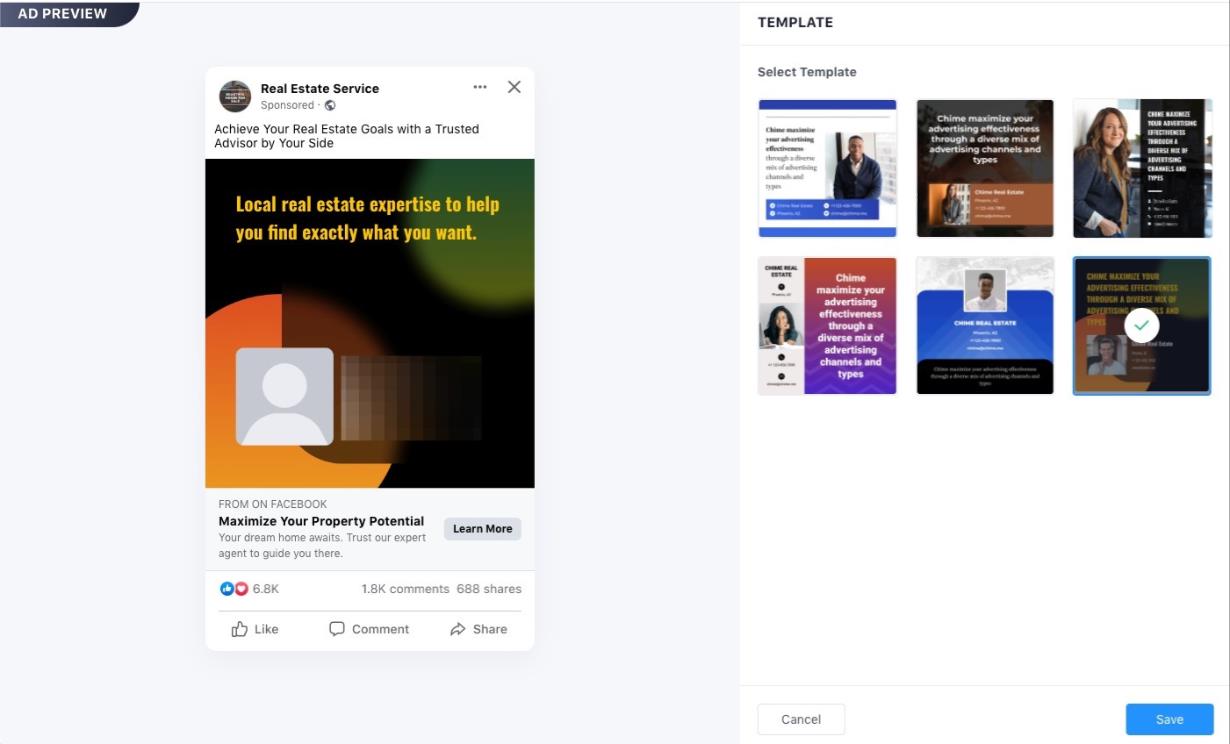 Ad Creative Settings
This section allows you to edit the contact information, photo, and content featured on the ad. Again, click Save to save the updates.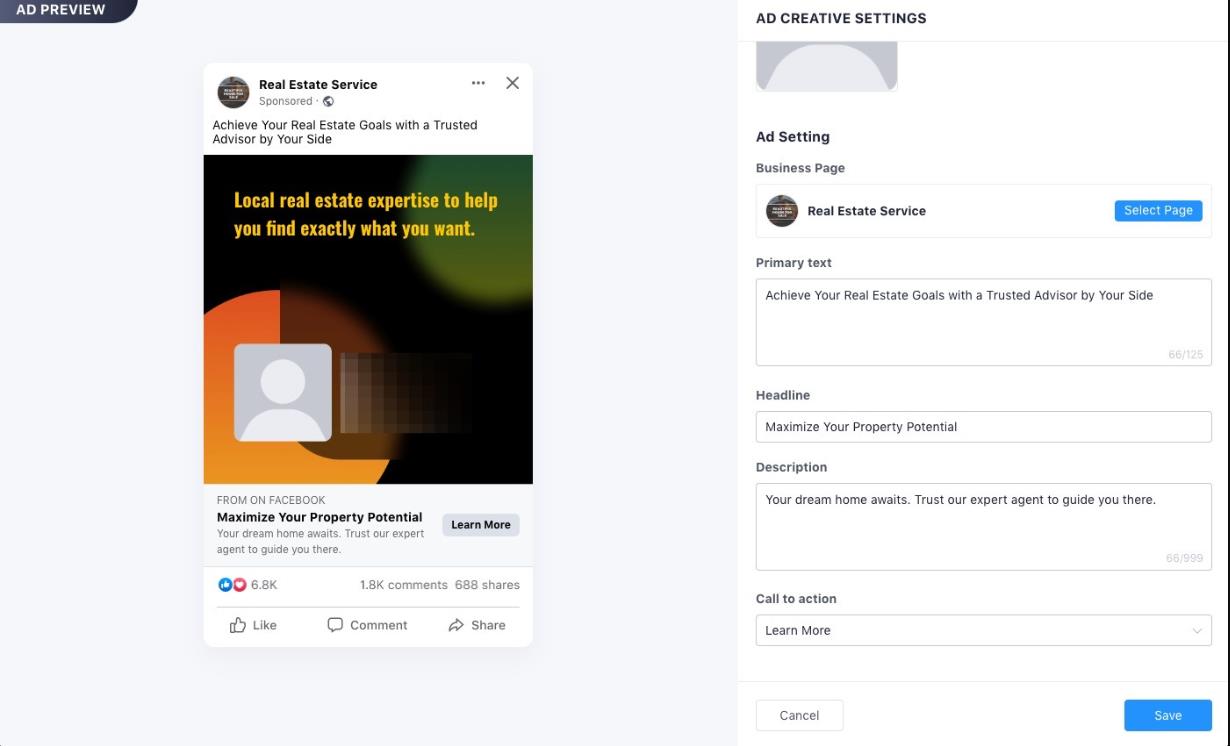 Location & Audience
This section allows you to set the location that these advertisements are targeting. Ideally, this is the area where you are hoping to gain business and establish your brand.
Note: Only one (1) area can be selected.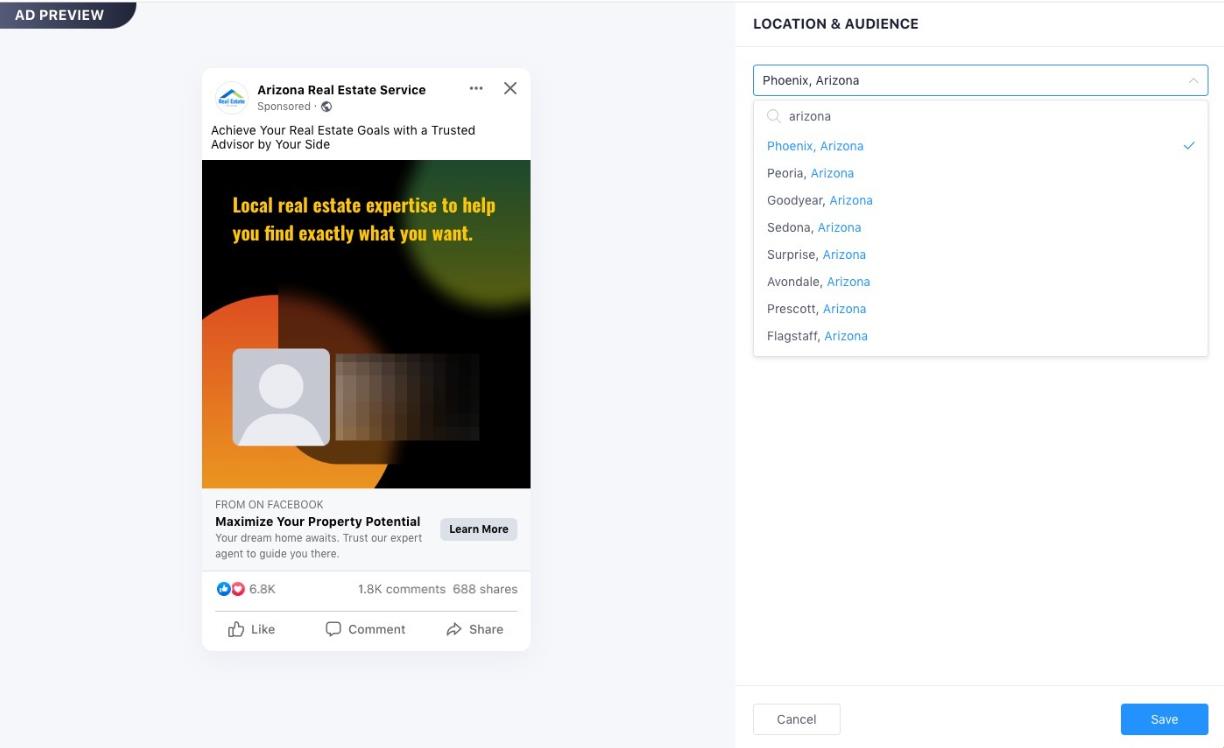 Landing Page
This is the website that will open when a potential lead clicks on your ad. This can be your Lofty website, a Lofty Landing Page, or a Custom website.
Note: If you select Custom Page, Lofty cannot track or monitor lead performance on the ad.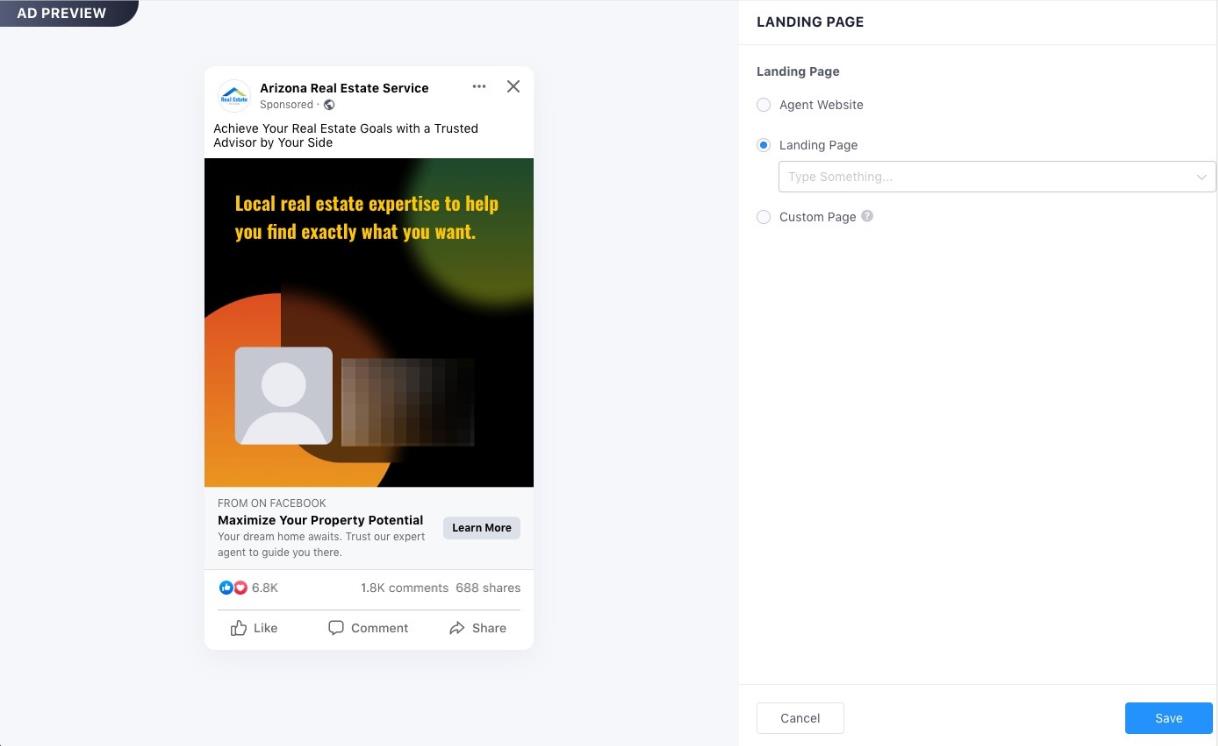 Lead Capture Setting
This section allows you to select the type of lead you want to attract if the lead will be a team or private lead in the CRM, allows you to set lead routing rules, and will include a tag on the lead so they can be found easily.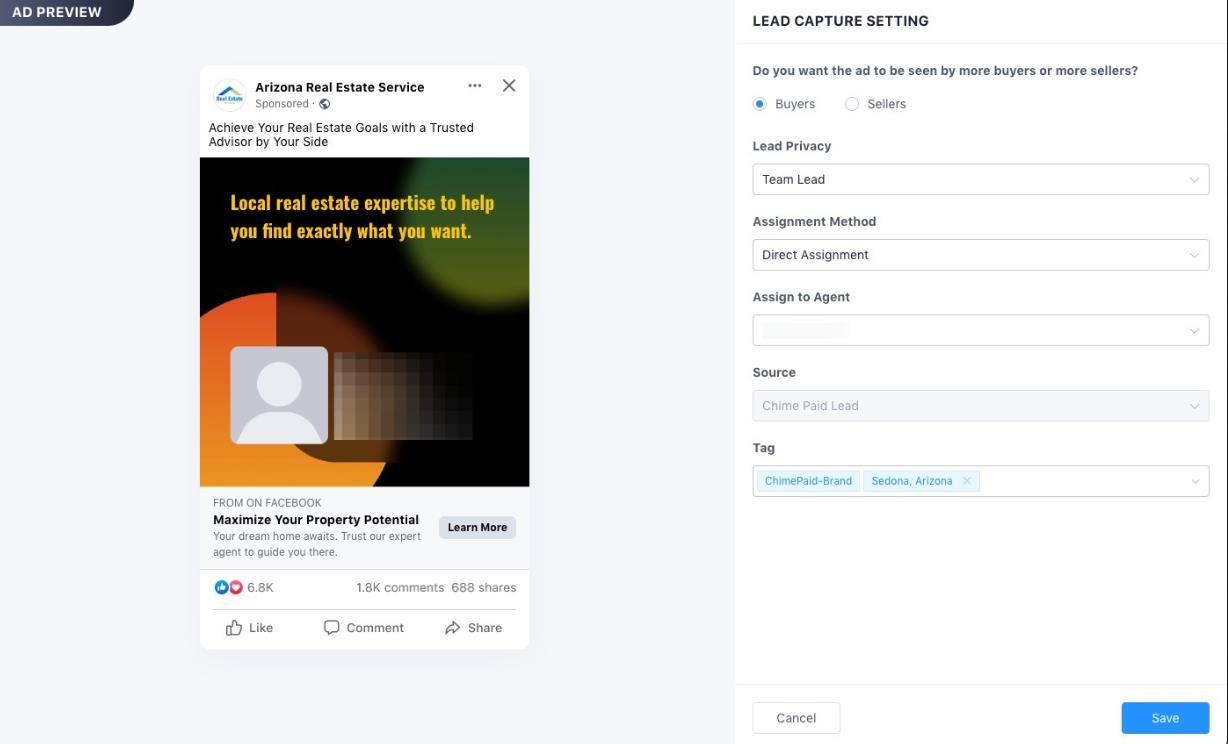 Once you are satisfied with the advertisement settings, click Publish. Please note that once the ad has been published, the image content cannot be changed.
Campaign Tracking
Once the ad campaign has been published, the results can be tracked by navigating to Campaigns > Impress Boost > Brand Awareness Ads.
Separate tabs are available to track Basic ads and Call ads. Click + New Brand Ads to create another ad campaign.
Note: The campaign will be Pending until the start date arrives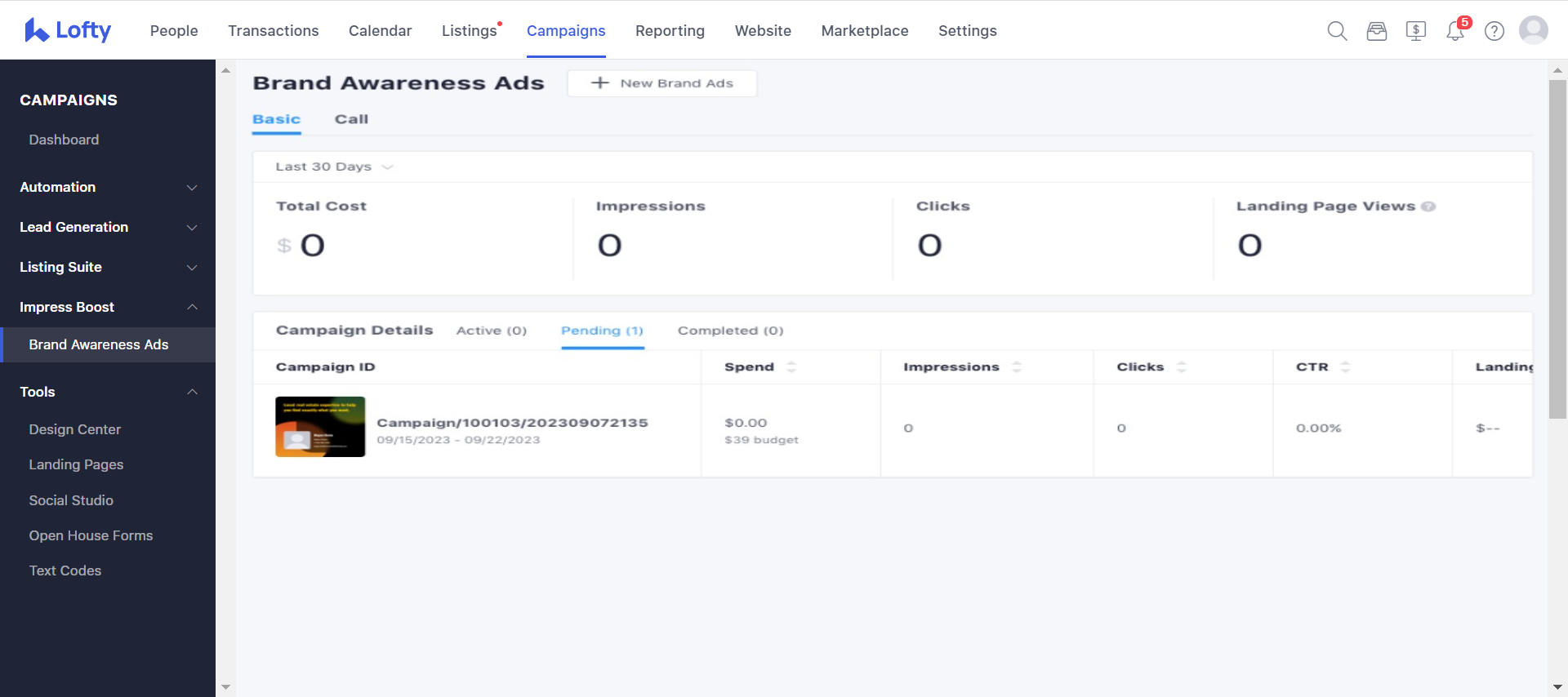 Questions?
If you have any questions regarding this topic or any others, please reach out to our Support Team via email at <support@lofty.com>, by phone at 1 (855) 981-7557, or by chat with us through your Lofty CRM