Introduction
When you need another Lofty user in your team to work together with you on a lead, you can assign that teammate to the lead using one of the custom roles. Anyone on your team can be added to these roles regardless of their level of permission. 
One thing to keep in mind with custom roles is that they should not be confused with lead privacy. We recommend reviewing this concept prior to setting up and using custom roles to make sure this will accomplish what you intend. Please refer to Lead Privacy: Team Leads vs. Private Leads for additional information. 
Creating Custom Roles
For more information regarding how to create custom roles and make them available to use on a lead profile, please reference the following article: Creating Custom Roles.
Manually Adding a User to a Custom Role on a Lead
To assign a specific lead to a Lofty user, go to their lead profile page. Then, go to the Assigned To section, find the role where you want to play the other Lofty user and assign them to the lead by finding their name and clicking it. This will now add that user to that custom role: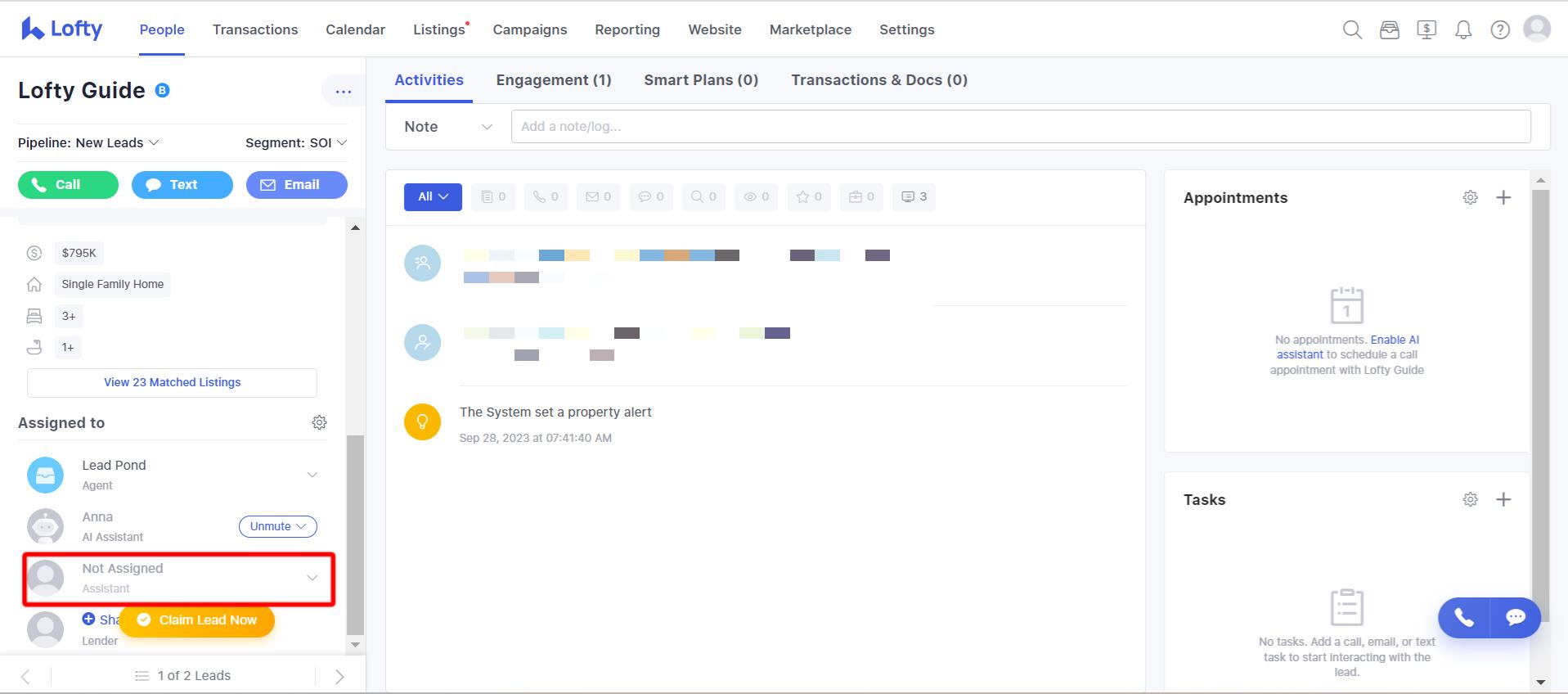 If you need to assign another team Lofty user to multiple leads, go to the People page on the top menu bar. Check the boxes next to the applicable leads and click Assign on the mass action bar on the left side of the page. Choose the Lofty user you'd like to be in the indicated custom role and click Save: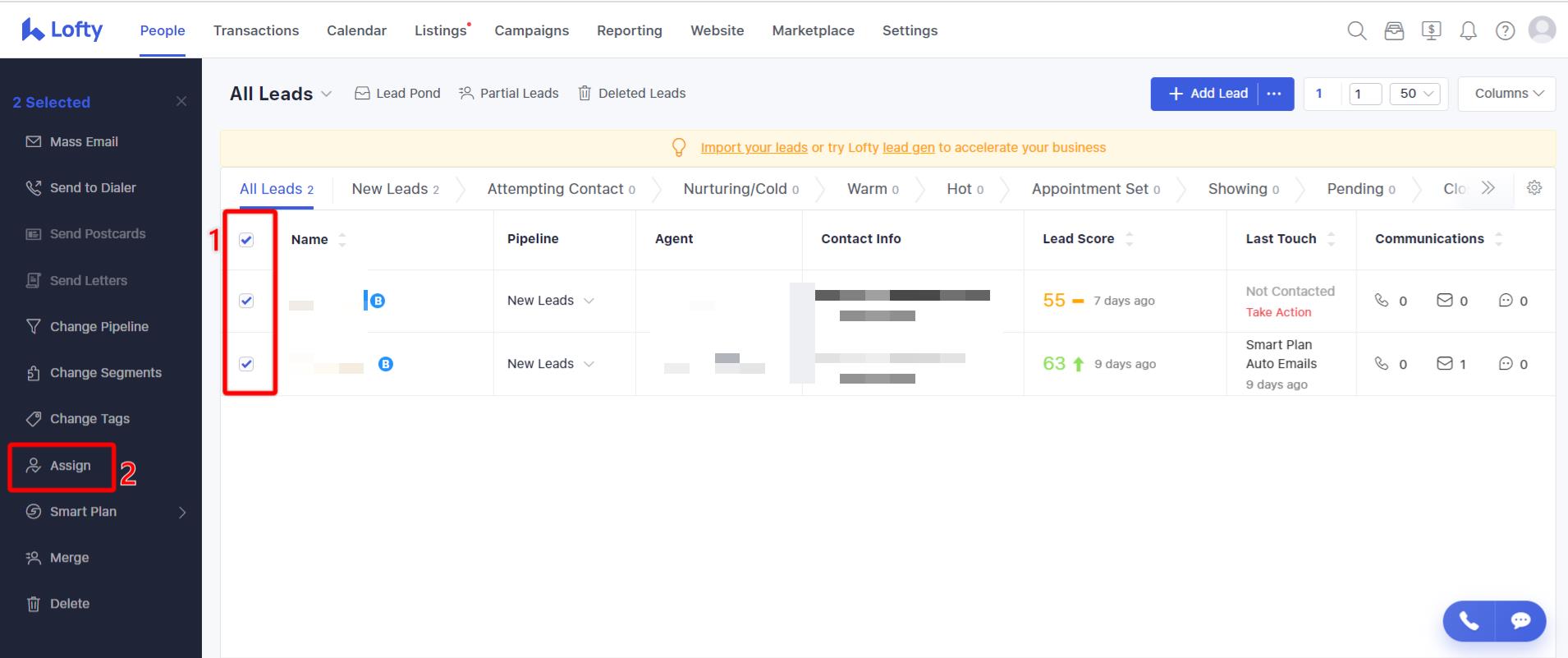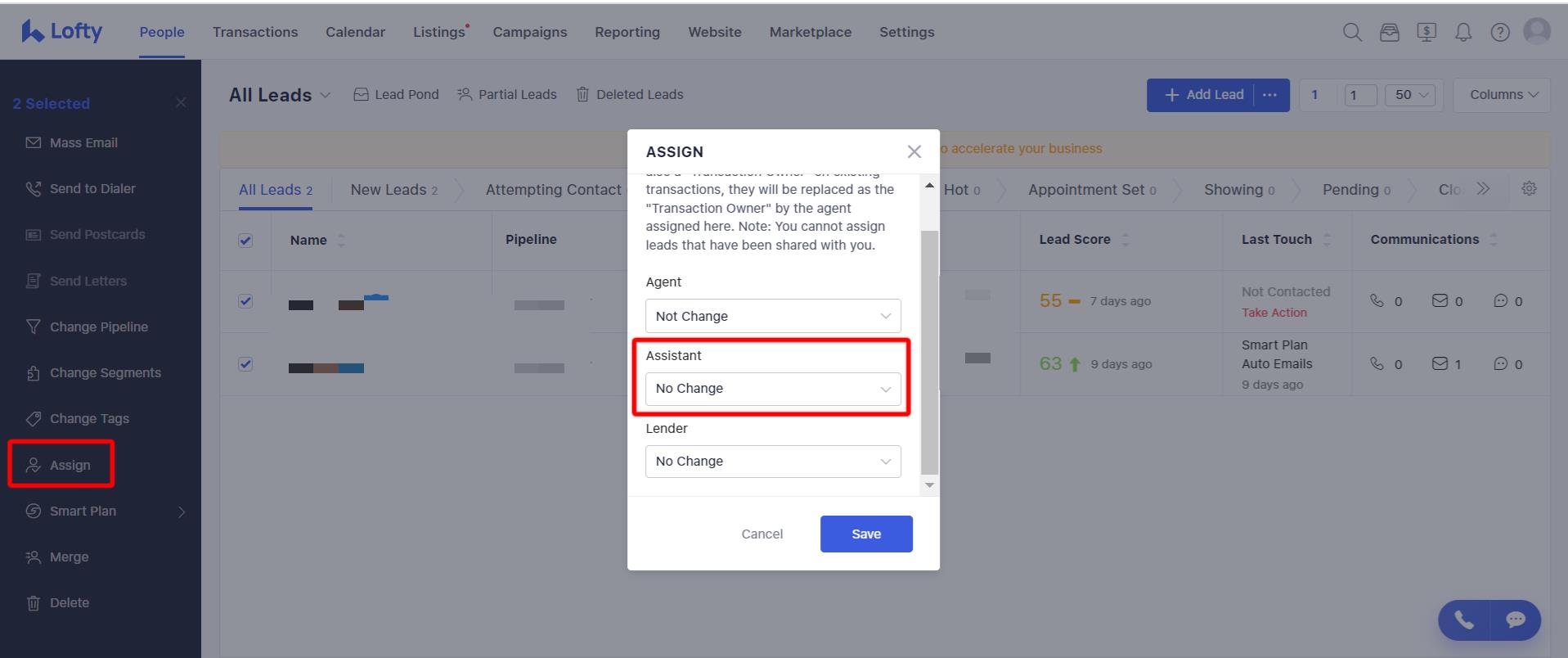 Custom Role Access 
The other team Lofty user listed in the custom role can do many things that the primary owner/agent can do to a lead. From editing lead info and adding notes, to directly contacting the lead and applying Smart Plans. The teammate can assist the Agent in many different ways including by having tasks and appointments assigned to them.
*Please Note that All who are assigned to a lead will get Opportunity Notifications (see Opportunities), but those listed in the assistant or other custom roles will not get communication notifications for things like texts, emails, etc. Also, it is important to note that Property Alerts, Market Snapshots, and Market Reports added by an assistant or custom role will still be sent from the Lofty user listed in the "Agent" slot as they are the primary owners of the lead.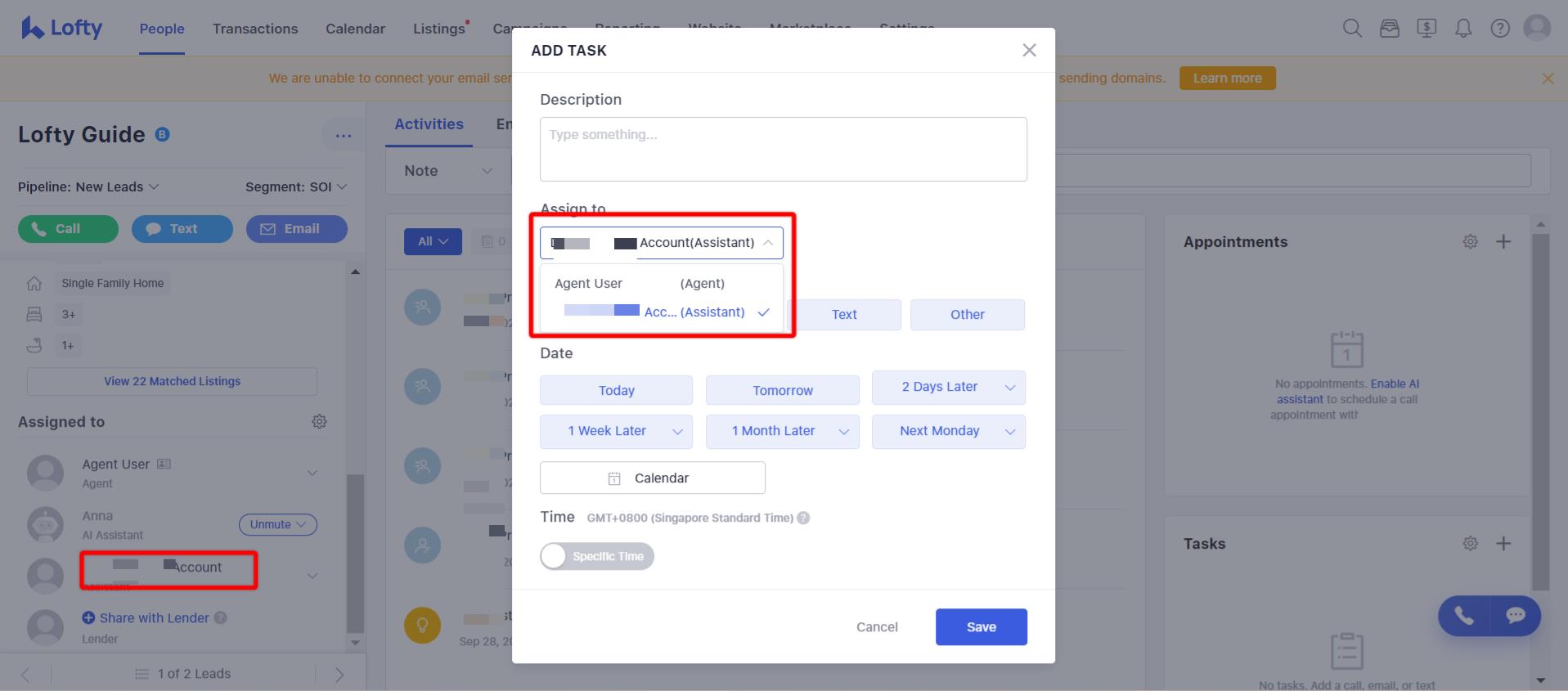 Lead Routing Assistant/Custom Roles
Leads can be automatically routed to the assistant or other custom roles on a lead. More information on how to set up lead routing rules can be found here: Agent Lead Routing Rules. 
*Please note that currently there is no way for a husband/wife or another duo (or more) relationship to be automatically assigned to every lead together. The lead routing rules for the assistant or other custom roles can be used to automatically add users to those slots, but it will not take into consideration what is happening in the other rules. 

Questions?
If you have any questions regarding this topic or any others, please reach out to our Support Team via email at <support@lofty.com>, by phone at 1 (855) 981-7557, or by chat with us through your Lofty CRM.