Introduction
*Note* Enterprise packages for most current lofty users are now called "Multi-Team" users. Please check with Support(support@lofty.com) if you have any confusion about which package you are on. This package is being actively updated.
The Lofty Multi-Team product was built with brokerages and larger teams in mind. The structure of the Multi-Team product allows for one main Multi-Team Admin to have access to all of the individual teams that are part of the account. This same Multi-Team Admin can view reporting, add new teams, allocate seats to specific teams, etc. Overall, this product provides a better overview of a real estate business across multiple, siloed teams.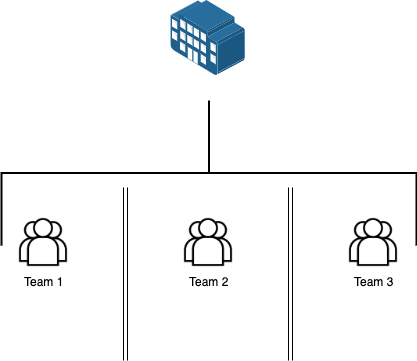 Summary
Logging In
For Lofty clients who have signed up for the Multi-Team product, the Multi-Team Admin will log in at the following URL: https://manage.lofty.com. Individual agent users or team admins/owners will continue to use https://lofty.com/ to sign in.
Reporting
After logging in, the first page will present two different reports for both lead conversion and business transactions. Each of these reports is intended to provide the Multi-Team Admin with an overview of general data from each team.
The 
Lead Conversion

report looks like this: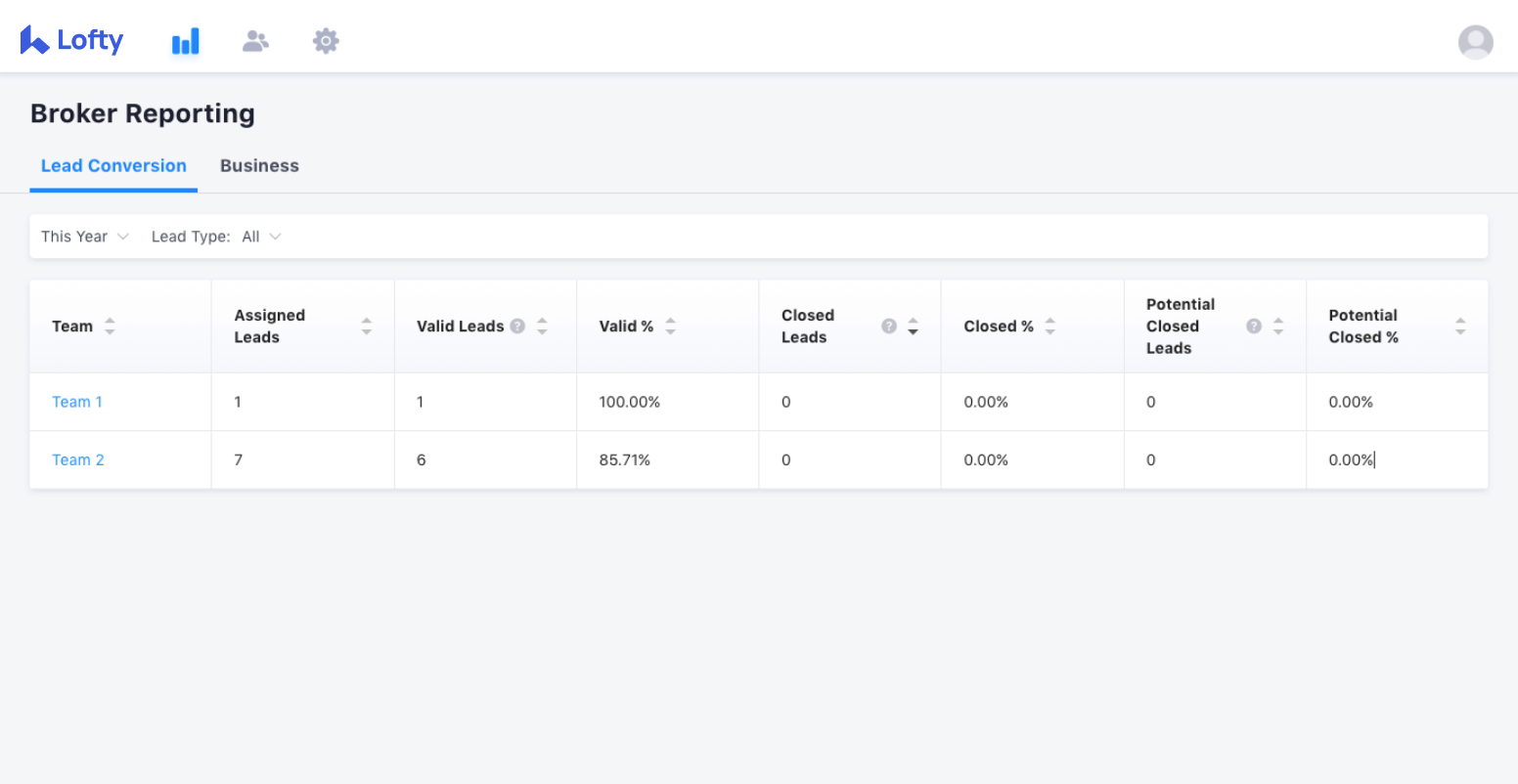 The 
Business

report looks like this: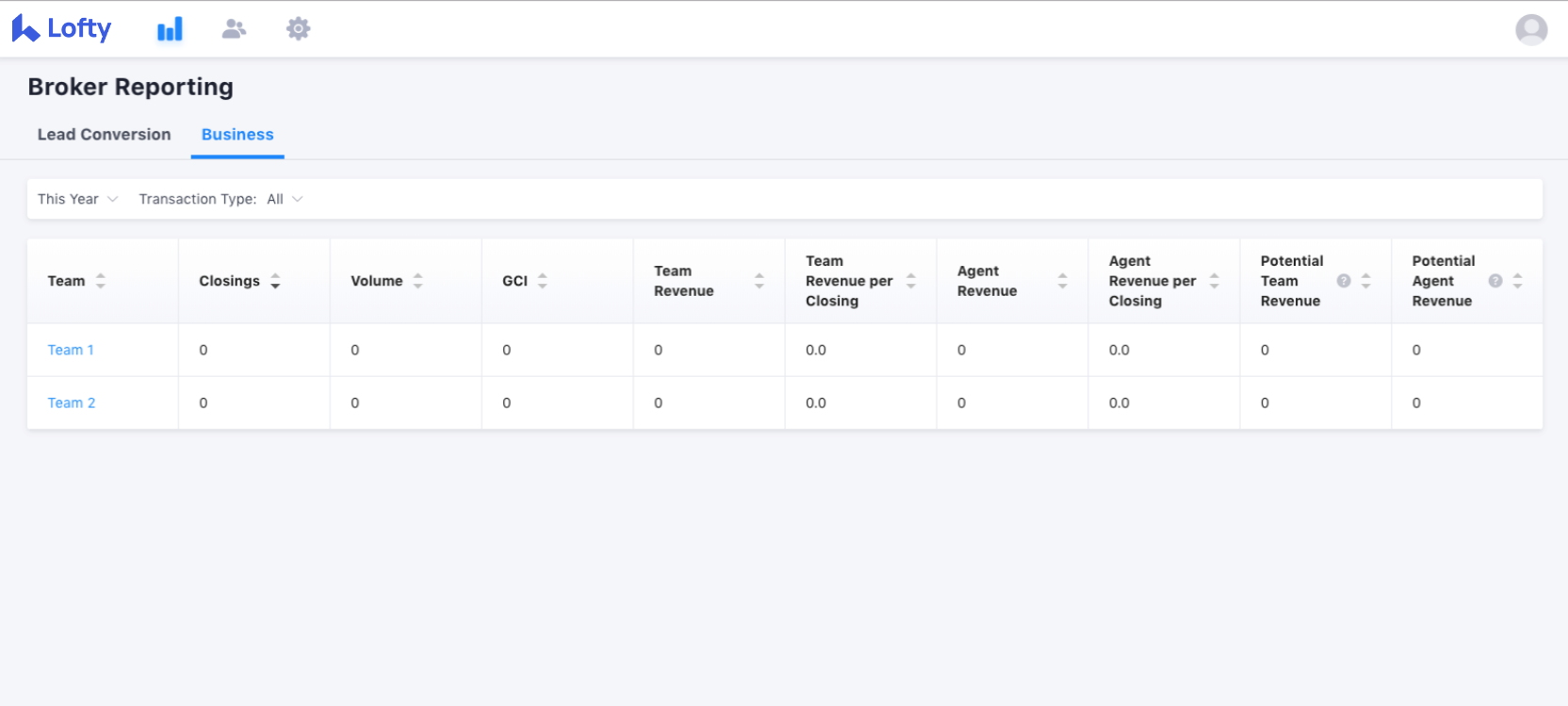 For either of these reports, the Multi-Team Admin can click on the team name to enter each team's CRM to look at each team's reports individually to see specific agent performance: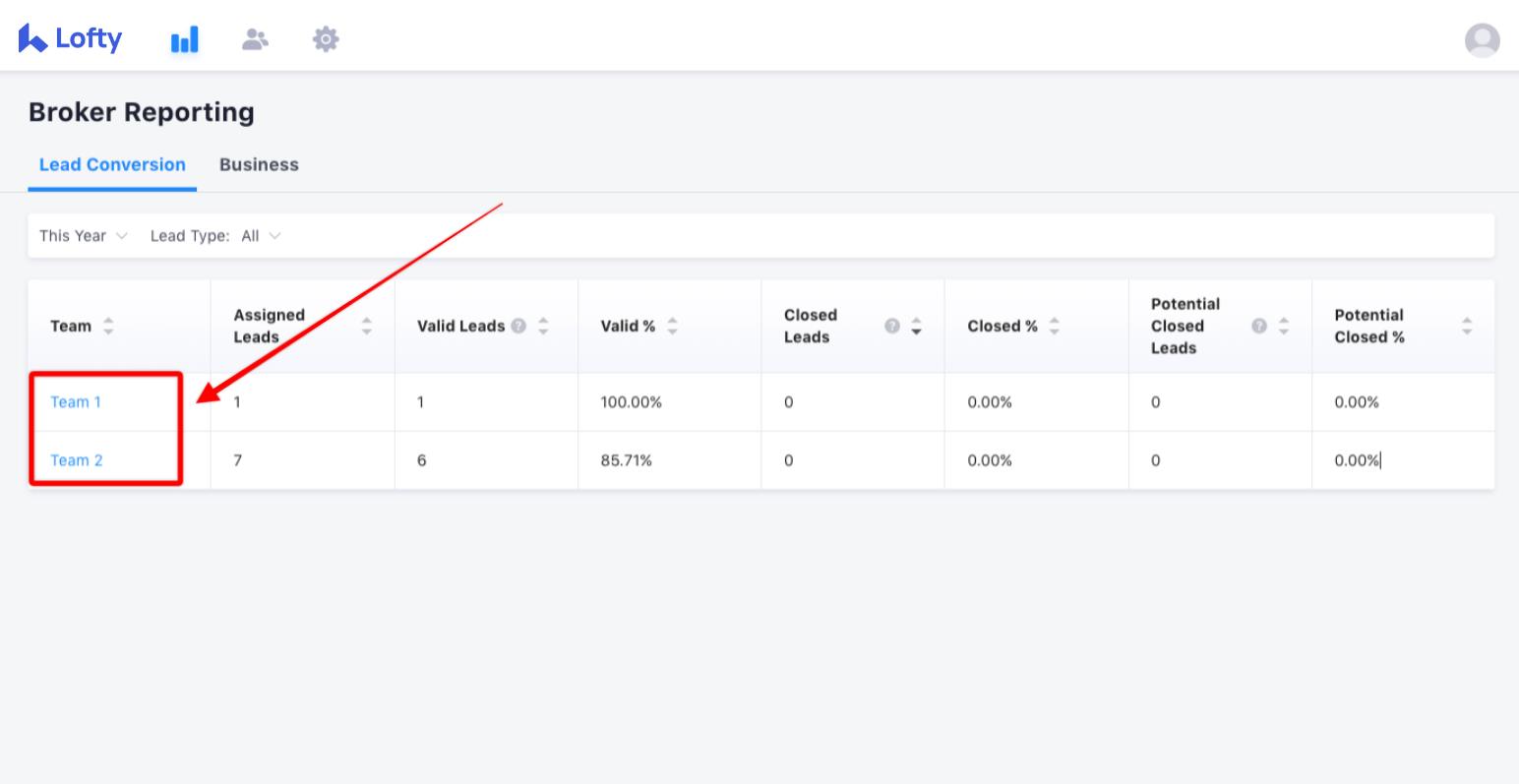 Team Management
The Multi-Team Admin can add teams, rename teams, set seat limits, log in to each team, and delete teams from this section. To get to this section, click on the "People" icon on the top menu when logged into the Multi-Team account.

Add a New Team
To add a new team, do the following:
Click on the "+ Add A Team" button at the top of the page
Provide the following information:

Email

- this should be the email of the Team Leader who will be responsible for this team

Phone

- this should be the phone number of the Team Leader who will be responsible for this team

First Name

- this should be the first name of the Team Leader who will be responsible for this team

Last Name

- this should be the last name of the Team Leader who will be responsible for this team

Team Name

- this name can always be edited later

Seat Limit

- the seats that were purchased with the account are distributed across all teams. You can establish a limit for this specific team when sending the invite, or edit this later.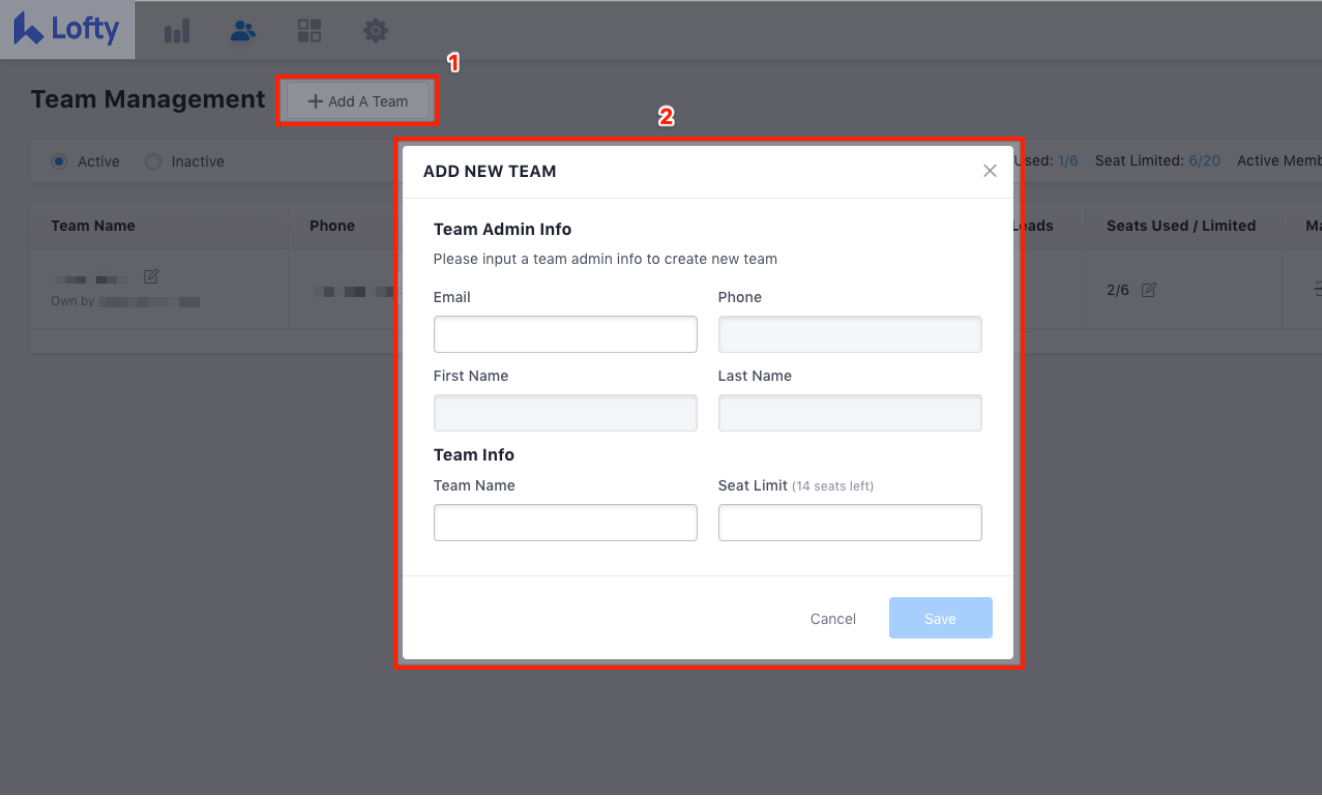 The "Active" and "Inactive" options will display the teams that have already been created (active) or those that have been sent an invite but have not yet been accepted (inactive). Once activated, new teams will be displayed in the "Active" section: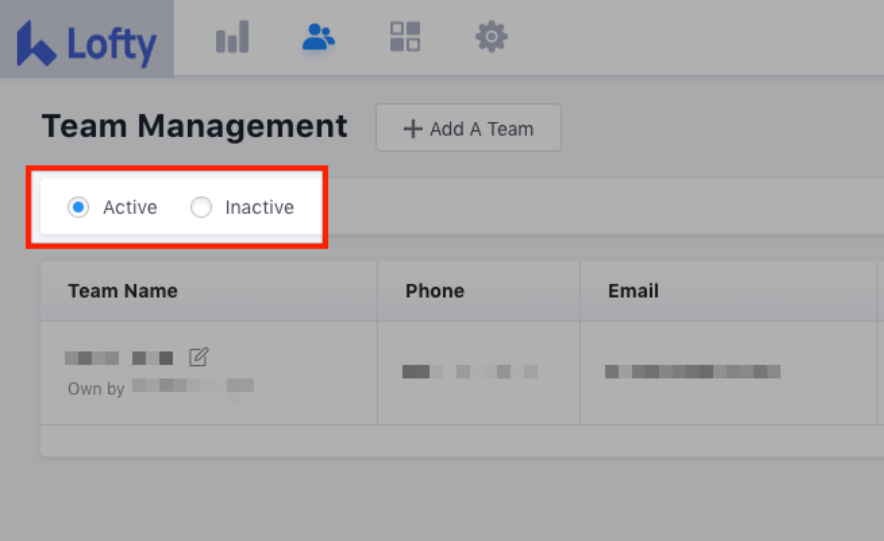 On the right side, you have a summary of the number of offices (teams) used, seats used, and active users total:
Click on the "edit" icon to change the name of the team if necessary: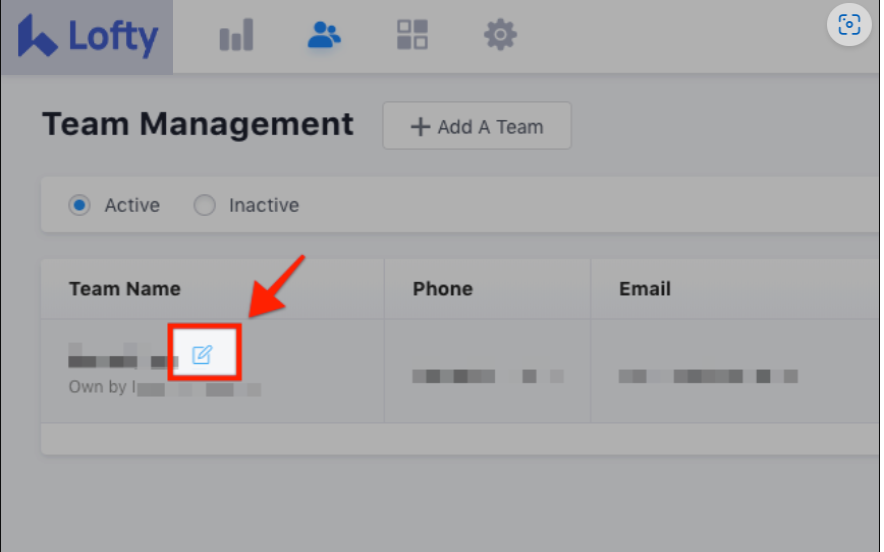 The "Members" column will show the number of seats that have been used (Members) as well as the number of users who have accepted and activated their accounts (Active Members):

The "New Leads / Total Leads" column will display the leads that came in today (new leads) vs. the total number of leads that are on that team:

To edit the number of seats allocated for each team, click on the "edit" icon in the "Seats Used / Limited" column. 

And finally, click on the "door" icon to actually sign into that individual team as an admin user or the "trash" icon to delete the team, deactivate the website, etc. Once deleted, that team space will be available to use again.

Delete a Team
To delete a team, make sure you are on the Team Management page then click on the "Trash" icon in the Manage column:

When selecting the option to delete, please note the following warning: "Are you sure want to delete this team? If this team is deleted, all associated CRM logins and websites will be closed down and no longer accessible." You will need to confirm that you want to proceed before the team will be removed and you can reallocate the available team/office license.

Settings
In the Settings section, you can upload an image, change the profile information, etc. The "Billing" section can be disregarded and does not contain any billing information.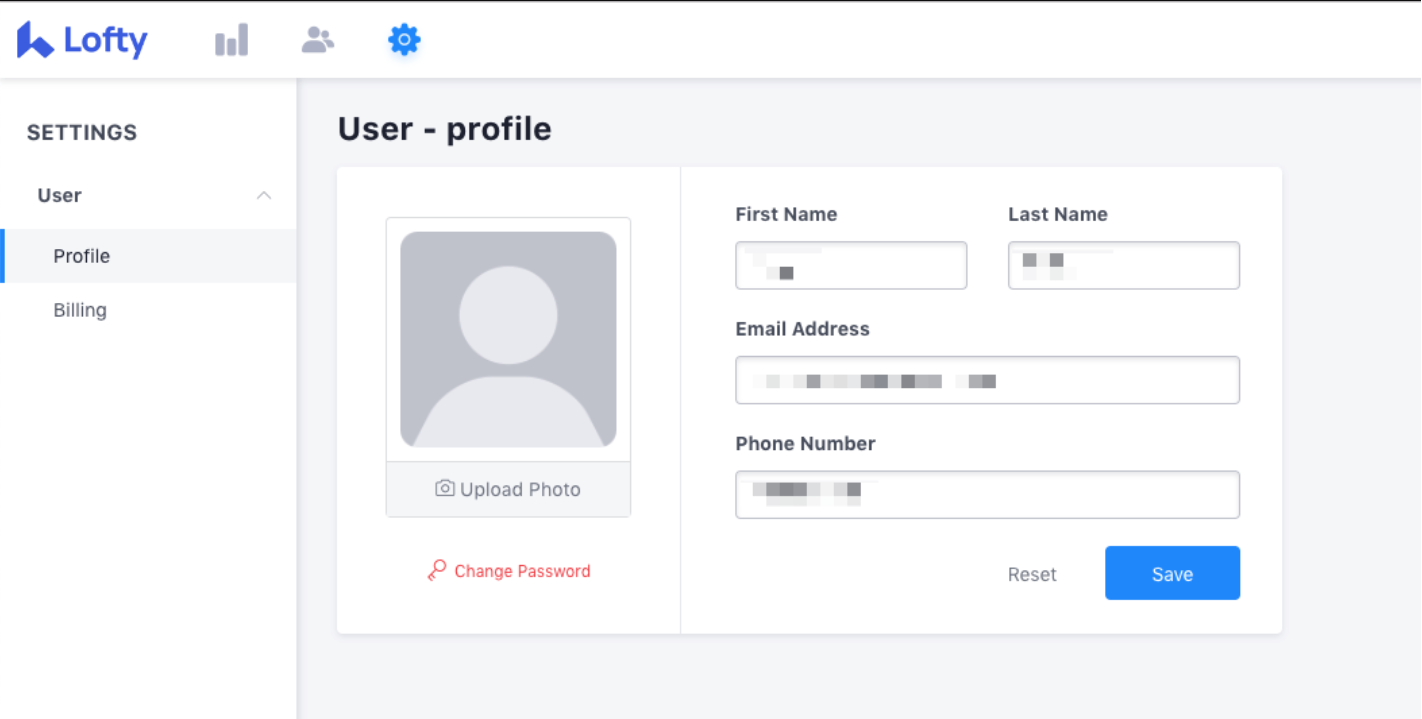 Current Limitations
Be aware that there are a few important details on the Multi-Team structure to be aware of:
The Multi-Team Admin has view access only -- they can log into the teams to view activity, etc. but this login is not designed to be a working seat on individual teams
All teams are isolated from each other

(a) Leads

cannot

be transferred between teams.
(b) Users on one team cannot log in on another team without having a second email address/account used for that separate team. This will use available seats.
(c) Team users cannot be easily moved between teams. A user would have to be deleted and recreated on another team to transfer. Leads would then have to be exported (see Lead Export) and imported (see Lead Import (via CSV/Spreadsheet)) to the new team.
Questions?
If you have any questions regarding this topic or any others, please reach out to our Support Team via email at <support@lofty.com>, by phone at 1 (855) 981-7557, or by chat with us through your Lofty CRM.
Related terms: multiteam, multi-team, multi-team broker