Introduction
MMS stands for "Multimedia Messaging Service." As related to Lofty, MMS-enabled accounts will have the ability to send media content (pictures, GIFs) in messages instead of just text content. Please note that this functionality is still in beta testing and will continue to be developed and improved with future iterations. 
*Please Note: This feature is not yet implemented for our mobile app
Summary
Requirements
The MMS functionality will only be available to users who have an active text message package with us. For more information regarding text packages, please see Billing, Usage, and Availability for Call/Text Packages. 
Cost
There is no separate package for MMS functionality to be enabled as long as you meet the requirements outlined above.
Please Note - sending one MMS is equivalent to sending three SMS. In other words, if you send one MMS message, it will count as three SMS messages on your daily usage.
Limitations
Technical Limitations
Supported file types to be sent via MMS
Supported file types to be received via MMS

JPG
PNG
GIF
Video Messages*
Multi-Image Messages

Maximum Number of Images per message
Maximum Image File Size

JPG/PNG = 5 MB
GIF = 900 KB
*The vendor used for MMS support will automatically compress incoming video files from carriers. The video file size will not exceed 2MB.

< 1MB: Previews 
1MB - 100MB:  Links
> 100MB: Cannot be sent. 
Other Limitations
MMS can only be sent to ONE lead at a time–meaning no mass texts, group texts, auto texts, etc.

If a lead sends you an MMS message with more than one image in that message, only the first image will populate in Lofty. 
Whenever a new number is added or changed on your account, please note that the MMS functionality has to be manually configured per number meaning it will not

 

work immediately–the turnaround time will vary but will be added ASAP. Please communicate with the Lofty Support Team (support@lofty.com) if you change or add another qualifying text package or change to a new virtual number and request MMS support as part of the beta program. They will submit a ticket on your behalf.
How it Works
Sending MMS Messages
As outlined above, an MMS can only be sent to one lead manually–auto texts, group texts, and mass texts are not currently supported. So, click on any option in the CRM to send a text to one specific lead and the following options will be available to add an image: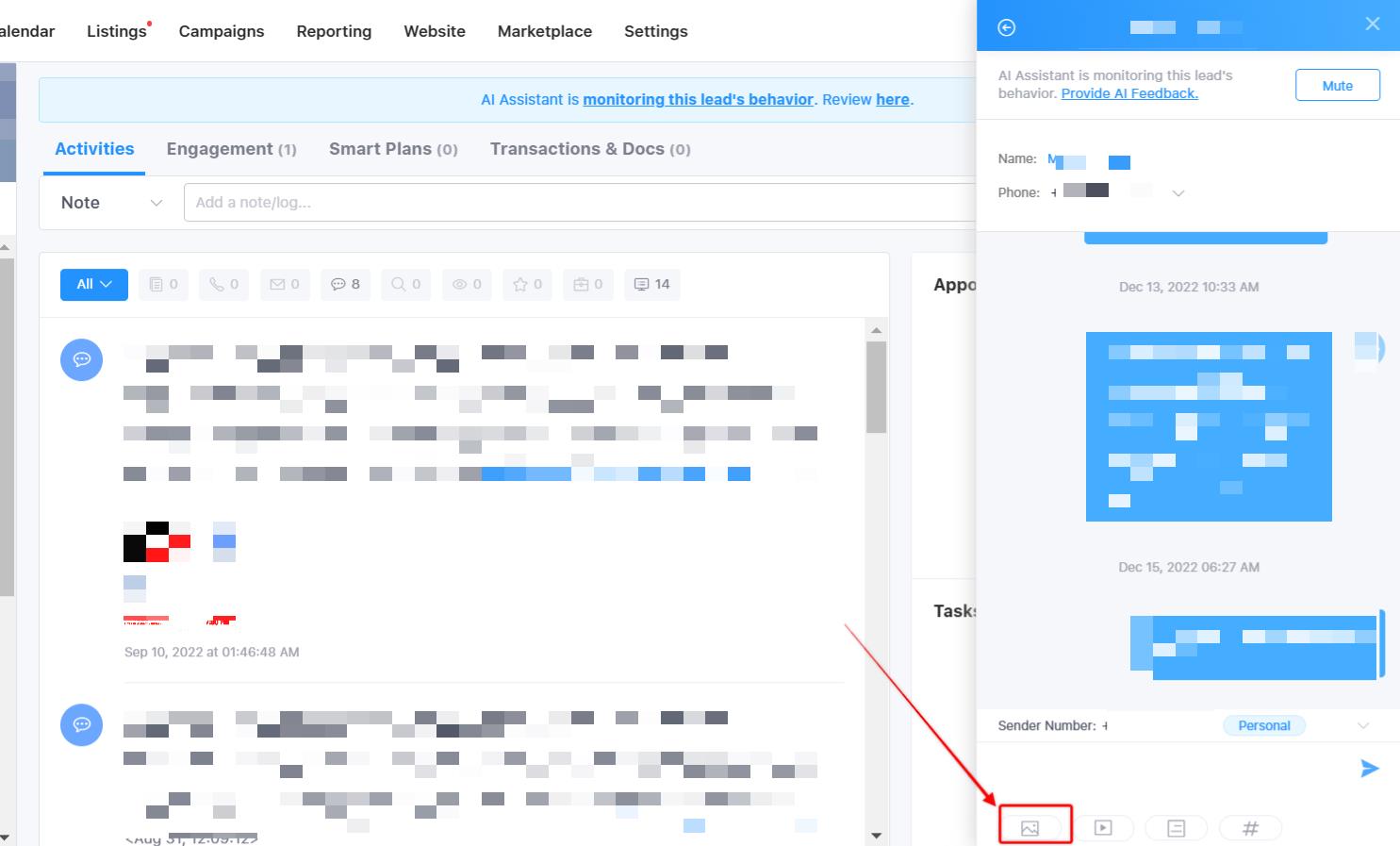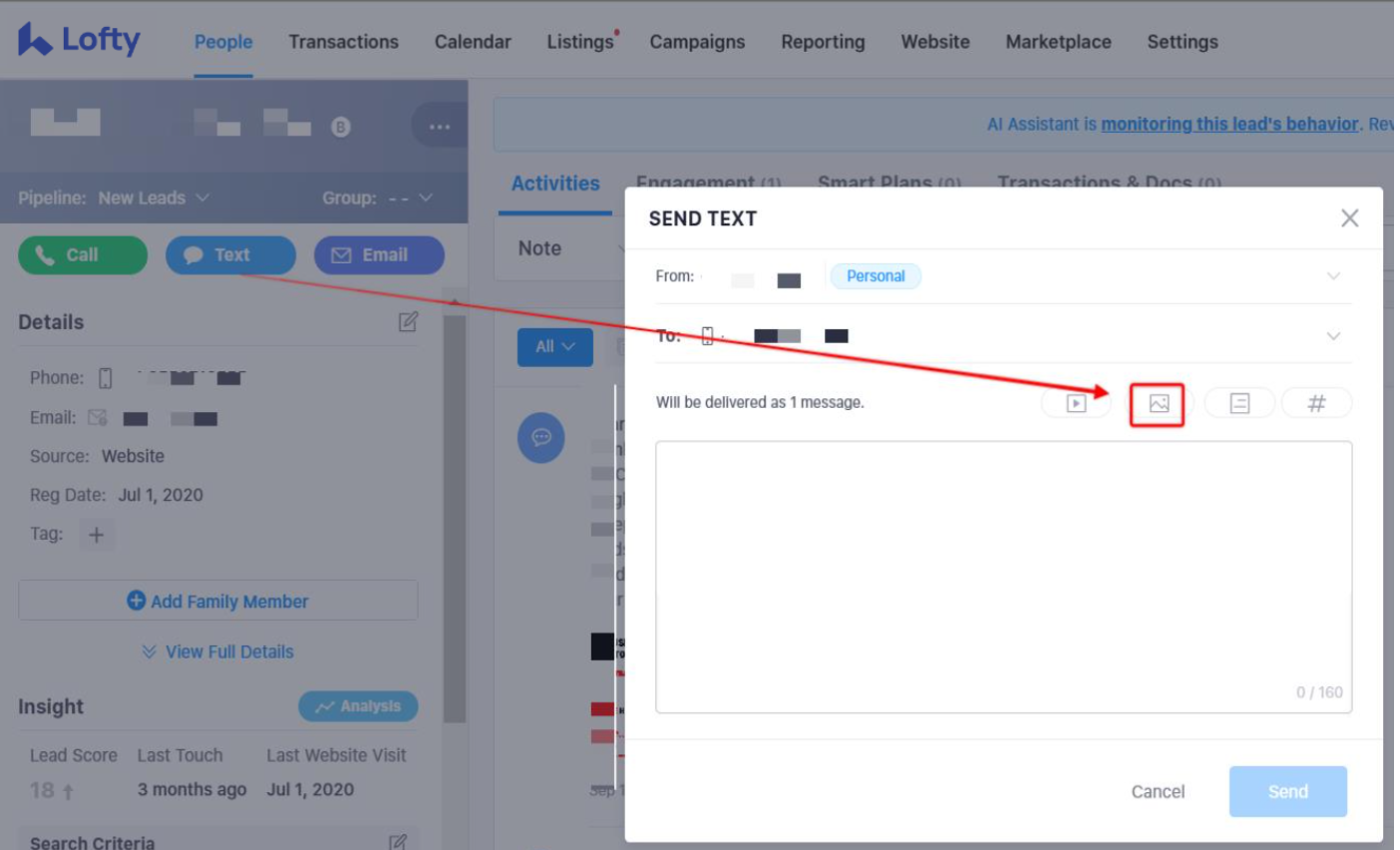 Once the Image icon or the Select Image link is clicked, it will open up a browser from your computer to find a file. You can only send one at a time. The image will then be added to your message ready to send: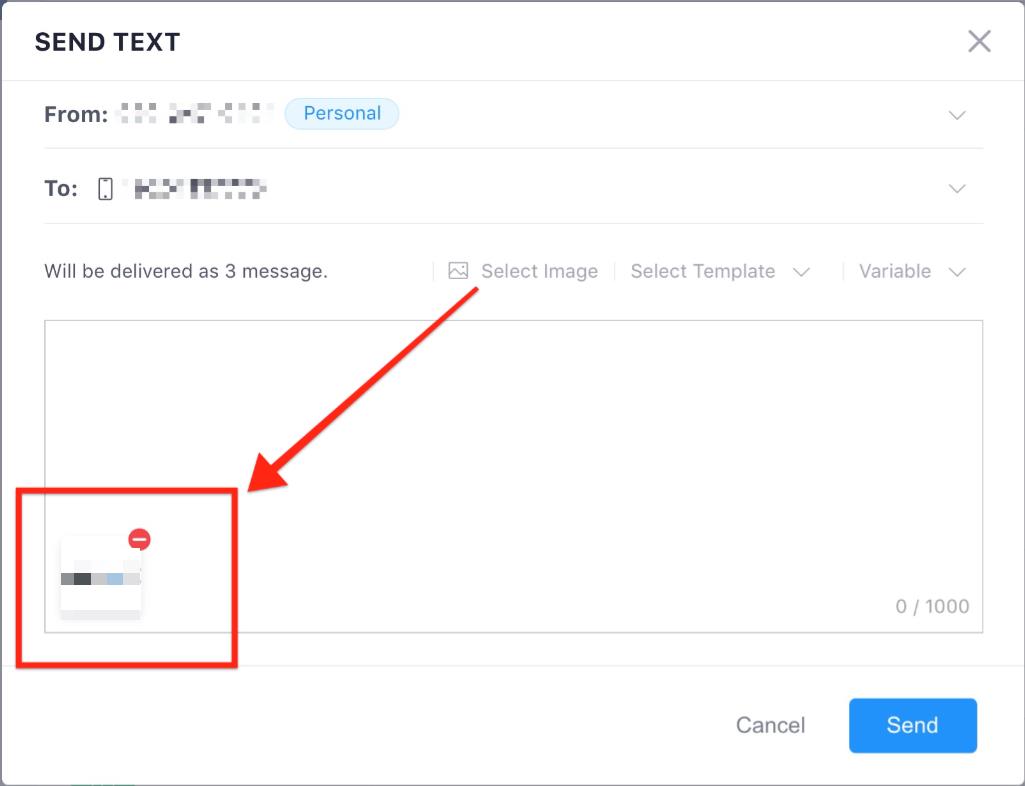 Viewing Images
Media content can be viewed from the side message window or a lead profile. Once clicked, they will preview in a larger pop-up.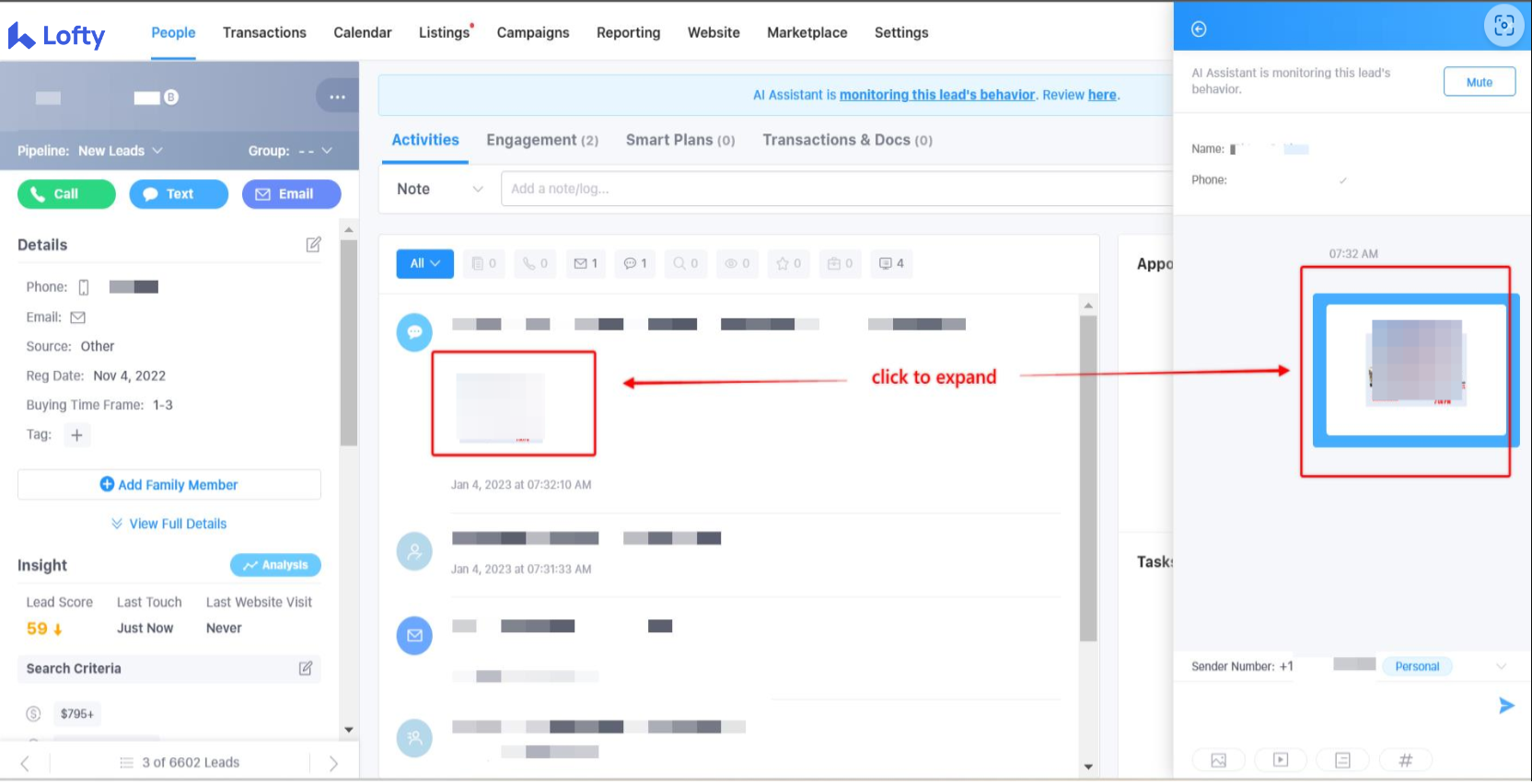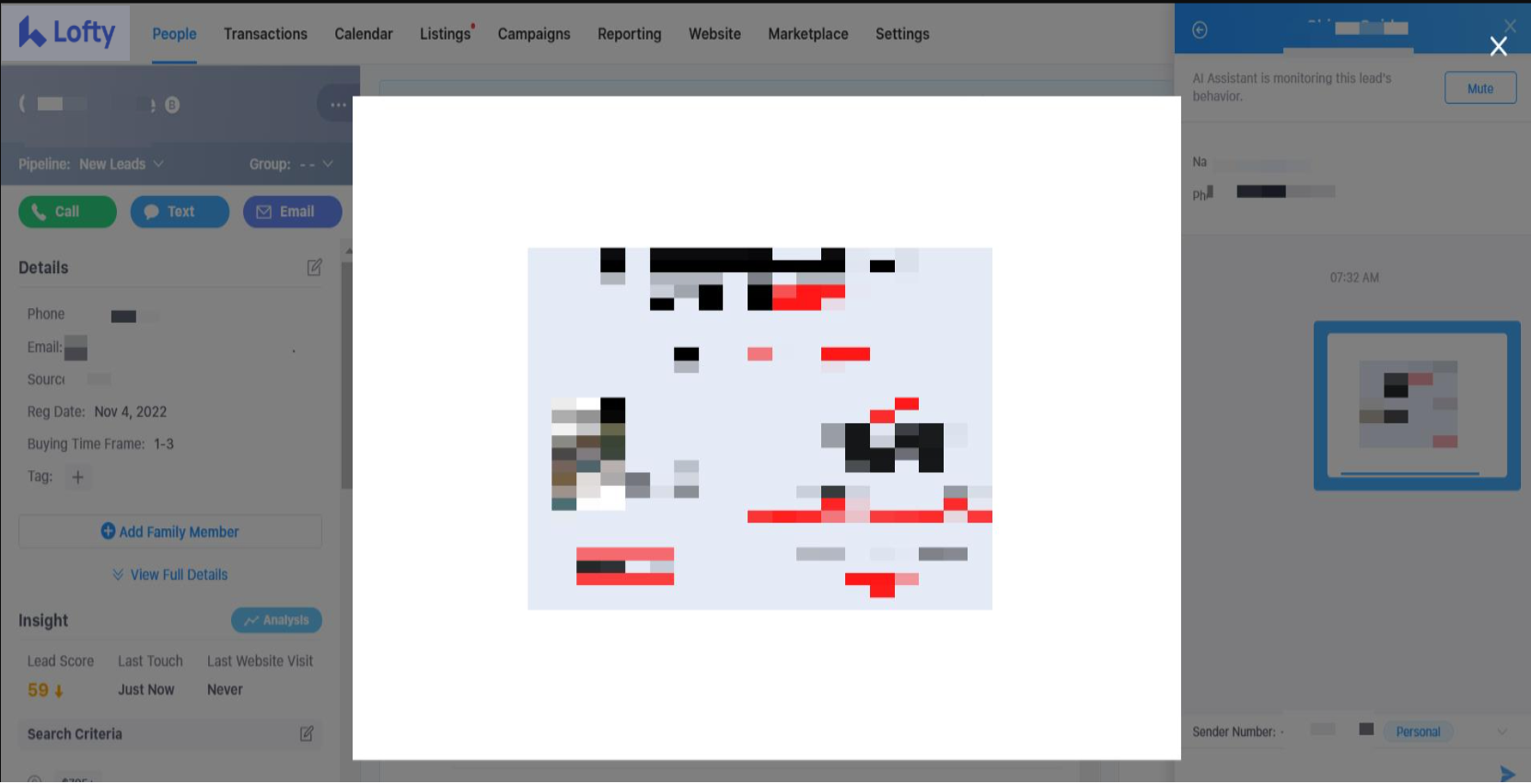 FAQs
Do inbound AND outbound messages count against the limit for MMS?
Only outbound messages will be counted toward usage.
Do size limitations apply to both inbound and outbound messages?
Outbound messages are limited as outlined above under Technical Limitations. Inbound messages may see some compression but the content should not be missed due to this compression. 
Are group messages supported?
No. Not at the present time. 
Are Video MMS supported?
This is still in Beta.
Are both inbound
and

outbound MMS messages supported?

Yes. Both inbound and outbound MMS messages are supported. 




Questions?
If you have any questions regarding this topic or any others, please reach out to our Support Team via email at <support@lofty.com>, by phone at 1 (855) 981-7557, or by a chat with us through your Lofty CRM.