Introduction
Listing Filters allow you to be selective about the listings you want to display on your website. The listing filters put in place control the listings from all MLSs that are connected as well as any manual listings (formerly known as pocket listings) that you have added to your website.
*IMPORTANT: With the filter options, you can inadvertently keep listings from displaying on the "All Listings" section of your website. When adjusting the filter and criteria for "All Listings," be sure that you do not remove all the listings by accident.
Default Filters
There are two filters provided by default:
All Listings. By default, these will display all listings that are active and on the market. You can adjust the criteria to prioritize certain price ranges, locations, brokerage listings, etc. All property alerts are based on this "All Listings" category, meaning that if you remove listings in this option, they will (a) not display on the website and (b) not be sent in property alerts.
Sold Listings. If the data is provided by the MLS, sold listings can be displayed in this section based on the criteria you establish in this filter.
To find these two filters, click on the CMS Tool > Listing Filters > All Listings / Sold Listings: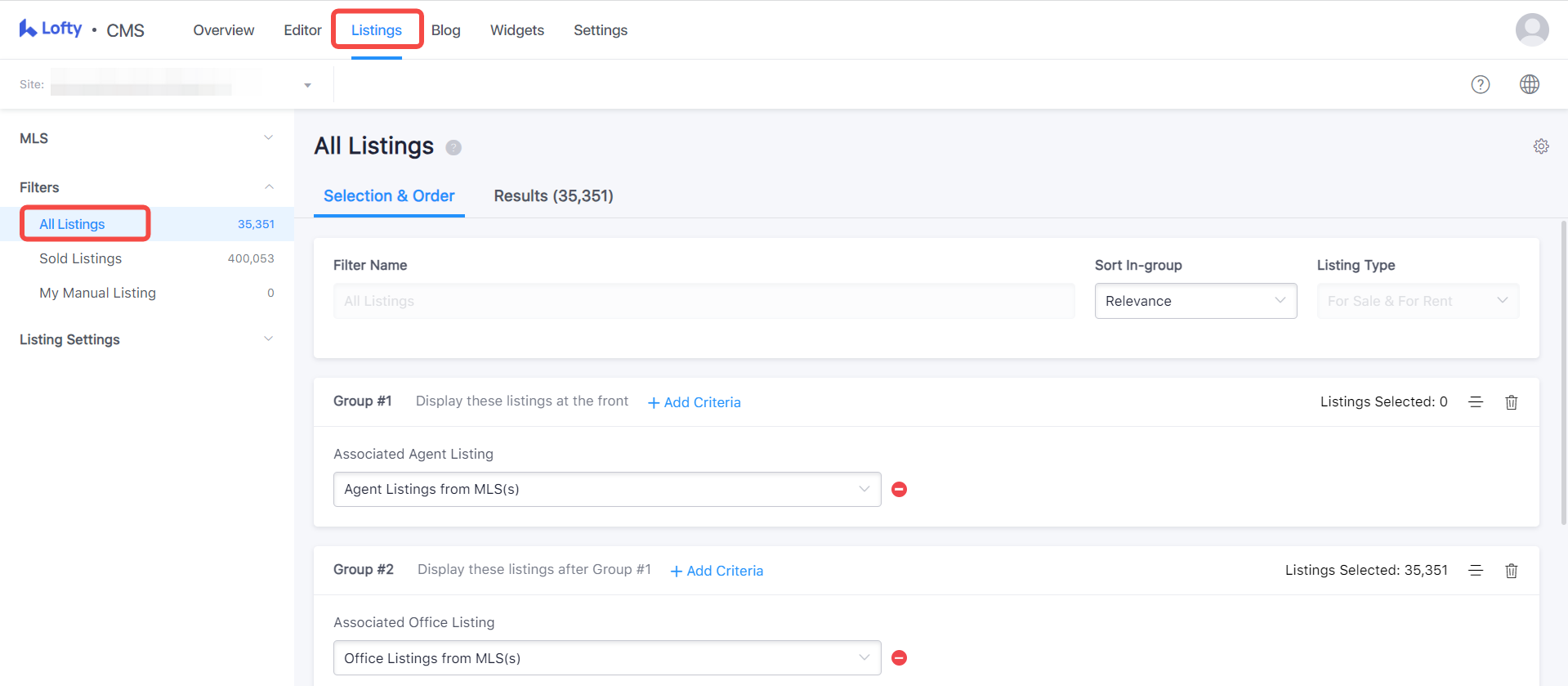 Custom Listing Filters
All custom listing filters are built directly into the listing pages and listing blocks (that make up a page). To learn more about listing blocks, please reference Listings (Featured) Block. More information regarding listing pages can be found here: Listings Pages.
This block can be edited by double-clicking the block or selecting the "Edit" icon for that specific block: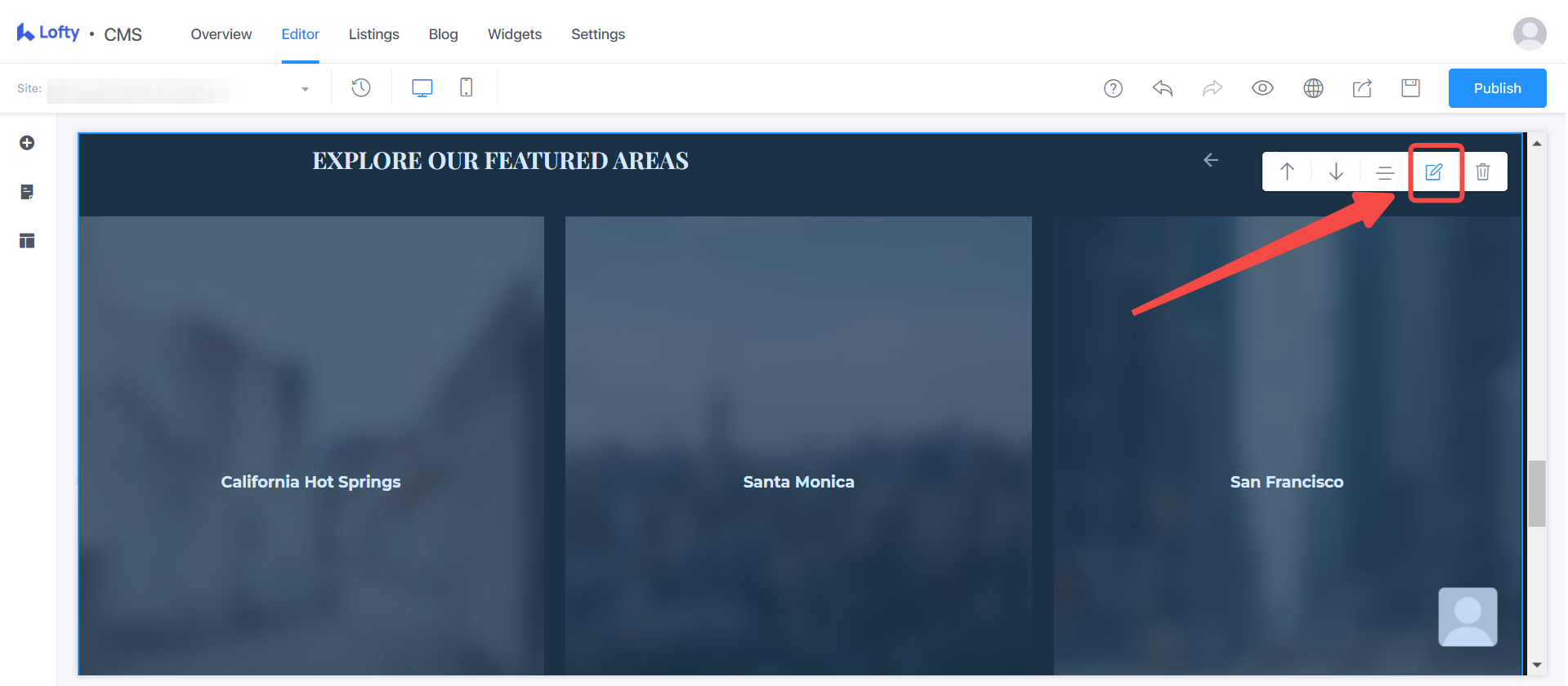 You would then select Listing Source > Use Custom Listing Filter. Normally, Lofty uses "All Listings" as the source for the block. However, if you need to create a specific listing set for the block. You can choose "Use Custom Listing Filter."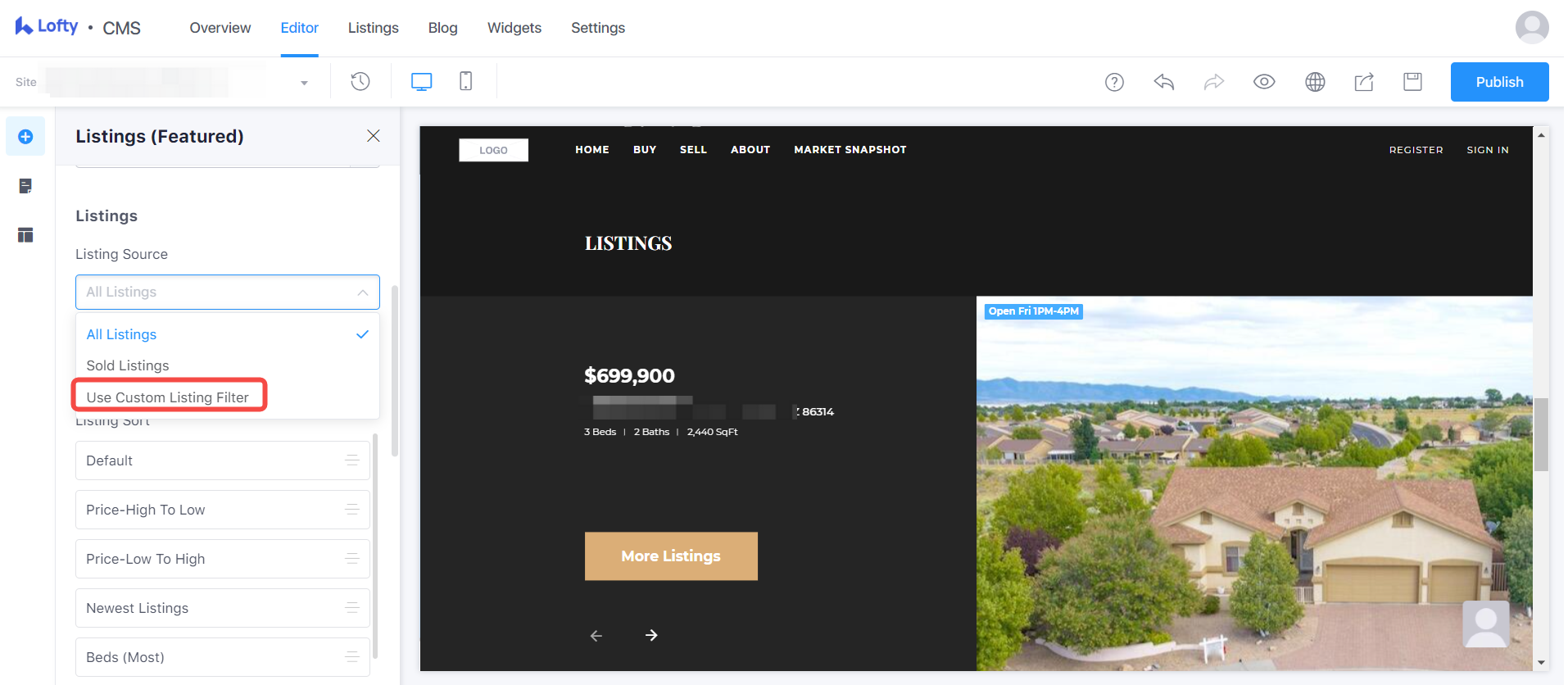 Editing Listing Filters
When adding a new custom filter, you can select the Listing Type and the default sorting rule in the groups you set up. This sorting applies if you choose to not add any other criteria to a group.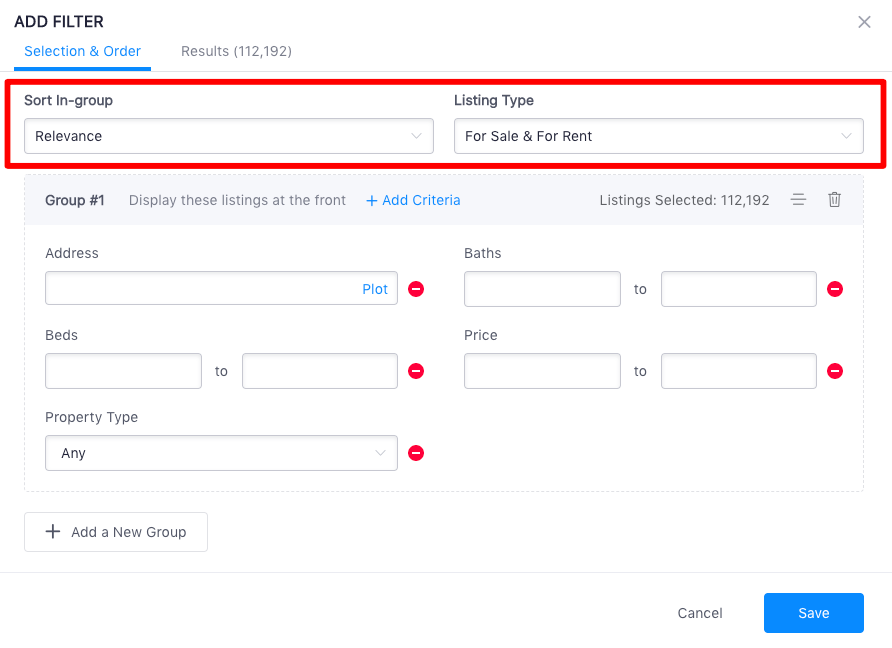 Group Settings
Within a filter, you can add multiple groups with specific criteria to prioritize and display those in Group #1 first, then Group #2, etc. This is how the order of listings is prioritized for each filter.

You can "+ Add Criteria" within each group, reorder your groups or click on the trash can icon to delete a group.
*IMPORTANT: It is always best practice to check the "Listings Selected" to understand how many listings actually match the criteria that you are setting up in each of the groups. If "0," this means that there are no active listings that match your current criteria within that group. If you are editing the "All Listings" filter, the last group should always have the remaining listings that you want to display on the site but want to display AFTER the other groups ahead of it. You do not want to change this last group unless you no longer want these listings displayed on your website at all or have them sent via property alerts. This is a catch-all group that will display all listings after the other groups.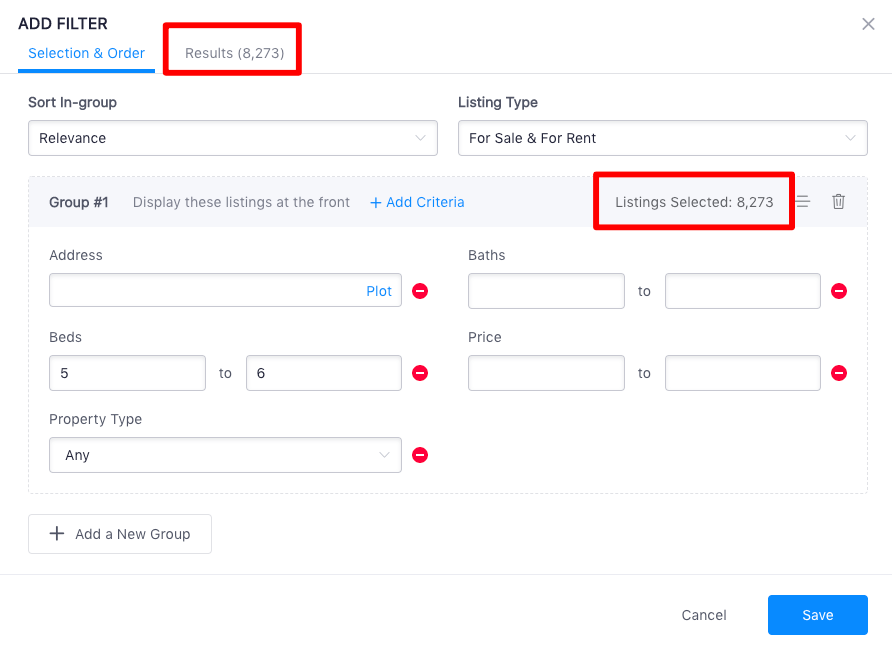 Filter Out Listings
You can add different criteria (the options available will depend on the MLS connected to your site) in each group to help you select the listings that you want to display. The following is a sample of the criteria available to you: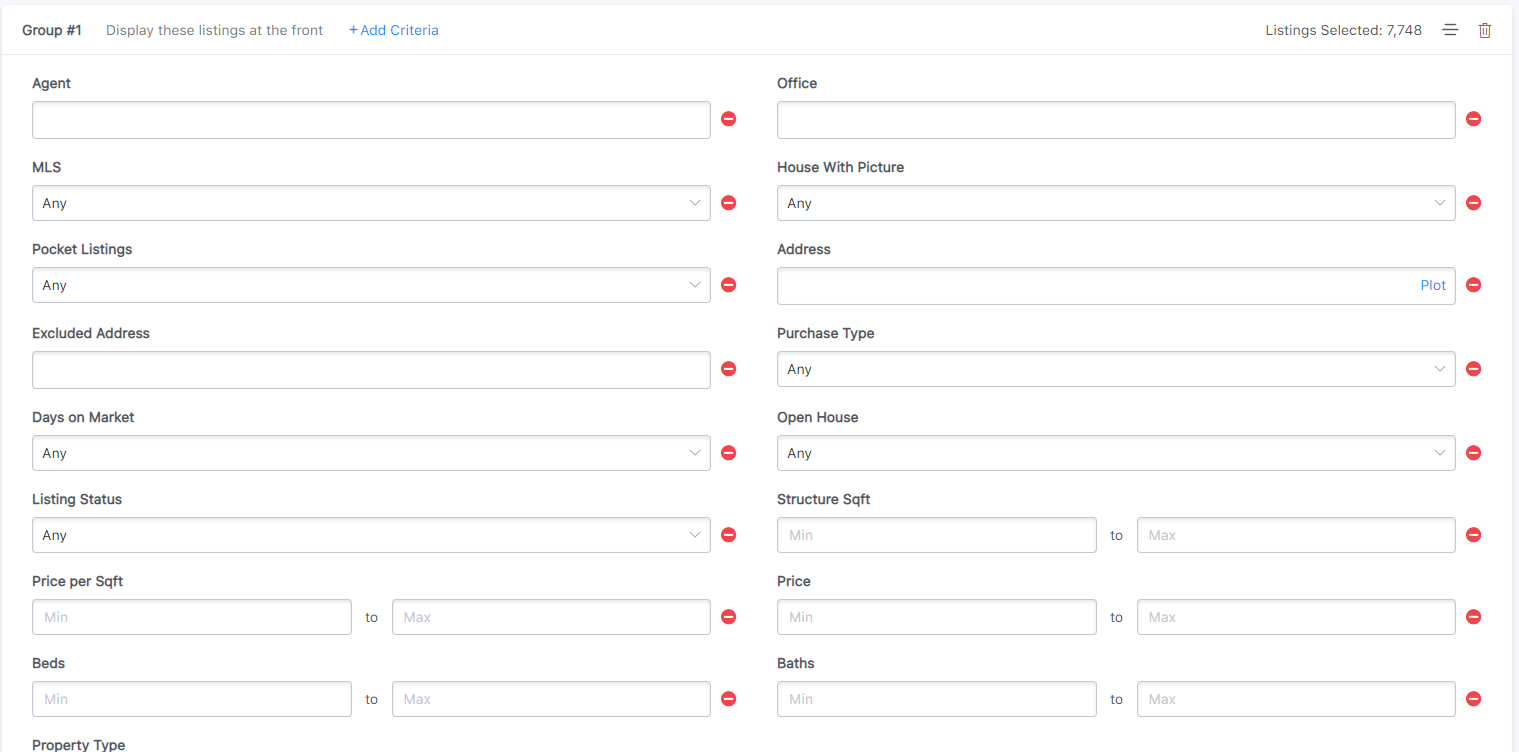 *IMPORTANT:
If you check multiple checkboxes within criteria (e.g. Property Type), the relationship between each option is an "OR" relationship. For example, the listings selected with the criteria would combine all property types that you have selected (Single Family Homes + Townhouses + Vacant Land, etc).
If you add other criteria within the same group (e.g. Beds), the relationship between those criteria and the others (e.g. Property Type) is an "AND" relationship. This means that the results would be fewer because it finds the properties that match the Property Type filter AND have the range of Beds selected.
Listings Preview
When all your filters are established, you can check the "Results" by clicking the tab at the top to make sure that the listings displaying here are the correct ones and in the correct order as well. The order would be determined by the order of the Groups that you have created.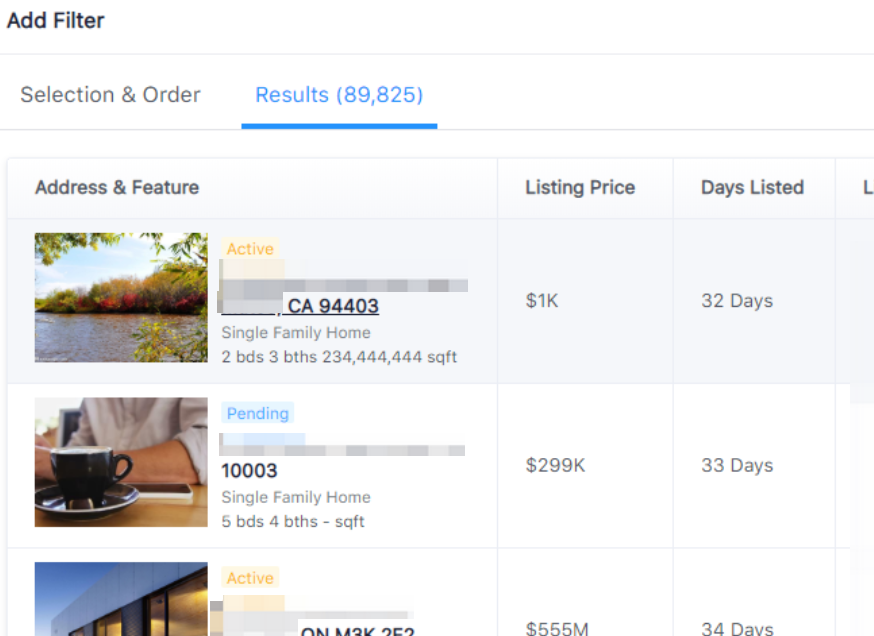 Advanced Control Panel for Agent/Office Criteria
This setting is related to the "Sold" Listing Type only. Please reference the following article for more information on how this works: Advanced Control Panel for Agent/Office Criteria.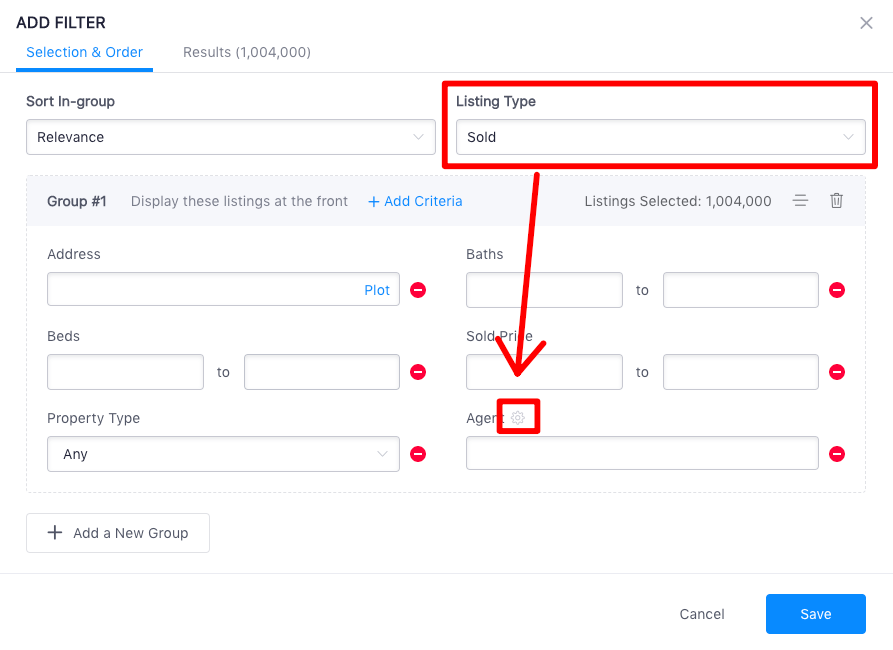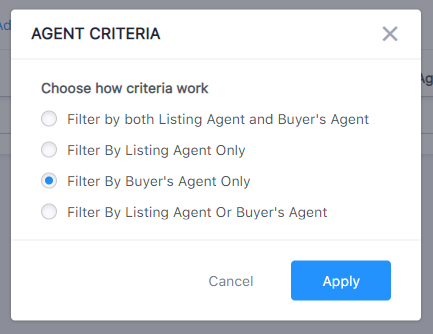 Save your Filter
After any modifications, do not forget to click on the blue "Save" button at the bottom. You can then publish all changes to the website and your listings will be displayed as filtered per your settings.
Questions?
If you have any questions regarding this topic or any others, please reach out to our Support Team via email at <support@lofty.com>, by phone at 1 (855) 981-7557, or by chat with us through your Lofty CRM.