Introduction
An SSL certificate can help keep your site secure to ensure that it is trusted by the browsers and operating systems of your website visitors. You can purchase an SSL certificate via your domain provider or a third party and Lofty can help you have it installed on your website.
Installing an SSL certificate is important for the following reasons:
Facebook regulations will not allow for unsecured sites to be shared on their platform. Also, without an SSL, the option to "Log in with Facebook" cannot be used on your Lofty website. 
Some specific internet browsers will often force a URL typed into the search bar to go to the "https://" which means that a secure site with the SSL certificate is expected. 
Here are a few screenshots to demonstrate the error that might appear when navigating to a site that does not have an SSL Certificate installed: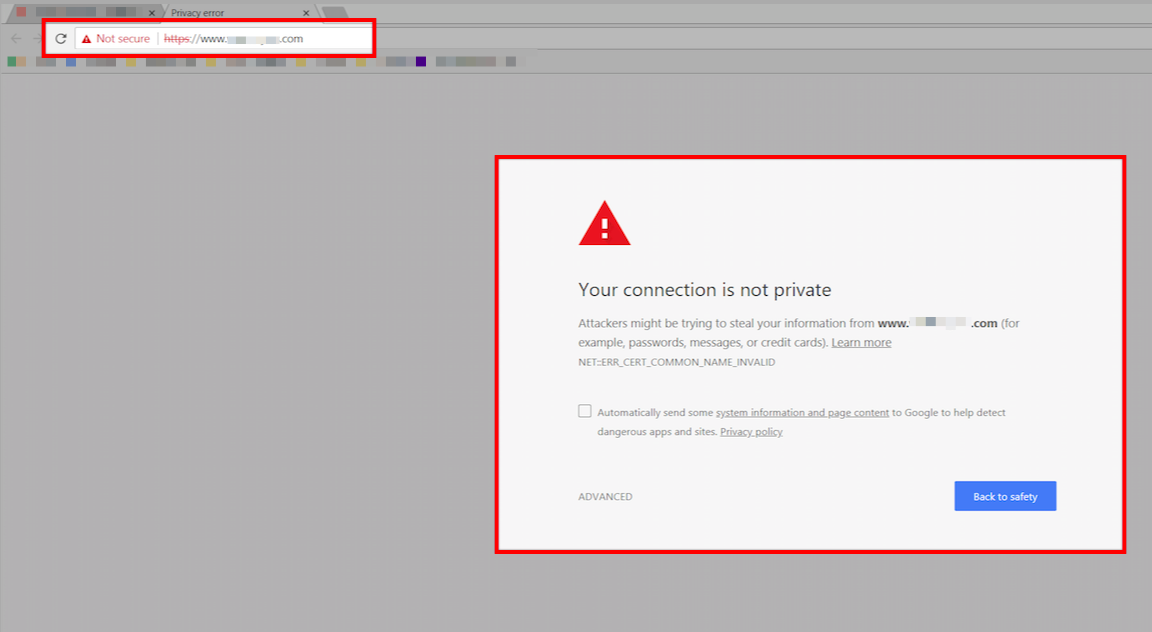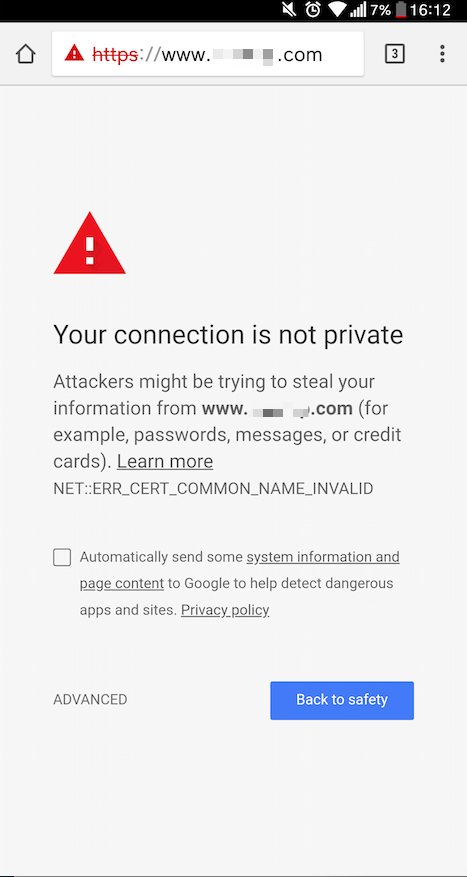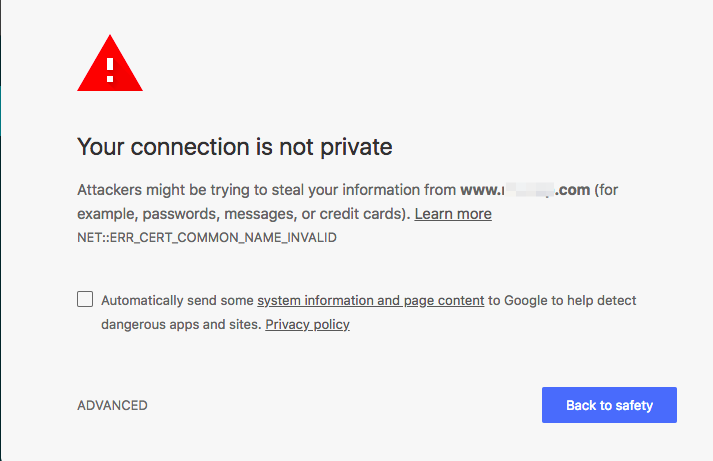 Not Required by Lofty
As a note, this is not required by Lofty in order to use the service. But, it is something that will benefit people browsing to your website. If you so desired, you could click on the "ADVANCED" option seen in the bottom-left of the last screenshot, and choose to continue to the website. This would allow your browser to trust the Lofty site. However, this is not acceptable to many who will visit your website and could deter them from using your site.
Any site under a Lofty domain, such as ________.lofty.com, is always secure because we have already installed a wildcard SSL certification for all these sites automatically. You will only need to plan on having a separate SSL certificate installed if you plan to configure your domain to be different from the provided _________.lofty.com domain.
SSL Certificate Setup
(1) Did you purchase your domain via Lofty?
If you purchased your domain via Lofty (see Vanity Domain Purchase) then an SSL certificate will be installed on your purchased website automatically and does not require configuration. 
(2) Do you have an SSL Certificate already?
Please send us the information below to <support@lofty.com> so that we can generate a CSR file for your SSL certificate:
Country Name
State or Province Name (complete name)
Locality Name (Example: city)
Organization Name (Example: company)
Organizational Unit Name (Example: section)
Common Name (Example: your name or your server host's name)
Email Address
After Lofty Support receives the above information, the quickest route is to also provide Lofty Support with the login credentials (login URL, username, email, and password) for your SSL Provider so that configuration can be finalized.  
However, if you are not comfortable with sending your SSL Provider credentials, please follow these steps: 
Upload the CSR file (now generated by Lofty) to your SSL Certificate

Download the certificate file in Apache format

Send the certificate file to <support@lofty.com>
After these steps are complete, the SSL Certification should be installed on your domain.
(3) Do you
not

 have an SSL Certificate already?

Lofty offers a free SSL Certificate that can be used to keep your site secure. 

After completing the domain configuration (see Domain Configuration Guide), please send an email to <support@lofty.com> to arrange for the SSL to be installed.  

Please note that if you have many subdomain websites, you will need a wildcard SSL certificate installed, and, depending on the situation, this might require purchasing on your end as it might not be available with the service used by Lofty. Please contact our Support Team to see what can be done in this scenario.

 
Additional Information
If you would like more information regarding the topic of SSL Certificates, please feel free to research the topic further with any domain provider as well as many online resources. Additional information can also be found in this Beginner's Guide to SSL Certificates as written by Symantec Corporation.
HostGator published this article related to the topic as well: What the July Google Chrome Update Means for Your Website
FAQ
Q: Should I call to renew my SSL with Lofty?
A: SSL certificates are set to auto-renew every 90 days in case of issues, please reach out to our Support Team for immediate assistance.
Questions?
If you have any questions regarding this topic or any others, please reach out to our Support Team via email at <support@lofty.com>, by phone at 1 (855) 981-7557, or by chat with us through your Lofty CRM.