Introduction
If you have a Lofty IDX Website (and the website is active), you can enter Listing Discovery by clicking the icon next to the CMS Tool (website editor). The red dot on the icon means there are new listings today. We have also made a number of changes that improve the way Listing Discovery works for you, through Smart Listings. 

Summary
All Listings
Lofty has integrated all of your MLS databases into the Listing Discovery section. Users can view all MLS listings and search for any listings from the MLS:

The first column shows the address, image, bedrooms/bathrooms, type, and square footage. Clicking on the address will take you to your Lofty IDX website and the listing page for that specific property.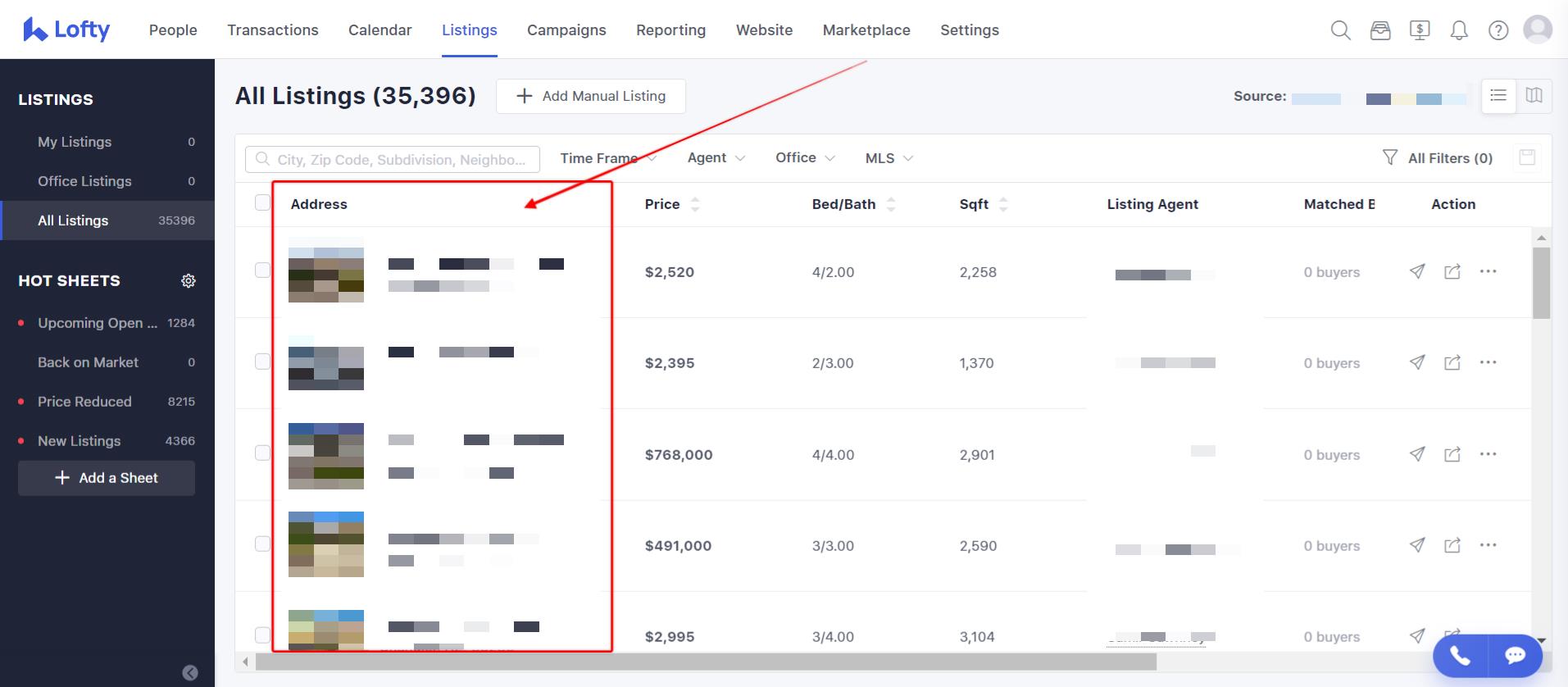 The next column shows the "List Price". If the price has increased or decreased, it will be represented with an up/down arrow. The MLS info will show the status of the listing (pending, active, etc.) and when clicked will display additional details available from the MLS.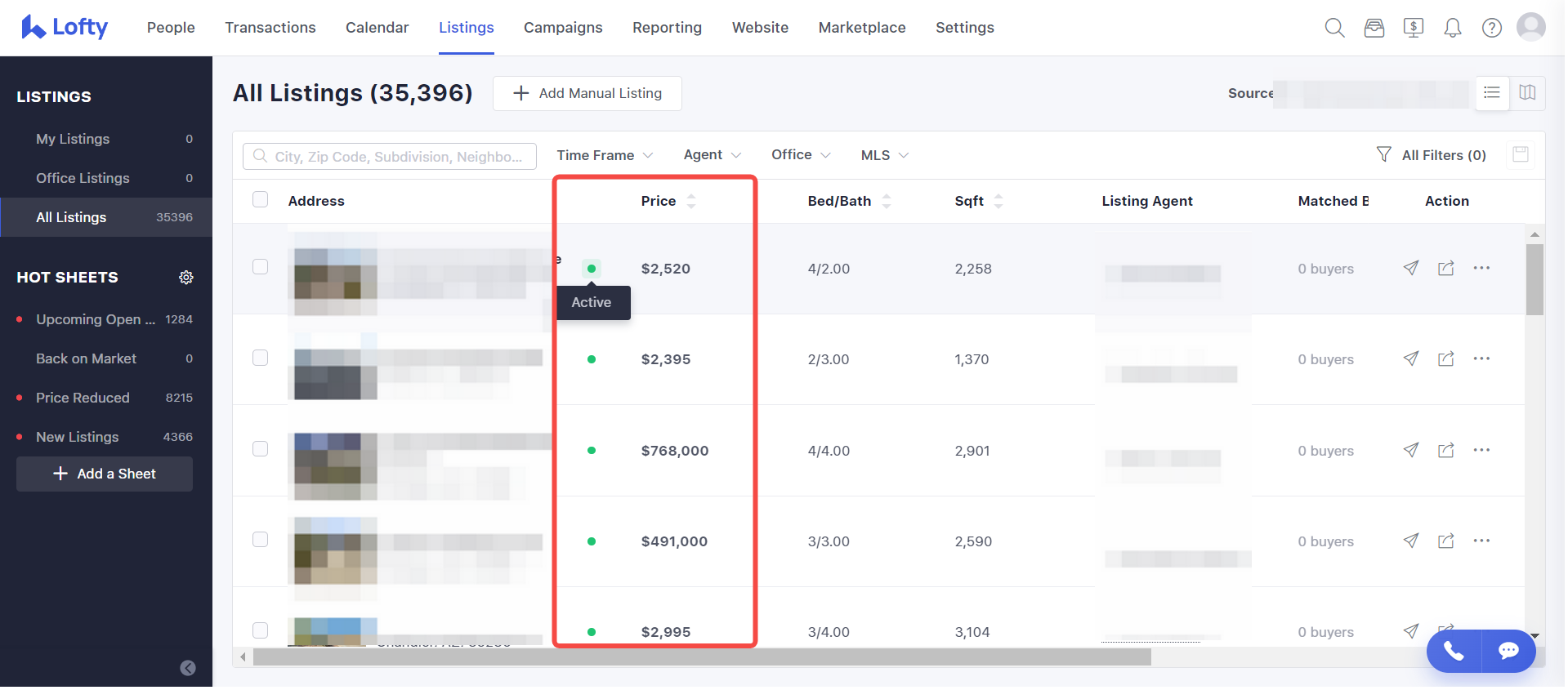 Buyer Matching
"Buyer Matching" is one of the most useful columns on Listing Discovery. Based on basic search criteria (beds, baths, price range, etc.) that have been saved by leads registered in your database, leads will be matched with listings showing up on Listing Discovery. In other words, the leads found in "Buyer Matching" are those that would be a good fit for that property based on the search criteria in their lead profile. Depending on your permissions, these leads can include leads in the Lead Pond or those assigned to your team.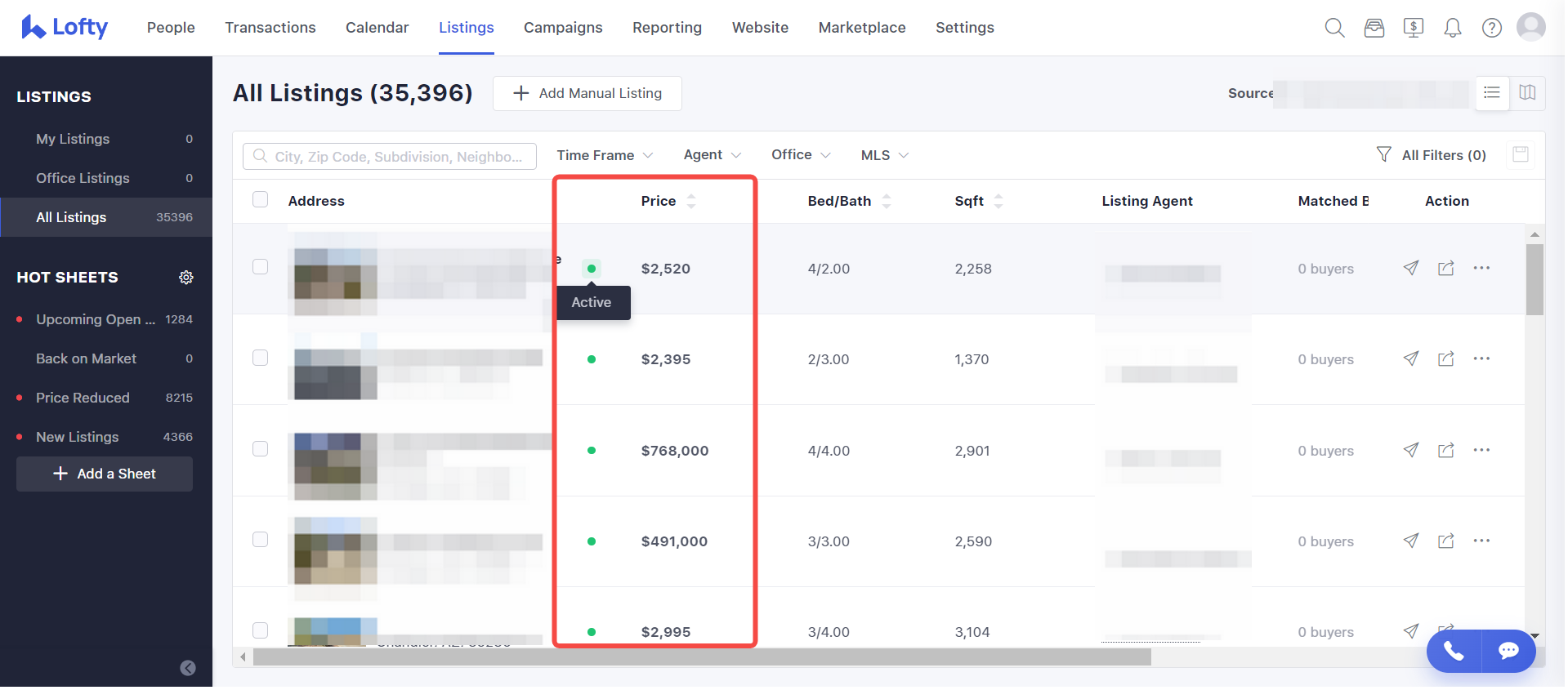 When "View Matched Leads(#)" is clicked, the matched leads will display. Hovering over the "Matching Inquiries" will show which factors have matched the leads for them to show up in this category. You can use this section to send the listing directly to the leads that match.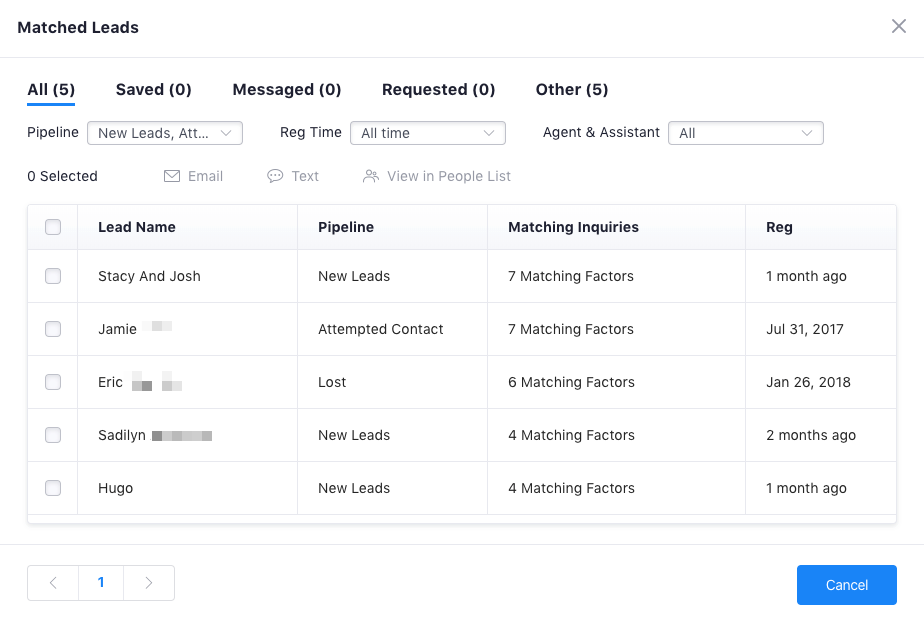 The "Action" column has the option to send the listing directly to leads (in individual conversations) as represented by the first icon. An option is also available to add a text code for that listing (reference Text Codes for Lead Capture). The final option is for sharing directly on Facebook, Twitter, or LinkedIn.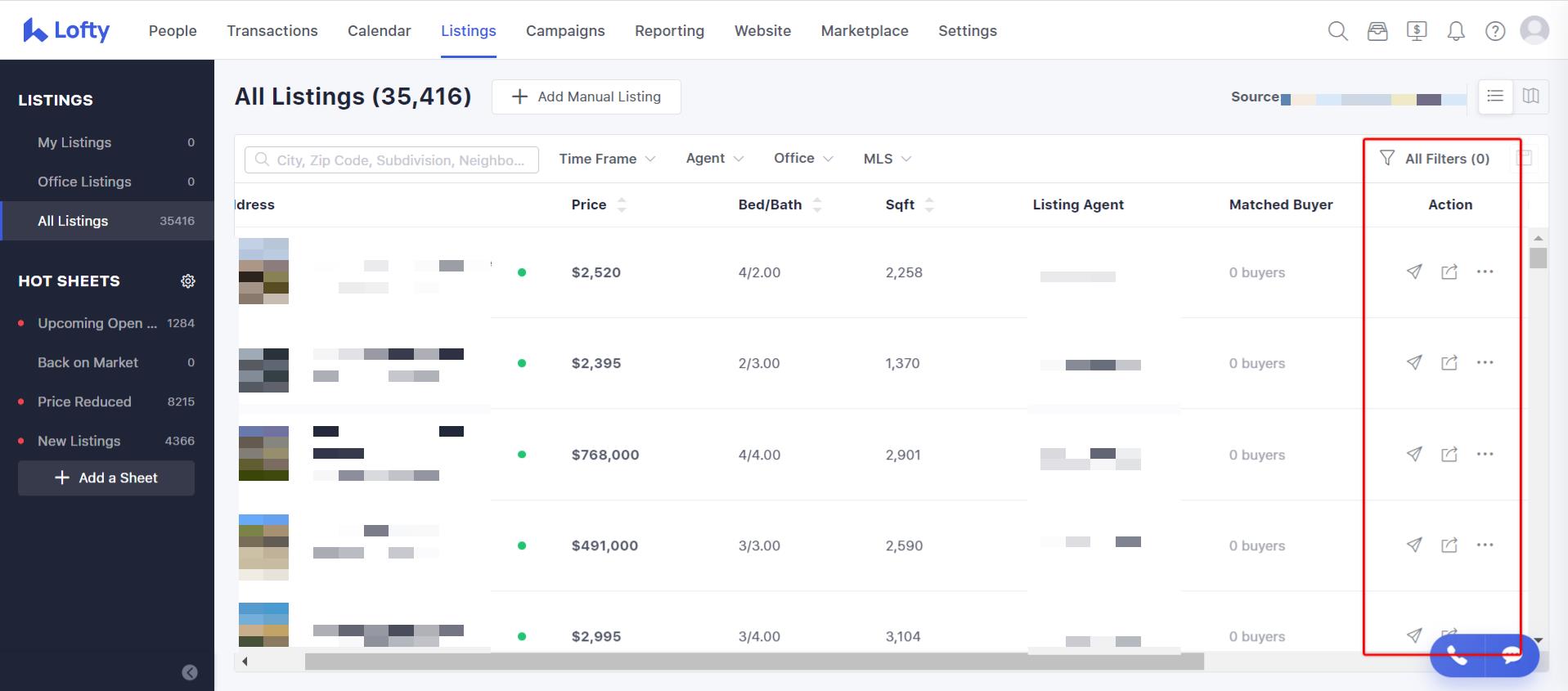 Send to Leads
You can click Send to Leads to send a particular listing to the leads of your choice. Choose the listing that you want to send, and click Send to Lead.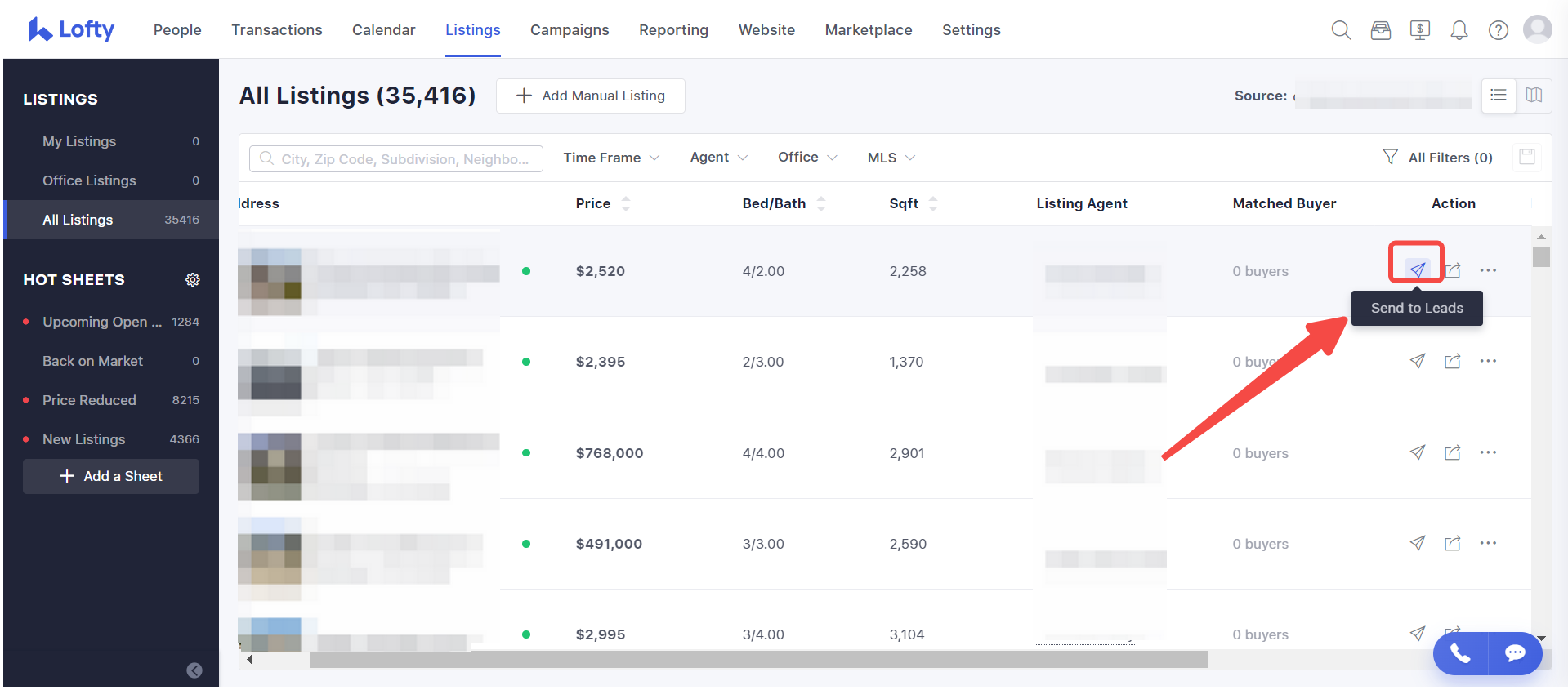 A popup will appear where you can search for the lead(s) to whom you want to send the listing. You can search for leads with Basic Search (by name, email, or phone), Address Search (by city, county, or zip code), or use Advanced Filters such as Segment, Pipeline, Tag, Price, etc. Once the search results are displayed, select the lead(s) that you want to receive the listing by clicking the checkbox, then click Email or Text to select how you would like to send the listings.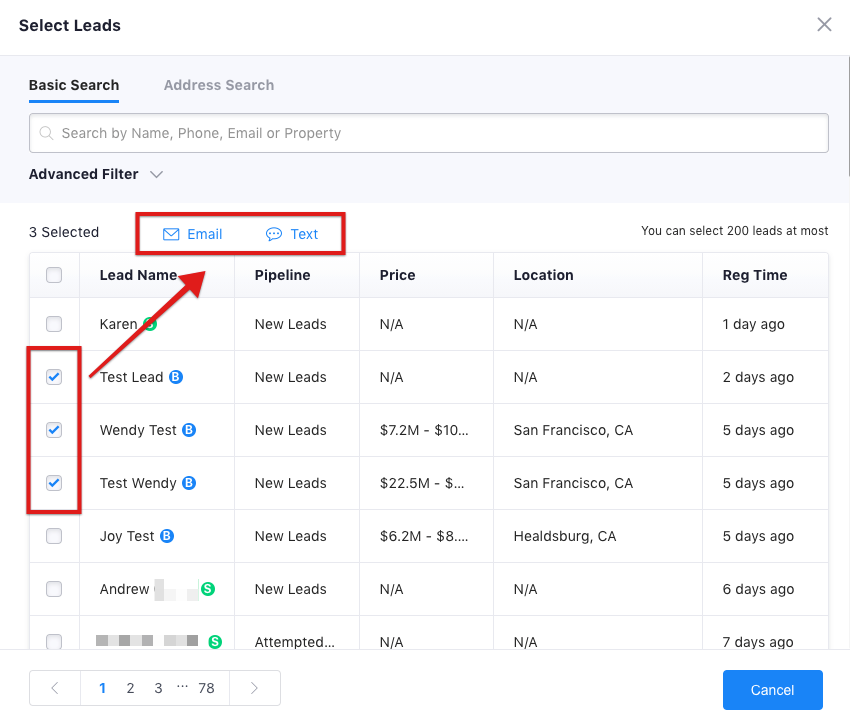 The listings will be displayed in the email editor in the next step. From here, you can also edit your email subject and email content. After editing your email content, you can preview, and click Send.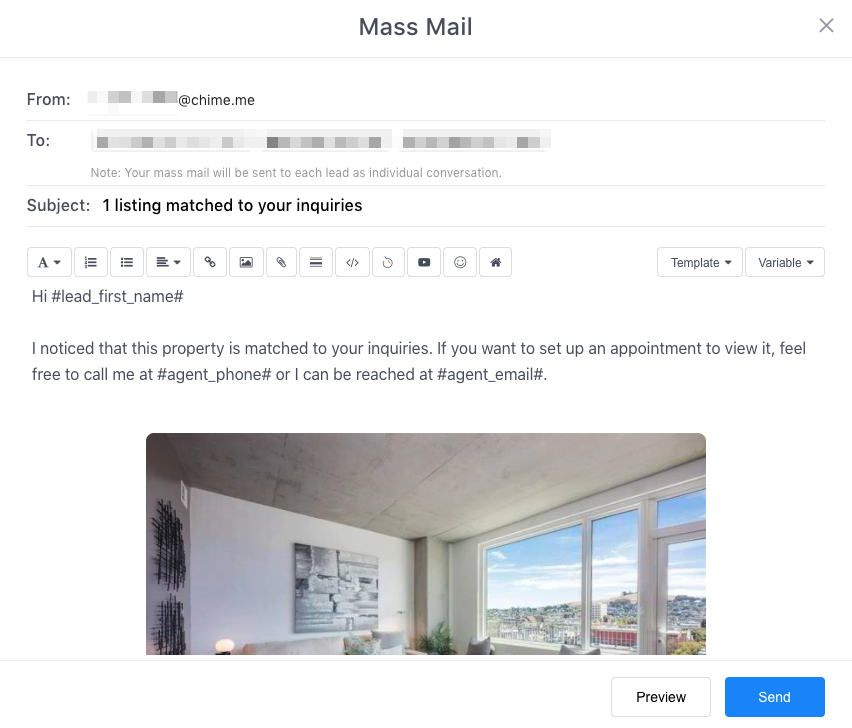 The "Listing Agent" column shows the listing agent for that property. Some MLSs do not provide Lofty with this information. However, when available, users will no longer have to go to the MLS to find contact details for a listing that is on the MLS that they need to set up a tour for, make an offer, etc. If you have a call/text package, you can also trigger a call or a text to be made directly from the available options.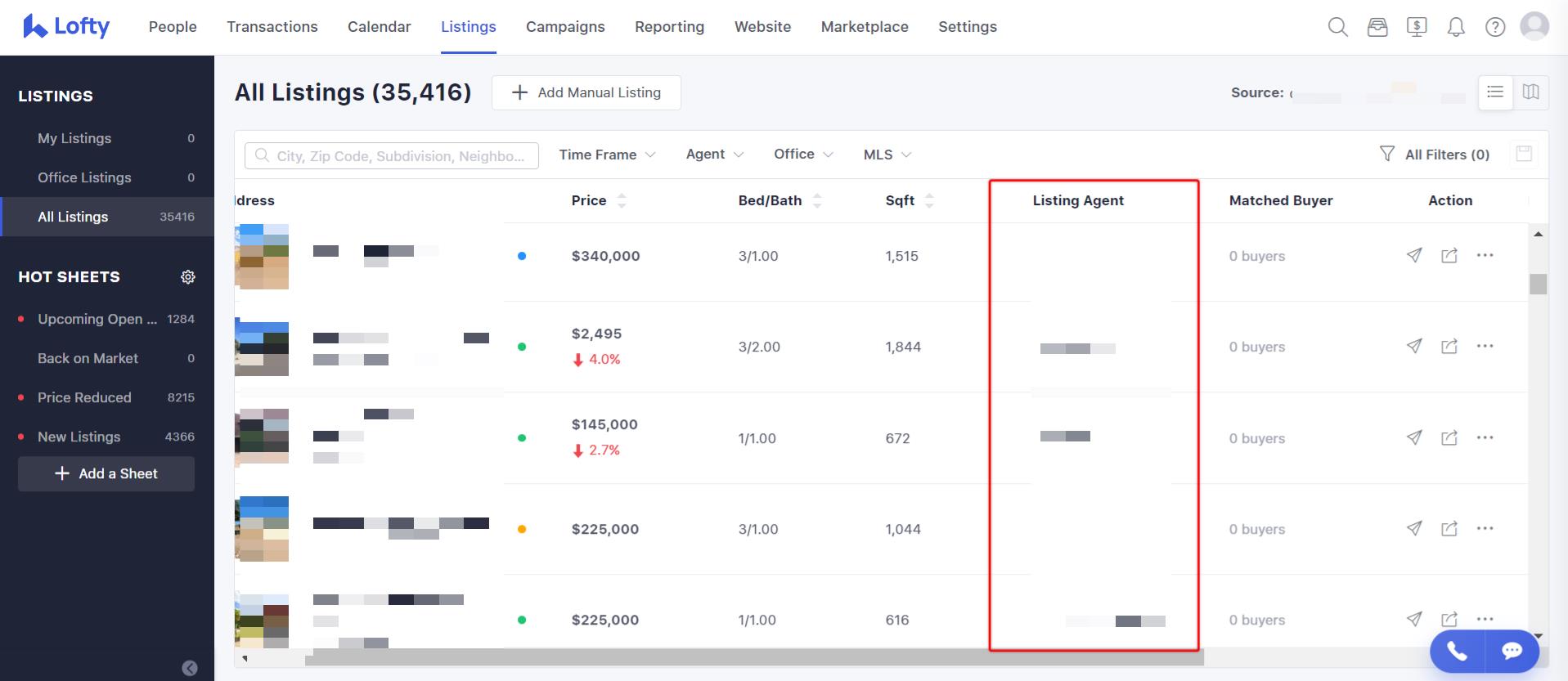 If the Listing Agent's email address is available in Lofty, the Lofty user can send them an email directly through Lofty but this will only work if the Lofty user has their email integrated (Gmail, Exchange, etc.). Clicking on the "email" icon will open up a new email that looks like this: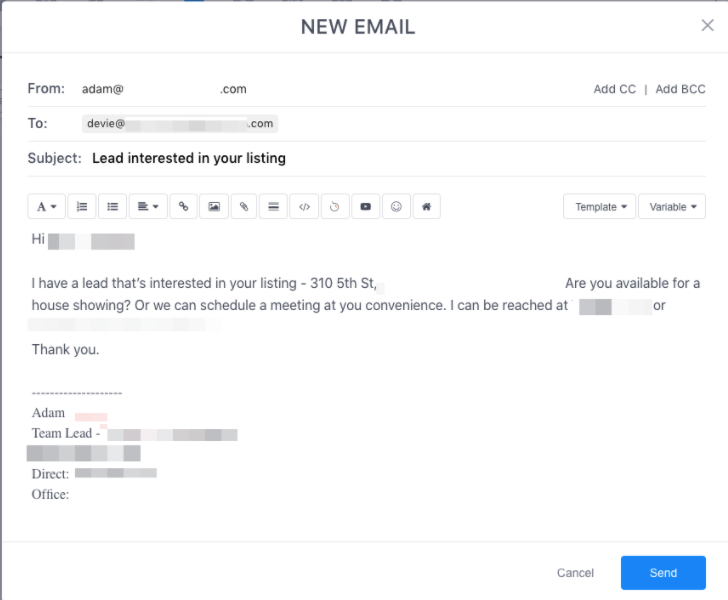 Finally, the "View" column will show the leads from your CRM database who have (a) viewed, (b) saved, (c) sent a message, or (d) requested a showing on this specific listing. Currently, these fields are not clickable. The "Updated Time" column shows the last time the listing details were updated.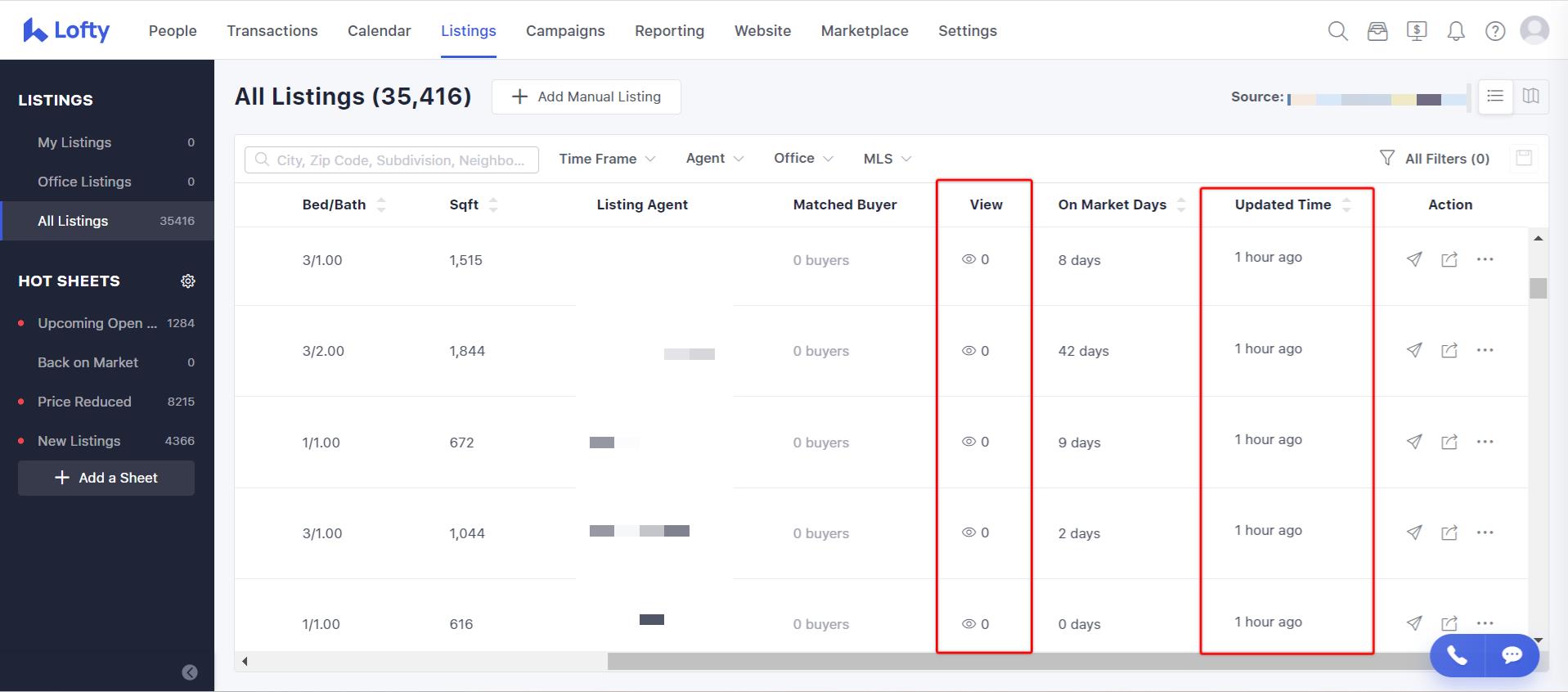 Hot Sheets
You can easily filter using desired search criteria and then save it as a hot sheet. This is intended to be a convenient way for you to access the same set of criteria in the future. You can have up to 100 total hot sheets.
*Currently, there is no option to share hot sheets with other users on your team.
Adding a Hot Sheet
To add Hot Sheets after narrowing down the results with the option to filter, you can directly save them as a new Hot Sheet by clicking on the disc icon to SAVE Sheet or clicking the button on the left panel to add a sheet. Then, provide a unique name for the new Hot Sheet in the "CUSTOMIZE HOT SHEET" pop-up window. You can also choose to delete certain criteria from this pop-up window.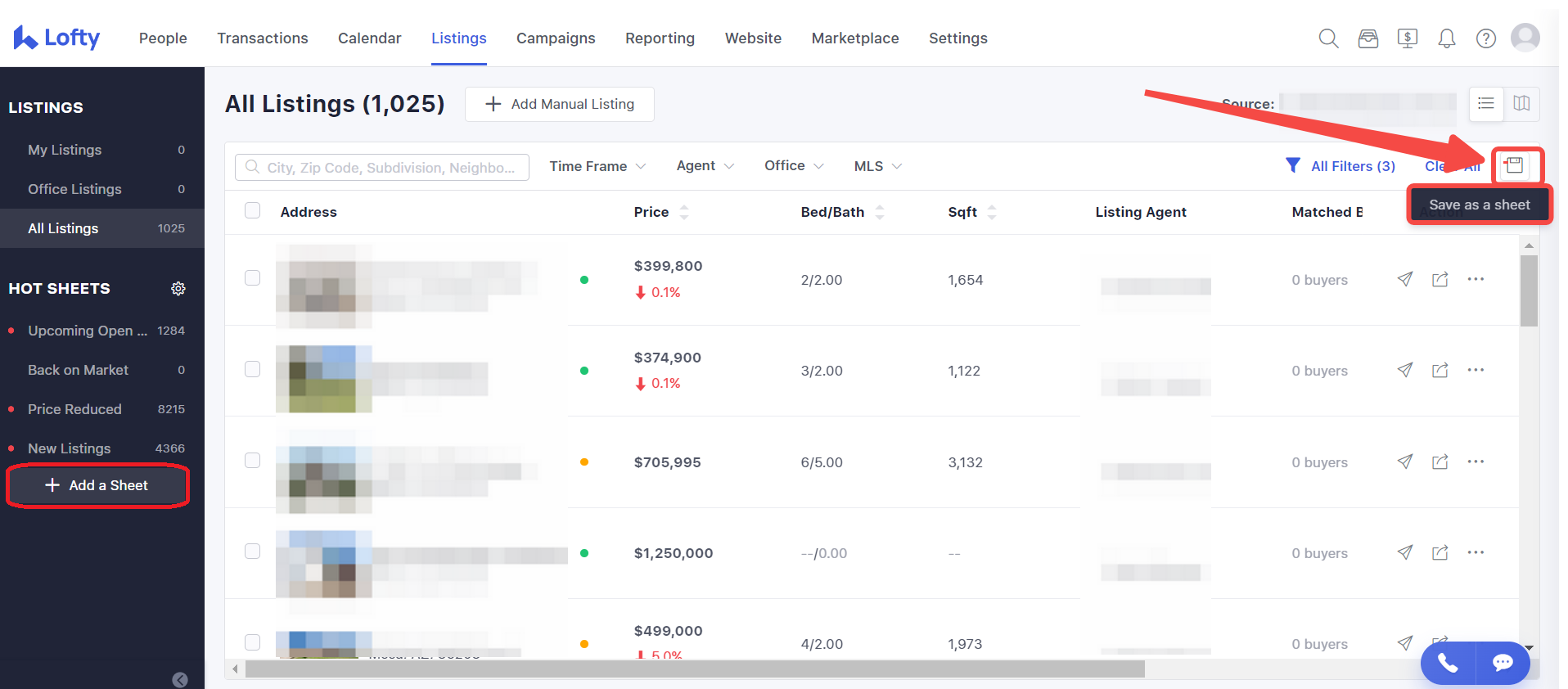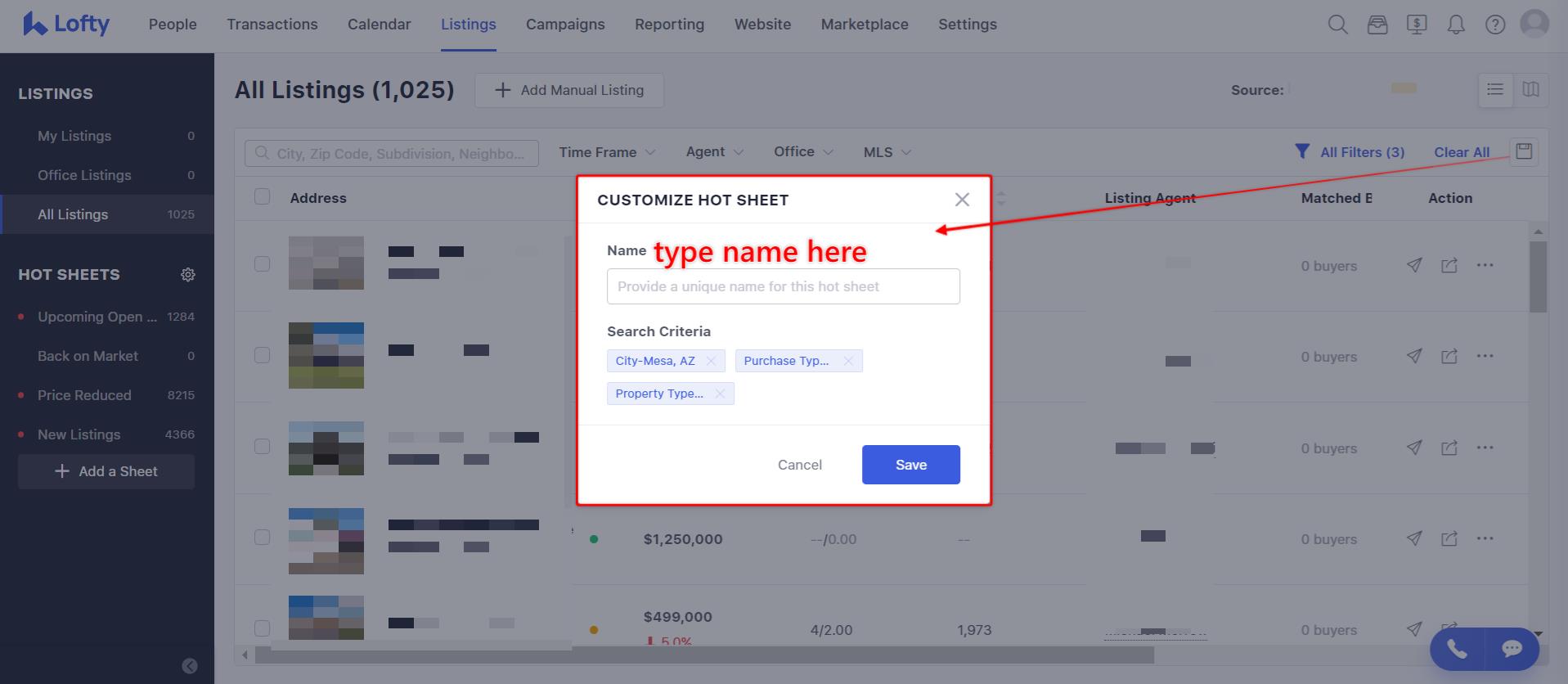 Default Hot Sheets
In Listing Discovery, there are three types of recommended hot sheets that are provided by default:
New Listings

: These listings are new to the market and on your site

Price Reduced

: The prices of these listings have been reduced recently

Back on Market

: The status of these listings became "Back on Market" recently. Please note that many MLSs do not provide us with this status in their data--meaning that this may not populate any results.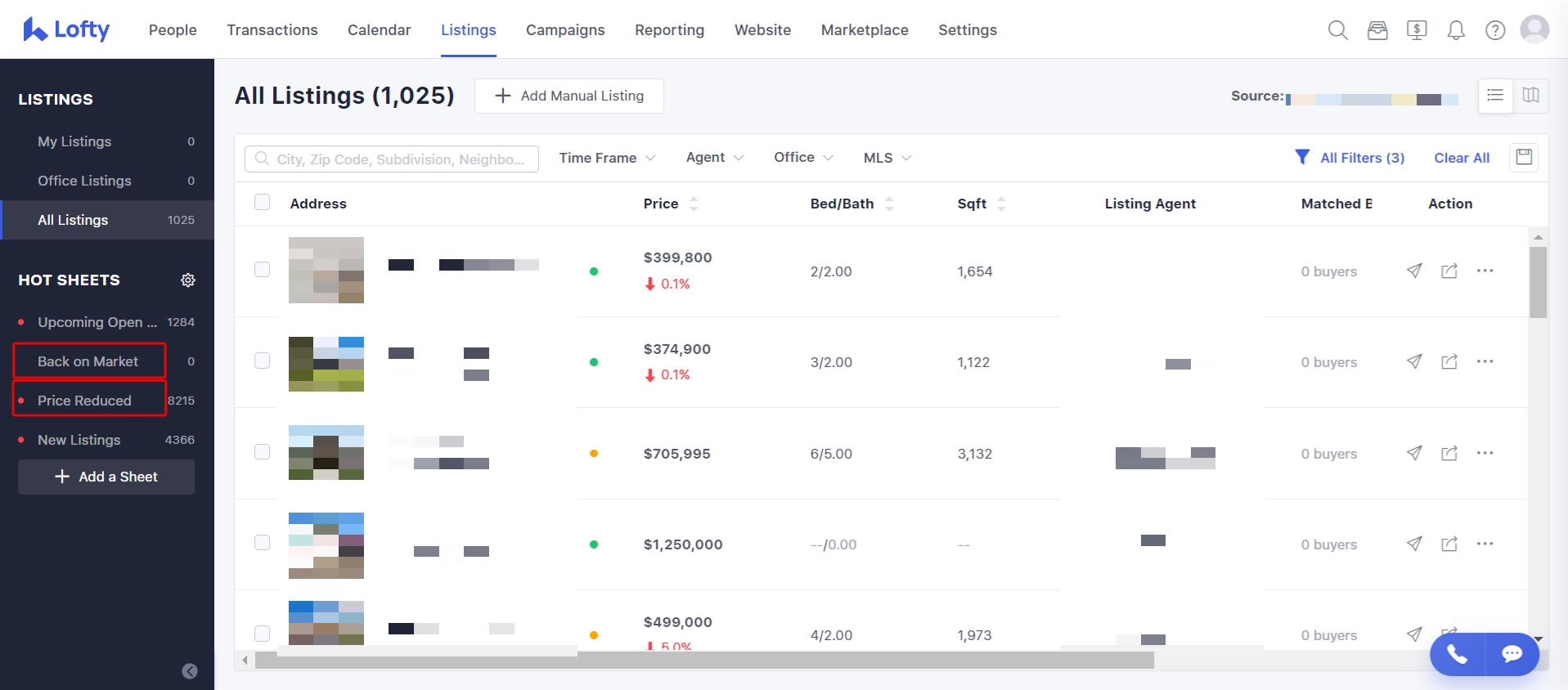 Manage Hot Sheets
You can edit your hot sheets and manage their order by clicking on the Settings cog-wheel icon to the right of the HOT SHEETS title. From here, you can drag and drop to reorder, edit, and delete.
*The top three Hot Sheets will display on your Dashboard page (see My Vs. Team Dashboards).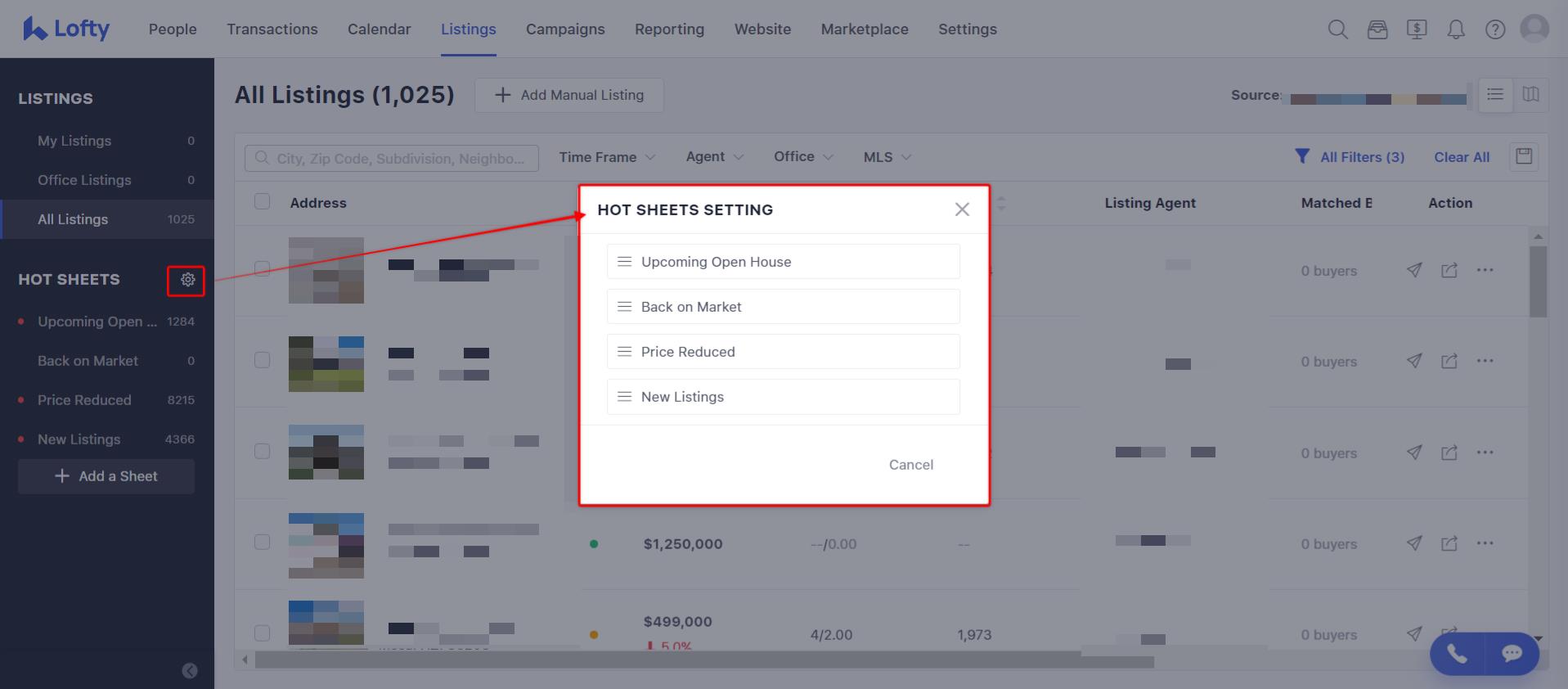 FAQ
Is there a way to reduce the total number of listings that show up on the Listings Discovery page? 

No, there is no way to reduce the total number of listings showing here. This is fed in from all of the MLSs that you have connected to your Team Website. This is the total number of listings in the MLSs for your review. If your MLS connection provides data that is too extensive, you may consider creating Hot Sheets (see the applicable topic in this article) for specific areas, etc.
Questions?
If you have any questions regarding this topic or any others, please reach out to our Support Team via email at <support@lofty.com>, by phone at 1 (855) 981-7557, or by chat with us through your Lofty CRM.