**DISCLAIMER: The information provided on this article does not, and is not intended to, constitute legal advice. This article is meant to outline the cost-sharing arrangements that Lofty can support upon request, for general information purposes only. Lofty has no liability or responsibility for compliance with RESPA. It is solely the users' responsibility to maintain compliance with RESPA and the regulations adopted thereunder. 
Introduction
Per Section 8(c)(2) of RESPA; lenders, title companies, mortgage brokers, and other settlement services are allowed to compensate real estate professionals in exchange for marketing or promotion of their services, as outlined in their MSA. In Lofty  terms, this compensation can be in the form of contributing toward the cost of the CRM platform or marketing expenses. This Help Center article outlines what can be cost-shared, the settings that are changed when cost-sharing is set up, and how to set up cost-sharing. 
Summary
General Information
RESPA requires the compensation between settlement services and real estate professionals to be of "reasonable value standard" for the marketing or promotion. It's important to note that Lofty does not determine the "reasonable value standard" required for RESPA compliance or hold any liability for ensuring that the agreement is in place. This is solely the responsibility of the user and their marketing partner. The total contribution from cost-share partners cannot exceed 50%.
Lofty's Terms of Use outlines the responsibility of the user to maintain compliance with RESPA and the regulations adopted thereunder in sections 6.12, 15.2, and 16.2 (as of 10/9/2023). 
So, what can you cost-share?
Platform Costs
Cost-share partners can be billed a maximum of 50% of the platform cost. This must be set up manually by our Finance team after the lender has been invited to your CRM, accepted the invite, and added their payment information. 
When a cost-share partner is added, a Partner Lender Page will be added to the displayed navigation on your website. In order to maintain RESPA compliance, this page cannot be hidden.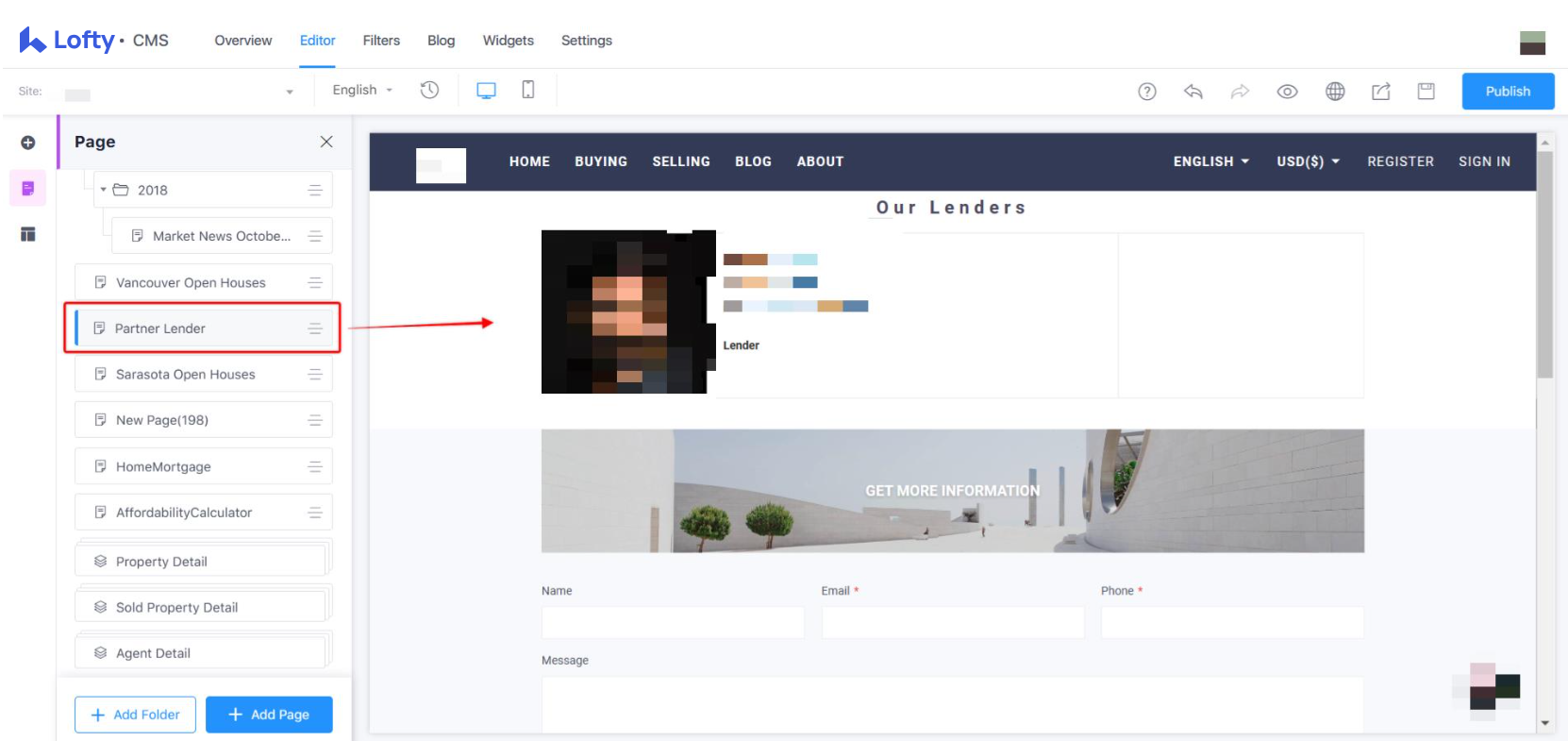 Lead Generation
You can cost-share your lead generation budget with a cost-share partner. This must be set up manually by our Ads Team and Finance Team. The cost for a lead generation budget can be shared with a maximum of five (5) cost-share partners, but the total of all lender contributions together cannot exceed 50% of the cost of the ad campaign.
Any cost-share partner who contributes to lead generation will be featured on the ad landing page and will be automatically assigned to the leads who register through that campaign as the lender. This lender assignment

cannot

be changed.

If you are cost-sharing a lead generation campaign with multiple lenders, the campaigns will be separate. Therefore, the lender featured on the landing page will be different.

Home Report
When purchasing a Home Report subscription from the Marketplace, you will have the option to select whether you would like to pay by yourself or share the cost with a Lender. If you choose to share with a Lender, you can select the percentage the cost should be split (up to 50%).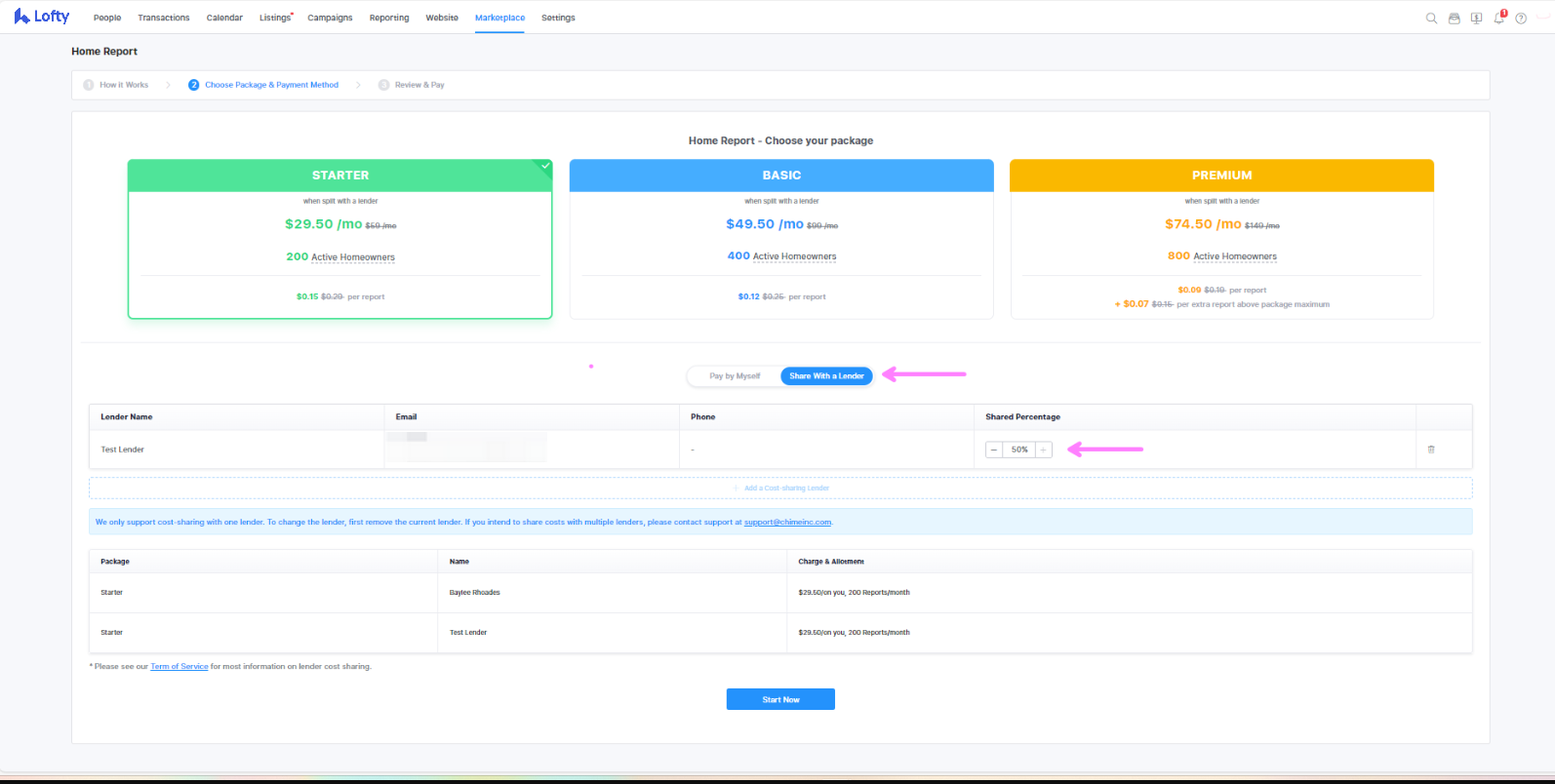 Any cost-share partner who contributes to the cost of a Home Report subscription will be featured on the Home Report.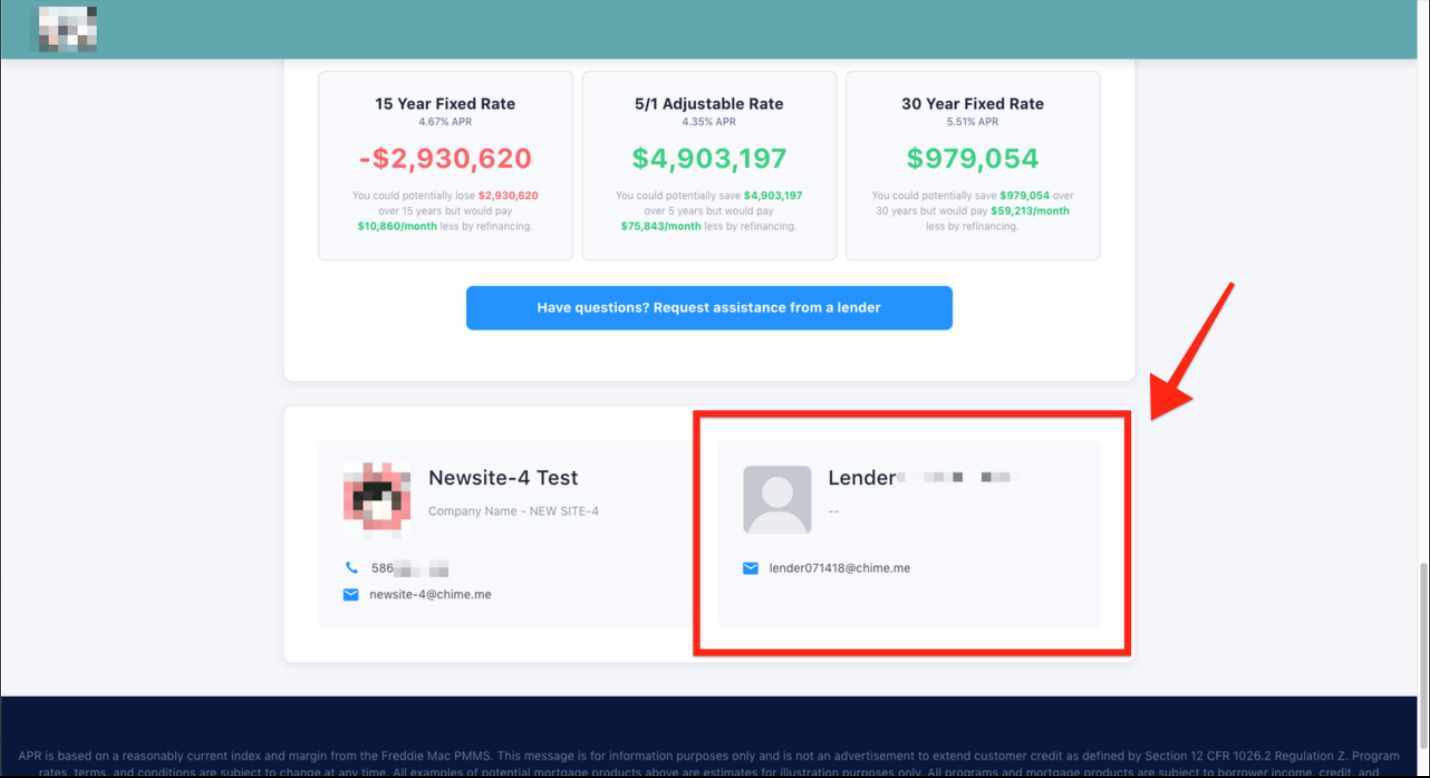 How to Configure Cost-Sharing with a Lender
To set up cost-sharing with a lender, you must first invite the lender as a lender-type account. This invitation can be sent through the Lofty platform by navigating to Settings > Lender > + Add A Lender.

Below is a copy of the invitation that gets sent to the lender. The subject is "Prepare for Co-Marketing/Cost-Sharing with (your name)" and the email comes from Lofty (lofty@lofty-alert.com).
The lender must accept the invite and add their payment method. Our internal teams will not be able to configure the cost-sharing until the lender has accepted the invite and activated their account.
Once the lender has accepted the invite and added their payment method, please reach out to Support via live chat in the CRM or email support@lofty.com to enable cost-sharing for your platform or home report costs. If your lender is contributing towards the cost of your lead generation, please let your Ads Manager know.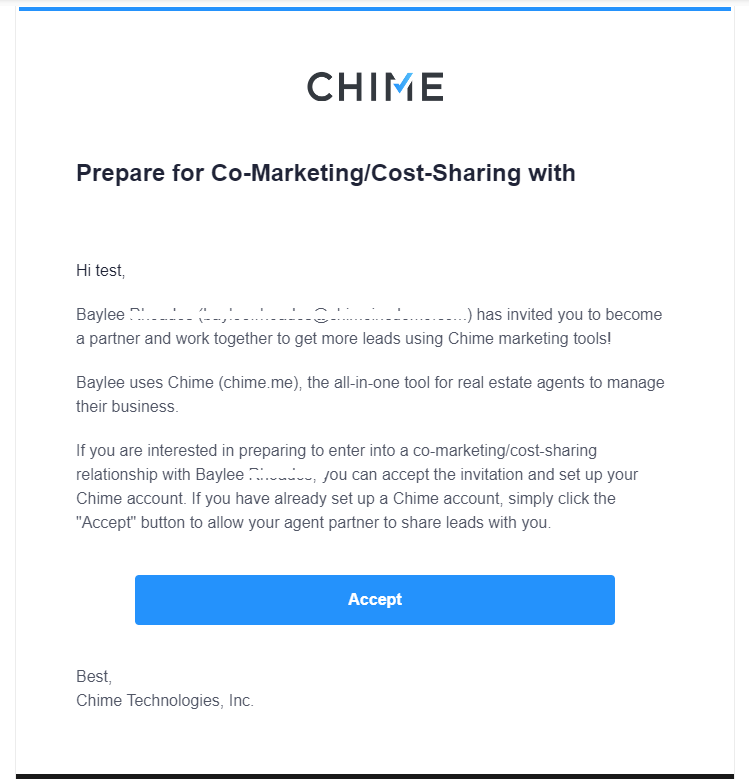 *IMPORTANT: Please note that the lender-type account has feature limitations that both the lenders and agents should be aware of before agreeing to pay 50% of the cost. These limitations are outlined in detail in this Help Center article: Lender and Agent Lead Collaboration.
Questions?
If you have any questions regarding this topic or any others, please reach out to our Support Team via email at <support@lofty.com>, by phone at 1 (855) 981-7557, or by chat with us through your Lofty CRM.