Introduction
Lofty Home Report is a premium tool that is designed to be sent to homeowners to keep them informed of the value of their homes and provide them with useful financing comparisons that may encourage them to take action and engage with an agent to buy or sell properties.
Summary
Usage
Pricing to be able to use the Home Report is as follows. This tool is only purchased at the individual user level–you cannot purchase for others on your team. The Home Report can be purchased in the Lofty Marketplace.
Free

$0/month
5 active reports

Starter

$59/month
200 active reports

Basic

$99/month
400 active reports

Premium

$149/month
800 active reports
+ $0.15 per extra active report 
*Notes:
The total number of reports that can be active each month is an ongoing maximum count based on the number of addresses being monitored. For example, if you purchase the "Starter

 

Home Report" package then you have a maximum of 200 available reports that you can be monitoring at any given time. That means a limit of 200 addresses are being monitored unless you upgrade. 
The cost of the Home Report feature can also be split with a cost-sharing lender.
To add the Home Report, navigate to a lead's detail page > Engagement > Home Report > + New Report: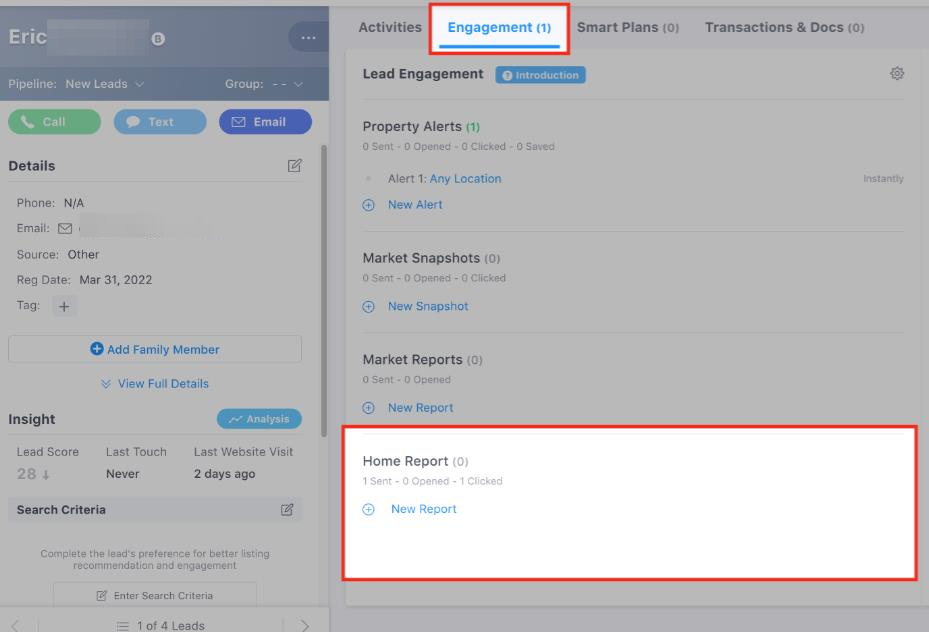 Type in the address to the Location field: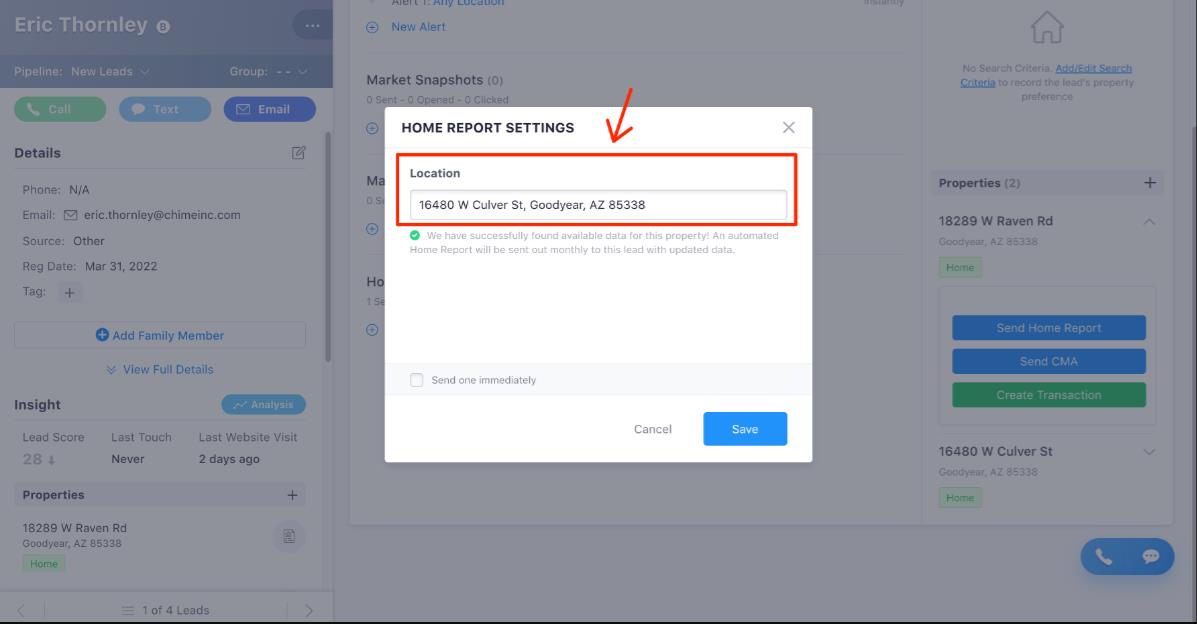 If there is enough data to produce a Home Report then you will see a message indicating that one can be generated. If not enough data is available for that specific address, you will see a message telling you that this is the case and you will be unable to proceed with that address.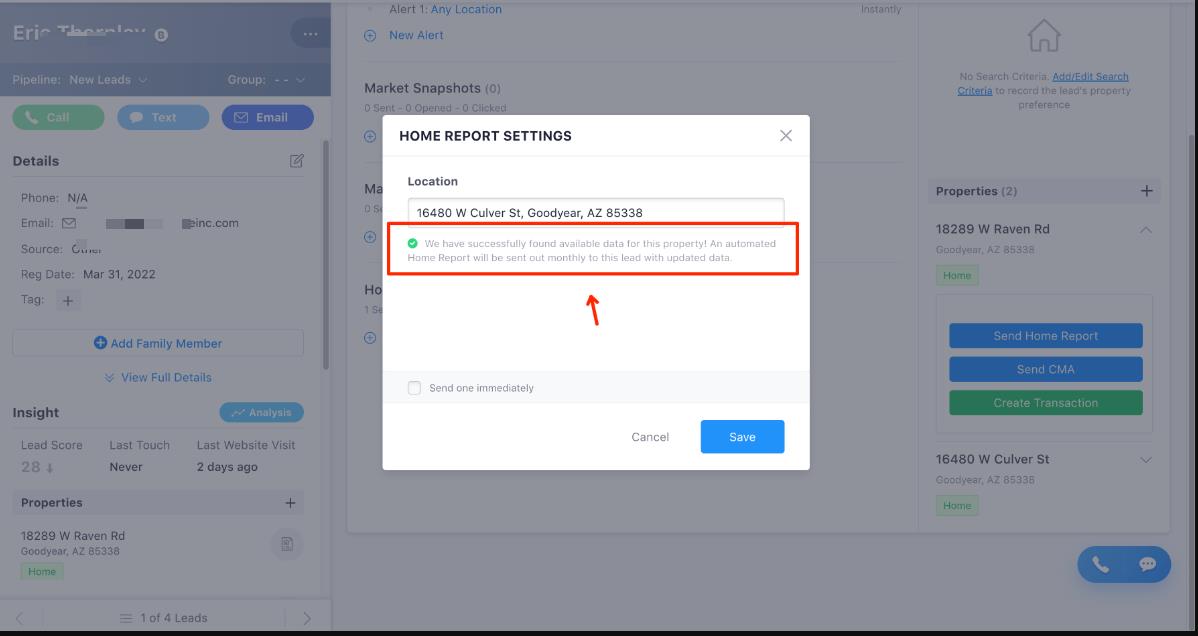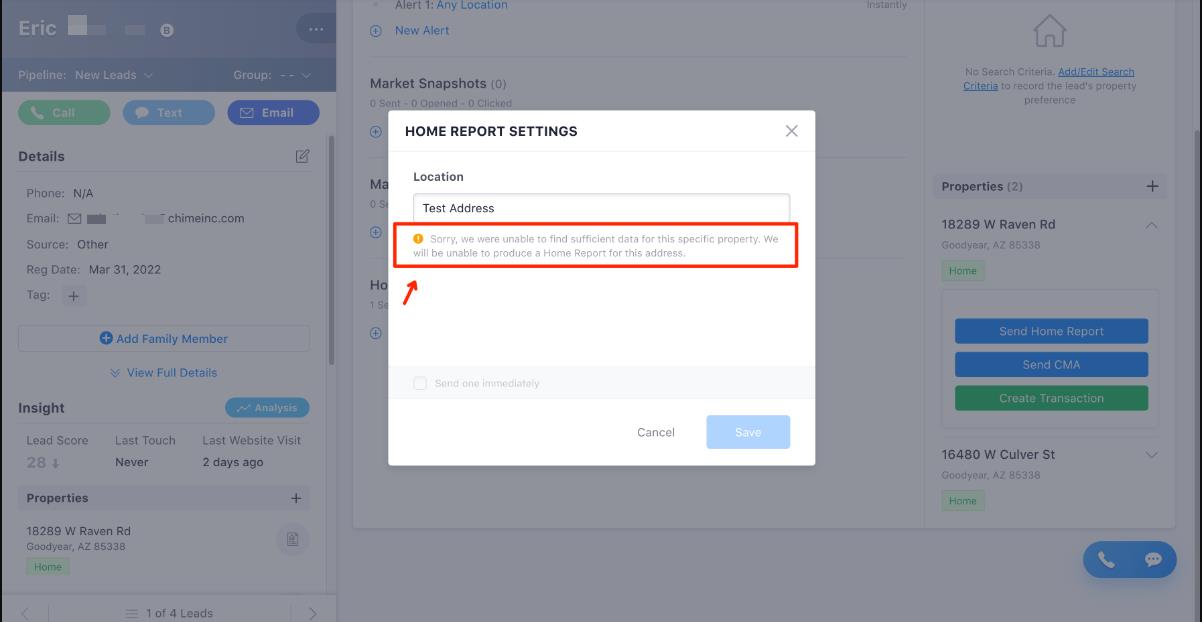 Click the Send one immediately checkbox to have one sent to the lead right away. If not clicked, the report will be sent the following day at 10:00 AM your local time.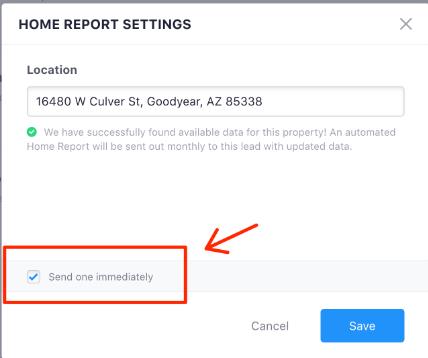 Click on Save to add this as an ongoing Home Report for this lead. This will use one of the reports available in your total.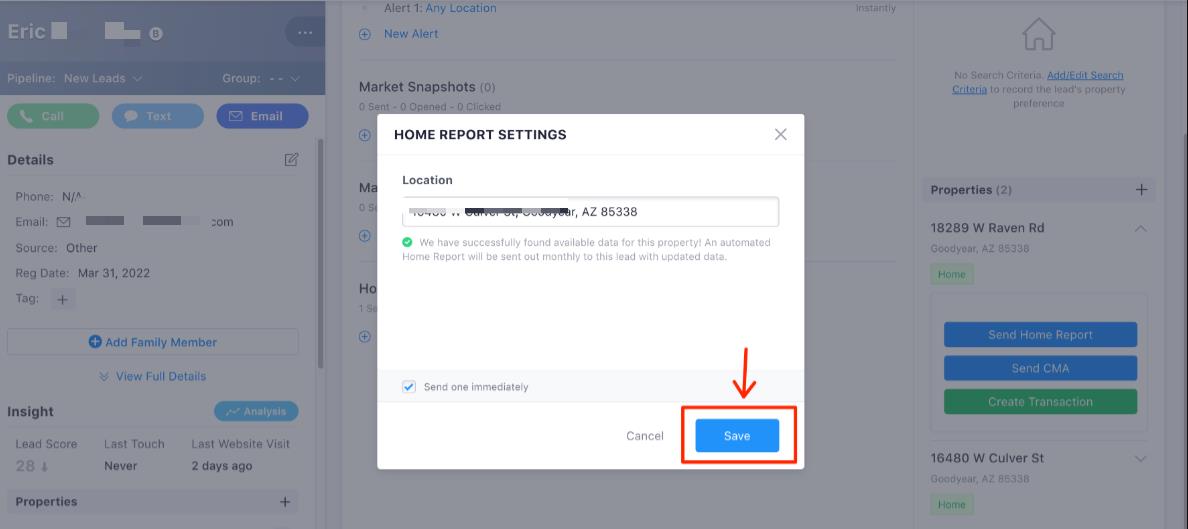 Once added, the address being monitored will be displayed right on the Engagement tab. The lead will receive an email on a monthly basis focused on the addresses being monitored. That email will encourage the lead to click on the Home Report Landing Page where data will be updated on a monthly basis.
Note that you can monitor multiple addresses for one specific lead if you would like to.
Click on the link to see any emails sent to that address being monitored.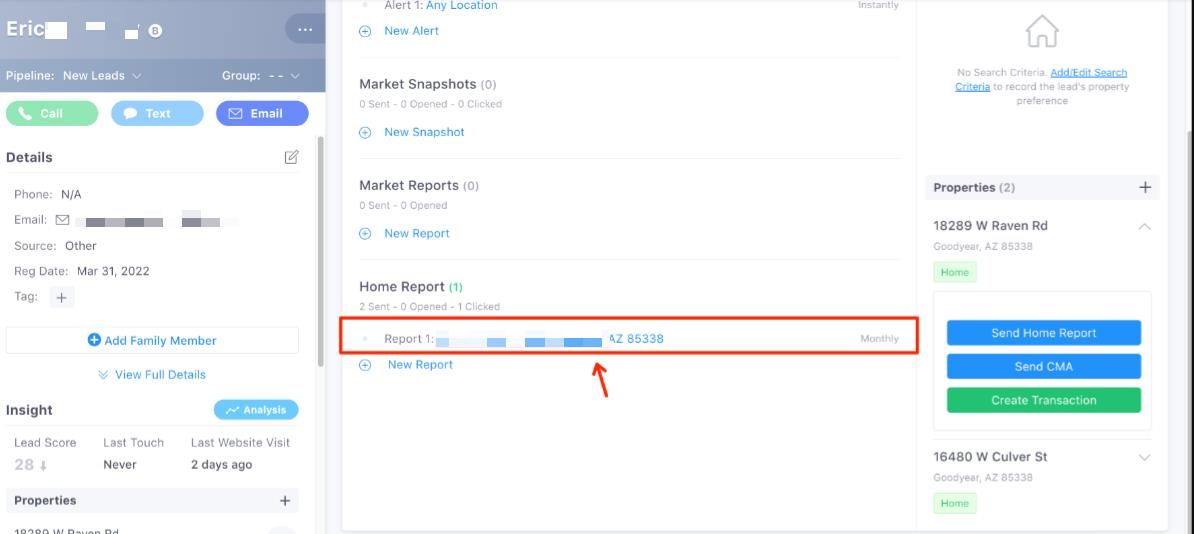 Here is a sample of what the email looks like that is sent to the leads with addresses being monitored: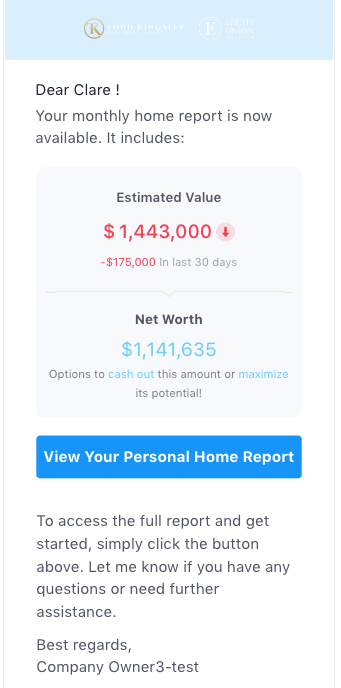 The color of the header of the Home Report email will be pulled from the website settings, to better match your brands. Th design has been updated to make it more mobile-friendly especially for iPhone users.
Clicking on the links will take the lead to the "Report Landing Page" where they will be able to see the following:
Estimated Home Value (this data is from a different data provider than the standard website home valuation)
Mortgage Information
Financing Options
Lender Contact Information (if applicable) 
Here is an example of what that will look like: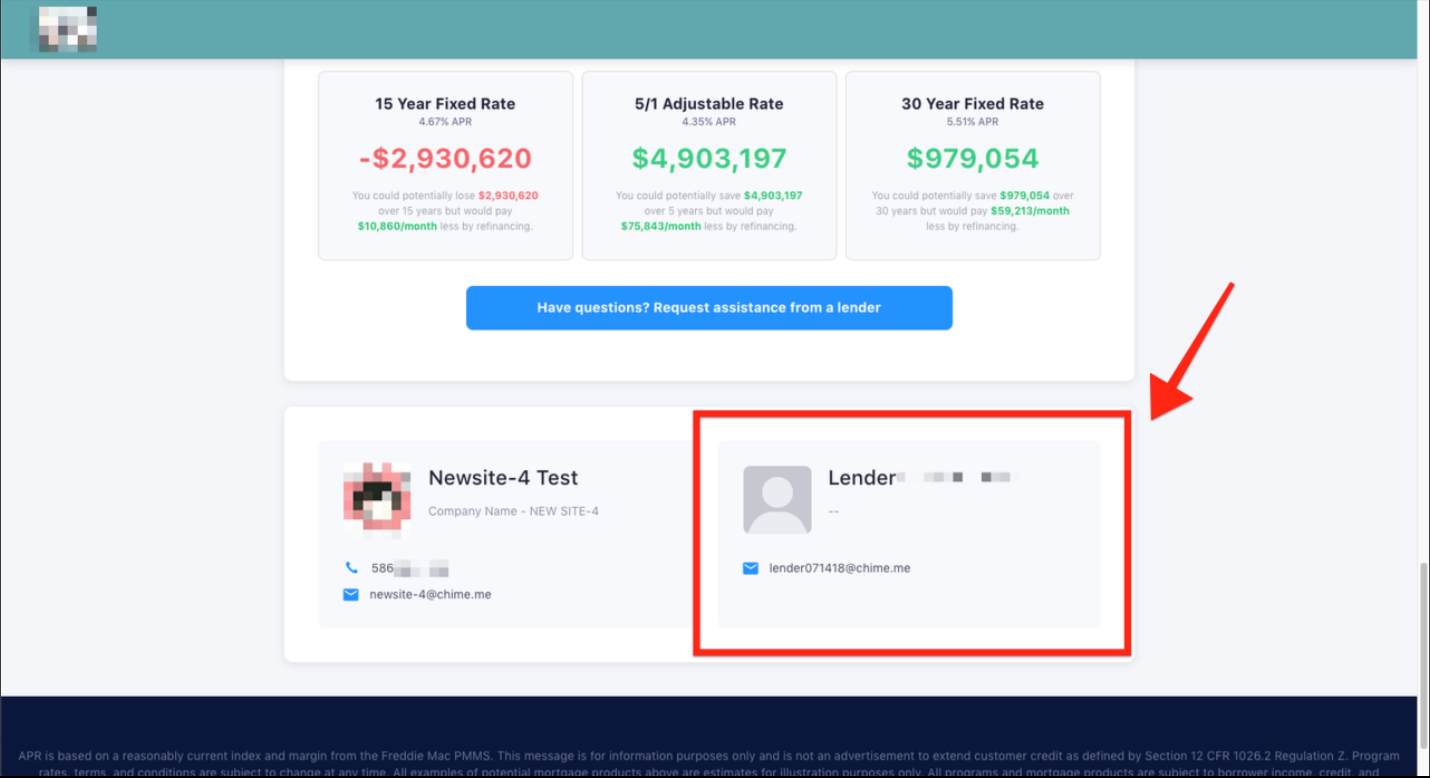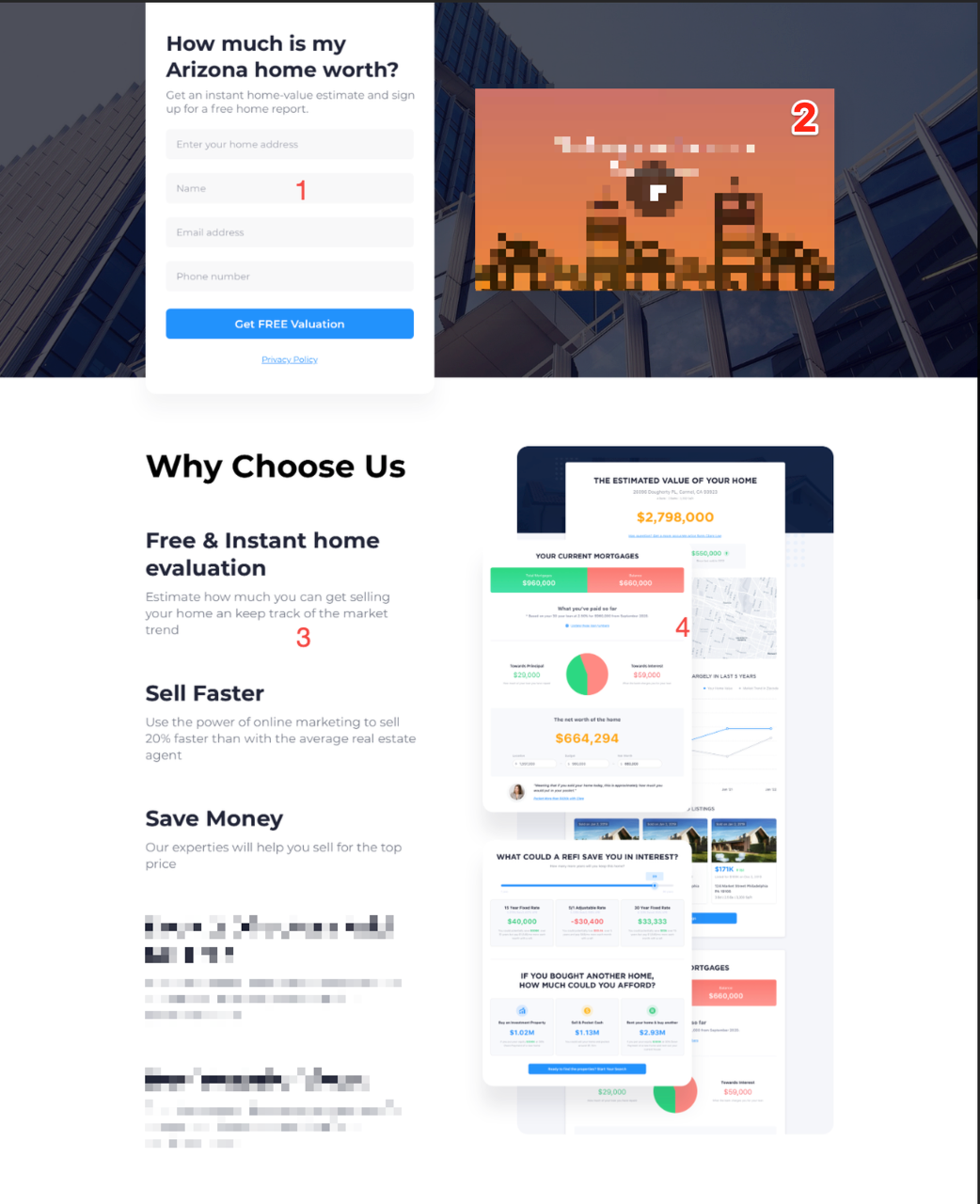 Auto Home Report
Access Home Report settings under Campaigns > Home Report: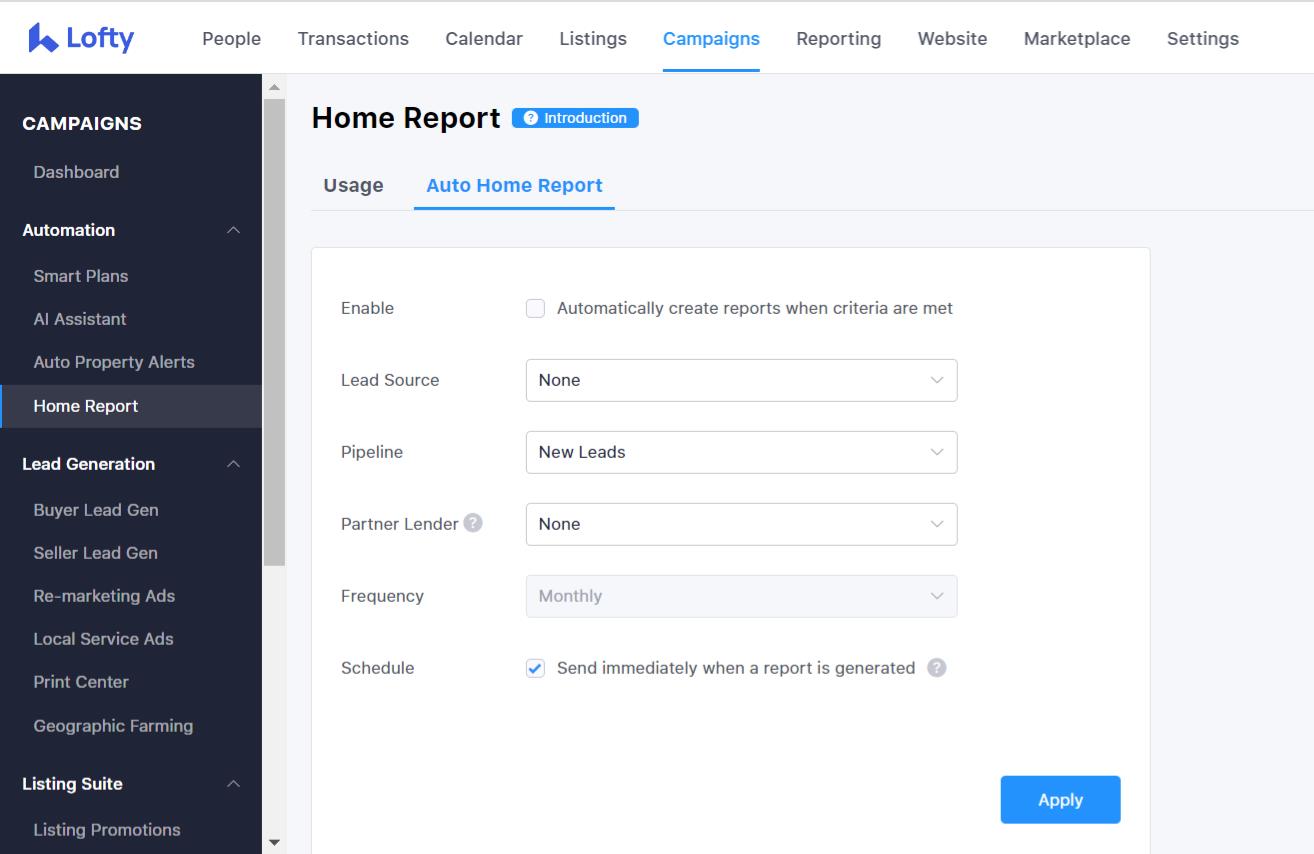 At the top, you will see the package you are on, the maximum number of active reports you can have, and your partner lender (if applicable).
On the top row, you can review performance for the current month:
Active Reports - The total number of homeowners who have at least one active Home Report applied
Emails Sent

 

- The total number of emails sent during this month
Emails Viewed

 

- The total number of emails viewed during this month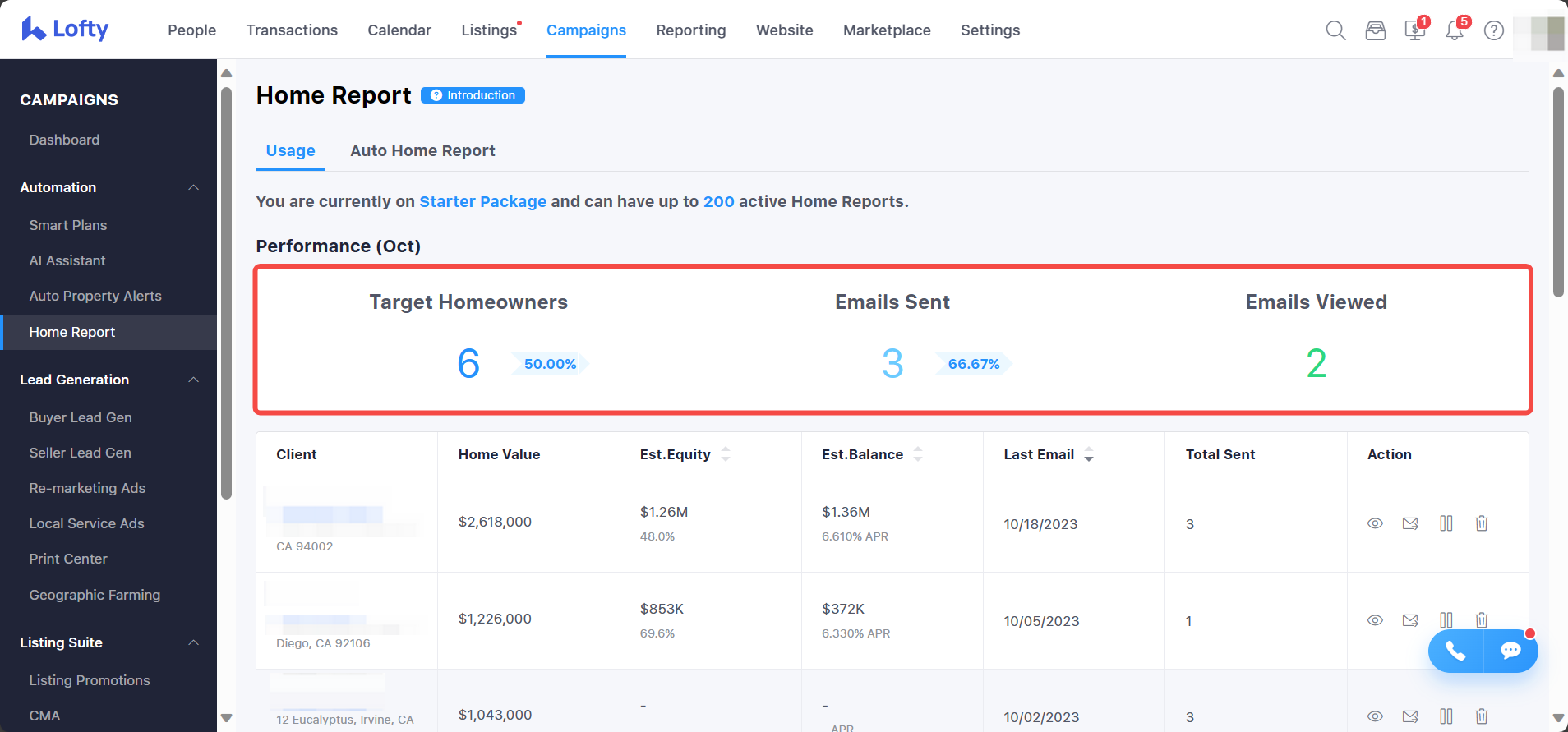 In the table below, you can do the following:
See and access every individual lead 
See estimated home value, equity, mortgage balance, the date for the last email that was sent to them, and the total number of emails sent to that lead
Perform actions such as viewing the Home Report, sending one immediately, pausing the Home Report, and deleting the Home Report

If a Home Report is paused then it will not

 

count towards the next month's report total.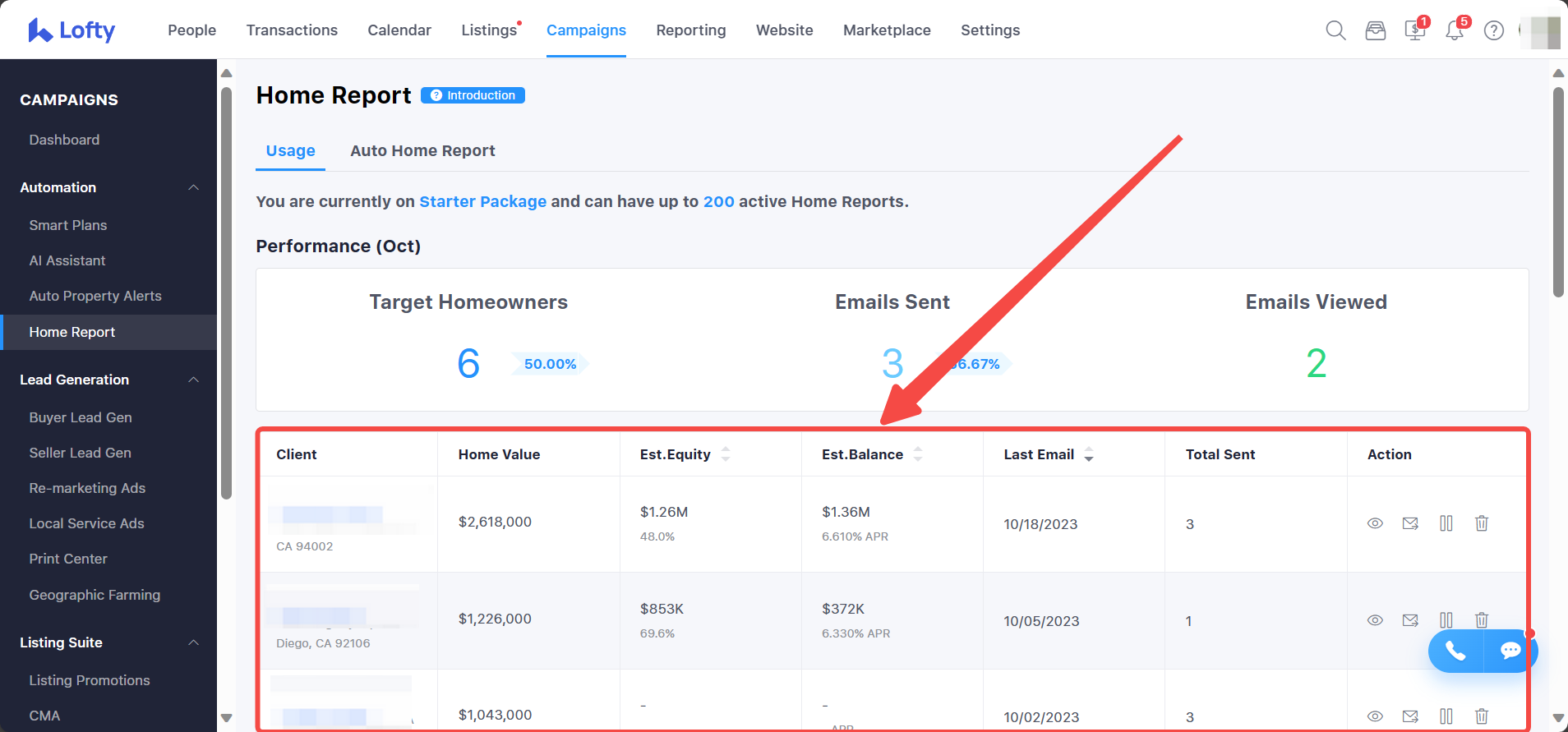 If you are close to reaching the maximum number of active Home Reports you will see a banner at the top of the page indicating that this is the case and you will also receive an email notification. 

You can also now edit settings for an Auto Home Report on this tab. By editing these settings, leads that match and have all the necessary information in their lead profile will automatically have a Home Report added. The "Partner Lender" option allows you to choose a lender to automatically be assigned if one has not already been added to a lead. If you have a cost-sharing lender they will be added by default here and cannot be removed.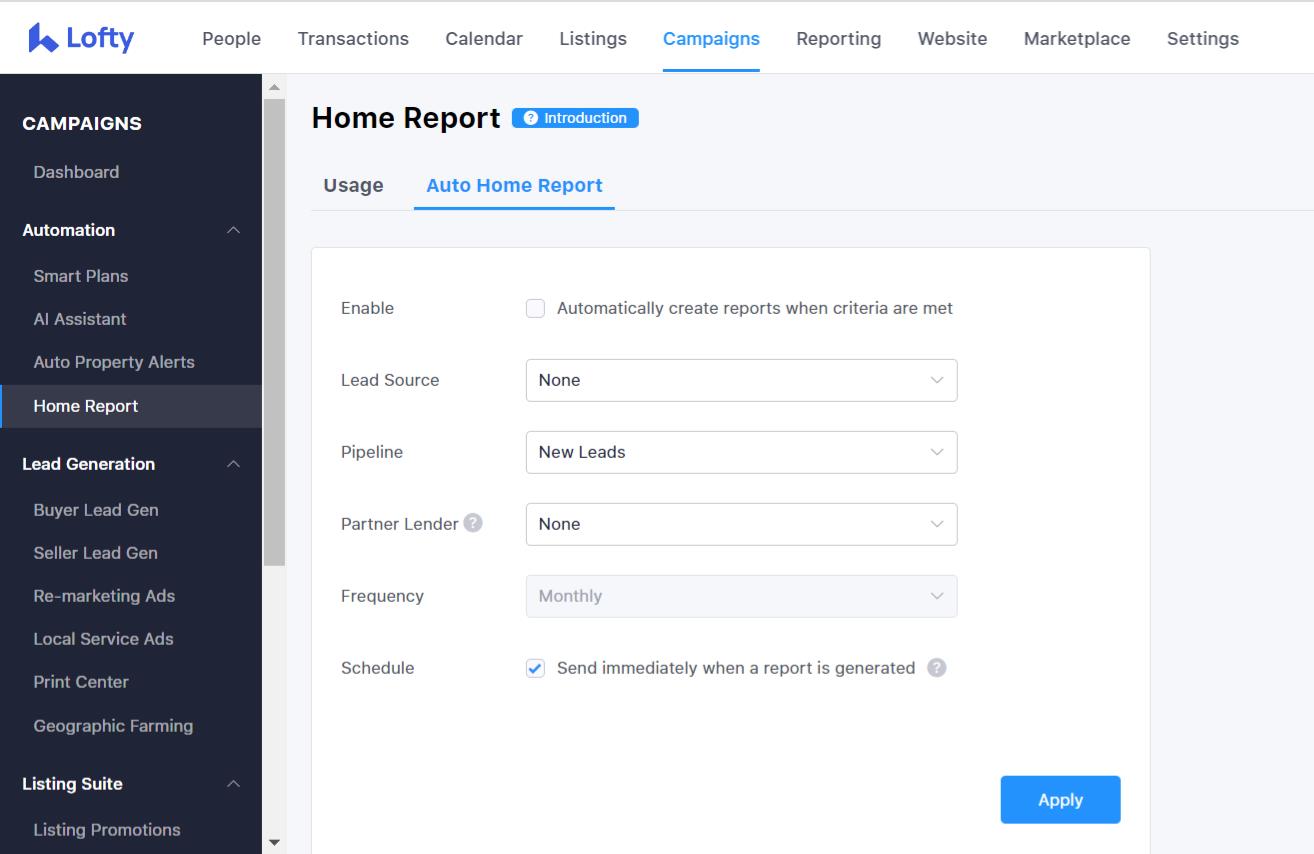 This feature is available for all Home Report packages (including the free trial). 
Important Notes:
All lead engagement with the Home Report is tracked and recorded to their timeline in the Lofty CRM. Certain details will also be shared with the lender-type account if CTAs are clicked that are applicable to financing.
In order to maintain the data as secure as possible, each report link that is sent to the leads "expires" after seven days. However, it can still be accessed after this expiration is hit as long as the email address tied to that report is entered. Any email address associated with the lead (including secondary email addresses or family member email addresses) can be used to access the report.
FAQs
Is this feature currently available in Canada?

Currently, this is not a feature usable in Canada. 

Where is this data coming from?

Are Home Reports 5 free a month? or 5 free total?

5 in total, if you delete one you free up the space to create another report.
Questions?
If you have any questions regarding this topic or any others, please reach out to our Support Team via email at <support@lofty.com>, by phone at 1 (855) 981-7557, or by a chat with us through your Lofty CRM.