Introduction
If you are new to the Lofty platform, you may be asking yourself what a "partial lead is." This article will explain the definition of a partial lead which does vary slightly based on a couple of different scenarios. The general concept, however, is that it is a lead who you only have a physical address or maybe an email address for, but no other contact information.
There are three different places where partial leads are displayed in the Lofty platform:
(1) People Page > Partial Leads
These partial leads are added to your system when a site visitors submits an address for a home valuation on your site but backs out before actually providing their contact information. Lofty, however, still captures the submitted address as a "partial lead." So, a partial lead is simply an address captured without a name or phone number. 
For more information regarding the Home Valuation page, please reference THIS link.
Viewing Partial Leads
To view your partial leads, navigate to People > Partial Leads: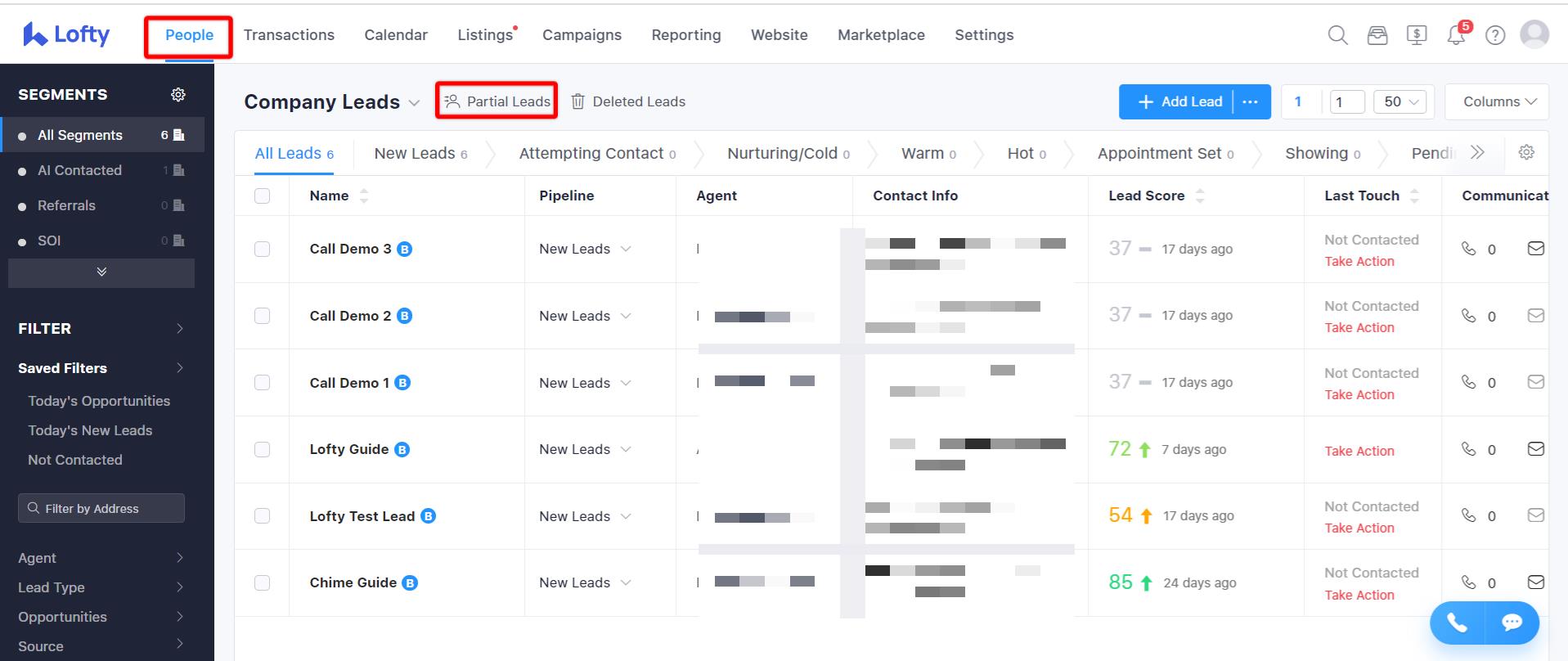 Once you click on Partial Leads, you will see the following information available:
Lead Status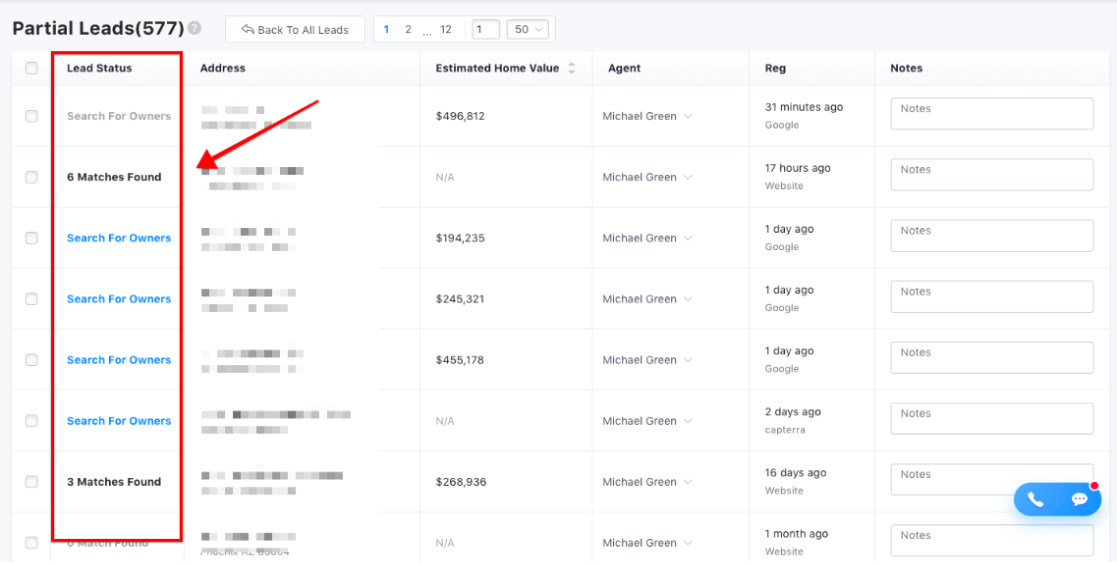 "Search for Owners" is shown when it is a new address that you do not have information for yet. You will have the option to pay for data provided by a third-party service to find available information (name, phone), or you can convert manually.
To pay for the third-party data, click on the blue "Confirm" button *IMPORTANT: this will cost $0.30 (per search). This feature is only available for those who have been given permission on a team (reference the section for "Partial Lead Conversion" on Team Permissions).
Please also note that this feature to search for partial lead information is only available for leads that are registered via the Lofty Home Evaluation page. In other words, you cannot upload a CSV, etc. in order to get them into the partial leads list.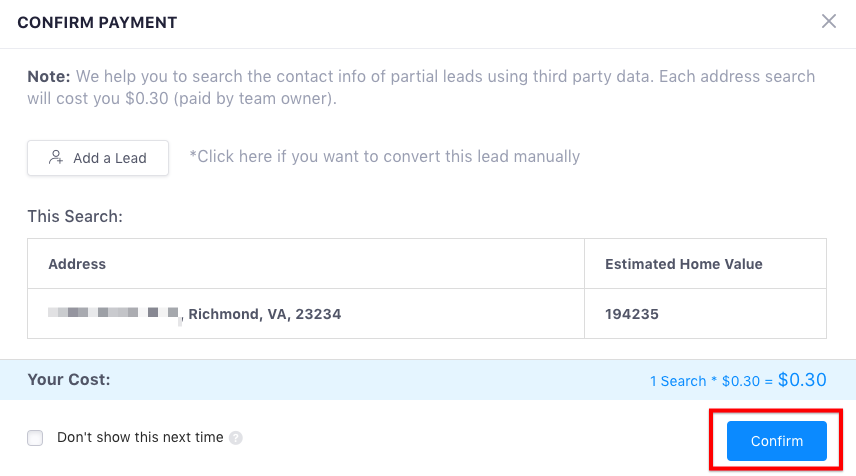 Otherwise, you can also manually convert the partial lead if you would prefer to work it as a lead by knocking on their door, sending a postcard or letter, etc. To do so, click on "Add a Lead." The default name is "Partial Lead," but you can customize it and then save it when ready. Once added, you can work as a standard lead in your database.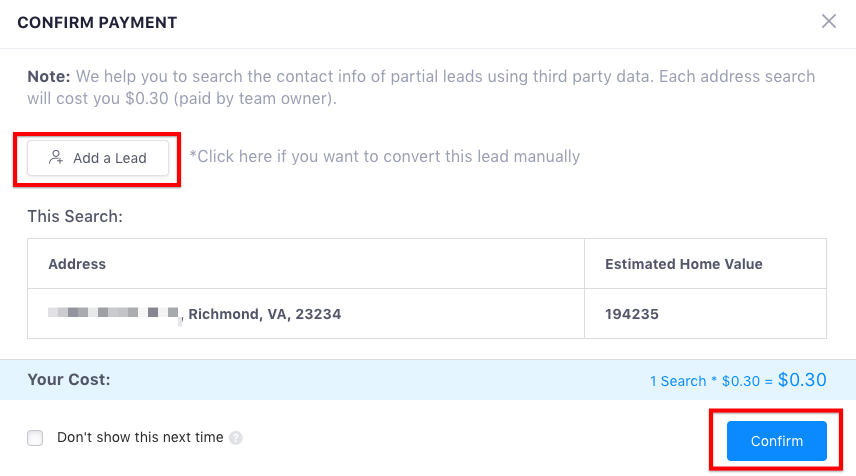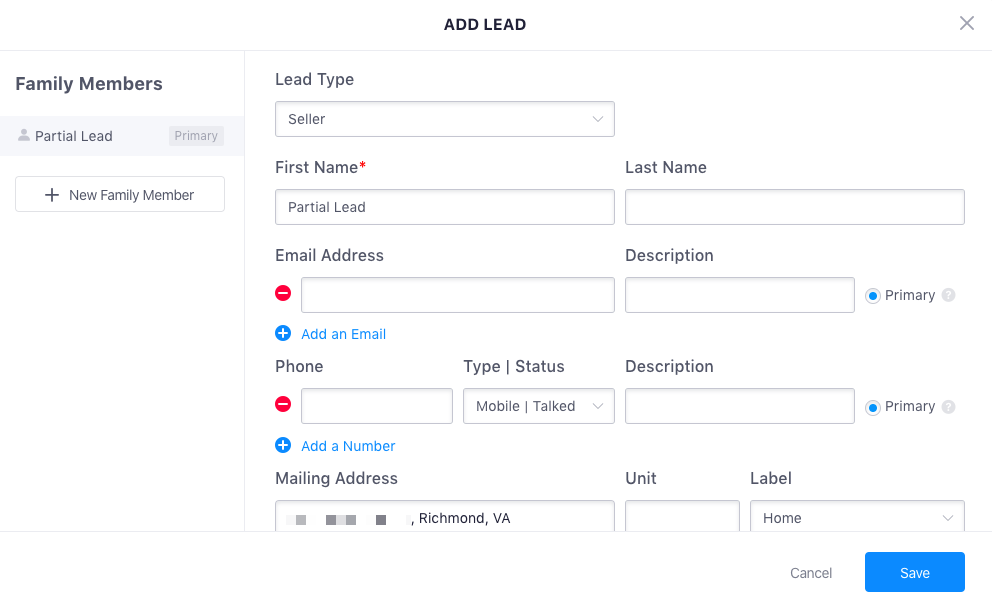 Once converted, the lead profile will bring in as much information as possible including the address, any notes documented, previous history for the person (if available via website cookies), as well as the home evaluation page they would have seen if they were to have registered.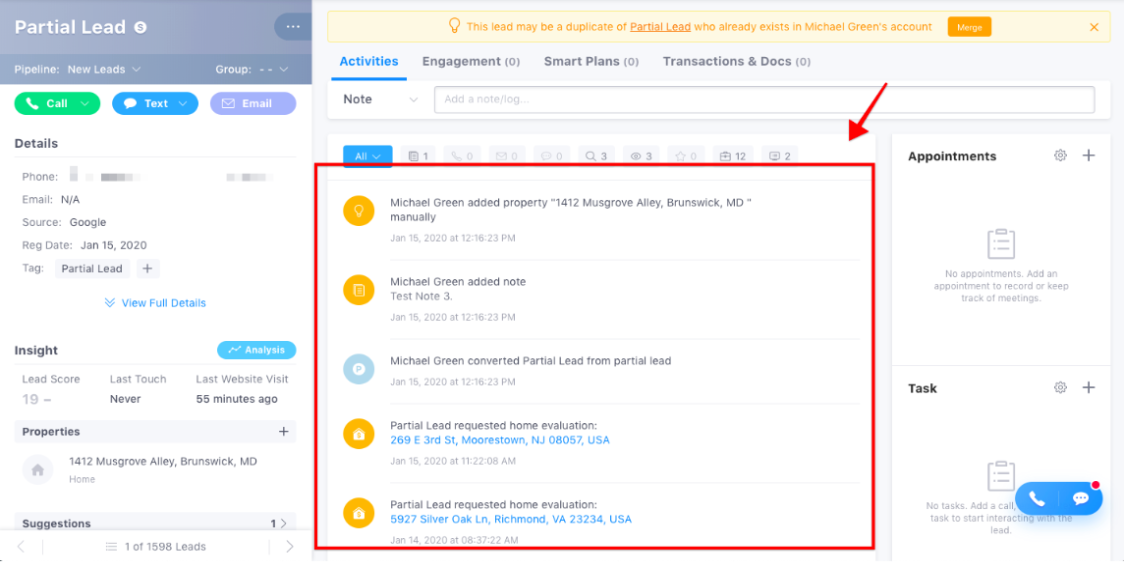 Address & Estimated Home Value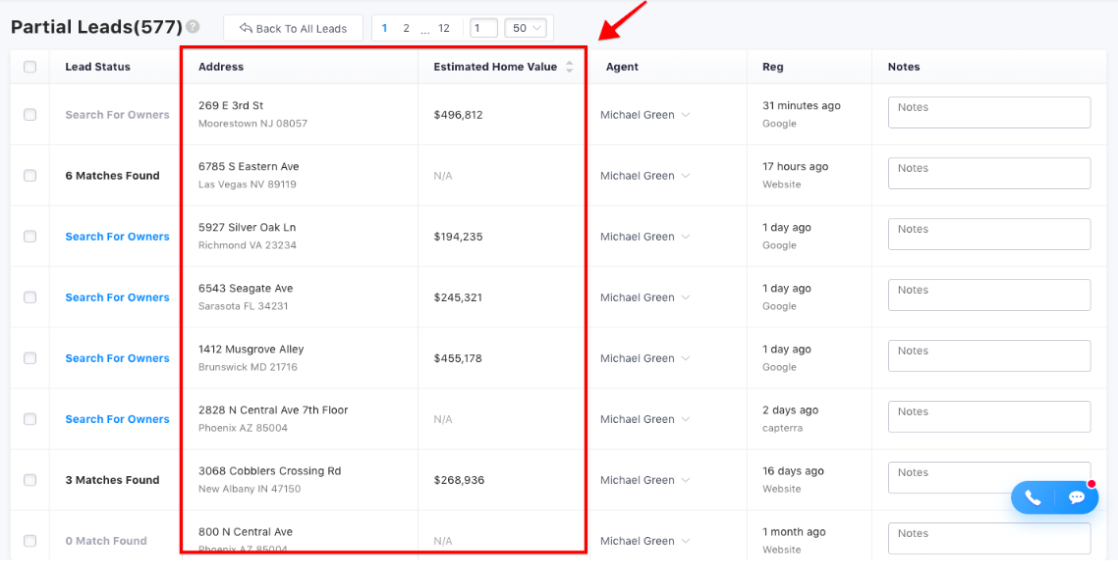 These columns will show the property address as well as the estimated home value (if available) based on third-party data. There is no interaction available with these two columns as they are for information only.
Agent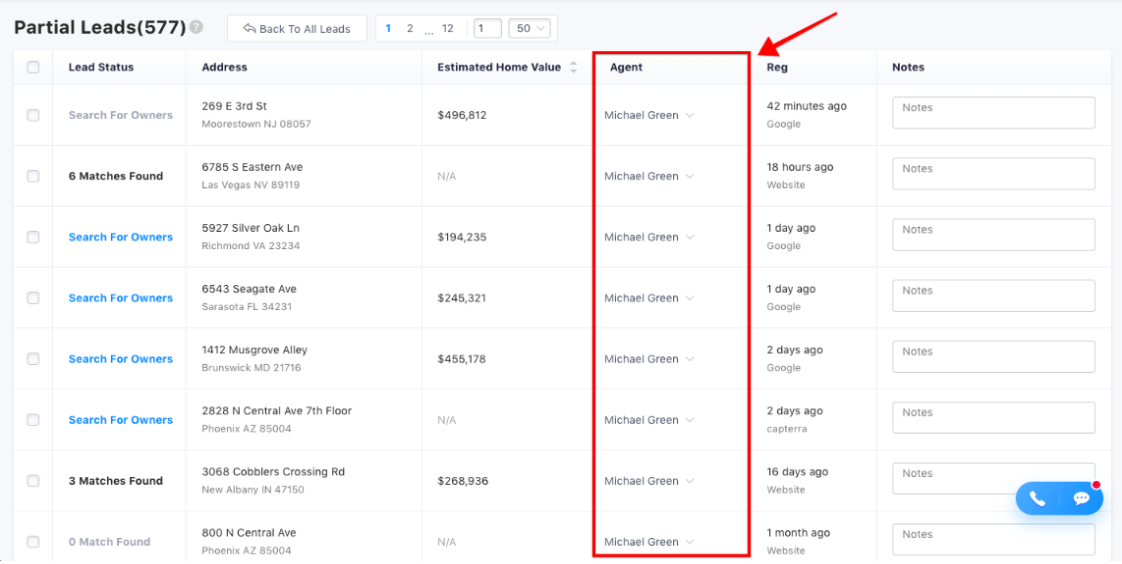 A few notes regarding permissions on viewing partial leads:
Partial leads generated from agent subdomains go to that individual user's partial leads section

The "Access All Team Leads" permission allows individual users to see all partial leads. See Team Permissions.

Assigning a partial lead to another user from the Team Owner/Admin's partial leads will send them a notification and then that user will be able to find that partial lead on their individual list
Reg & Notes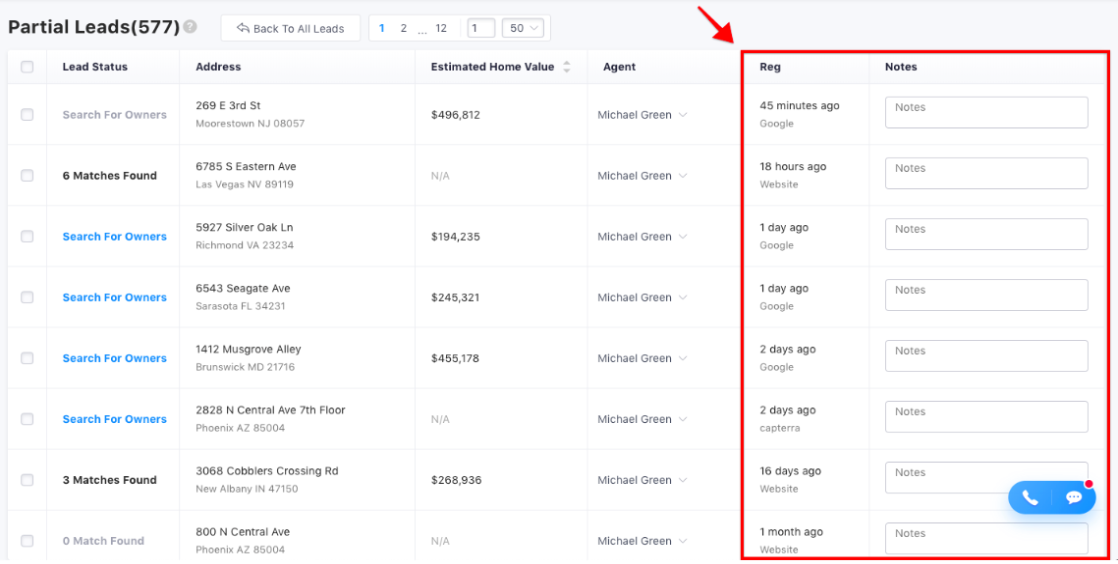 The "Reg" column simply shows when the lead provided their address as well as how they landed on the home evaluation page to begin with. The "Notes" column allows you to add any notes that you want to remember for a specific partial lead. They will auto-save and be available when you come back to your partial leads list. If/when you convert the lead, the note will be added to the lead profile as well. 
(2) Buyer Lead Gen Report
This report, found under Campaigns > Buyer Lead Gen, includes a Partial Leads field:
A "Partial Lead" here meets all of the following criteria 
Source = "Lofty Paid Lead"
Email-Only Lead (see

 

HERE)
(3) Seller Lead Gen Report
This report, found under Campaigns > Seller Lead Gen, has a Partial Leads field as shown in the screenshot below: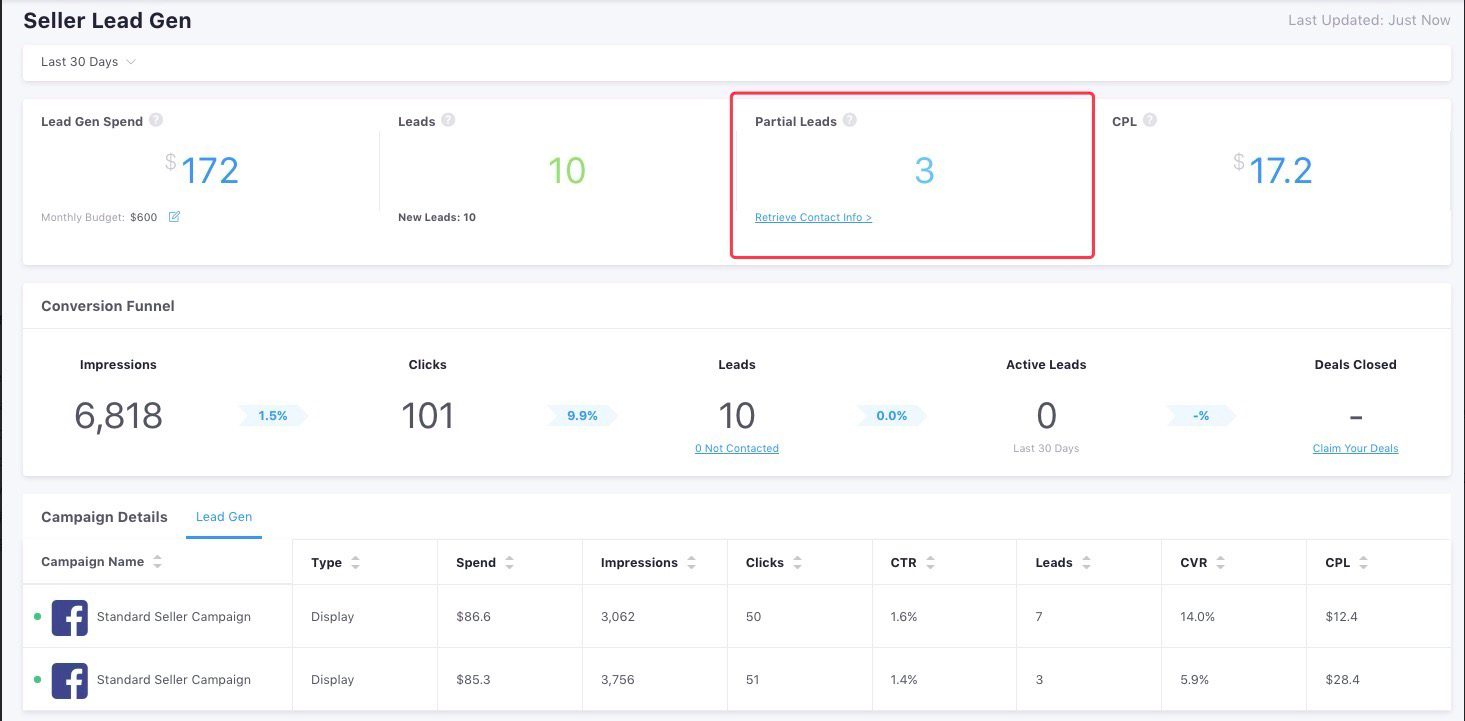 A "Partial Lead" here meets all of the following criteria 
Source = "Lofty Paid Lead"
Email-Only Lead (see

 

HERE)
Address-only leads that submitted only their address via a Home Valuation page (the same as outlined above in (1) People Page > Partial Leads).
Questions?
If you have any questions regarding this topic or any others, please reach out to our Support Team via email at <support@lofty.com>, by phone at 1 (855) 981-7557, or by a chat with us through your Lofty CRM.
Related terms: partial leads, conversion fee