Introduction
Important: Please note that the availability of certain features outlined in these release notes will vary depending on the package and add-ons that you have purchased as well as the account type that you have (admin/standard user). These features are subject to change at any time.
For any questions related to your Lofty package or feature availability, please contact Lofty Support (support@lofty.com). 
Release Date
Wednesday, December 28th, 2022.
Summary
All Features
Schedule Emails
You now have the ability to schedule individual emails via the Lofty platform. Please note the following:
This is currently only supported for emails, but texting will be supported in future releases
Emails can only be scheduled for at least 5 minutes from the current time
If an email is being edited while the originally scheduled time has already passed, the previously scheduled email will be sent without the edits.
A maximum of 10 emails can be scheduled per lead
A timeline log will be made every time an email is scheduled or edited
This is supported for mass email
Recipients can only be leads, not other users or external individuals. However external recipients can still be added as CC or BCC when sending a scheduled email.
The default time zone will be the one set in the user's settings/preferences but can be edited when scheduling each email
Whenever an individual email is being sent via the Lofty platform, there will now be a new button to schedule email: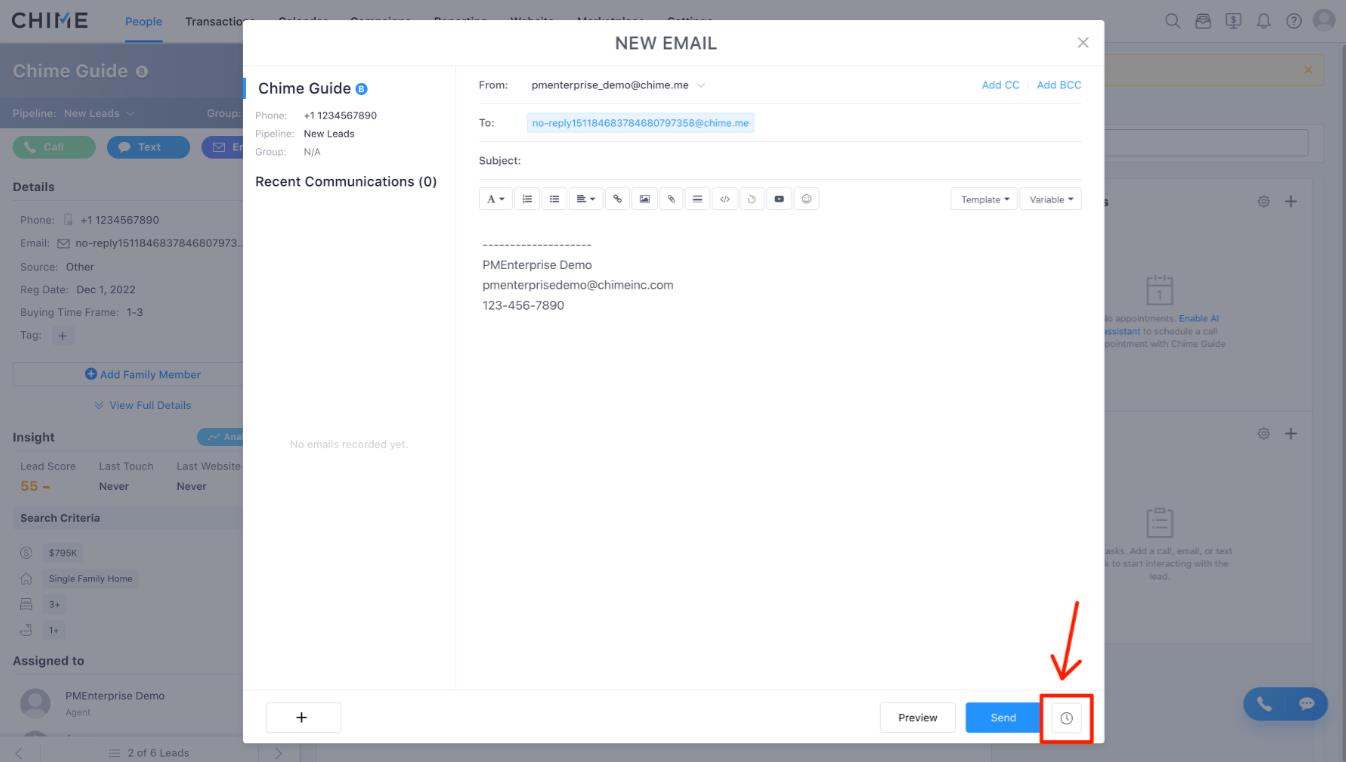 When clicked, a new menu will appear to choose between the following:
Tomorrow morning
Tomorrow afternoon
Custom date/time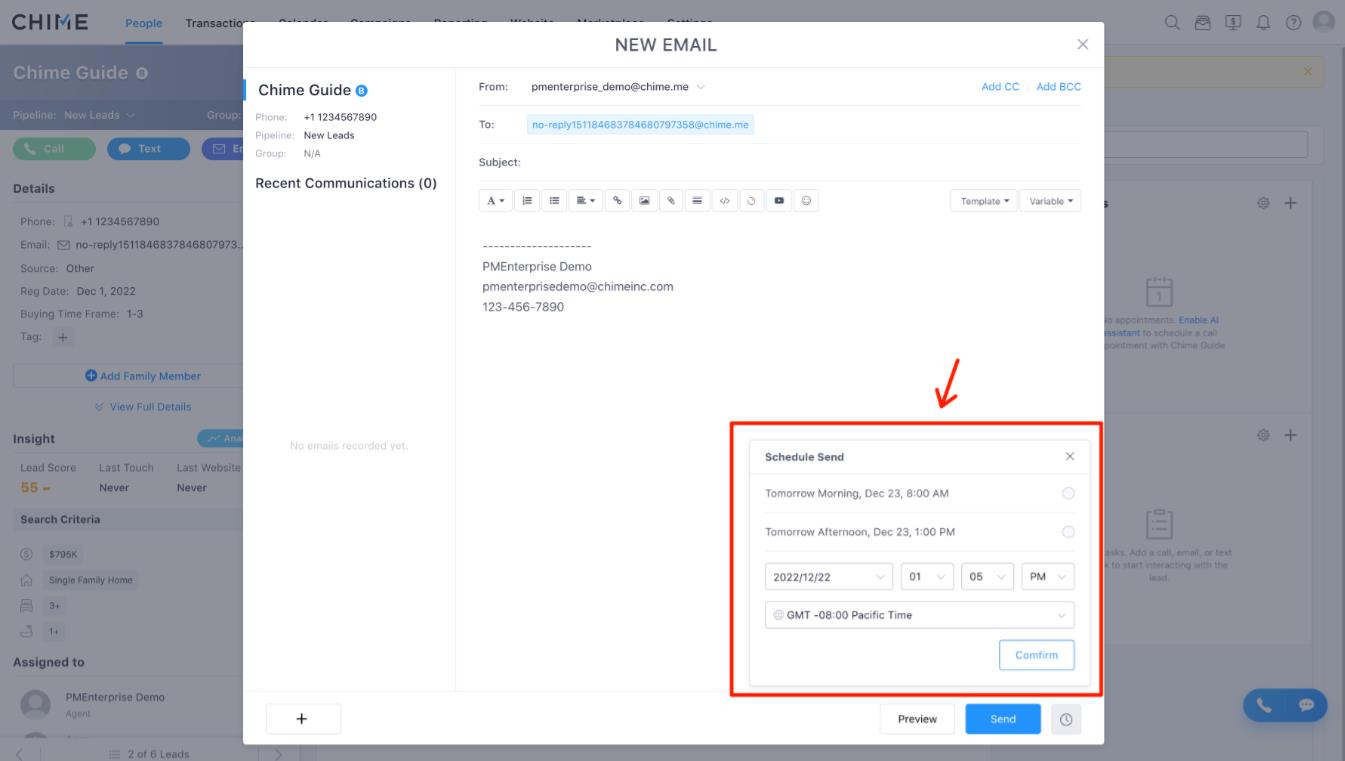 Once an email has been scheduled, it can be accessed in the top-right of a lead profile by hovering over Scheduled Tasks. From here, you can either edit a scheduled email or you can delete it.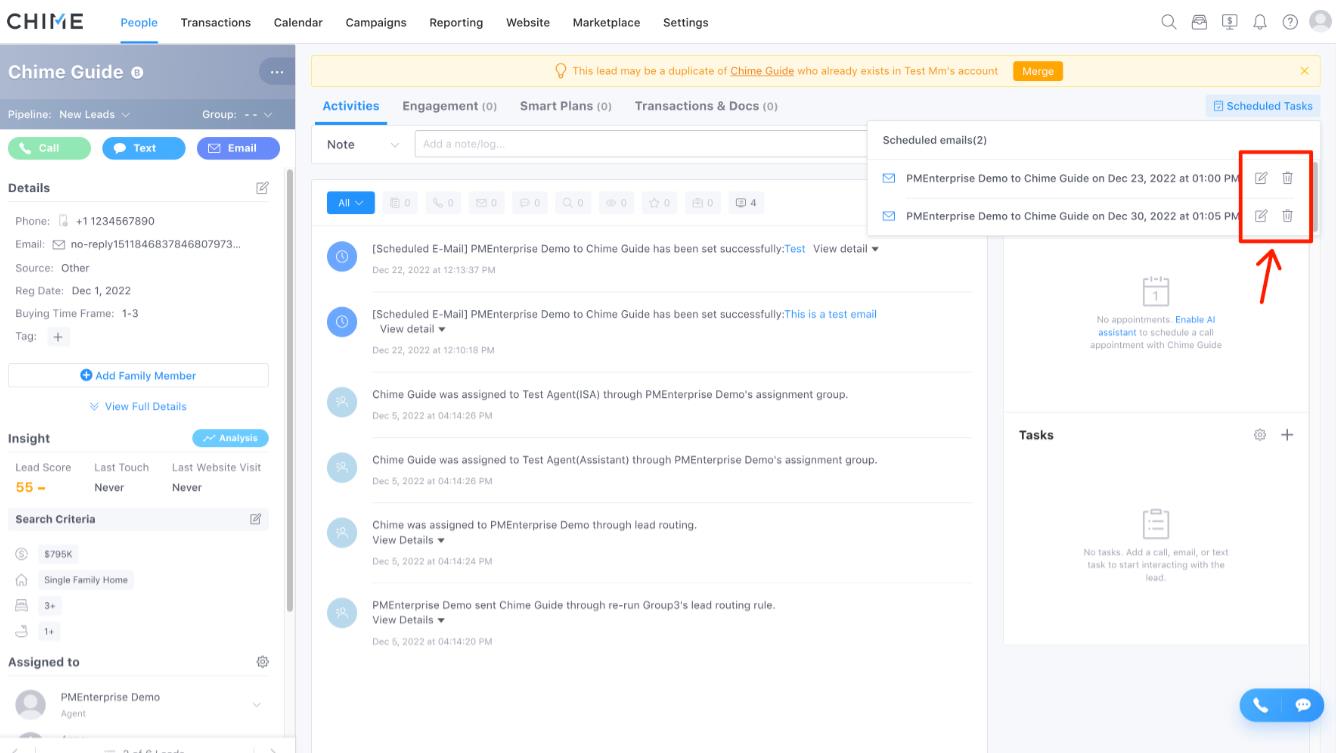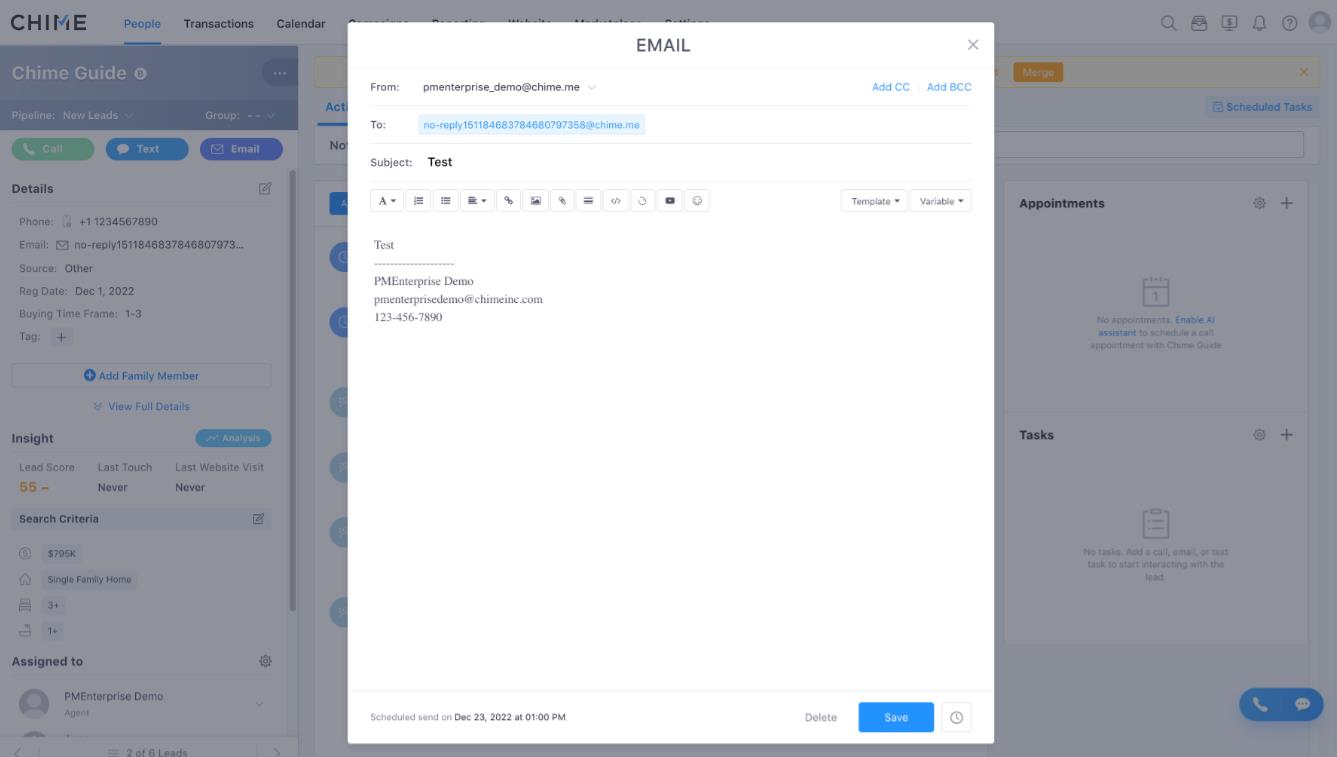 AI Assistant - Group Name in AI Settings
A new option has been added in the AI Assistant settings within Enterprise accounts. This field will allow you to configure the organization Name that the AI Assistant will present itself as being part of. Prior to this update, the AI Assistant would use the organization name for the whole account/company but this was not always applicable in an Enterprise hierarchy where organization names can vary to be different offices, teams, etc.
Examples:
Hi #lead_name, I'm Anna with #company_name.

Hi #lead_name, I'm Anna with #group_name.
To edit this setting, navigate to Settings> AI Assistant> Organization Name: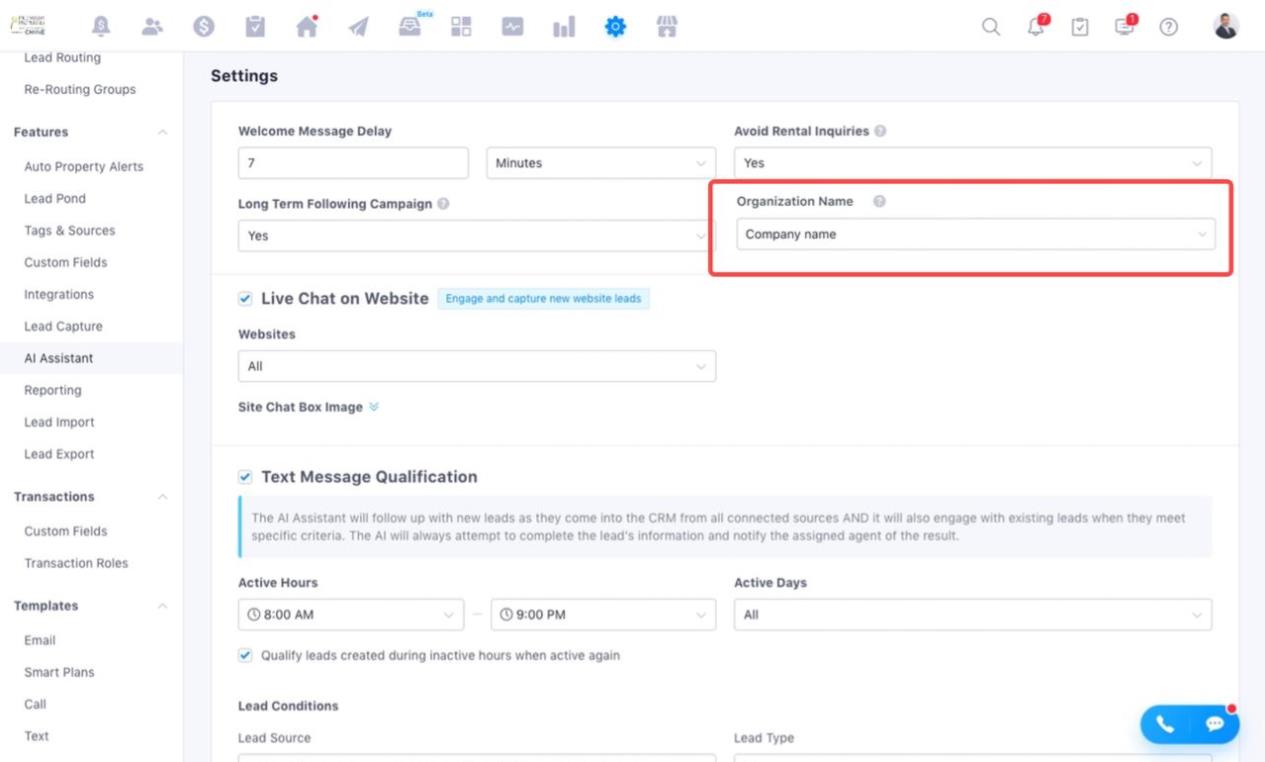 Social Studio Pro
Account License Purchasing
If you are an account owner on Lofty, you can now purchase Social Studio Pro from the Lofty Marketplace for others within your account. To do so, navigate to Marketplace> Social Studio Pro> Learn More.

Boosted Post Enhancements
The Social Studio Pro feature to boost posts has now been enhanced in the following ways with this update:
(a) When a lead is captured from a boosted post, it will be tagged with the following tag: Boosted Post
*NOTE: The source is "Boost Post"
(b) A new notification has been created for when an existing lead engages with a boosted post. You can configure this notification under Settings > Notifications > Opportunities > Lead views social post: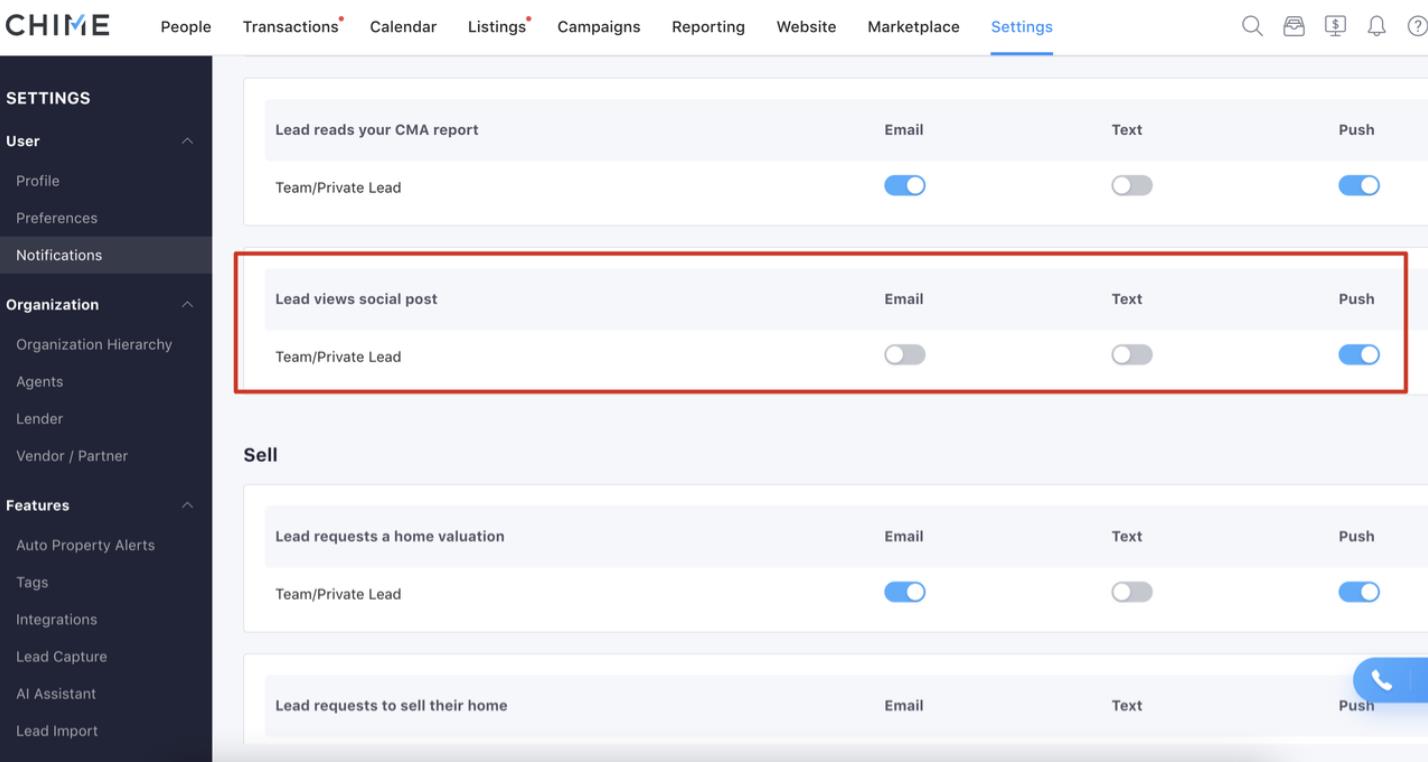 (c) The following will be logged on a lead's timeline:
New Lead: #Lead_full_name# was captured by a boosted social post.
Existing Lead: #Lead_full_name# viewed a boosted social post.
Home Report Added to Home Valuation
The Home Valuation page has been enhanced.
The page is now more compact and displays better on more devices.
Additional CTAs for leads to be able to create and request an ongoing Home Report
A CTA for a CMA to be requested is also visible on the left side.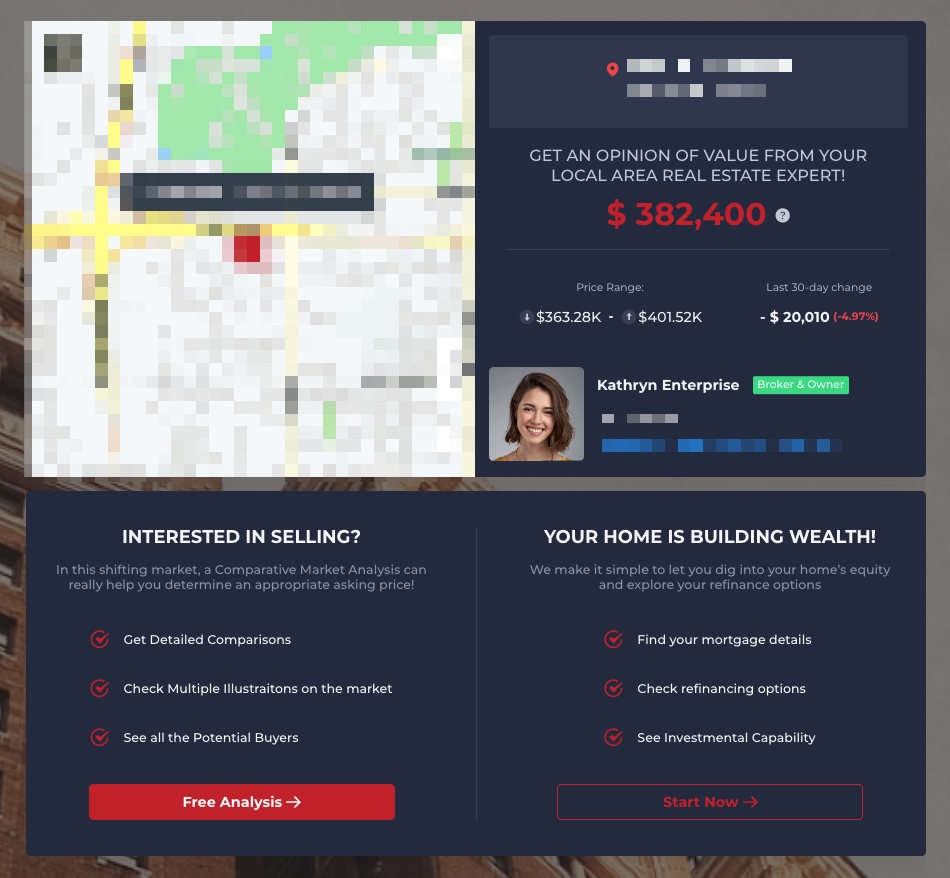 When a lead clicks the CTA to track the property value, etc. they will be taken to a form where they have to provide basic information. This will then result in a form that looks just like the Home Report. This does not require you to pay for this feature because the lead is providing all of the information. But if they request to subscribe to updates for that property, it will create a Home Report in the lead profile. This Home Report will be paused and can be enabled if you would like to send it to that lead. You will receive a notification making you aware of this request from the lead. 

Email Domain Management and Self-Purchase 
See Email Domain Management and Self-Purchase for more information.
Questions?
If you have any questions regarding this topic or any others, please reach out to our Support Team via email at <support@lofty.com>, by phone at 1 (855) 981-7557, or by chat with us through your Lofty CRM.