Introduction
Important: Please note that the availability of certain features outlined in these release notes will vary depending on the package and add-ons that you have purchased as well as the account type that you have (admin/agent user). These features are subject to change at any time.
For any questions related to your Lofty package or feature availability, please contact Lofty Support (support@lofty.com). 
Please view our training content for these updates in our Learning Center.
Release Date
Wednesday, December 7th, 2022
Summary
CMS UI Update
We've made some updates to the CMS UI, making website editing easier. The changes are outlined below:
When a website is first created, the template selection popup has been changed to a full-screen page.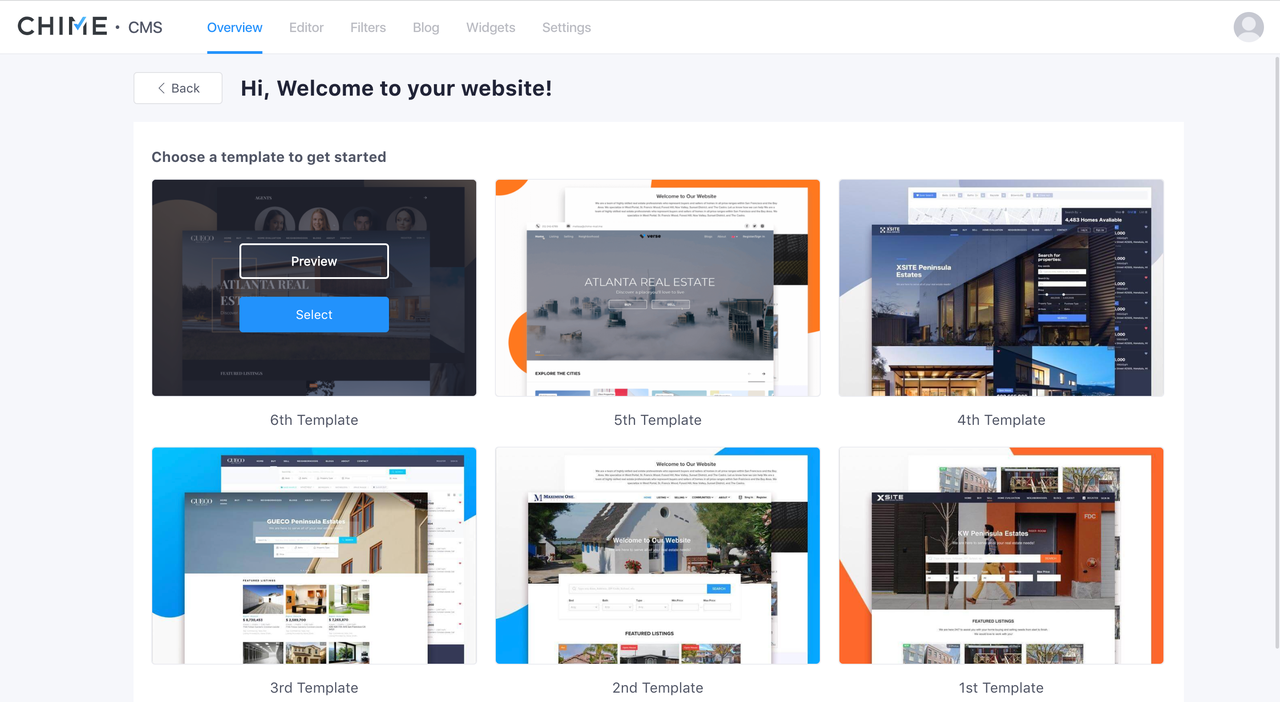 A filter has been added, so you may filter by the type of website and the date the website was created.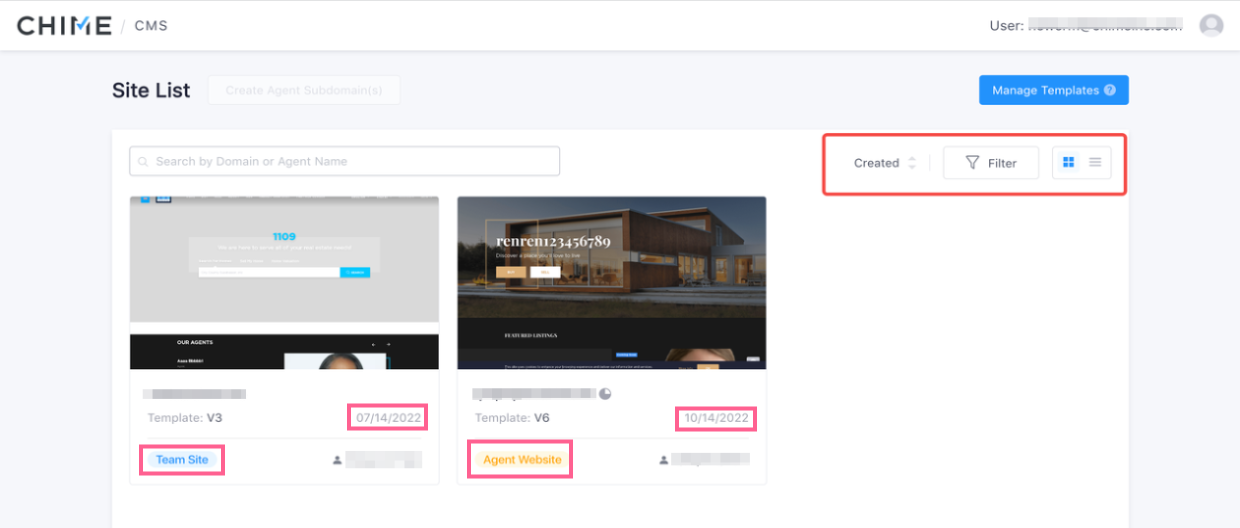 The left side navigation has been moved to the top.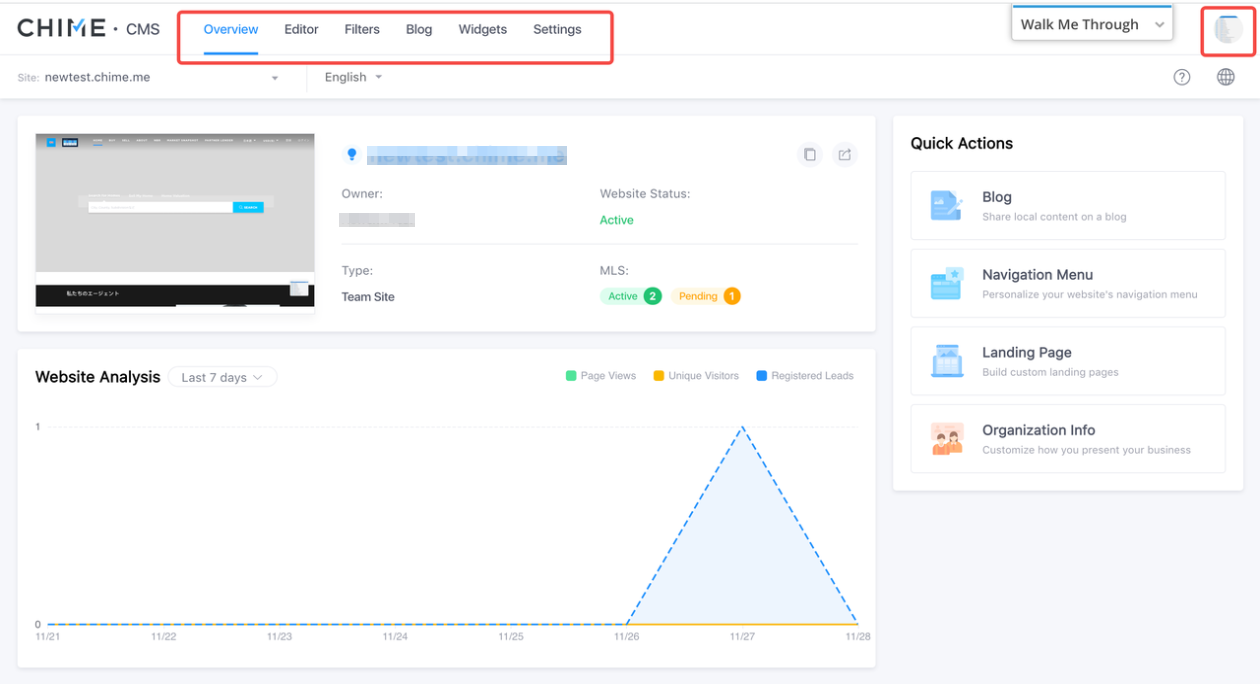 In the page Editor, we have removed all the block icons. Hovering over each block  title will display the description of block.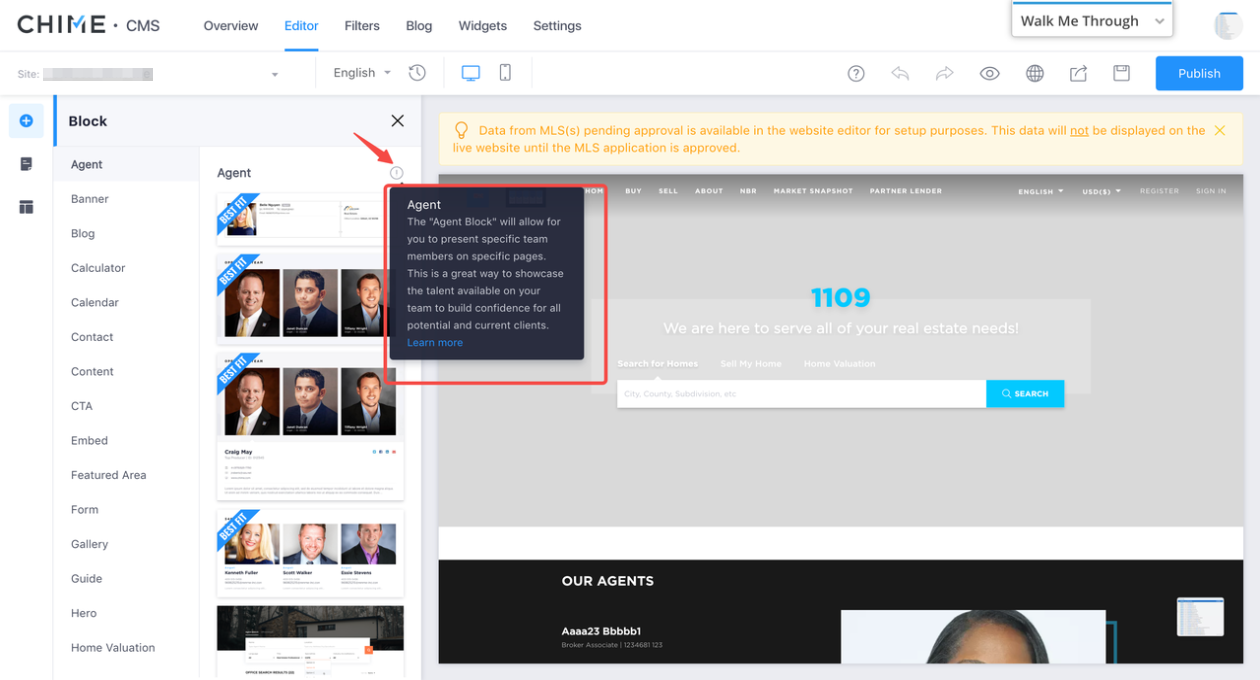 New pages can be added in the navigation panel, saving you the hassle of dragging new pages out of the hidden navigation.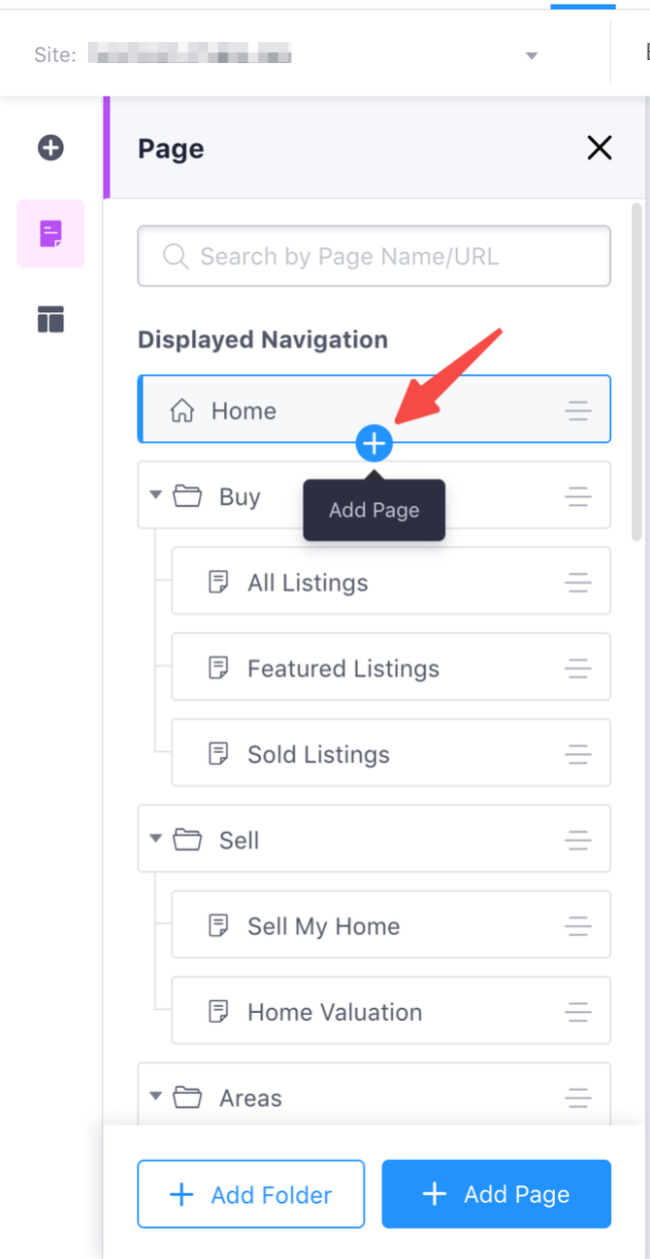 The plus icon opens the block list. When selected, the block will be added directly below. We've also added arrows to navigate blocks.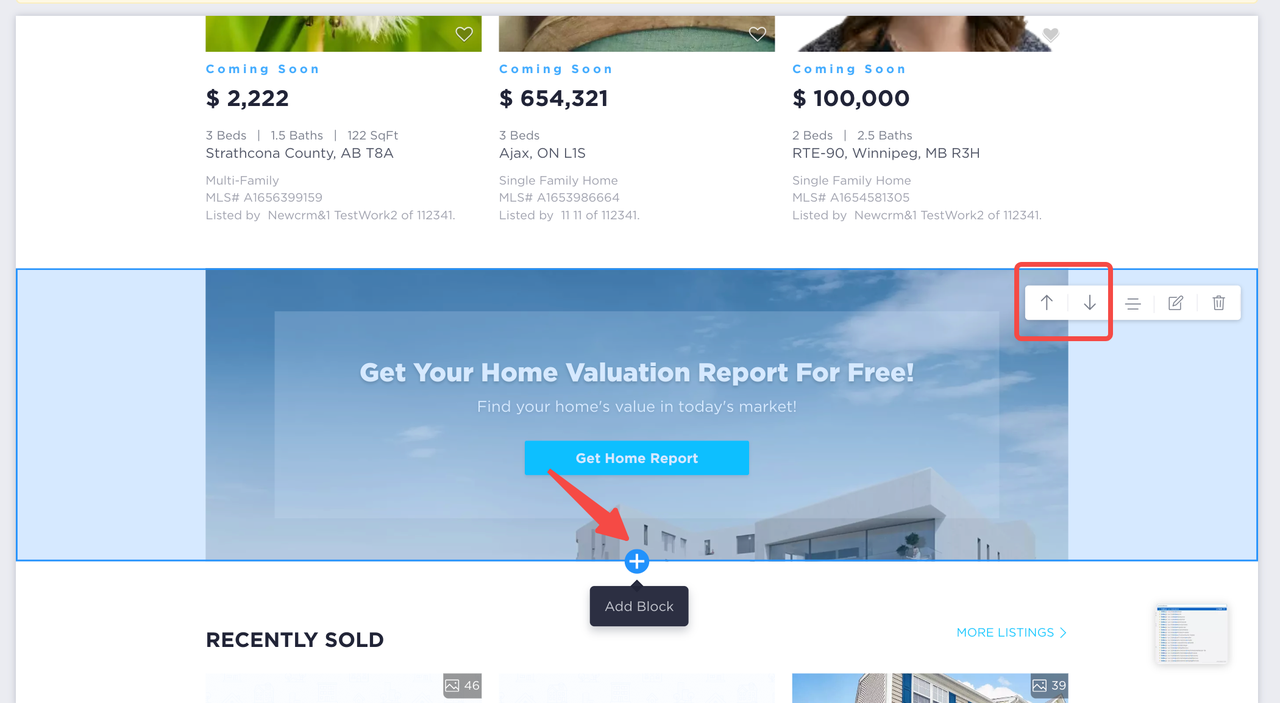 Christmas and New Years Temporary Decorations
When logging in to lofty.me, you will be presented with the option to apply a Christmas and New Year-themed frame to your Lofty account. This will only affect your account, nothing will change on any other team members' accounts. 
To activate the Christmas and New Year decorations, click "Apply The Frame" on the following pop-up: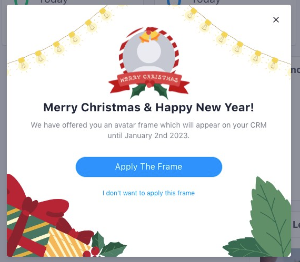 This will add a frame to the Avatar image in both the web and mobile apps: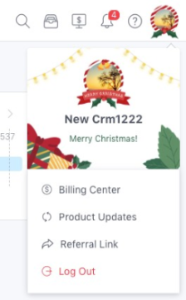 A frame will also be added to the AI Assistant/Chat Box avatar on the Lofty website: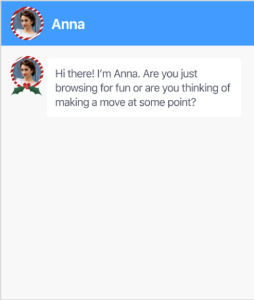 The cursor will transform into a Christmas tree: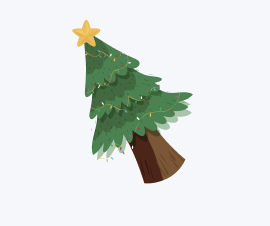 A Christmas countdown will be added to the Lofty calendar:

The frame will automatically be removed on January 3rd, 2023. To have it removed earlier, please contact our support team, at support@lofty.com.
Lender Visibility
This update allows all Lofty users to invite Lenders to their CRM. There are two privacy options for the Lender: private or shared.
Permissions
Lofty

users with the "Manage User" permission enabled are able to share a lender with the users they are able to manage

i.e. "Manage User-User's Group" can share lenders with users in the group. "Manage User-Entire Company" can share lenders with all users in the company.

Lofty

users without a "Manage User" permission enabled can only invite a private lender.
A single lender can be invited by multiple Lofty users on the same account. From a lender's perspective, it does not matter if they are a shared or private lender on the agent's account.
The location to see and invite lenders has not changed.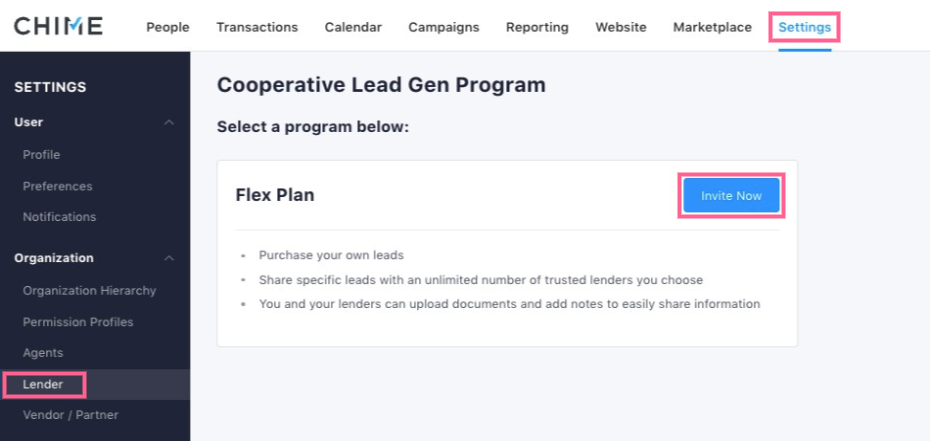 When inviting a Lender, check the 'Share with others' box to add as a shared lender.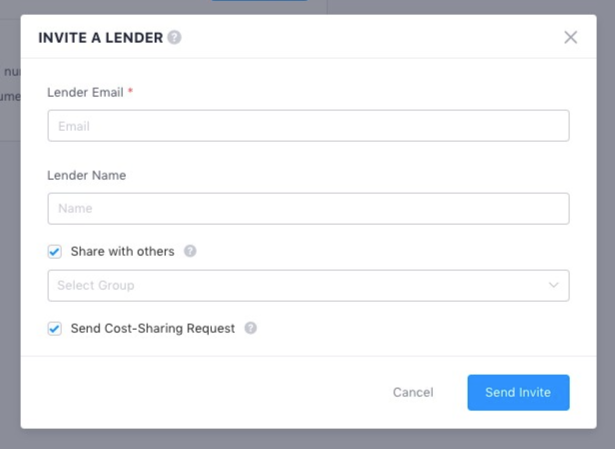 Users that do not have a 'Manage User' permission enabled will not have the option to share the lender. The lender will be private by default.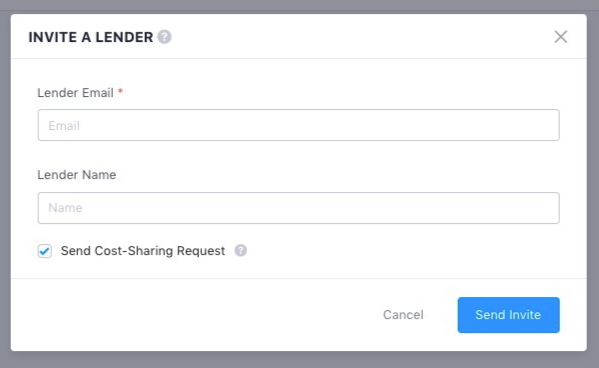 In the lender list, you can see the privacy (shared or private) and who is sharing this lender with you.
For private lender, shared by = your own name
For shared lender, shared by = agents who are sharing this lender with you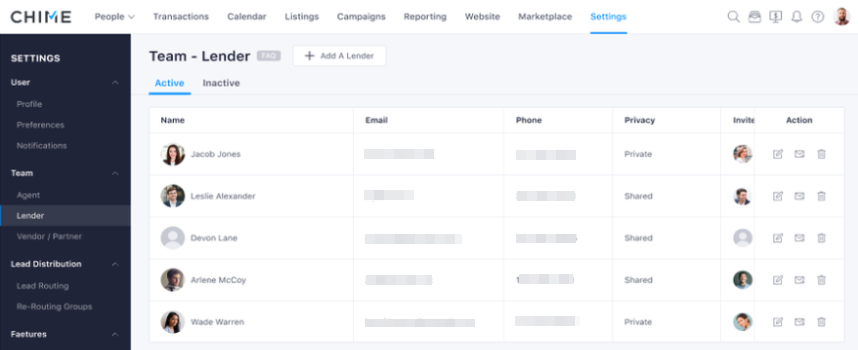 To edit the lender information, click the edit button in the Action column. Here, you may edit any of the lender's information, as well as the group that you are sharing the lender with.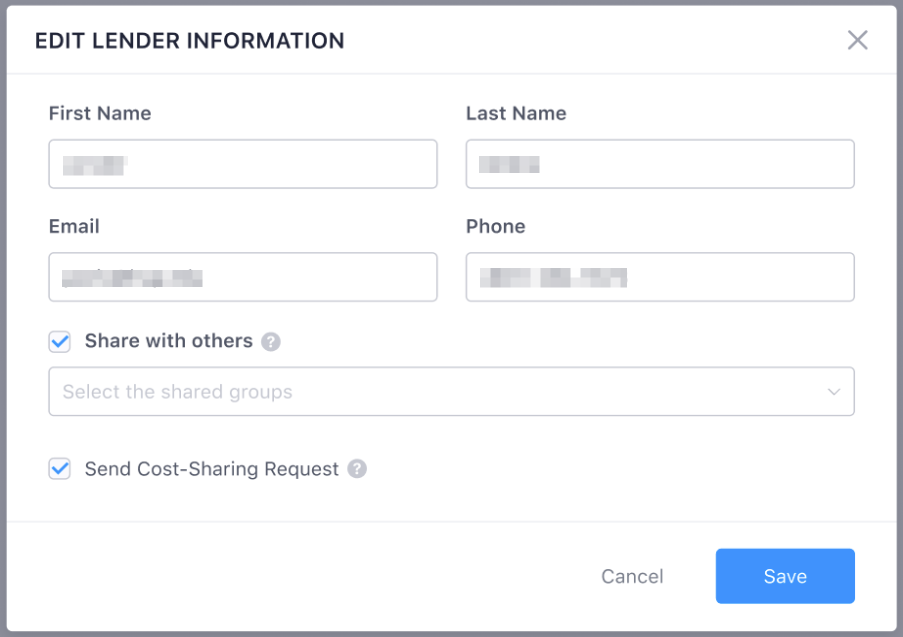 To delete a lender, click the trash can icon in the Action column. If you cancel the sharing, or delete a lender, you will need to make sure that the agents the lender is shared with have cancelled any cost sharing service. If cost sharing is involved, a pop-up window will tell who is cost sharing with this lender.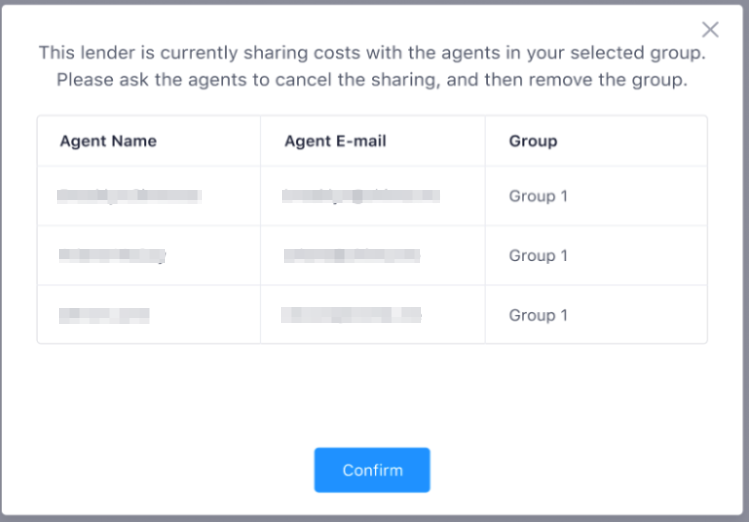 If you delete a private lender that you are cost sharing with, the cost of the service that you are currently sharing with your lender will be 100% billed to you, starting from the next billing date. If this lender has already been charged, they will appear under your current lender list until the first day of your next billing period. However, if this lender has not yet been charged, they will be removed immediately from your list of lenders.
Lender Invitations
This update allows a Lender to invite an Agent to connect with them in the Lofty CRM. The agent can be invited either in the Settings or on a lead profile.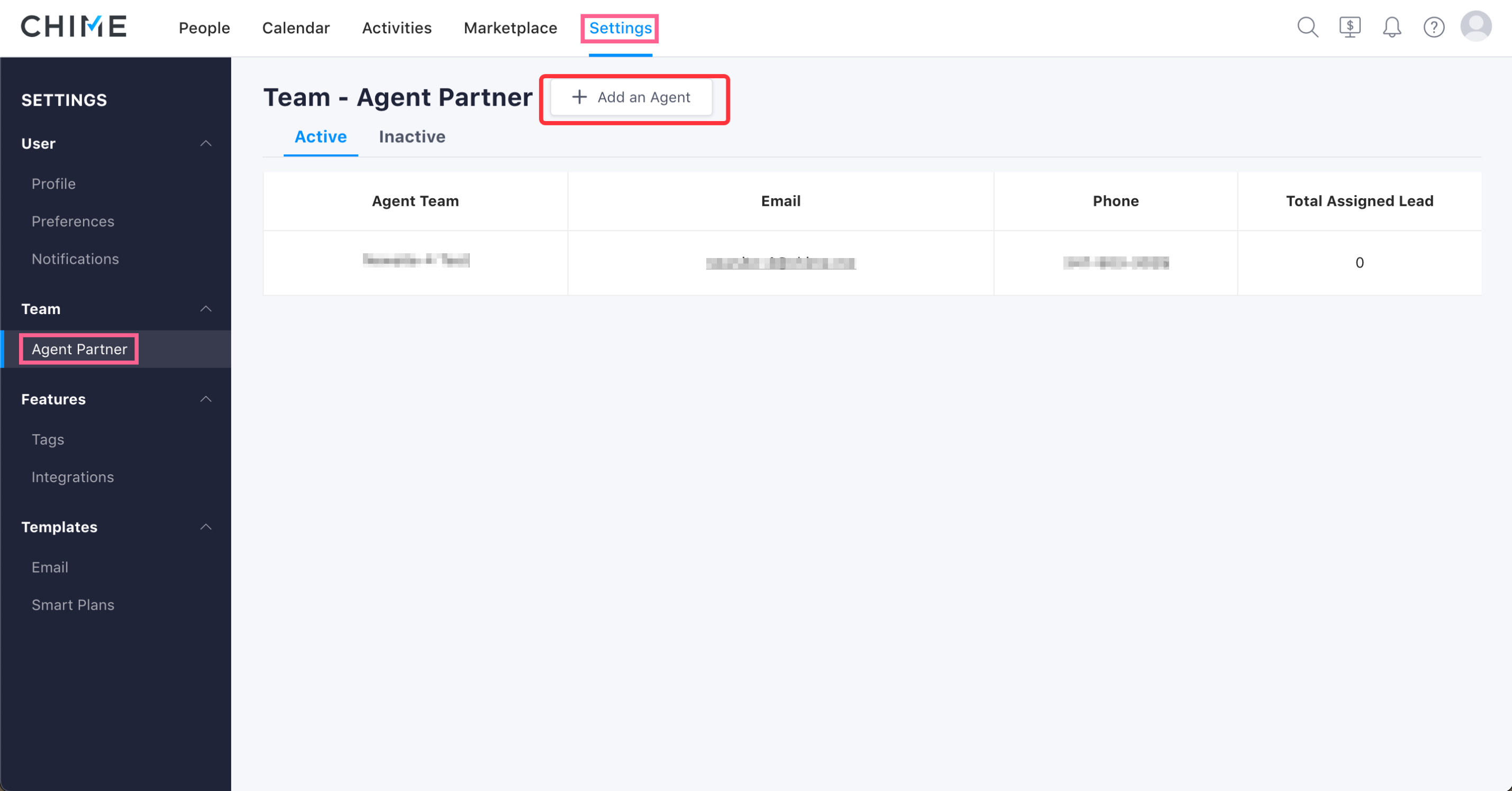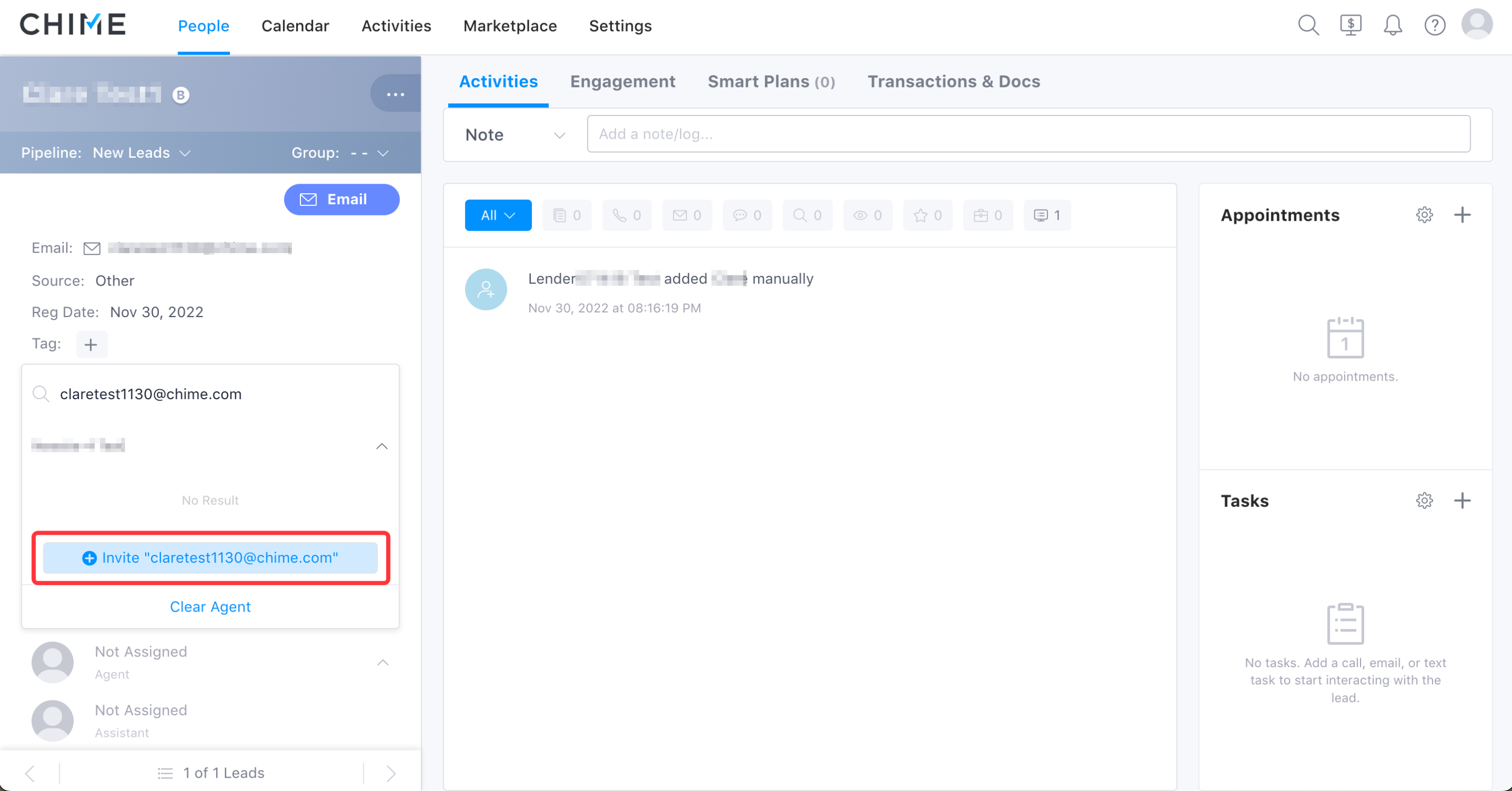 When inviting an agent, the lender only needs to provide the name and email address. This will send an invite and the agent will be in the 'Inactive' tab until they accept.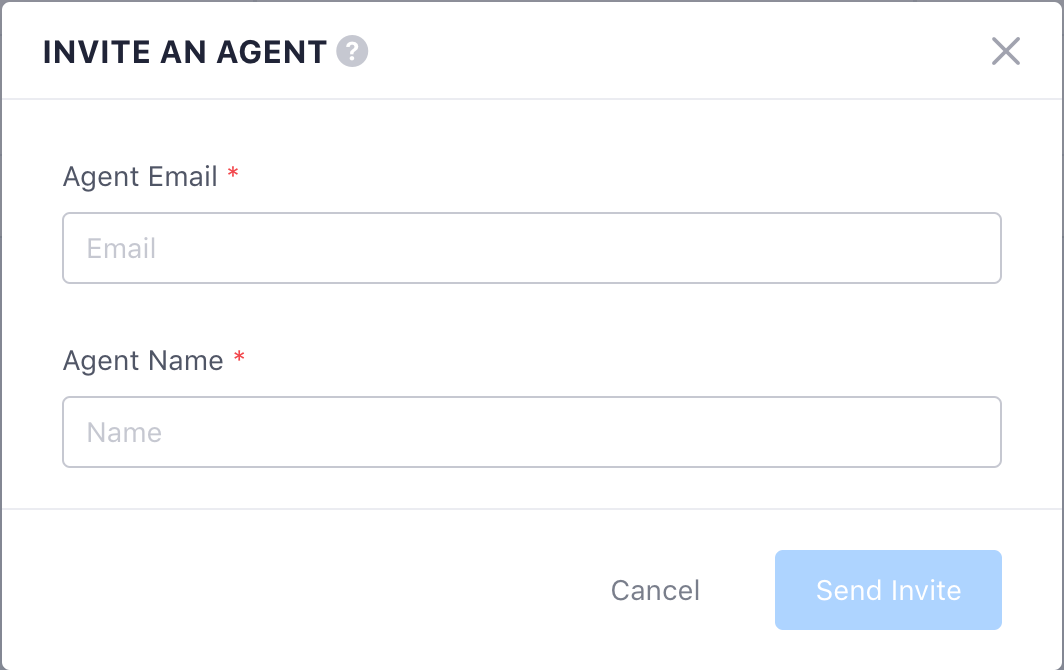 If the agent does not currently have a Lofty account, they will be given the option to sign up for a 30-day free trial. The lender will be added as a private lender on the agent's Lofty account.
Lead Assignment Groups
Many Lofty users have teammates who work together in different roles and are responsible for follow-up with leads. When leads enter the system, agents and their working partners will be assigned to leads at the same time. We support the assignment group function which is used for the:
Usage Scenario 1 When the leads assigned to an agent have roles that have not been assigned through lead routing, the assignment group will be applied to assign other roles.

i.e. Lead Routing rules will take priority over assignment groups

Usage Scenario 2 When leads are manually added, imported, or entered into the system in any way and directly assigned to the agent, the assignment group will be applied to assign other roles.
Note: Every assignment group has one primary agent. Agents can belong to multiple assignment groups.
There are two ways to set up the assignment group:
Users can set their own assignment group in their account preferences. That user will be assigned to the primary role (Agent), by default.

Users who have "Manage Lead Distribution"(Enterprise) enabled or "Team Features" (Core/Premier) enabled can manage all users' assignment groups.
Note: The 'Agent' field must be selected first, and is required to create the Assignment Group.
There will be a notice on the lead's timeline when a role is assigned via the Assignment Group:

Re-Run Lead Routing
Note: This feature is only available for Enterprise Lofty accounts. 
This feature allows an Agent to send a company lead through another group's lead routing. Private leads are not supported. This feature is located in the quick action menu in the lead profile.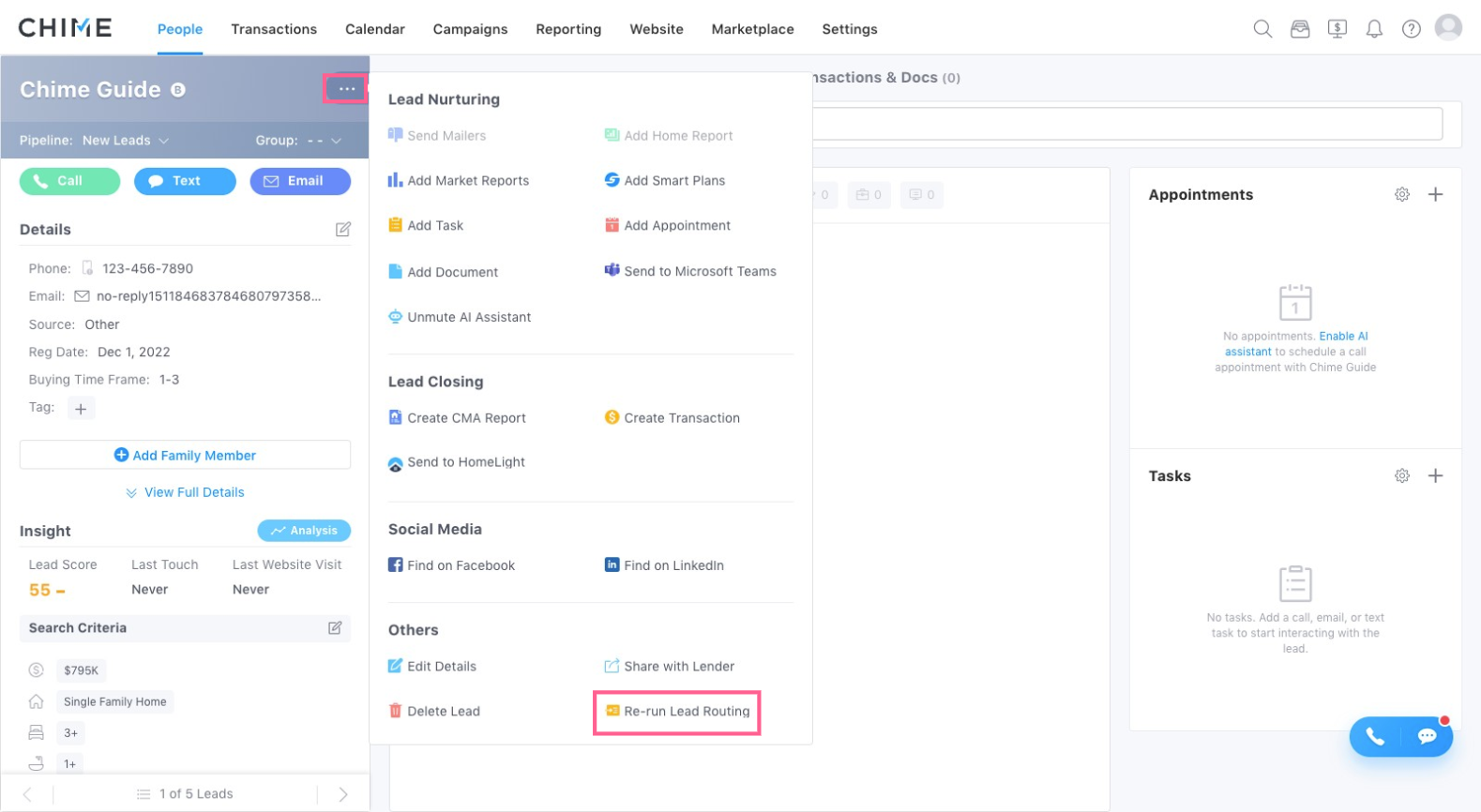 When selected, the agent can re-run lead routing, which will send the lead through the selected Group or Subgroup's lead routing rules.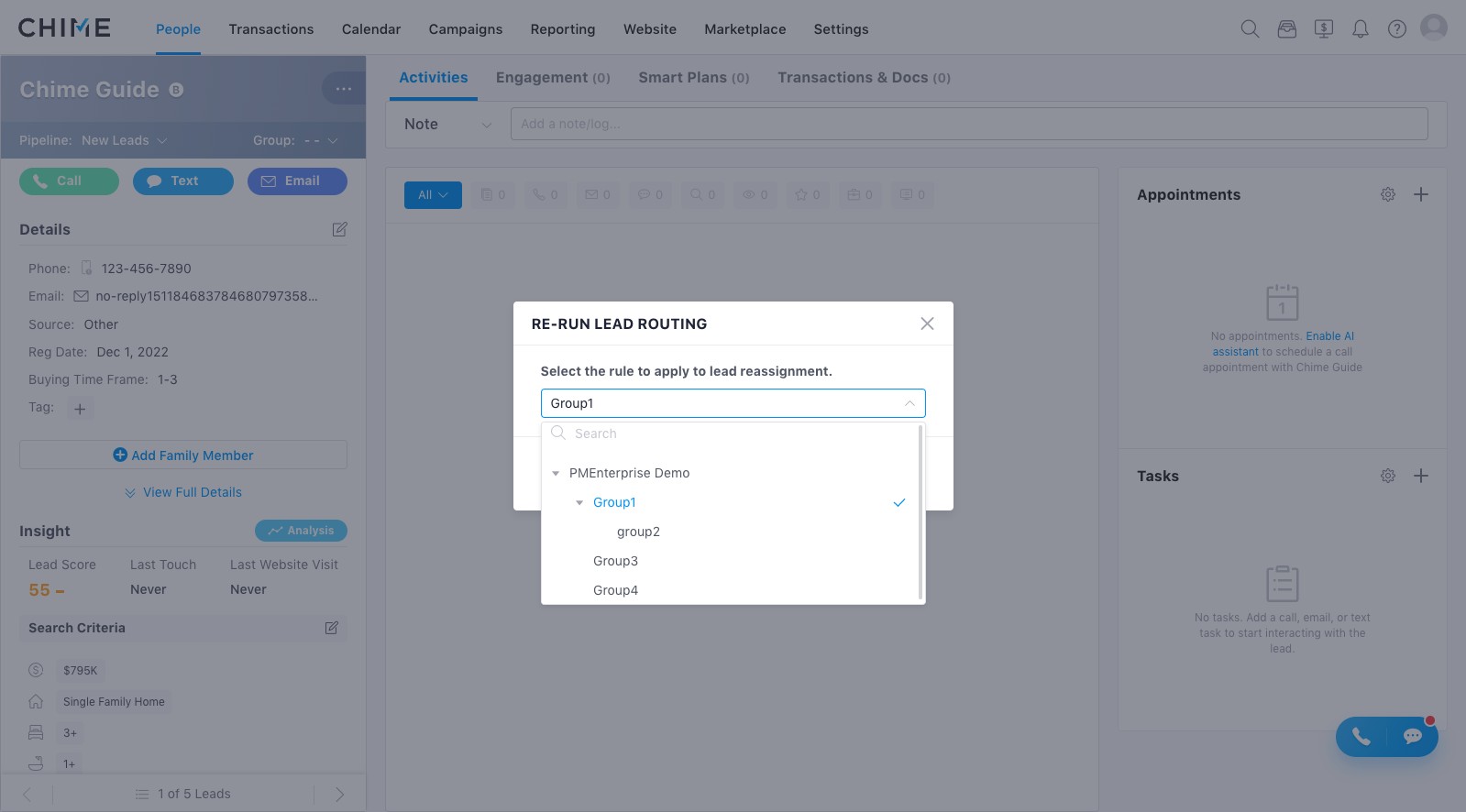 Permissions
Users with "Manage Lead Distribution-Entire Company" permission: 

Able to send all company leads, regardless of who the lead is assigned to, to re-run lead routing.

Users with "Manage Lead Distribution-User's group" permission:

Able to send all company leads, assigned to users in their group and sub-group, to re-run lead routing

All other users:

Able to send company leads assigned to themselves to re-run lead routing
There will be a notice on the lead's timeline when the lead is put through Re-run Lead Routing:

Reassignment Groups
With this update, we have renamed "Lead Re-Routing" to "Reassignment Groups"

When adding a Reassignment Group, the following permissions apply:
Permissions
Users with "Manage Lead Distribution-Entire Company" permission: 

Can create Reassignment Groups with agents from any Group or Subgroup

Users with "Manage Lead Distribution-User's group" permission:

Can create Reassignment Groups with agents from their Group or Subgroup

All other users:

Do not have access to create a Reassignment Group
Multiple Groups/Subgroups can be included in a Reassignment Group. Setting the Reassignment Group is very similar to setting up a Lead Routing rule. Lead Ponds can be included in the Reassignment Group.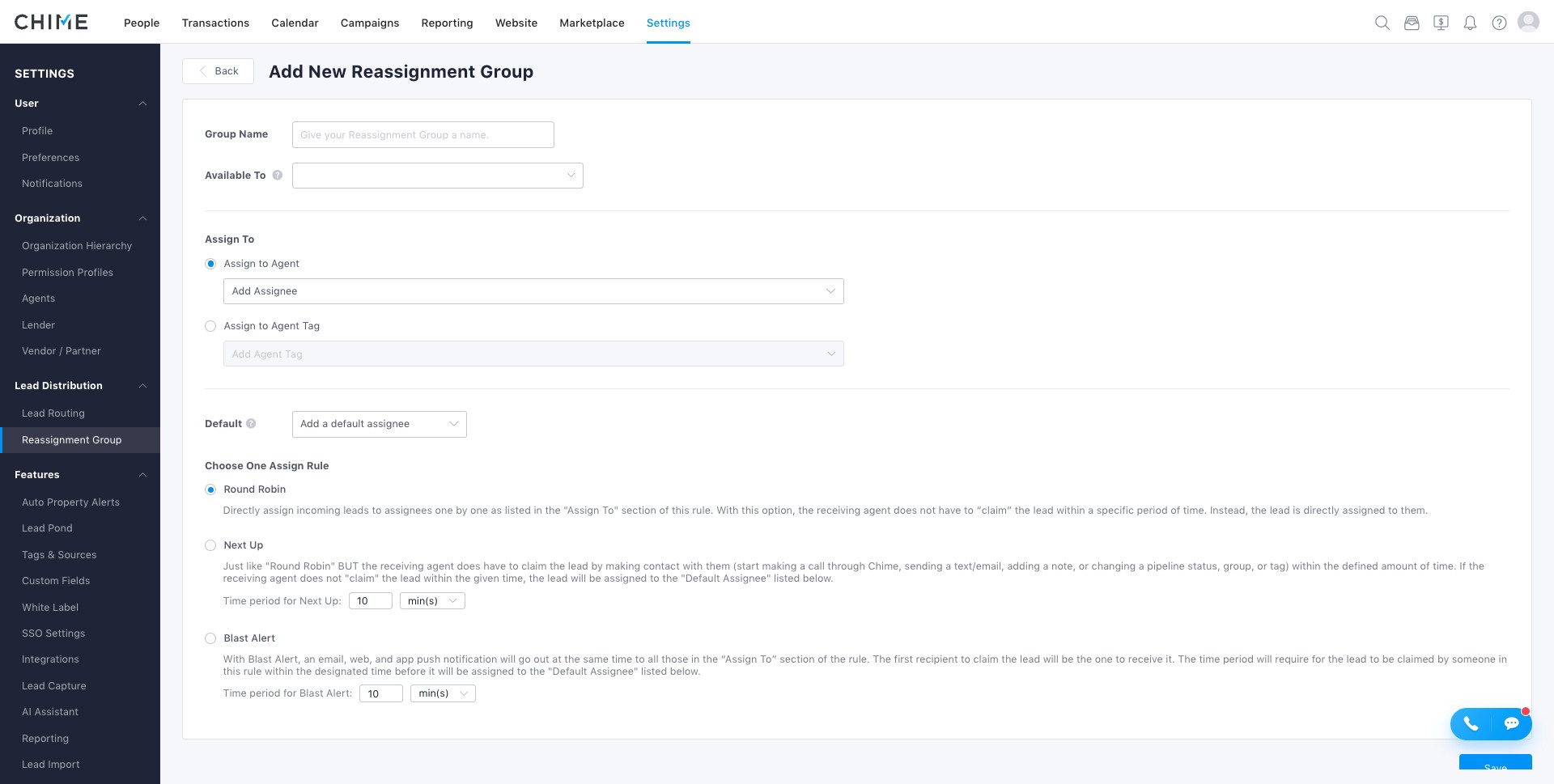 Duplicate Company Leads
This feature allows a Lofty account to have duplicate company leads. A user must have the "Manage User" permission enabled to access this setting.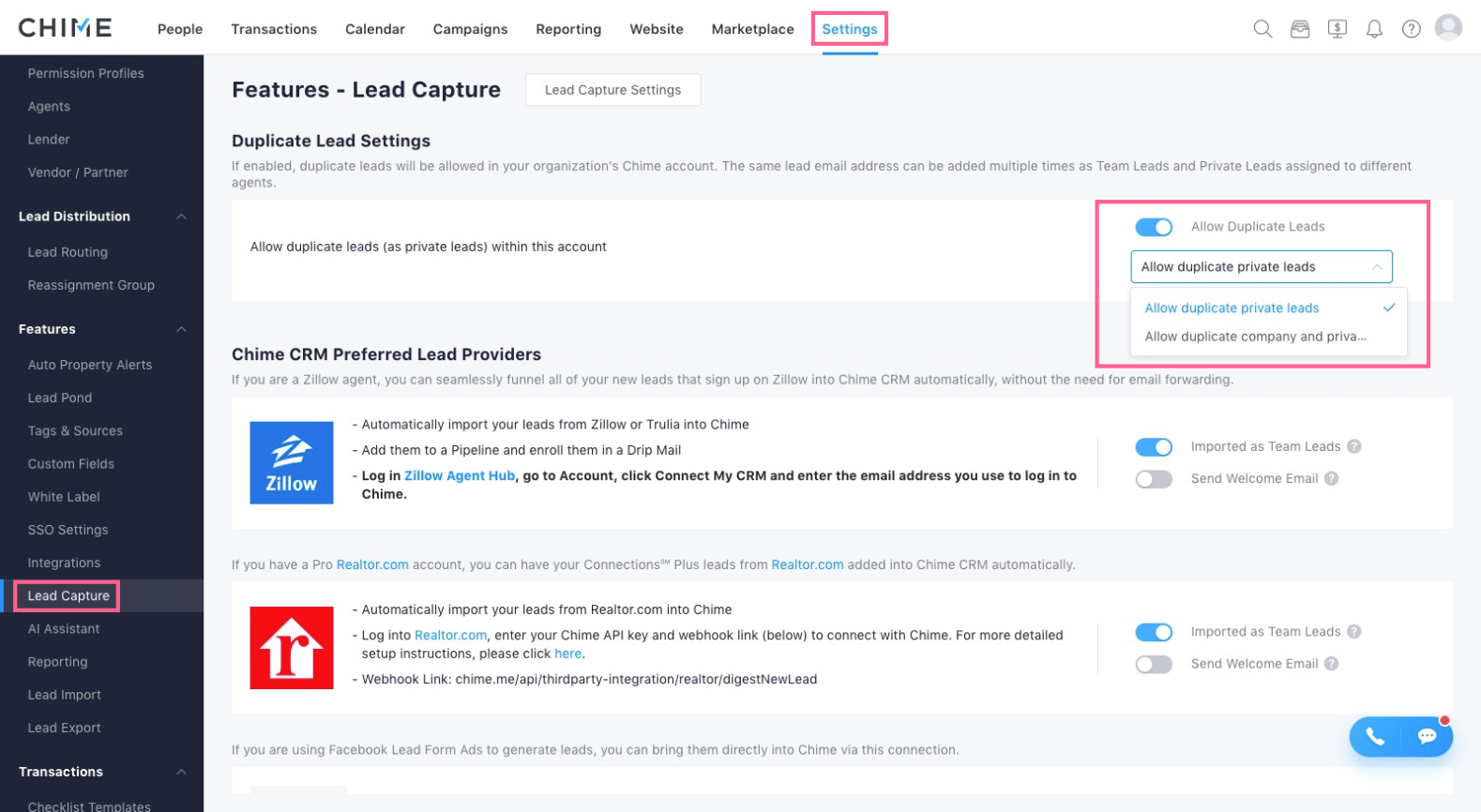 The drop down includes two setting options:
Allow duplicate private leads: the same as the former logic.

Allow duplicate company leads and private leads.

The same lead email address can be added multiple times as Team Leads and Private Leads, assigned to different agents.
One agent can have a duplicate lead assigned, as long as one is Team/Company and the other is Private
Different agents can have the same team lead and private lead.
Design Center Optimization
This update adds a few more options to the Design Center. Note: A user must have 'Company Templates' permission enabled to use.
There is now the option to upload three logos: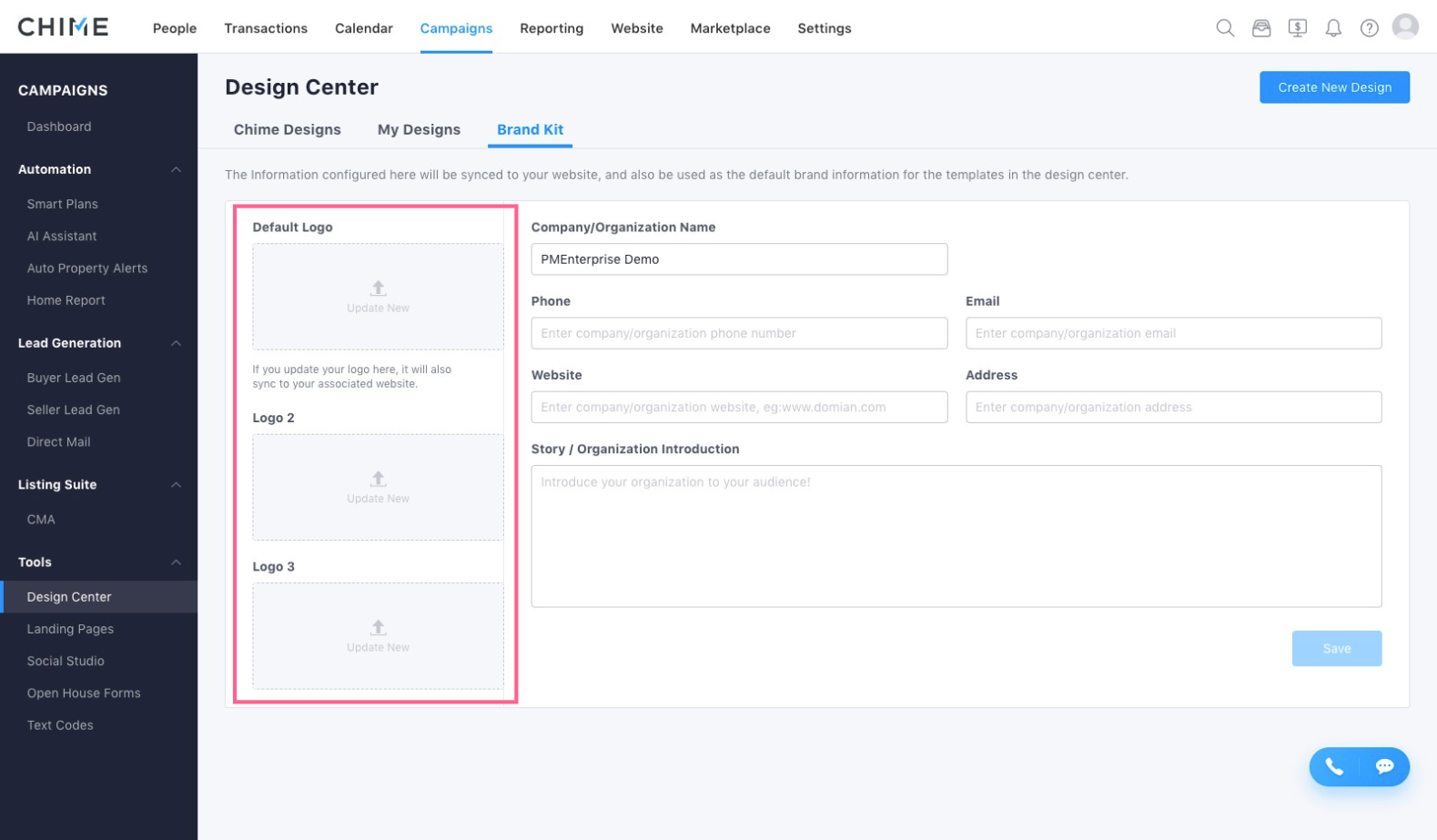 It is also easier to replace images in the templates. When you hover over an image, the option to 'Replace' will now allow you to select with an image from the Design Center library. Previously, images could only be replaced with files from your device.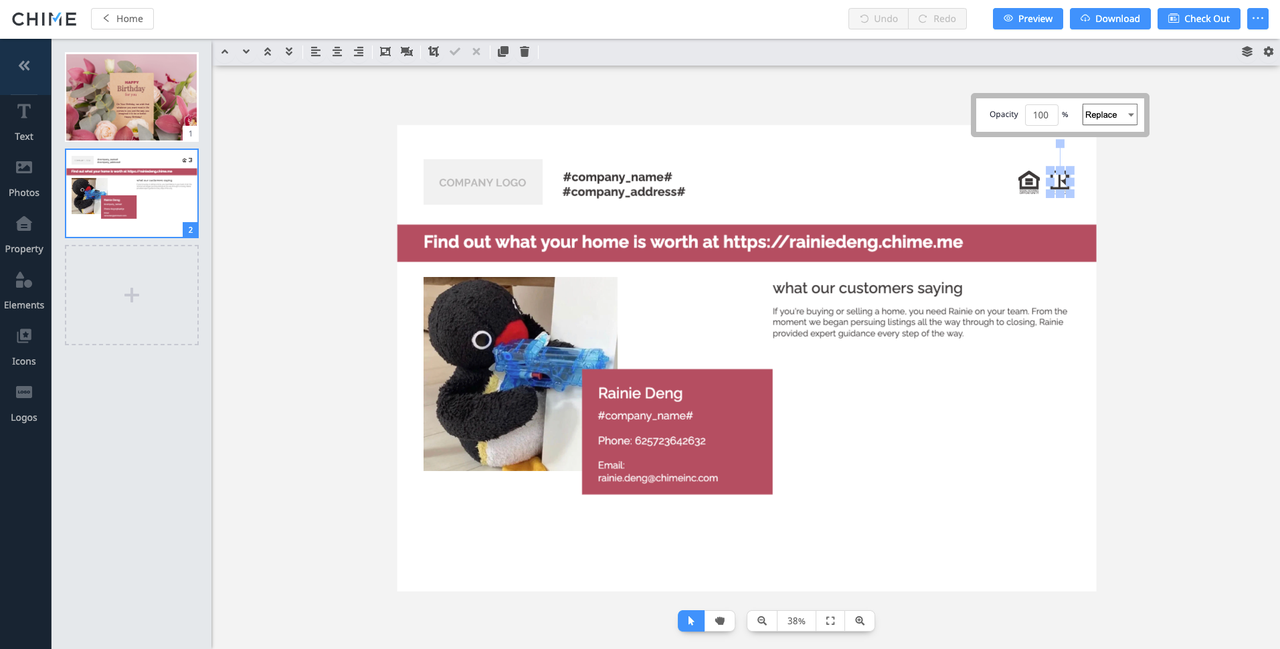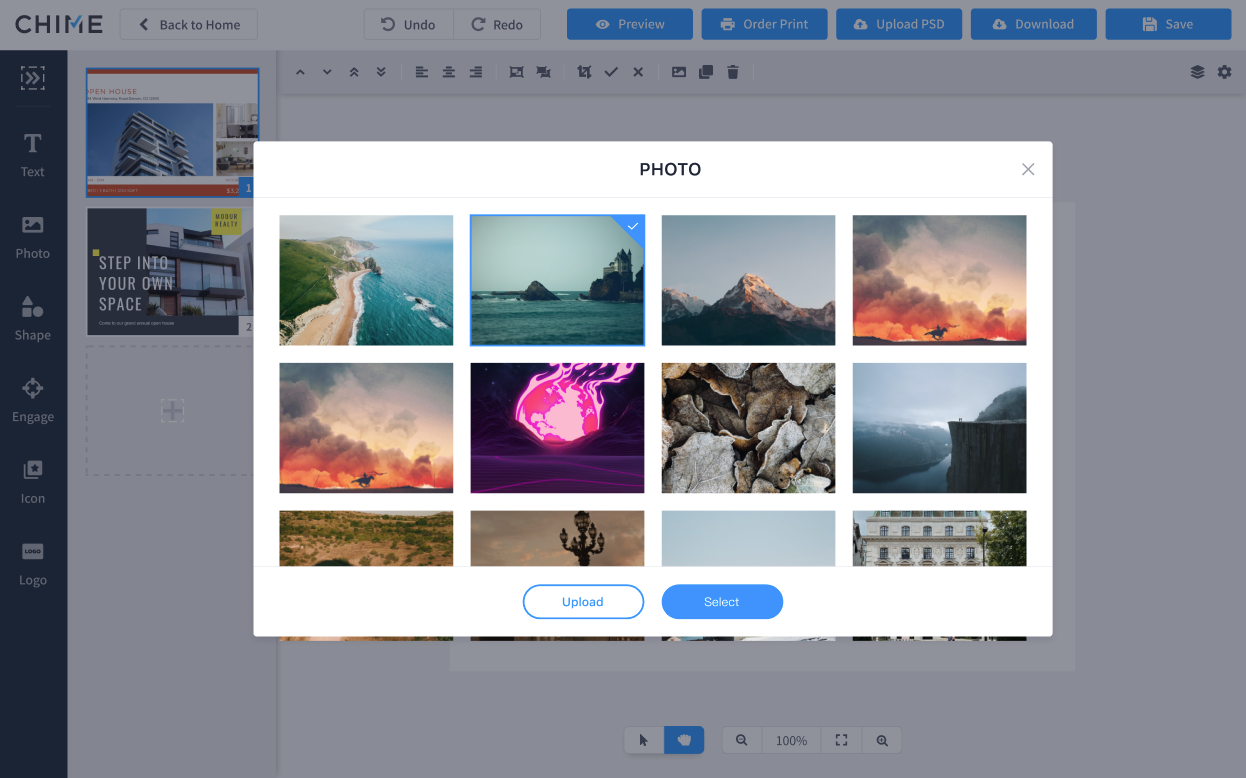 When selecting a property from the MLS, the design center provides the option to show any image in the MLS listing.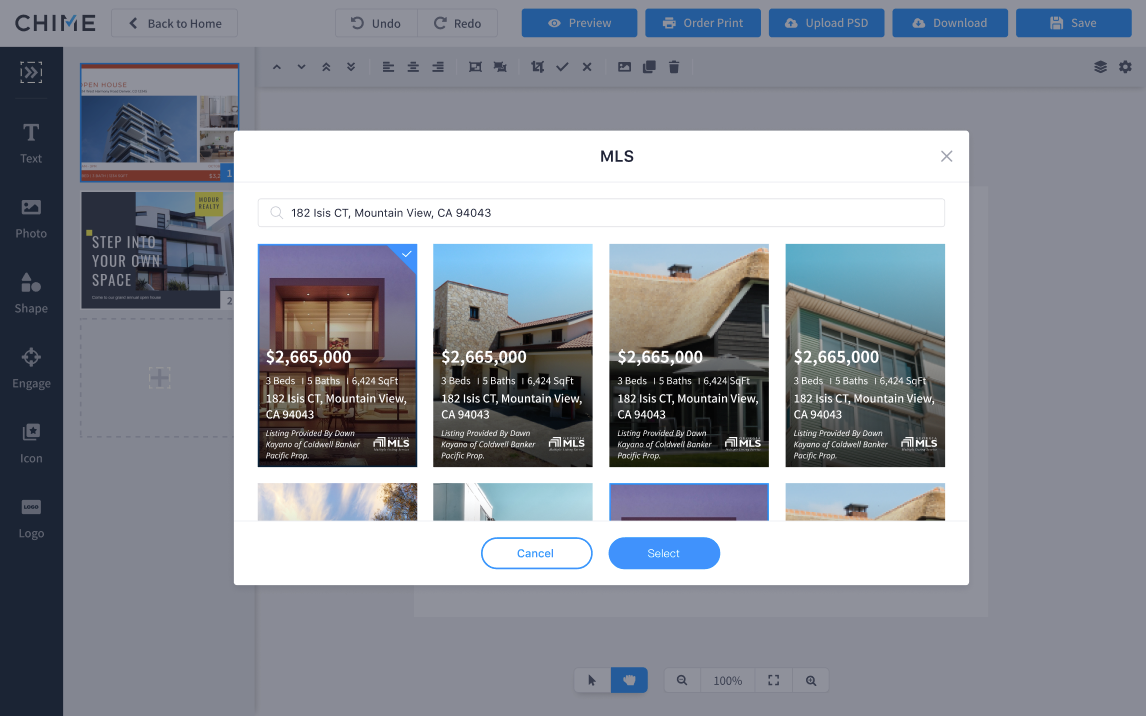 The logos can be updated in the 'Quick Edit' function, so users do not have to access the Advanced Editor to make small changes to a template.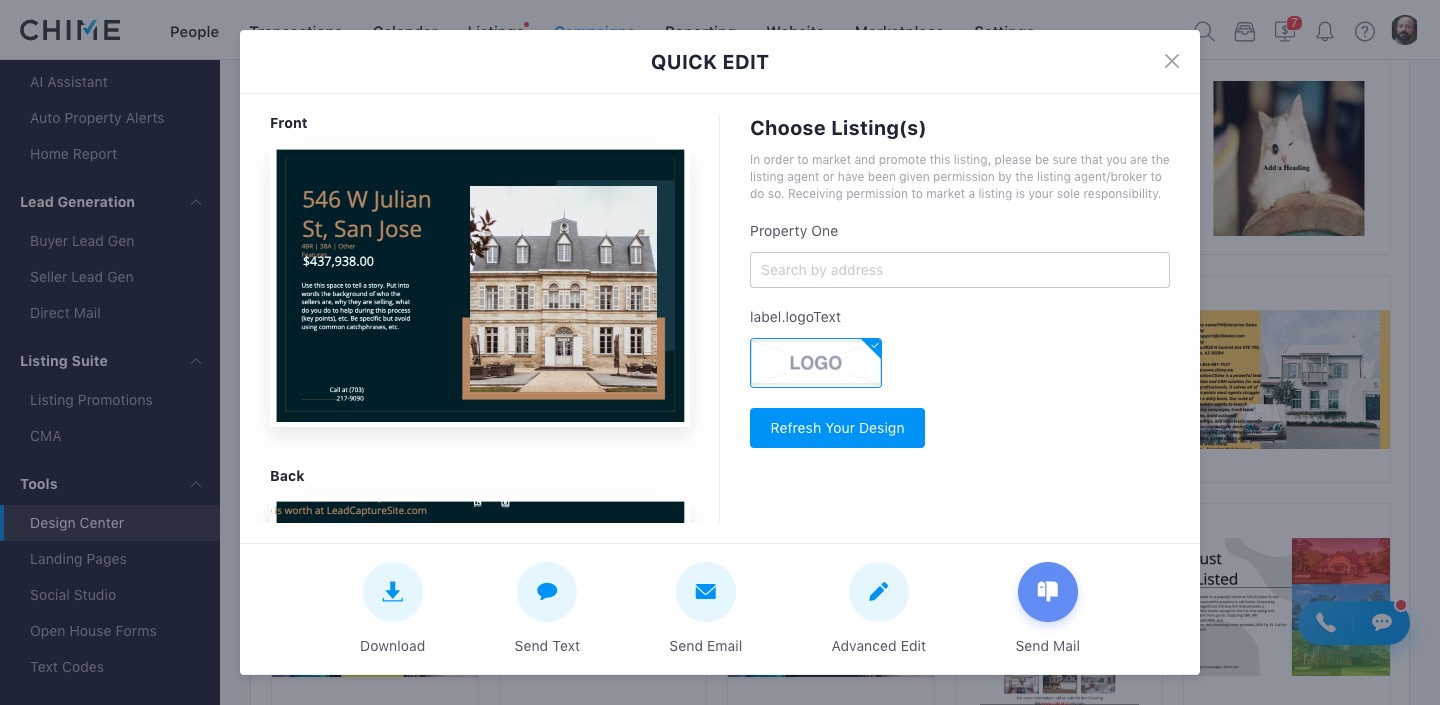 CMA Updates
This update includes multiple additions to Lofty's CMA tool.
Seller's Net Proceeds and Buyer's Costs
This section shows the buyer or seller the costs of closing.
The online slide is interactive with users. You can adjust the numbers during the presentation if needed.
If the

lead

adjusts the numbers on the net sheet, the engagement will be recorded on the lead timeline.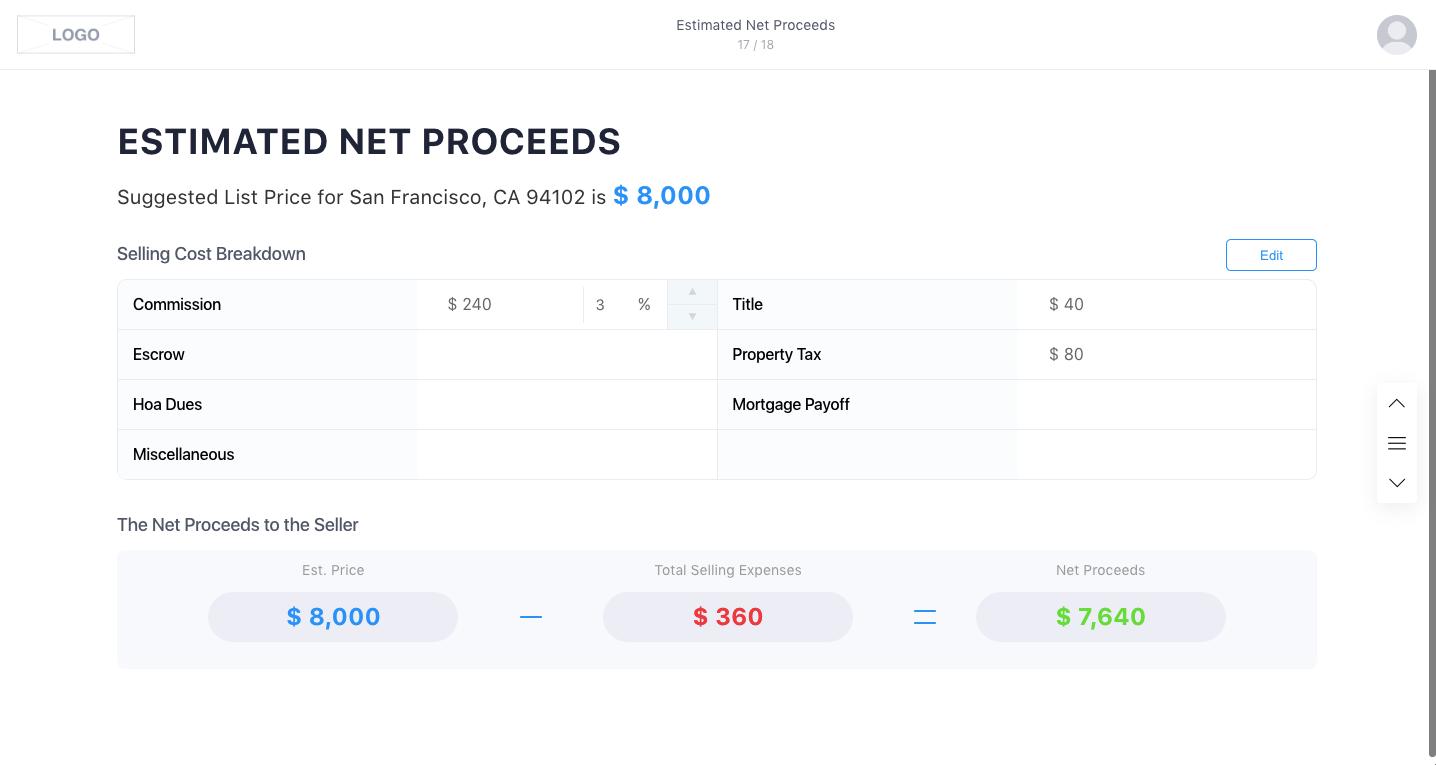 This allows you to edit your own sheet during the setup, and customized forms will be saved for future creation. Up to 10 fields can be added to the customized sheet.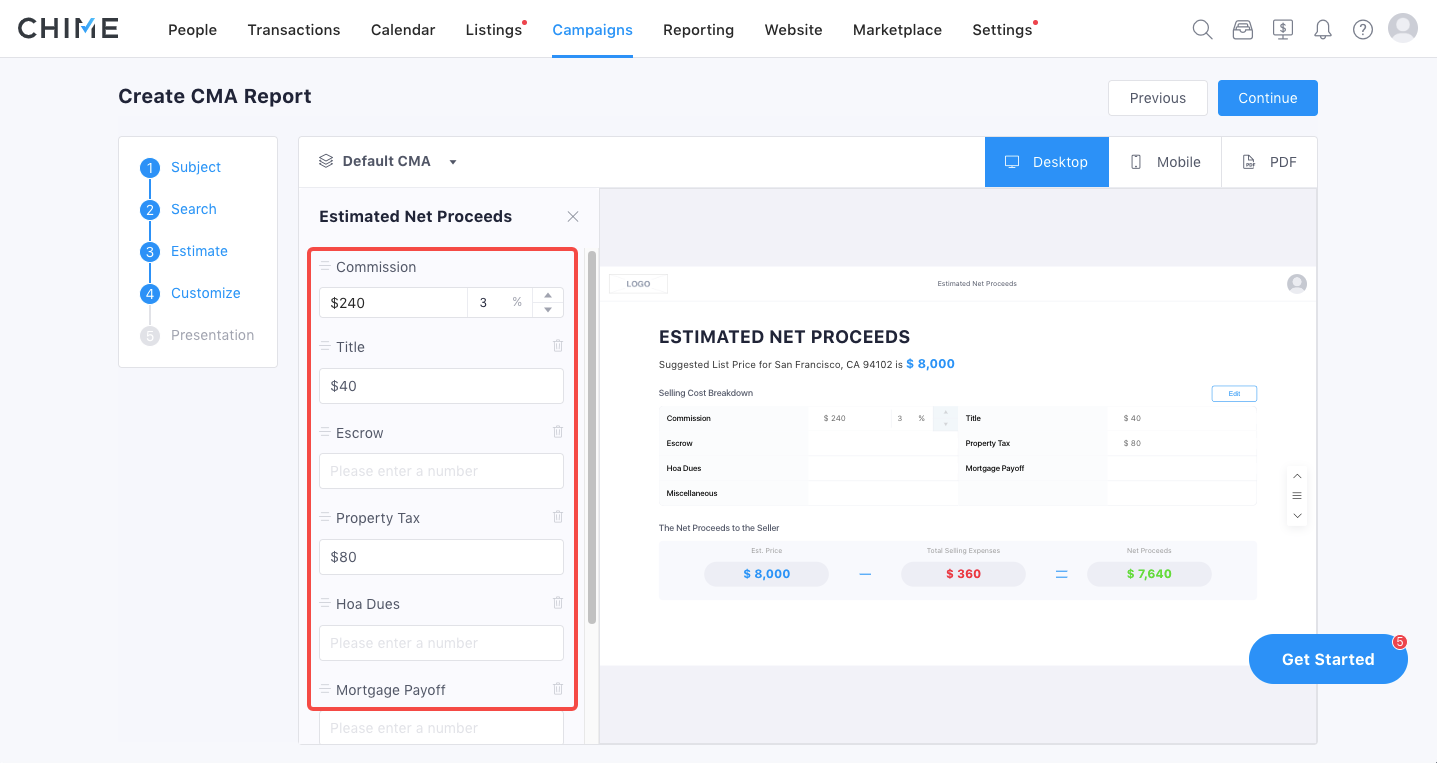 Listing Promotion Approaches
This slide shows homeowners your ability to promote their homes.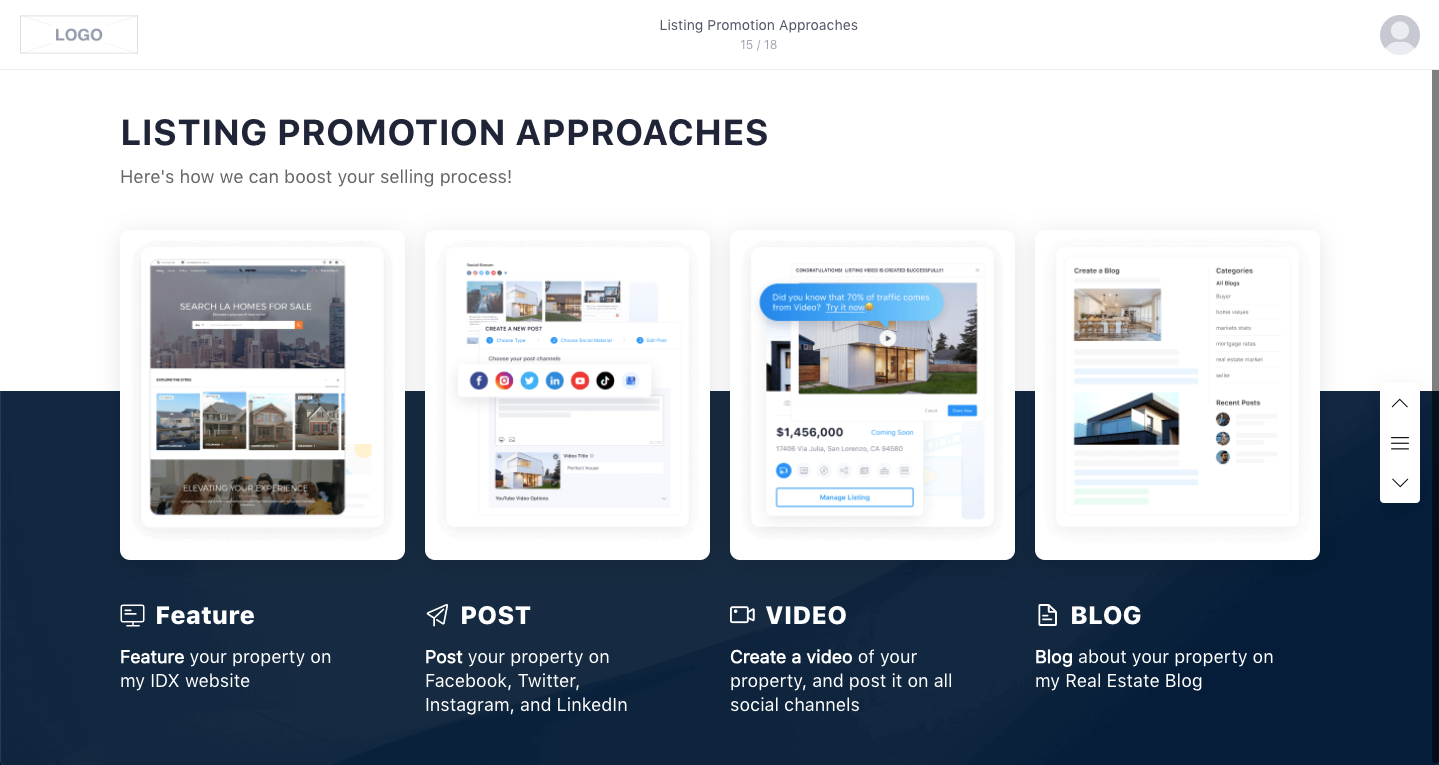 Social Studio Pro - Boost Posts
The Boost Post is a kind of social media ad based on social post content. Compared to other forms of advertising, they can be more affordable (starting at $30) to expand your brand awareness.
Boost Post Conditions
Boost Posts must include an image or video. Facebook and Instagram are the only channels that support boost posts.

Post Status: Published/Scheduled
Post materials: including video or image(s)
Boost Posts are an option in multiple places in the Social Studio.
Create a Post: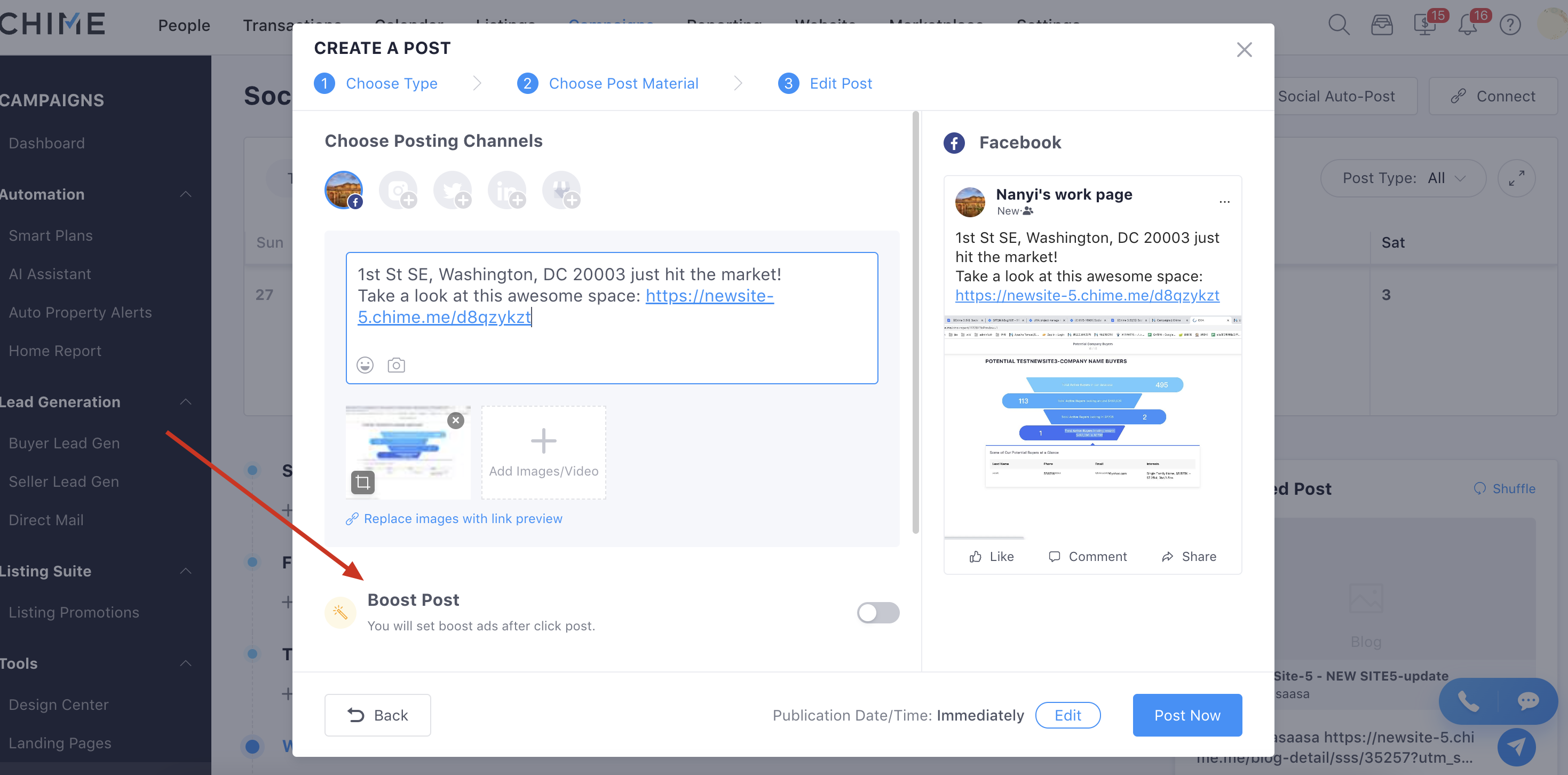 Social Dashboard: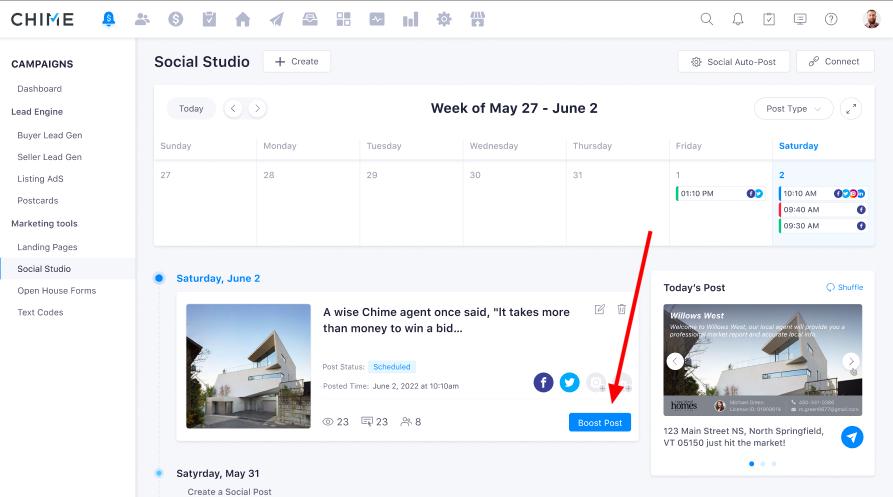 Smart Listing: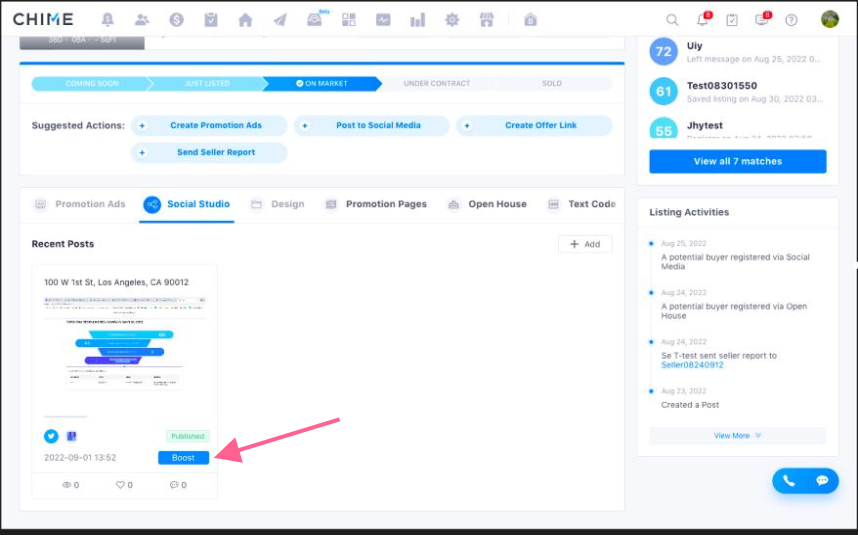 Boost Post Settings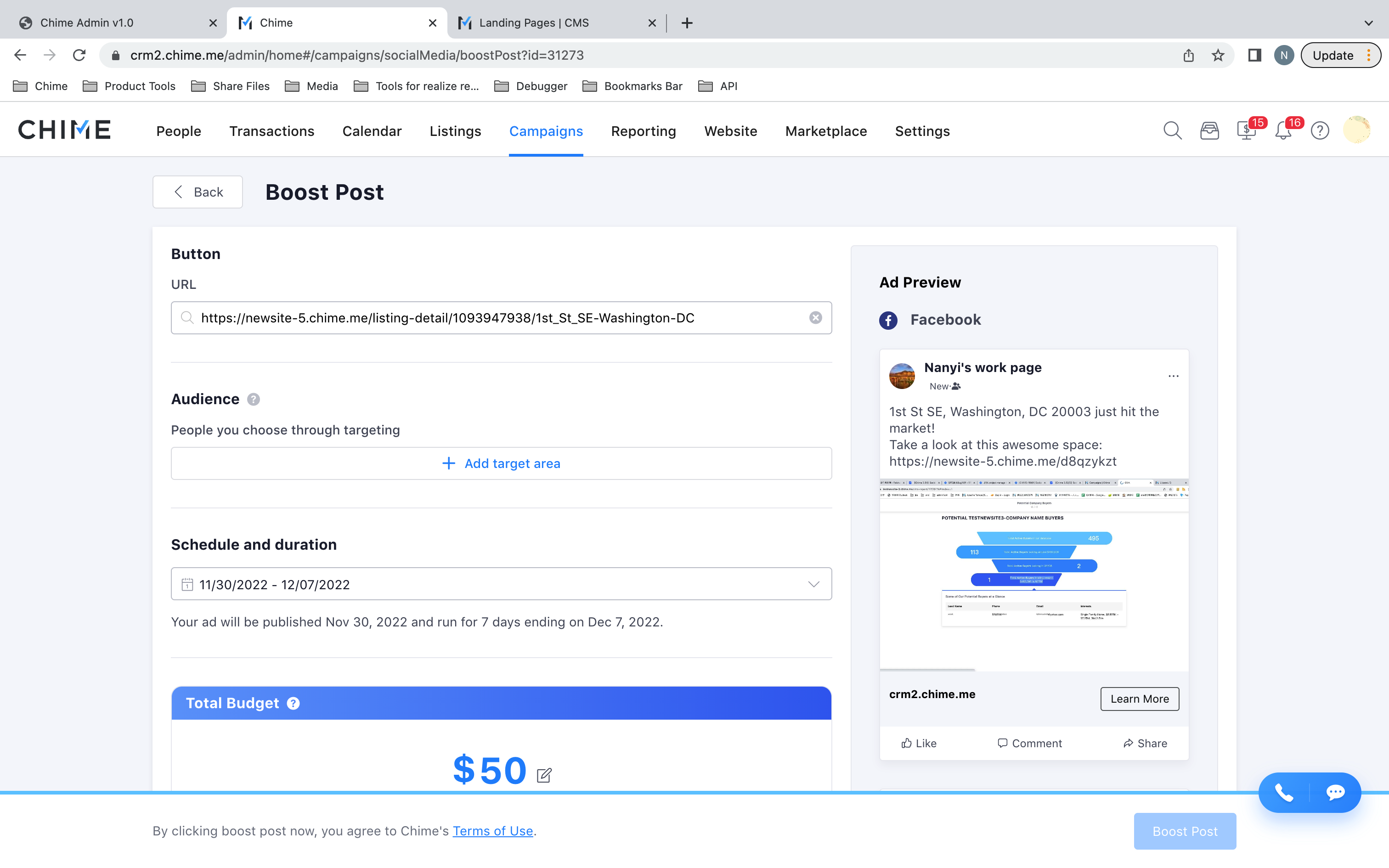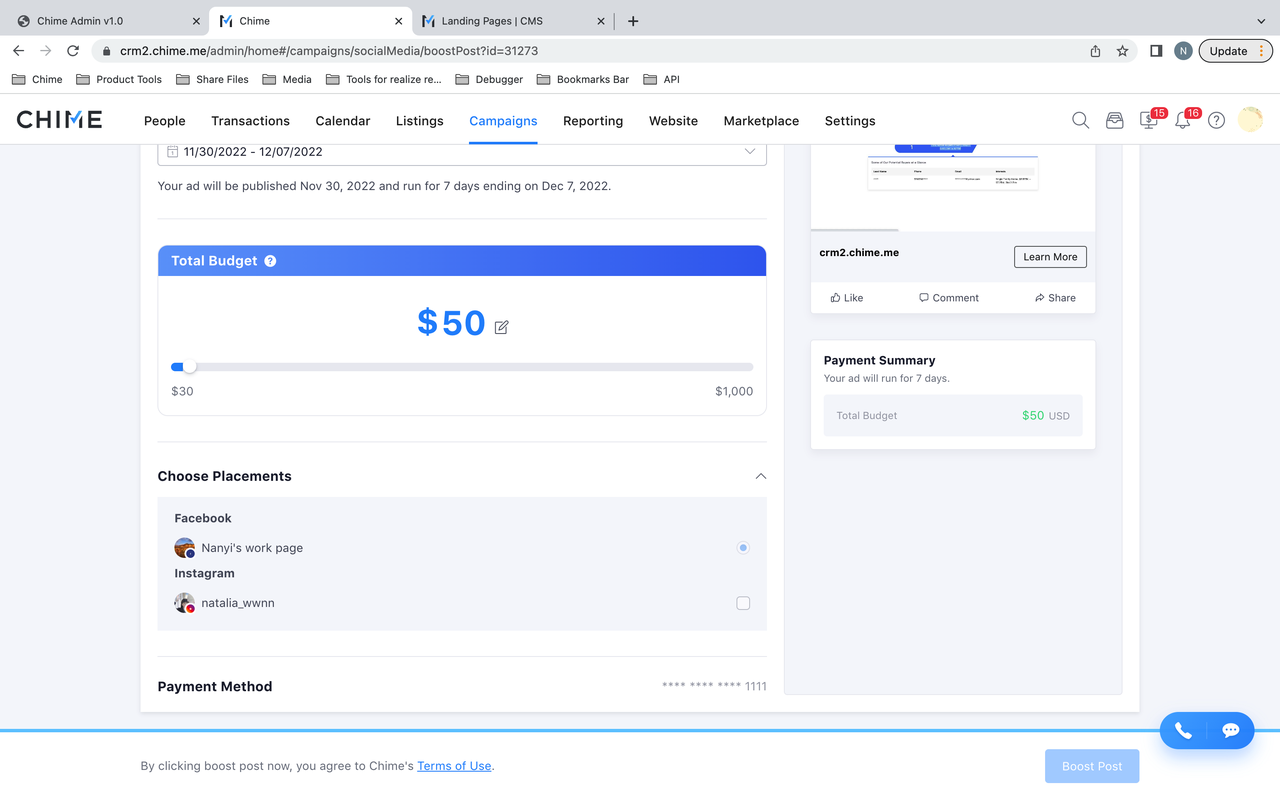 Button URL

This is the link included in the post

Audience

Custom target area
Retargeting list [Coming soon, in the next version]

Ads schedule and duration

The time period the ad is available

Total budget

Lifetime budget: at least $30, which is limited by Facebook
Placement: auto-chose Facebook. The user can also choose Instagram

Paid result

New Tab: paid results

Status

Wait to run
Running
Completed

CPL
Spent

We get clicks and impressions from FB API
Related Ads: client can click to view Ads preview on FB iframe
Example Post: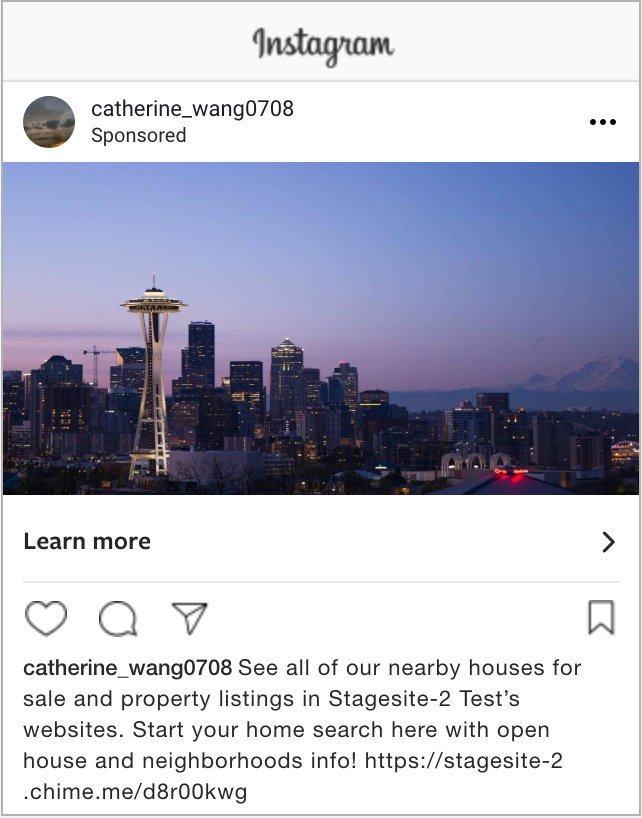 Listing Landing Pages Update
This is an update to the Listing Landing Page UI and adds additional categories.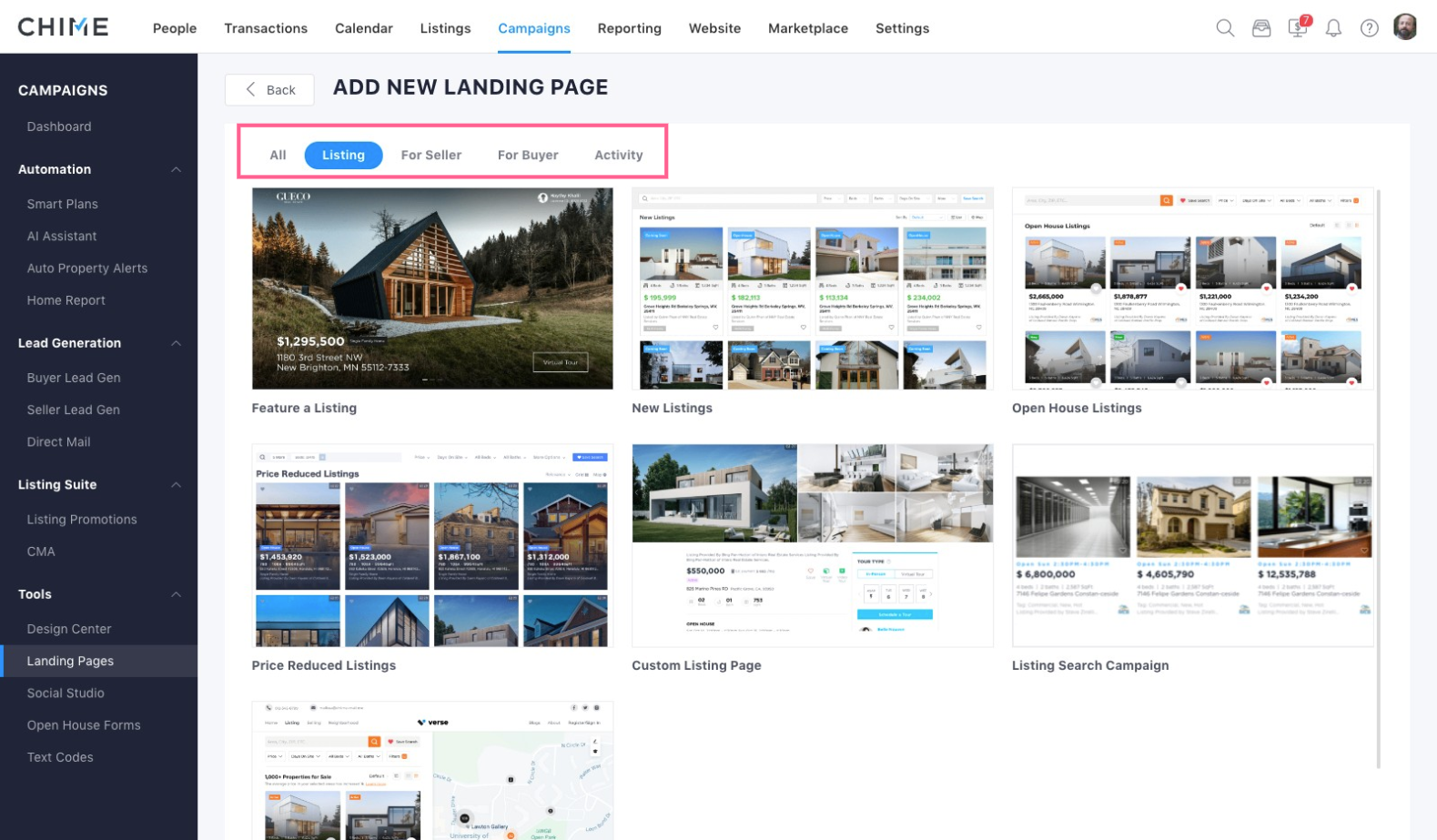 When adding a new landing page, you are presented with the following categories
All

This is all of the Landing Page templates

Listing

Includes the following:

Feature a Listing
New Listings
Open House Listings
Price Reduced Listings
Listing Search Campaign
Multi-Property with Map

For Seller

Includes the following:

Home Valuation
New Seller Form
Seller Guide Download

For Buyer

Includes the following:

Featured Area Page

Buyer Guide Download

Live Tour (Standard Listing)

Host a Live Tour

Activity

Includes the following:

Lead Registration Form

Meeting with leads

Build Your Own
New Templates
Open House Listings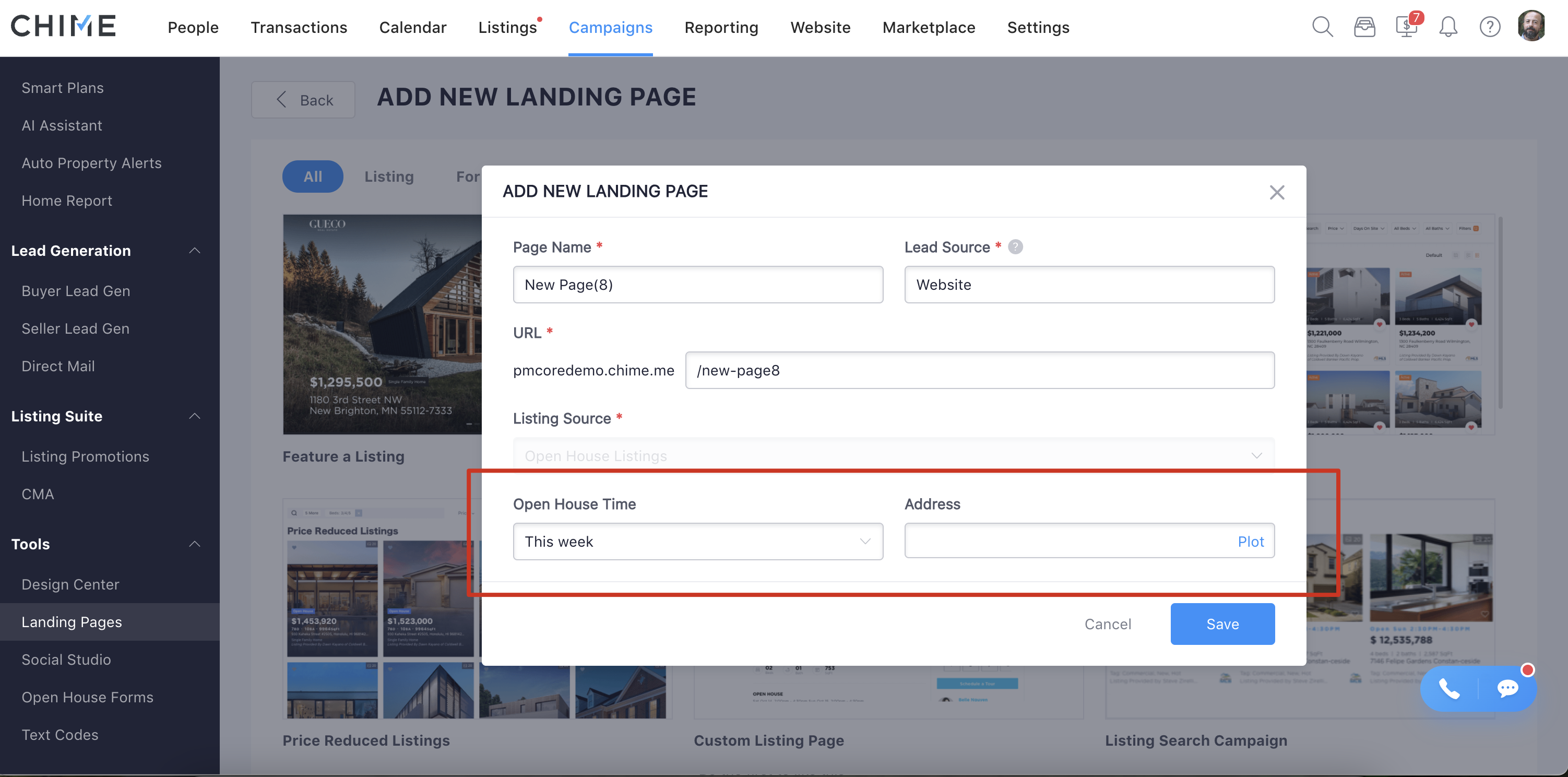 This landing page allows you to create a landing page which will feature all of your open houses in the selected time frame and area.
Price Reduced Listings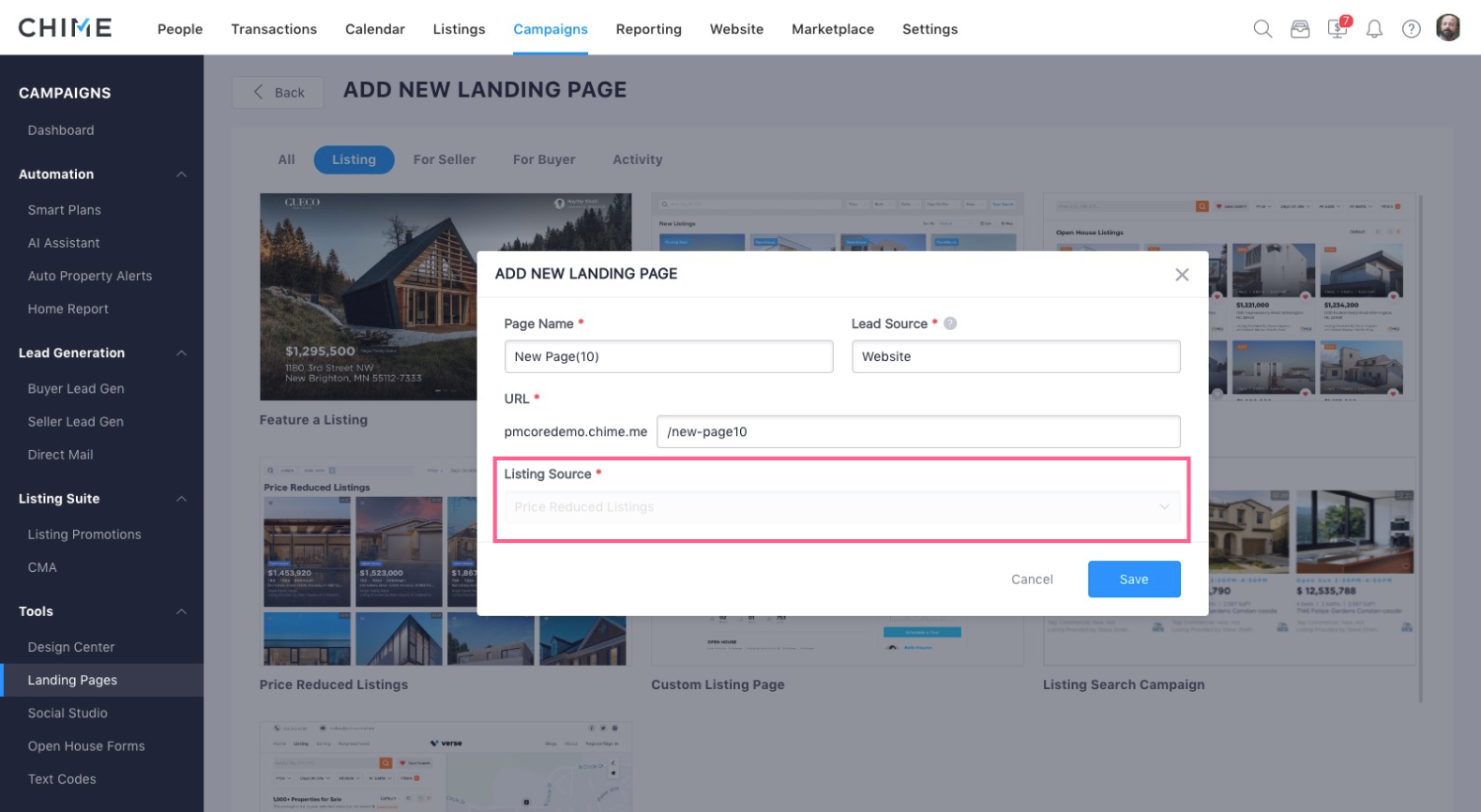 This landing page is auto-filtered to include listings that have had a price reduction. This will include all price-reduced homes in the MLS, not just your listings or your team's listings.
New Listings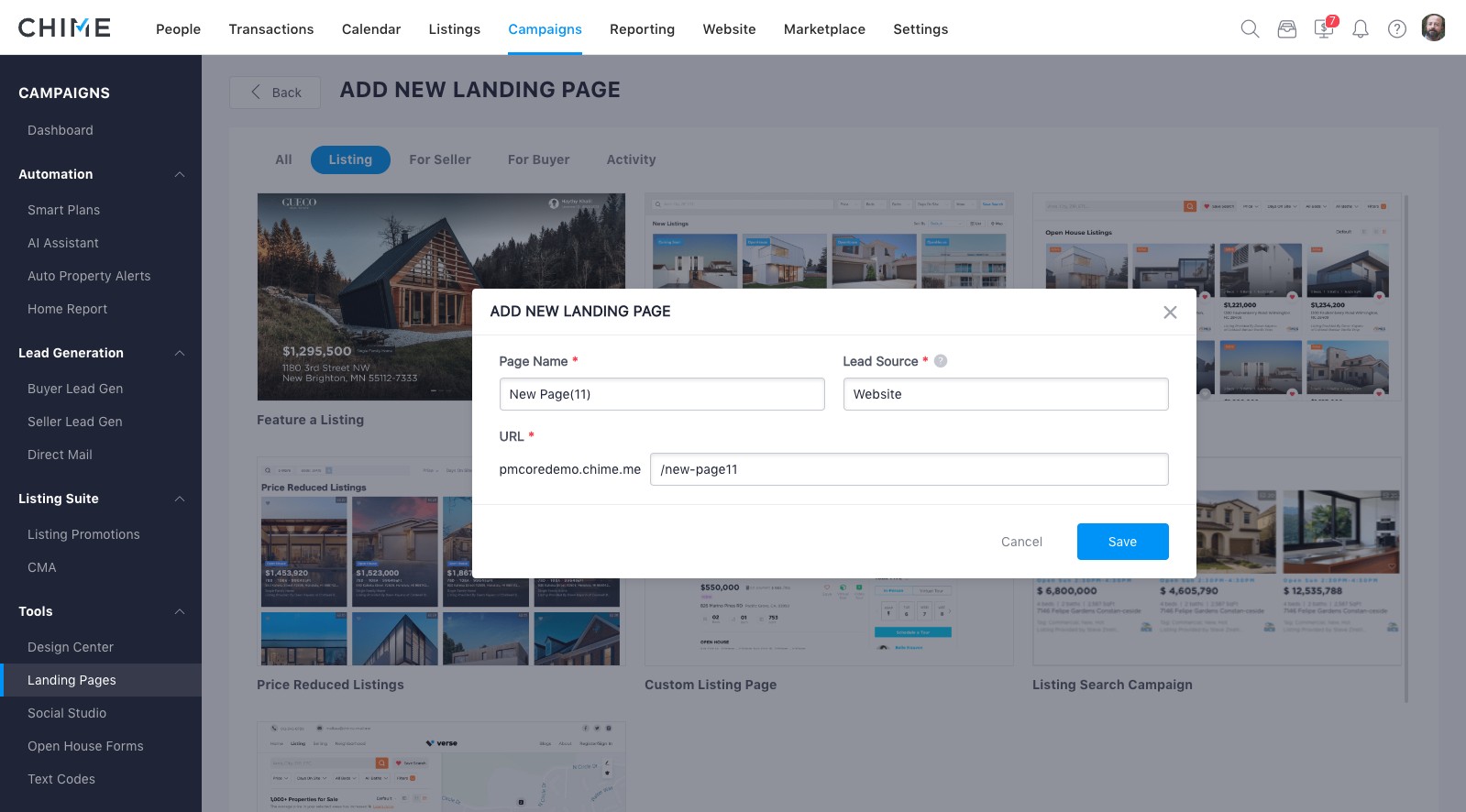 This landing page is auto-filtered to include new listings. This will include all newly listed homes in the MLS, not just your listings or your team's listings.
Lead Import by Lofty's Support Team
This feature will be added both in the Onboarding Questionnaire and in the Lead Import section of the CRM for the first 60 days an account is active.
Note: This is only available to Lofty account owners.
Onboarding Questionnaire: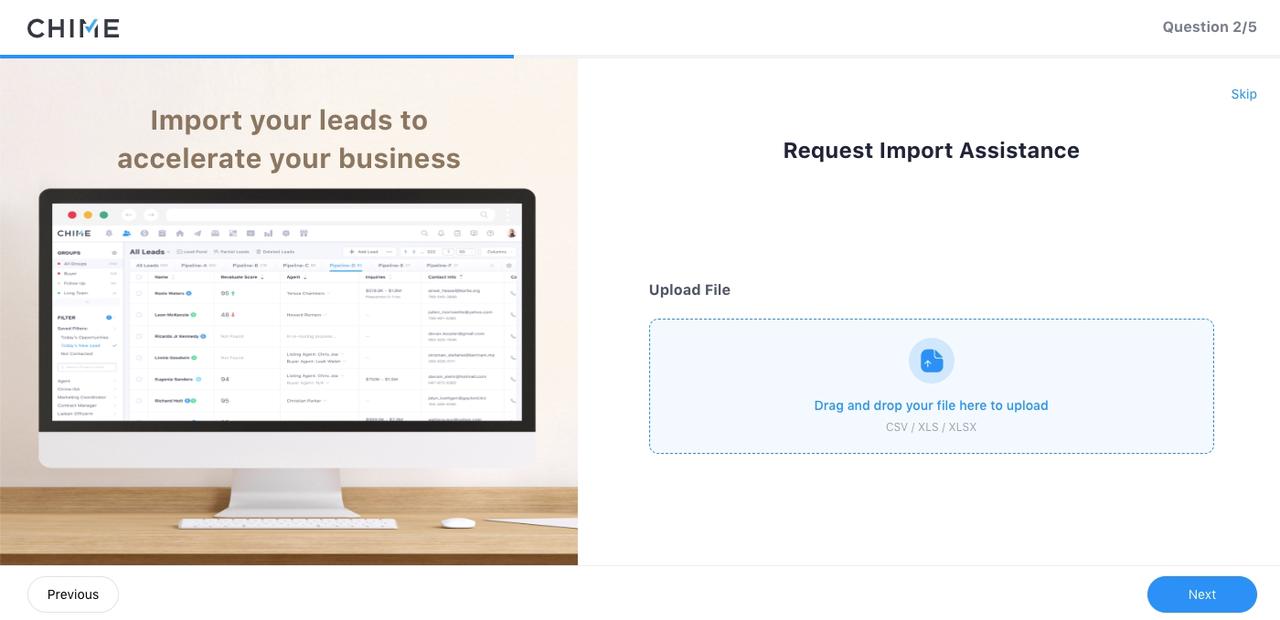 Lead Import in the CRM: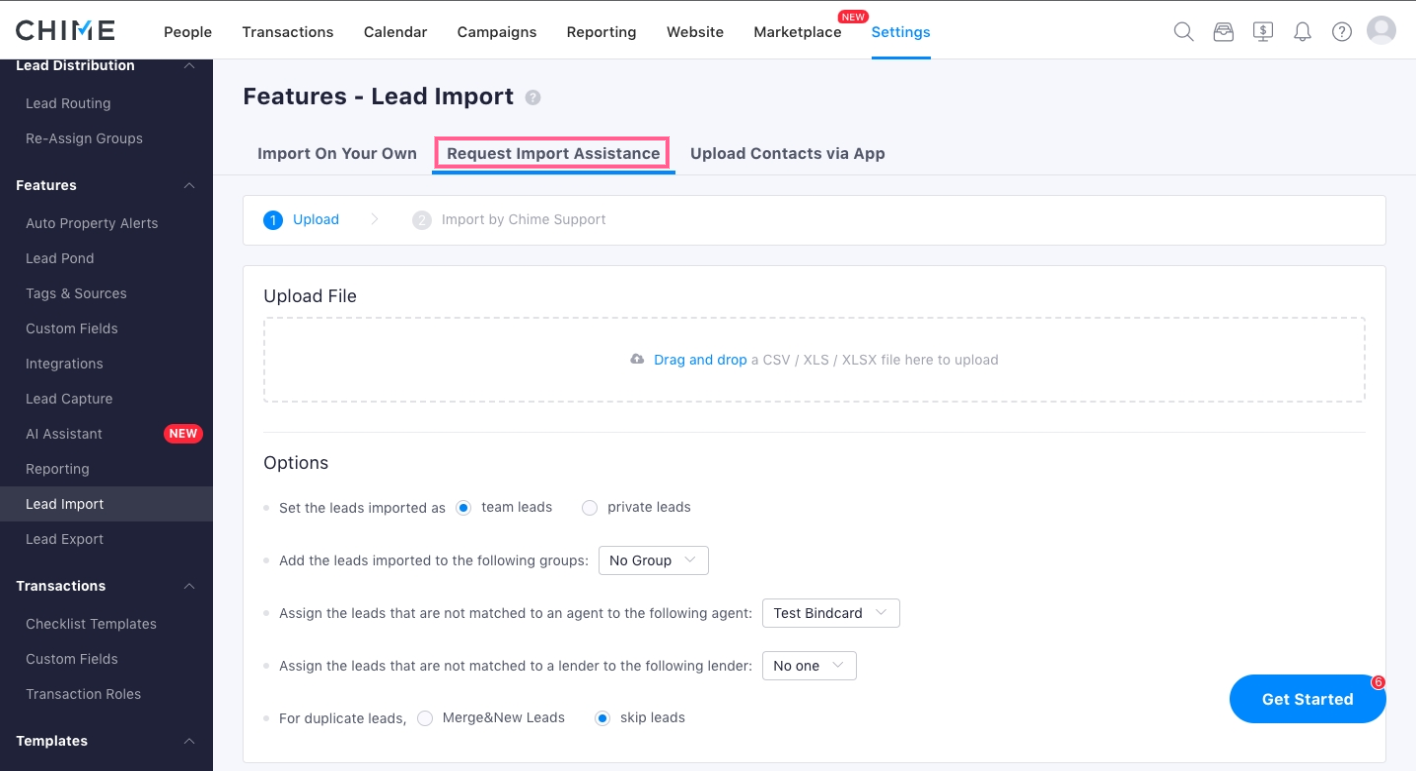 You may upload one file at a time, with 10,000 leads per file. Once the upload is complete, you will see the following 'Upload Success' notice: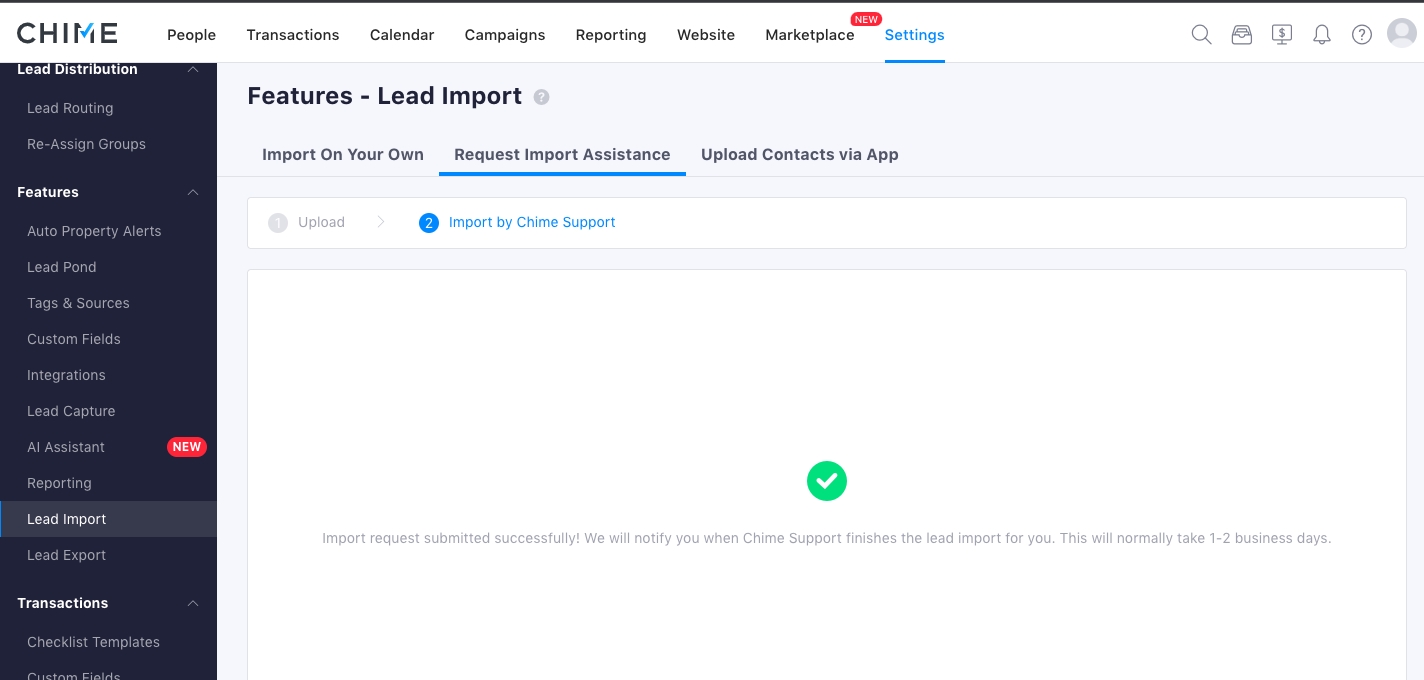 This status will stay until the request is complete. Once complete, you may upload another file. When complete, you will get a notification in the CRM and via email.
Action Insight
We have released an extension of the Action Insight feature, presented in Lofty v3.56. The previous release included the Action Insight on text messages from leads, which were viewable in the Timeline. This release includes the Action Insight on the Chat Panel, Workspace, and Emails.
Email: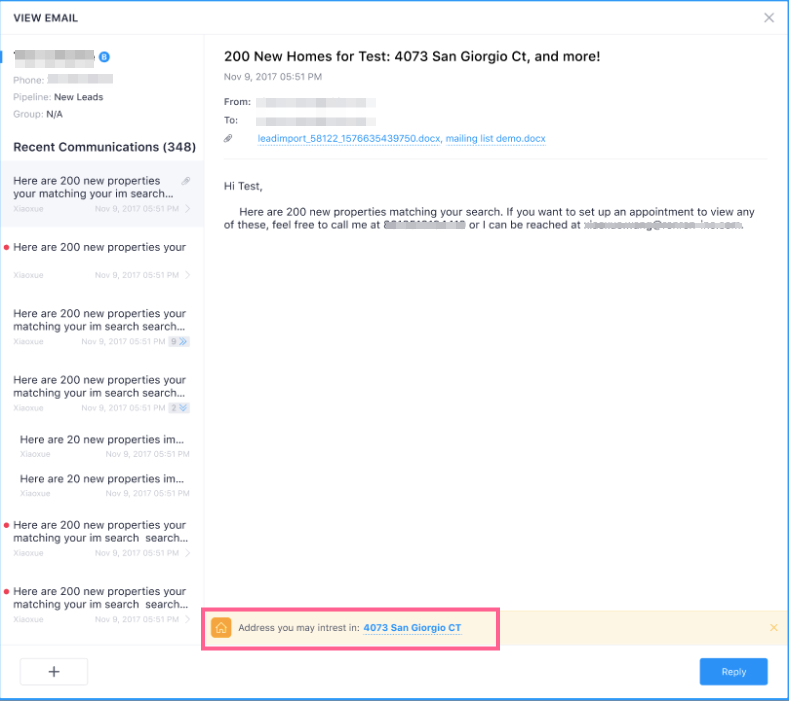 Timeline: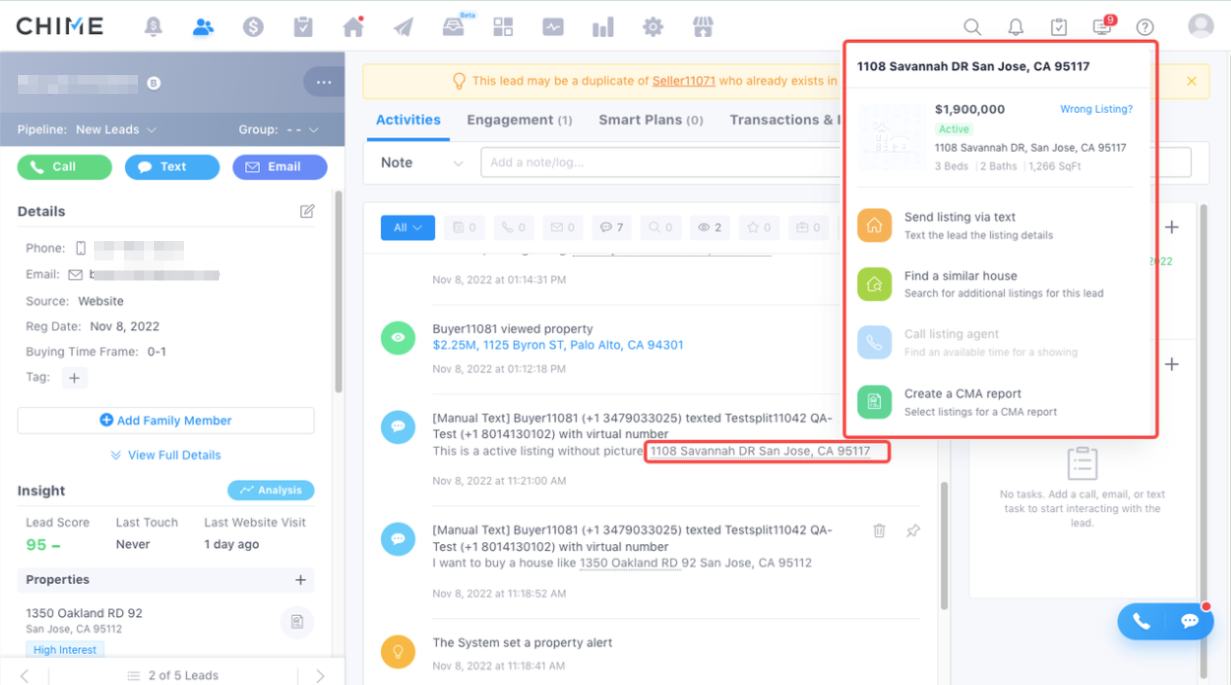 Chat Panel: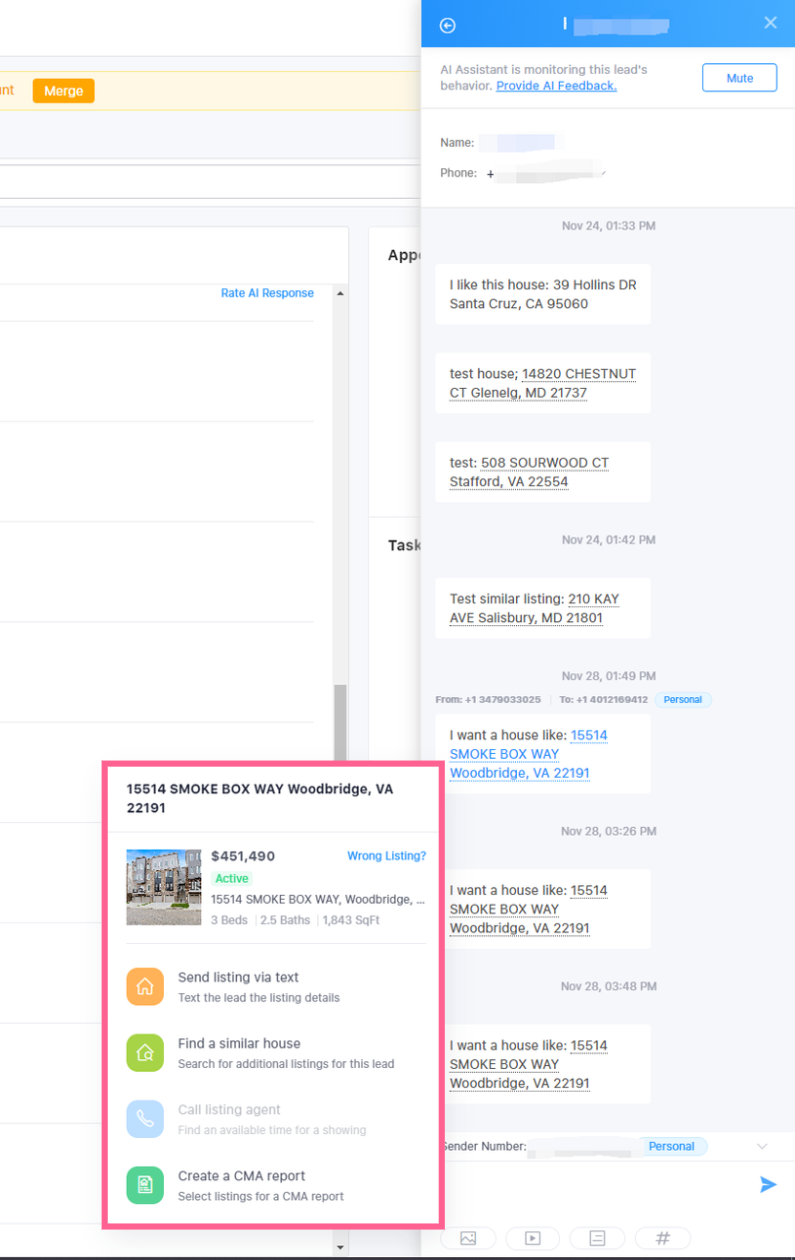 Workspace: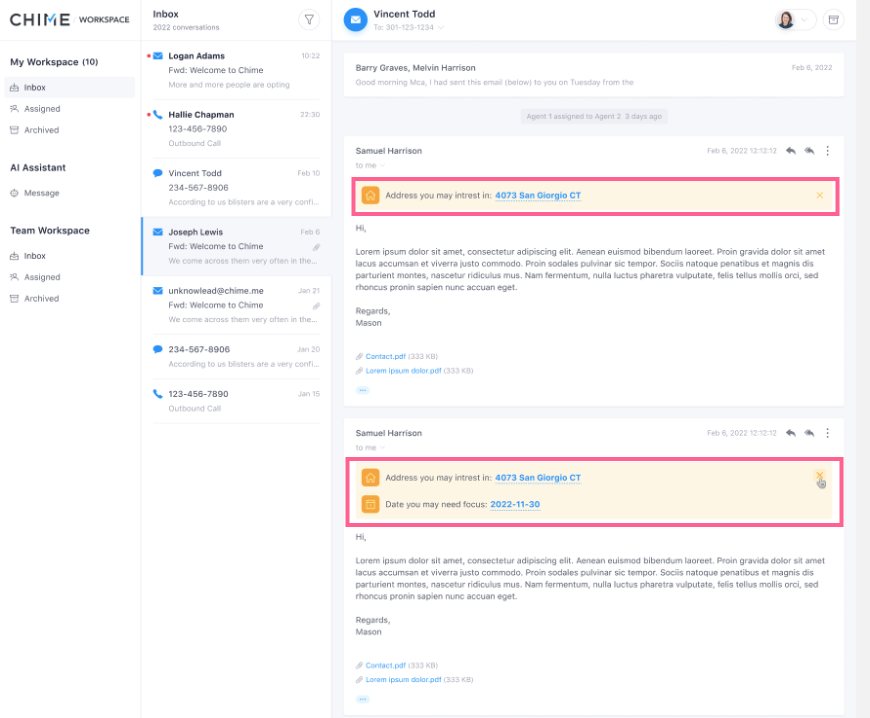 The Action Insight feature is currently a Beta release, so you may have access to it already. If you would like access, please contact our support team.


Roster Only
This update allows Roster Agents to be added to the CRM. Previously, Roster Agents were for display on the website only. Now, they can be added to the CRM. They do not get CRM access, but it can help Account Owners see their complete Organization Hierarchy.
When adding a member, there is now a checkbox for Roster Agent: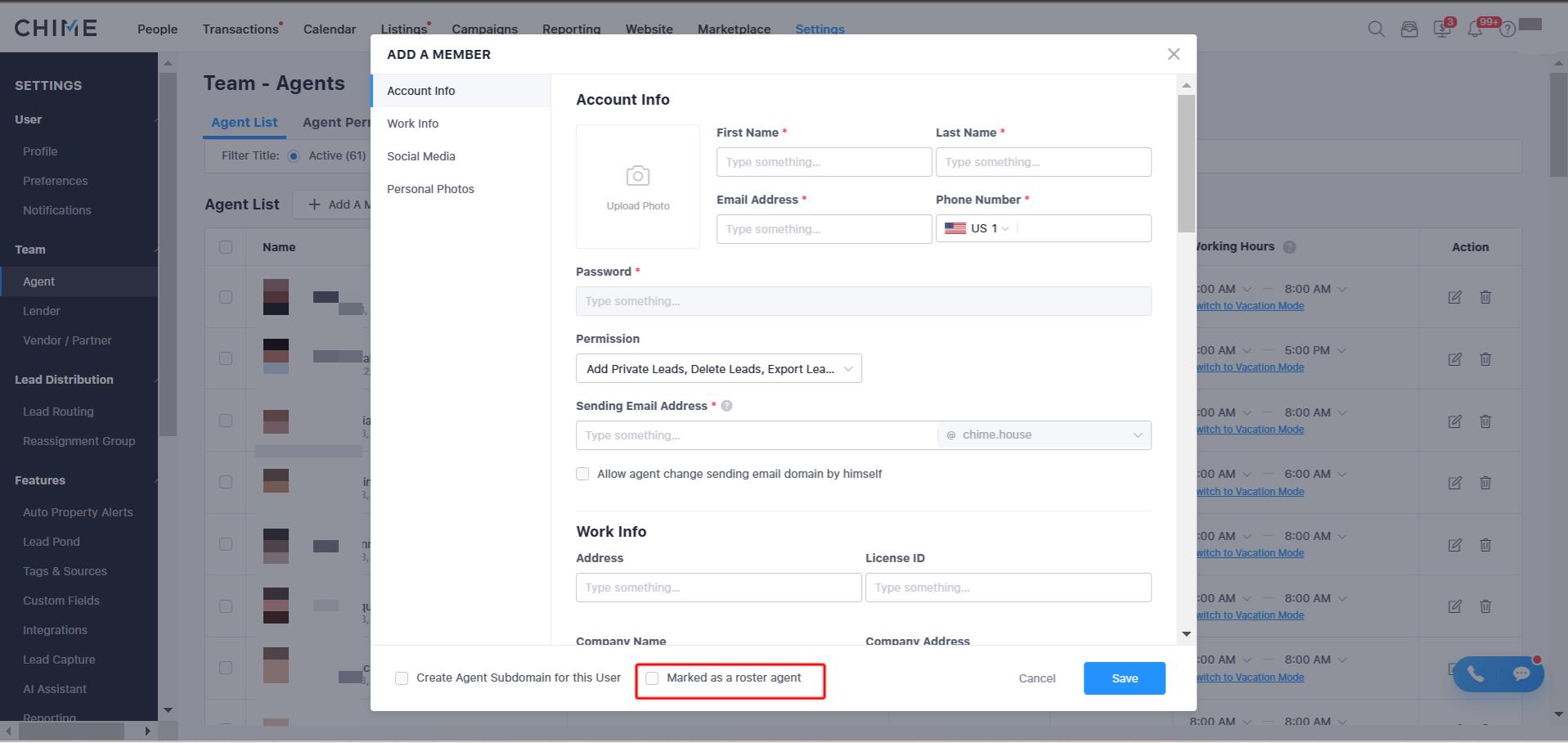 This also supports changing a Roster Agent to a Full Agent.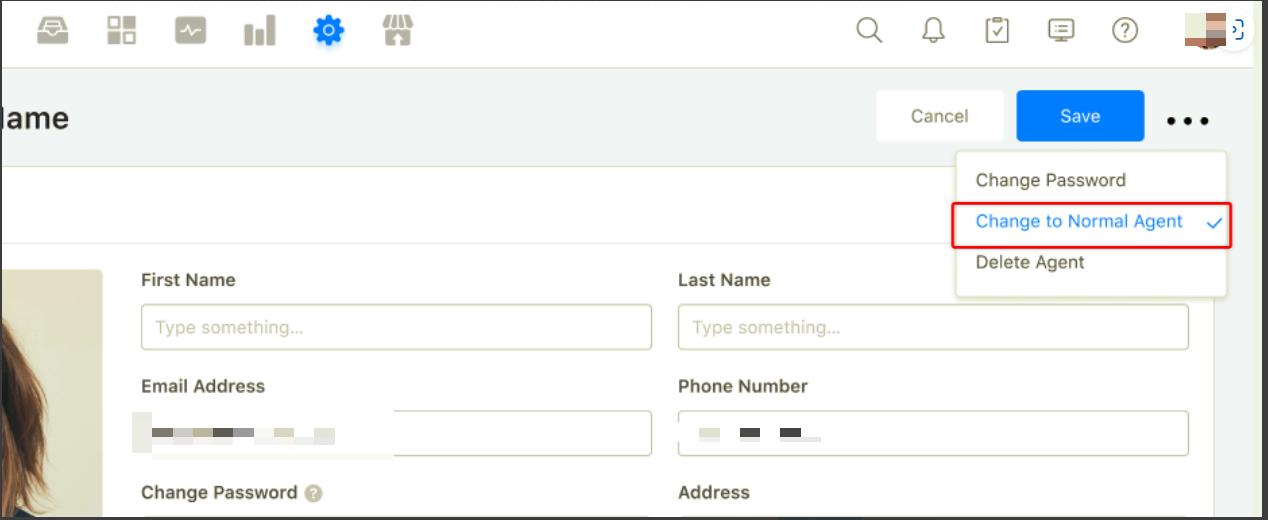 For all agents, this update also supports adding social media information in the CRM.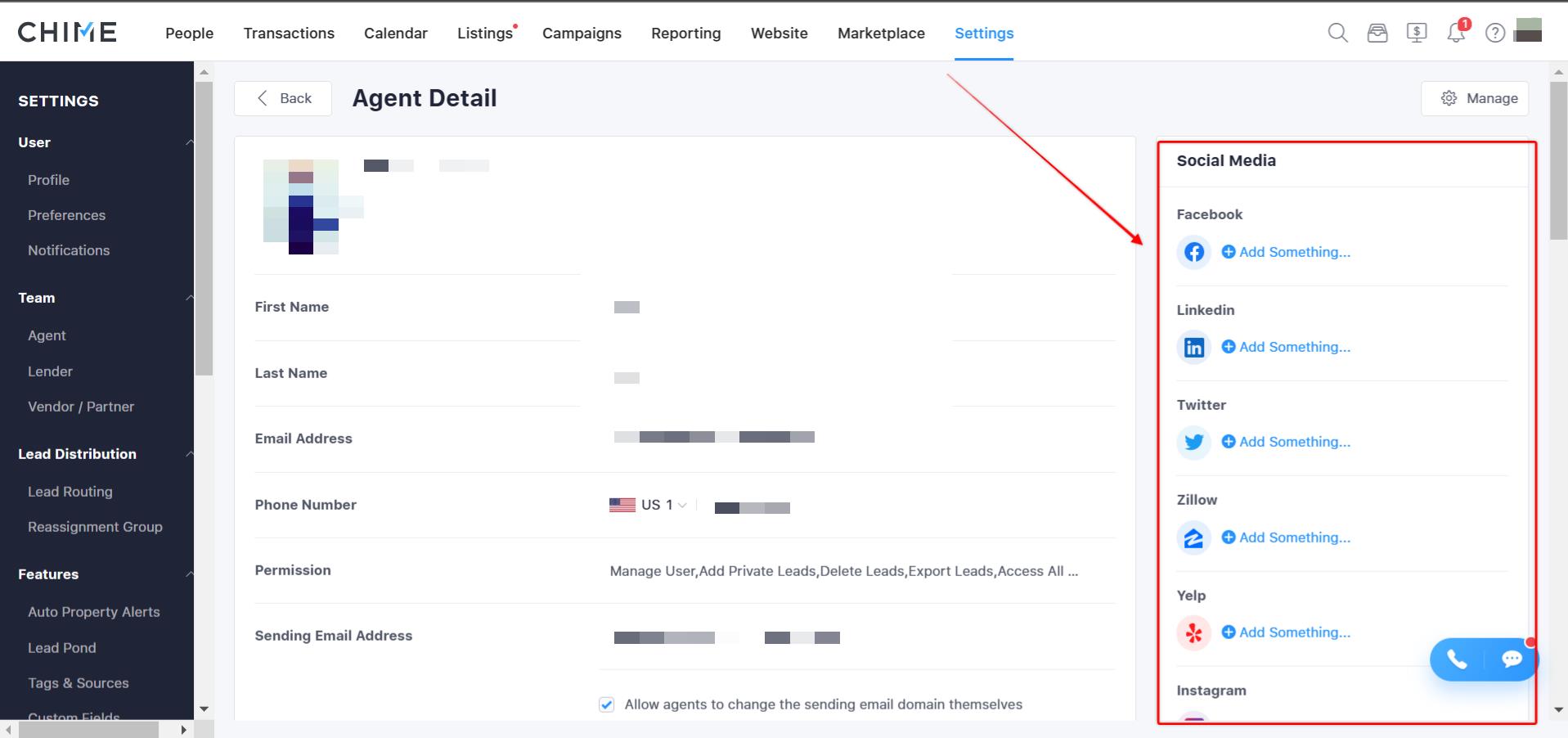 This update also introduces mass agent action, mass email to agents, and mass Agent Tag change.

Questions?
If you have any questions regarding this topic or any others, please get in touch with our Support Team via email at <support@lofty.com>, by phone at 1 (855) 981-7557, or by chat through your CRM.